Saving Nashville Fairgrounds Speedway
January, 14, 2011
01/14/11
12:27
PM ET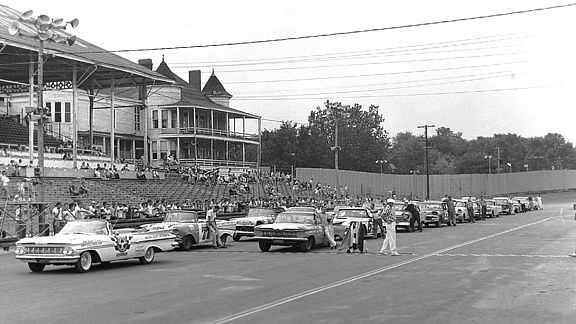 Getty ImagesBlast from the past: The Nashville 300 cranks up at Nashville Fairgrounds Speedway on Aug. 9, 1959.
There's a fight going on right now in Davidson County, Tenn., that could provide a monumental turnaround in the decades-long displacement of American auto racing's most endangered species: short tracks.
Godspeed, Sterling Marlin and Darrell Waltrip, in the effort to save storied Nashville Fairgrounds Speedway -- the short track of all short tracks -- from being plowed under by developers.
Marlin, Waltrip and their investors have an alternative urban revitalization plan that would preserve the .596-mile oval, which has been hosting auto racing for more than a century.
And, they argue, the future is uncertain for Nashville Superspeedway, the 1-mile track that opened in 2001 and took Nationwide and Truck races 20 miles from downtown, to exurban Lebanon. The newer track has failed to secure a Cup race date.
Should the superspeedway close and the fairgrounds flourish again, that would make for just one, but a resounding, about-face in a 20-year trend.
There's been a slippery slope of short tracks closing under the onslaught of boring new speedways built more with revenue-grabbing seating configurations than good racing in mind.
The old fairgrounds track is "the best racetrack in the country," Marlin told reporters at a media conference Thursday in Nashville. "It's the oldest racetrack [dating back to 1904], the best short track laid out ever. You can run side by side for 100 laps."
You'll forgive Marlin and Waltrip for their bias. The track was the cradle of both their careers.
But Marlin happens to be right about the quality of the racing there. Forlorn by Cup racing in 1984 due to its rundown state, the fairgrounds track runs far deeper in racing lore, into the very embryo of all NASCAR racing, the modified cars.
Marlin's group would make major improvements both to the track and the surrounding fairgrounds.
There isn't a NASCAR fan I know, or who e-mails here, or who comments on the ESPN Conversation, who doesn't want more short tracks on the Cup tour.
By and large, fans are fed up with the "cookie-cutter tracks," the boring 1.5-mile tri-ovals, several of them built in recent years, which are configured for good views from the grandstands but seldom produce good racing.
Currently there are only three short tracks left in the Cup series: the notorious half-miles at Bristol, Tenn. (five hours from Nashville) and Martinsville, Va., and the three-fourths-mile at Richmond, Va.
There is a struggling effort to revive North Wilkesboro Speedway in the heart of North Carolina moonshine country, but there's no hope on the horizon for the return of Cup racing.
A huge issue for Wilkesboro, and a chronic threat to Martinsville, is that their markets are rural and small-town. Nashville, on the other hand, is a metropolitan market.
Back in its Cup day, Nashville was paired with Bristol in the same sentences about the beatin'est, bangin'est racing on the tour.
Marlin said NASCAR officials have indicated to him that "if the track does close in Lebanon, they [NASCAR officials] would definitely be interested in coming back out here to the short track with two Nationwide races and two Truck races."
That doesn't at all amount to commitment to a Cup race there, and the Cup schedule is overcrowded as it is, with 36 races.
But we can wish and dream, can't we? And you can bet that, with televising of Nationwide and Truck racing at the old fairgrounds, would come a clamor from the fans for Cup to return to Nashville.
The road back remains long, uphill all the way. But at least two tradition-conscious drivers have turned and made a stand for reversing a fan-infuriating trend and returning to what fans want most.