Ready for more racing, 2011 style?
September, 24, 2011
09/24/11
12:21
PM ET
LOUDON, N.H. -- R-r-r-r-race fans! Are … you … ready?
Are … you … READY?
For some coasting? Some clutching? Some knocking the cars out of gear? Some backing off the throttle waaaay early? Some rolling free through the corners?
For some more fuel-mileage racing?
Slow may be the new fast in this Chase.
Sunday's Sylvania 300 (2 p.m. ET, ESPN) at New Hampshire Motor Speedway "very easily could come down to fuel mileage," Jeff Gordon said.
[+] Enlarge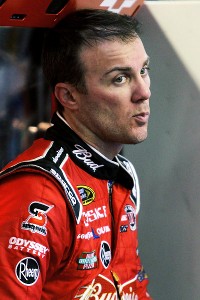 Jerry Markland/Getty Images/NASCARKevin Harvick knows how to save fuel down the stretch, but he's not about to talk about how he does it.
So here we go again, right on top of last week's fuel-mileage cliff-hanger to open the playoffs at Chicagoland Speedway, where the late dropout rate was enough to churn the playoff standings significantly.
This, right off a regular season where fuel-mileage finishes "seem to be part of the norm more than they are the exception," said Dale Earnhardt Jr., who benefited from last week's late attrition to finish third in the race and jump to fifth in the standings.
Then there was last year's Chase opener here, where Tony Stewart dominated the race until he ran out of gas on the 299th of the 300 laps and wound up 24th.
Kevin Harvick, who conserved enough fuel to finish second last week and stay atop the playoff standings, was asked here to talk about some of his techniques for saving.
"Yeah … right," Harvick said with that little smirk of his, and then sat there for several seconds of silence, until his audience figured out he wasn't going to give away anything.
Brad Keselowski stopped me in midquestion -- "No" -- about discussing his methods.
Ryan Newman, who'll start on the pole Sunday, had perhaps the best one-liner when asked what makes a driver good at conservation.
"Genetics," Newman cracked, and laughed.
Saving fuel has become so routinely crucial that teams are developing their own sets of secrets about it, a whole separate category of technology and instincts, getting as complex as, say, chassis setups to suit an individual driver.
"Each team has their own way of making it happen," said Keselowski, "just like anything else, no different than cooling off your engines for Daytona and Talladega and different things like that.
"It's just an evolution of the sport. And the thing I'll say about fuel-mileage races is that as a whole and in general, they do take talent. The driver who is able to save very well, there's some talent involved in that."
"The game certainly has changed over the last year, year and a half," said Jimmie Johnson, who admitted fuel-mileage strategy may be a weakness in his quest for a sixth straight championship. "Fuel mileage never has been a strong suit with us, and it's something that we know we need to be better with."
Stewart said his win at Chicagoland on fuel mileage last week "doesn't make up for" the one he lost here last fall, the Chase opener he dominated until he ran out of gas on the 299th of the 300 laps.
Newman did speak in the general terminology of his engineering background about conservation.
"The car balance is one thing, knowing what you have to do to conserve that energy," Newman said. "Track position is a big factor, too. There were times at Chicago that I was getting drafts off of guys on the straightaways just to try to save some fuel."
Earnhardt was a little more driver-specific.
"We all sort of study about what to do," he said, "whether it be just lifting off the gas, simply lifting and just coasting into the corner, lifting earlier than you normally would, whether you need to turn it off, clutch the motor, whatever. There are all kinds of techniques that guys have."
What has made fuel-mileage races so common? Essentially, better tires and longer runs between cautions.
Fewer cautions, Kyle Busch believes, may be due largely to the current car design.
"These cars are not easier to drive, they're just harder to spin out," Busch said. "The old cars were a lot easier to spin out sometimes, or [one driver] could get underneath the back of somebody and jack them up. With these cars, the bumpers line up."
And, Johnson said, "Tires don't fall off like they used to."
Whether you like fuel-mileage races or not, "There is nothing you can do to get rid of them," Earnhardt said.
A colleague of mine, one of the few who has been around NASCAR longer than I have, asked Gordon a rhetorical question: "This isn't NASCAR racing -- is it?"
"It depends on how exciting a finish it is," Gordon said. "I think sometimes if somebody is able to make it and others aren't, that can be pretty exciting."
Actually, I kind of like fuel-mileage finishes. They are suspenseful. When front-runners are close on gas, there's always the chance that what would otherwise be a runaway could be snuffed.
And my recollections of yore in NASCAR, say the 1970s and '80s, are that virtually every finish was suspenseful. Even if one driver was way out front, you never knew he had the race locked up until he crossed the finish line.
That was because engine reliability was poorer, and fuel calculations were far less precise. So there was always a chance a dominant car would blow an engine or run out of gas.
Now, as then, the most boring element in any race is predictability.
"When it goes all the way to the finish [under green], and it's somewhat predictable, then it's not very exciting," Gordon said.
On Sunday, for the second straight Chase race, fuel mileage may leave the finish entirely unpredictable. And that's not such a bad thing.