Rockingham's finest hour remembered
May, 19, 2011
05/19/11
11:37
AM ET
When we rolled into Rockingham Speedway on Wednesday afternoon, the camera crew had one question. Where were we going to do the live shot for NASCAR Now?
That answer was easy. We all quickly agreed and said in unison, "Turn 1."
Why? Because that's where the greatest moment in The Rock's nearly five-decade history took place, though at the time it surely didn't seem so great.
Benny Parsons came into the 1973 season finale as the NASCAR Winston Cup points leader. This was a big deal to the people of Rockingham because B.P. lived in nearby Ellerbe, N.C. In fact, his entire team was based there. It was owned by local businessman L.G. DeWitt, who also happened to own the racetrack, and the crew chief on the car was Travis Carter, a hometown boy who would eventually go on to build winning cars for Junior Johnson, Hal Needham and Burt Reynolds, and then start his own race team in the 1990s.
Somehow B.P., L.G. and Travis kept up with the big teams all year long. They loaded up their sponsorless racecar in Richmond County and towed it off to faraway places like Michigan, Texas and Southern California.
This was the era of Yarborough, Allison, Pearson and The King. Those factory-supported cars won races by the bushel, but B.P. and L.G. punched out top-10s like a telegraph operator. They had won just once, at Bristol in July.
When The Ellerbe Gang arrived for the season finale at DeWitt's track, then known as North Carolina Speedway, they held a slim points lead over Cale Yarborough. Only 15 minutes from home, there was no doubt as to who the crowd favorite was.
[+] Enlarge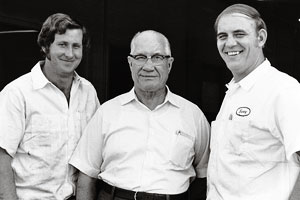 Getty ImagesCrew chief Travis Carter, team owner -- and Rockingham owner -- L.G. DeWitt and driver Benny Parsons pulled off one of the unlikeliest championships in NASCAR history in 1973.
"It was really something," Benny told me years later, when we were coworkers at ESPN. We were sitting in a booth at the Dixie Burger on Ellerbe's Main Street, having breakfast the morning before a late '90s race at The Rock. "It was a real thrill for me. But I was even more happy for Mr. DeWitt and Travis. It was a big deal for those guys to have that moment in front of their friends and family."
But on Lap 13 those roaring grandstands were silenced by the sight of the spinning number 72 car. Parsons had been caught up in a wreck not of his own doing and when the smoke cleared the entire right side of his car was sheared away -- sheet metal, roll bars, everything. Poor Benny sat there totally exposed to the grandstand. He was stunned and, as he admitted often, quietly accepted his title loss.
That's when it happened. After the car was towed back into the garage, other crews started pitching in to help the poor-but-proud DeWitt team.
Rivals began cannibalizing their own cars and bringing over the parts that Carter needed to rebuild Benny's ride. For over an hour the patchwork of impromptu teammates hammered and welded.
Maybe they did it because they wanted the little guy to win. Maybe they wanted to see the home team come through. Or perhaps they just liked B.P., L.G. and Travis.
Whatever their motivation, the crew of dozens got Parsons back on the track. He ended up finishing 183 laps behind Yarborough, but 67 points ahead.
"Sometimes I still don't believe it," Carter told me standing in that same garage just two years ago. The Rock had been reopened and his son, Matt, was racing there in the ARCA series. "There was a camaraderie in the garage back then, especially among the smaller teams, that you just don't see today. We'd share parts, ideas, motel rooms, whatever it took to get to the next race."
That evening, just as they had done all season, B.P., L.G. and Carter packed their things, loaded up the car and headed back to Ellerbe.
"But," Benny told me, "we didn't leave until we had shaken every hand in the garage and waved to every single fan all the way home."
So when it came time to pick a spot for our NASCAR Now segments on Wednesday, it was a no-brainer. We went to the spot of Benny's wreck. And we opened our second segment with a shot of the press box, which Rockingham Speedway's new owner Andy Hillenburg has renamed the Benny Parsons Tower.
And while we got ready to do the show I received a tweet wishing me luck … from Benny's son Keith, a former AP sportswriter and now a bank executive in Rockingham.
If you're a Richmond County native, and I am, then you always knew that, coming to Cup race weekends from the Charlotte area, one of the best shortcuts to the track was the one that took you through Ellerbe. When I left Rockingham on Wednesday evening, I took that route going home. And yes, I stopped by the Dixie Burger to have a milkshake and remember an old friend and the town that loved him so.