Category archive:

AutoRacing
August, 16, 2013
08/16/13
12:25
PM ET
CHARLOTTE, N.C. -- Matt Kenseth speaks into the phone in a deep bass voice that sounds more like Barry White than a Sprint Cup driver from Wisconsin.
"Hello, Dave," Kenseth says. "Do I sound like Adam?"
Adam is the public relations representative working with Kenseth to promote Gatorade's Beat the Heat program. The 2003 Cup champion is having fun at Adam's expense, so I play along and tell him he sounds more like one of the "famous" Gatorade athletes -- Carolina Panthers quarterback Cam Newton.
[+] Enlarge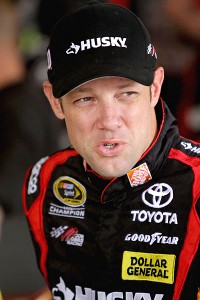 Jerry Markland/Getty ImagesMatt Kenseth has four wins in 2013, but he hasn't been to Victory Lane since June 29 at Kentucky.
"Wait a minute," Kenseth says, the pitch in his voice almost back to its normal level. "I'm more famous than he is. He's trying to be like me."
Kenseth pauses for a second to speak to Adam.
"Don't worry," he tells Adam. "It's OK."
He returns to me.
"I'm getting a real funny look right now because he thinks … I'm not doing a serious interview," he says.
Kenseth still has his sense of humor, as dry as it is.
What the Joe Gibbs Racing driver doesn't have is the dominating performances he had earlier in the season that had many considering him the favorite to win the championship.
He's finished 22nd and 23rd the past two weeks, leading only one lap. His average finish the past 10 races is 18.3. During that span he has one win and one pole and has led only 102 laps.
I say only 102 laps because during the first 12 races Kenseth led 893 laps, including 574 during an amazing five-race stretch between Kansas and Charlotte. He had three wins during that time -- which easily could have been five -- and two poles, equaling the number he had the past four years combined.
Take away the Daytona 500, where an engine failure ended Kenseth's day after he led 86 laps, and Bristol, where a crash ruined his day after he led 85 laps, and his average finish in the other 10 races was 7.2.
Gaudy.
So while most are focused on the nine drivers battling for the final four playoff spots, Kenseth is focused on getting back in position to be a legitimate threat for the title.
"We've had a little bit of a fall lately," he admits. "We need to stay in the top 10, obviously, to get those bonus points in the Chase. They're going to be real important.
"I feel good. We're going to have better cars, better engines, better everything at the end of the year. But we still have to execute and turn those into finishes and into wins. … We need to start now, this weekend."
Michigan International Speedway is a good place to start. Kenseth was sixth there in June. He has two wins and 18 top-10s in 28 starts at the 2-mile track in the Irish Hills.
"I'm not concerned," Kenseth says. "I feel we're going to be strong down the stretch and hopefully have everything where we need it heading into the Chase."
The conversation turns back to the heat, specifically how hot Dale Earnhardt Jr. was on Sunday at Watkins Glen immediately after a wreck triggered by Kenseth, who got into the back of Marcos Ambrose and then the side of Kasey Kahne.
It didn't take a Gatorade to cool Earnhardt off, though. Just a conversation with Kenseth.
"He's all right," Kenseth says. "I didn't know what went on until I went back and watched it all. If you watch the next restart, [Ambrose] had a flat tire in front of me. He got really slow [before the wreck], and I wasn't expecting that and I went to miss him. Kasey was going by me so fast because [Ambrose] was going too slow, and I just clipped him."
Then Earnhardt got into Kahne and … well, it didn't end well for either of the Hendrick Motorsports drivers.
The conversation returns to Gatorade and why the company hasn't made a role-reversal commercial featuring Kenseth with a towel over his head and Cam Newton wearing a racing helmet.
"That's a good idea," Kenseth says.
Apparently, Adam gives another funny look. The interview is over with Kenseth sounding like his old self.
The question is, can he get back to performing like his early-season self?
August, 9, 2013
08/09/13
3:56
PM ET
CHARLOTTE, N.C. -- My, how Ryan Newman's season has turned around since last month when Stewart-Haas Racing announced he would not return in 2014.
First he wins the Brickyard 400 in his home state of Indiana.
Then his boss, Tony Stewart, breaks his leg to move Newman into prime position for the second wild-card spot.
[+] Enlarge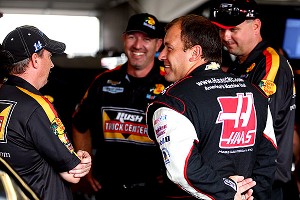 Warshaw/Getty ImagesTony Stewart's misfortune opens the door for Chase wild-card contender Ryan Newman and crew.
The only thing he hasn't gotten is a job offer.
But first things first, and that is making the Chase. Newman's playoff hopes, much to his chagrin, improved dramatically when Stewart broke his leg in a sprint car race in Iowa on Monday night.
With Stewart out at least several weeks, Newman is in prime position to move into the second wild-card position -- maybe even the first depending on what happens this weekend at Watkins Glen.
He'll also have even more focus from SHR in making sure he gets there.
"Obviously, now that the 39 is our only chance, we will do whatever we can to help," SHR competition director Greg Zipadelli said. "I don't know that it's any more than what we have been doing, but we'll certainly do our best to work together as a team, and if there's anything they need, we will certainly do our best to give them what they need to have that opportunity."
Newman is 15th in points with a victory. He's 19 points behind Stewart, who at 11th with a victory holds the first wild-card spot. If Newman finishes 23rd or better at Watkins Glen, he'll pass his boss.
But that doesn't guarantee Newman will move into a wild-card spot. He still has to pass Martin Truex Jr., who holds the second wild-card spot at 14th in points with a victory.
Greg Biffle (10th in points with a win) and Kasey Kahne (eighth with two victories) easily could fall outside the top 10 with a poor finish. That would move them into prime spots for a wild card.
Defending Cup champion Brad Keselowski and 2004 champion Kurt Busch, 12th and 13th in points, could move into one of the wild-card spots or into the top 10 with a victory.
Both will be among the favorites this weekend at the 2.45-mile road course, particularly Keselowski, who has finished second there the past two years.
Jamie McMurray and Joey Logano, 16th and 17th in points, also could get into the mix with a win.
It's not completely out of the question that Marcos Ambrose gets into wild-card position. He is only seven points outside the top 20 needed for consideration, and he's won the past two races at The Glen.
So Stewart's injury doesn't guarantee Newman anything as far as the Chase. As far as his future there are no guarantees either.
There have been rumors in recent weeks that he could return to Penske Racing if the organization expands to three or four teams. I'm told that won't happen, that Penske plans to remain a two-car organization.
There have been rumors he could go to Richard Childress Racing if enough sponsorship can be found. I've also heard RCR could consider bringing the No. 47 team of JTG Daugherty Racing in house with AJ Allmendinger as the driver.
Both seem like long shots.
Newman's name has come up with the No. 55 at Michael Waltrip Racing, which has yet to officially announce Brian Vickers with current sponsor Aaron's. But all signs still point to Vickers being in that ride with an announcement possible by the Chase.
Roush Fenway Racing also has been rumored as a landing spot for Newman in a fourth car, but RFR appears focused on developing younger stars such as Trevor Bayne.
So as much as Newman's Chase fortune has turned around since it was announced he would not be a part of SHR with Stewart, Kevin Harvick and Danica Patrick in 2014, his future remains cloudy.
July, 22, 2013
07/22/13
6:38
PM ET
CHARLOTTE, N.C. -- I dialed into the NASCAR conference call with team owner Richard Childress on Monday in case there were updates on returning the No. 3 to the Sprint Cup Series in 2014 or adding a fourth team.
[+] Enlarge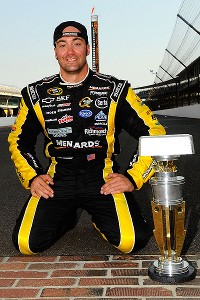 Jason Smith/Getty ImagesPaul Menard stunned NASCAR Nation with his improbable victory in the 2011 Brickyard 400.
What he said was arguably bigger news.
At least more surprising.
The owner of Richard Childress Racing said Paul Menard's victory in the 2011 Brickyard 400 was bigger than Dale Earnhardt winning it in 1995 or Kevin Harvick in 2003.
Seriously, he picked a Menard moment over one for the seven-time champion and the driver who replaced him. And it wasn't to get more money out of Menard's father, whose company sponsors the No. 27 RCR car. They already have an extension.
He was sincere.
"What made that so special was knowing that Paul's family was there," Childress said. "Knowing what John Menard had put into that, I think he had entered like 30-some cars over 20 years at Indy, in the Indy 500. To be part of watching his son win that race was such a special day."
It was a fluke day as well.
Menard won because he got better fuel mileage than Jeff Gordon, who had the dominant car. He'd never won on the Sprint Cup level before and he hasn't won since.
"Not taking anything away from Dale's or Kevin's first win there, but that one was so special because of being able to win a race with Paul, being able to win at Indy where that whole family had put so much into the Indianapolis Motor Speedway," Childress said.
As for bringing back the 3 next year with grandson Austin Dillon, which is expected to happen, there was no update. As for RCR's 2014 lineup beyond Menard and Jeff Burton, Childress says he is getting closer.
Translated: Dillon will be in a third car and a driver to be named will replace Harvick in the No. 29 if full sponsorship is found.
"Right now, we're finalizing some final things," Childress said. "We have sponsorship on a third and we actually have some sponsorship on a fourth.
"But having it all finalized and put together, it could be a couple of months down the road before we have everything ready to do some announcing on any of that."
Stay tuned.
July, 16, 2013
07/16/13
2:44
PM ET
CHARLOTTE, N.C. -- NASCAR introduced 11 initiatives on Monday that officials insist will take the sport into the future in terms of technology and transparency.
If they accomplish half of them, it will improve the sport. It may even bring in a younger audience, which is much needed for growth.
Personally, the promise to fix the broken appeals process that has been successfully challenged several times over the past year and a half and coming up with a fixed set of punishments for penalties was welcome news.
[+] Enlarge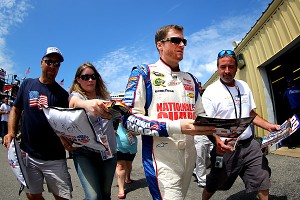 Patrick Smith/Getty ImagesIf Dale Earnhardt Jr. could navigate his way to Victory Lane more often, NASCAR -- and his huge fan base -- certainly would benefit.
But those initiatives won't be fully in place until 2015 because officials haven't quite decided on the details to plug into their generalities.
So while we're waiting, here are 11 initiatives that could be implemented now and would give the sport an immediate bump:
• Find a way to get Dale Earnhardt Jr. into Victory Lane at least twice a season. NASCAR's most popular driver has to win more than once every four years at Michigan to keep his large fan base interested.
• Make Jimmie Johnson start from the back every race, as he did this past weekend at New Hampshire. It will cut down on his dominance, which many of you claim is ruining the sport. It also may convince many of you just how good he is.
• Change at least half the 10 Chase races every year. Do it a year in advance so tracks have time to sell tickets and develop marketing campaigns, but shake things up. And guarantee one of those races will be a road course.
• Cut the schedule to 30 races and add a few midweek races.
• Shorten races to where they typically won't last more than three hours and have two-day shows maximum. And add a halftime break for teams to work on their cars.
• Limit Sprint Cup regulars to no more than six Nationwide and/or Truck races a year and don't allow them to drive something owned by their Cup teams.
• Have a draft. It gets a lot of attention in the NFL and NBA. Each team would select one driver below the Cup series level, with the draft order set by points from the previous year. Worst team gets first pick. If the team doesn't commit to putting that driver in five races -- they wouldn't count against the four-car limit -- at the start of their second year, they go back into the draft. Seventy-one-year-olds not eligible.
• Give a bonus point to the driver who offers the best insult to a fellow driver after a race. For example, Kyle Busch would get a point for calling Ryan Newman an "ogre'' and "idiot.'' Unless, that is, the three-man media judging panel believed Newman deserved the point for saying Busch wasn't "very bright.''
• Wins get six bonus points instead of three. Make it worth something.
• To set the field, have a random draw to invert the field by 12 cars somewhere between first and 10th in qualifying. In other words, if the draw was fourth place in qualifying, then fourth through 16th would go to the back to start the race. Except for Johnson, who must always start last.
• Get Danica Patrick to date Earnhardt instead of Ricky Stenhouse Jr. and create the biggest power couple in sports.
Four-wide restarts and a Lucky Lucky Dog -- first driver 10 or more laps back moves onto the lead lap when a debris caution comes out -- were considered but rejected.
But who knows, between now and 2015 they could be reintroduced.
July, 11, 2013
07/11/13
10:27
AM ET
CHARLOTTE, N.C. -- Here's a wild but wonderful thought: Chase Elliott racing against his future Hall of Fame father, Bill Elliott, in the Sprint Cup Series.
It would be a track promoter's dream.
[+] Enlarge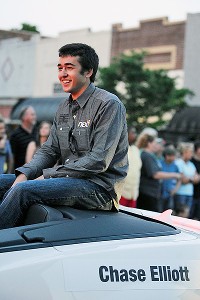 Rainier Ehrhardt/NASCAR/Getty ImagesChase Elliott has finished no worse than sixth in three Camping World Truck Series races.
And we can all dream, can't we?
There's no denying Chase is on the NASCAR fast track. Team owner Rick Hendrick indicated last month at Michigan that he plans to put his 17-year-old developmental driver in a Nationwide Series ride next season.
After two years in Nationwide, perhaps Chase will be ready to step into a Cup ride by 2016. Perhaps he could be the candidate to replace four-time champion Jeff Gordon in the No. 24 at Hendrick Motorsports.
There's also no denying Bill Elliott still wants to race. He said so on Wednesday when I asked if he was ready to retire and begin his three-year waiting period to become eligible for the Hall of Fame.
So maybe the 1988 Cup champion will hang around a few more years, picking up a Cup ride here and there as he did for Turner Motorsports last July at Daytona, until Chase is Cup-ready.
We can dream, can't we?
It wouldn't quite be like having Dale Earnhardt and Dale Earnhardt Jr. on the track together. Or even Bobby and Davey Allison.
Those father-son combinations had a chance to compete when both were competitive and in full rides.
It definitely wouldn't be like 1988 when Bobby and Davey finished 1-2 in the Daytona 500.
But it still would be cool.
Listening to the Elliotts talk during NASCAR's weekly conference call, you could barely tell the difference as they both spoke with a thick Georgia drawl.
Chase even sounded as mature as his father.
And while my wild thought of having them compete in the same Cup race may never materialize, you get the feeling Chase will grow into a star just as his dad was and remains.
Chase is headed to Iowa Speedway this weekend for his fourth Truck series race in the Aaron's Dream Machine/Hendrickcars.com Chevrolet owned by Hendrick. In his other three appearances he has gone sixth, fifth and fourth.
[+] Enlarge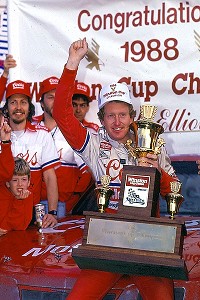 Getty ImagesChase Elliott's mentor is also his father, '88 Cup champ Bill Elliott.
A win can't be far away.
"I think we're close," said Chase, words reiterated by his father.
If all works out as planned, Chase will be sponsored by Aaron's next year in a Nationwide car, presumably out of JR Motorsports, which is co-owned by Hendrick.
"Absolutely," Bill said when I asked if his son is ready for the next step. "There's no question in my mind."
There's also no question in his mind that Chase is further along at 17 than he ever was. Statistics support him. In eight ARCA races, Chase has a win, five top-5s and eight top-10s. In 11 X-1R Pro Cup Series races, he has a win, seven top-5s and 10 top-10s. In 26 K&N Pro East Series races, he has a win, nine top-5s and 15 top-10s.
"I'm not even close," Bill said of comparing himself to Chase at 17. "If you look at his résumé and what he's done to this point, it's incredible."
There's no reason to believe that won't continue, particularly if Chase continues with solid equipment as he's had throughout his career.
"You're only as good as the equipment you're in," Bill said. "If you don't get in good equipment you'll never know how good you are."
Maybe Hendrick -- or somebody -- will put them both in good Cup equipment two and a half years from now. Bill will only be 60, and I say only because Morgan Shepherd (at 71) plans to be the oldest driver to start a Cup race this weekend at New Hampshire.
"Right now, I'm trying to weigh my options," Bill said. "I would like to do a few more races."
Maybe one of them, one day, will be against his son.
We can dream, can't we?
June, 19, 2013
06/19/13
5:01
PM ET
CORNELIUS, N.C. -- The dichotomy of the parking lot at Grace Covenant Church shortly after noon on Wednesday was something Jason Leffler would have loved.
As Sprint Cup stars such as Tony Stewart, Brad Keselowski, Kasey Kahne and Greg Biffle made their way into the packed sanctuary to say goodbye to their friend and fellow racer, moms and dads were saying hello to their kids who had completed another day at the church academy.
Amidst the long faces of those mourning a loss were the smiles of those celebrating family.
That's why Leffler, who was killed a week ago driving a 410 sprint car on a dirt track in New Jersey, would have loved it.
[+] Enlarge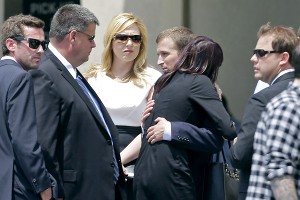 AP Photo/Chuck BurtonSprint Cup driver Kasey Kahne, center, arrives for the funeral of good friend Jason Leffler at Grace Covenant Church in Cornelius, N.C., on Wednesday.
More than anything he did on the track, we learned during the 55-minute service that Jason's greatest life achievement was being the father of 5-year-old Charlie.
Charlie changed Jason. He calmed -- to a degree -- that wild, feisty side that made Jason a star for security cameras in hotels and rental car agencies. He taught Jason and those around him that being the best dad was the best way to fuel the competitive nature that makes racers do what they do.
The words on the program said it all: "Jason lived to race … But more than anything Jason loved to spend time with his son Charlie."
The images of Jason and Charlie on the church's two big screens sent chills down your spine, realizing the two would never be together again. They also made you smile, knowing that the time they had together was special.
Few saw this side of Jason coming before Charlie was born.
"I couldn't see Jason as a father," car owner/friend Todd Braun deadpanned to bring laughter through the tears. "Another Leffler in this world? That's just what we need."
It turns out, that's just what Jason needed.
"I watched the transition from Jason Leffler the racer to Jason Leffler the dad," Braun said. "It was one of the best things I've seen."
If Jason were here today, he probably would have said the same thing. Maybe that's why he was OK that his career in NASCAR never really got off the ground. Maybe that's why he was OK with returning to the world of USAC cars where he first made a name for himself.
He knew in Charlie he already had achieved much more than he could by winning the Daytona 500 or Indianapolis 500.
"A lot of kids spend their lives saying they don't want to be like their parents," Braun said. "I think the best thing we could ever do is have Charlie say, 'Hey, I want to be just like my dad.'"
The theme was repeated over and over. Jeff Dickerson called his friend and business associate "by far the best dad in our small world" of racing in the Lake Norman community.
"By far," he reiterated.
Dickerson then challenged everyone in much the same way Braun did.
"We all have a responsibility in making sure his son knows exactly who he was and how much he loved his son," he said. "When we see Charlie with that same little playful grin his dad had, we must let him know every chance we get to tell him [Charlie] hung the moon with his dad and Jason savored every minute he had with his son."
Coming into the service, I admittedly wondered why people were so fascinated by Jason's death. He wasn't famous like Dale Earnhardt or Benny Parsons or any of the other famous athletes whose funerals I covered.
Leaving the service, I realized more than ever that fame comes in all shapes and sizes, and what Leffler accomplished in five years as a dad was just as significant as anything Earnhardt or Parsons did in a car.
Maybe more so.
As the Rev. Kenny Crosswhite, a former chaplain with Motor Racing Outreach, said, "He was easy to love."
"I was talking to somebody who said he had 'happy hair,'" Crosswhite said of Leffler's haircuts, often groomed to bring attention to sponsor Great Clips. "He did. And recently spending time with him he was never happier."
Jason still was a cutup, too. When Crosswhite told him his name meant "healer" in Greek, Leffler joked, "Could he wound the person first?"
"Maybe he didn't live up to the name 'healer' all the time," Crosswhite said with a laugh.
But Jason lived up to being a dad. Maybe that's why he was able without regret to recapture the love of competition on dirt tracks like the one where his life was taken.
Charlie, as we were reminded in picture after picture, was the reason Jason celebrated life like those at the service celebrated Jason's life.
"It doesn't have to be a cliché 'father first,'" said Dickerson, referring to a line used by many race car drivers and men in general when describing who they are. "Jason showed me, and hopefully all of you, he could do both at a high level."
June, 6, 2013
06/06/13
11:24
AM ET
CHARLOTTE, N.C. -- Greg Biffle's paint scheme for an upcoming Sprint Cup race at Michigan may be about smiles, but the Roush Fenway Racing driver isn't smiling much these days.
Ranked 13th in points, the perennial Chase contender says RFR and Ford are searching for ways to improve performance for all of its cars, including more open communication with Penske Racing.
[+] Enlarge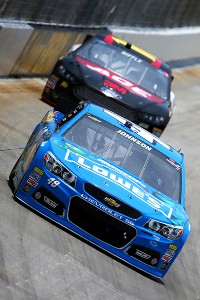 Tom Pennington/Getty ImagesA familiar sight in the Sprint Cup Series in 2013: Ford playing catch-up with Chevrolet.
"We are currently having discussions on how to make the Ford brand better across the board," Biffle said on Wednesday during a conference call to promote his 3M "Give Kids A Smile" paint scheme program for the June 16 race at Michigan. "They're [Penske] definitely not trumping the Cup series right now, but they're running better than us.
"As Ford, we need to be running better overall, Penske and Roush. Ford sparked the discussion of how can our teams elevate one another without an open book, without giving away our speed secrets."
RFR's Carl Edwards at second in points is the highest-ranked Ford driver. Reigning Cup champion Brad Keselowski of Penske Racing is next at 10th.
After that it's Aric Almirola of Richard Petty Motorsports in 12th, Biffle in 13th, RFR's Ricky Stenhouse Jr. in 15th, Penske's Joey Logano in 18th and RPM's Marcos Ambrose in 23rd.
Biffle said Edwards' position doesn't paint an accurate picture of where RFR and Fords are.
"I'm not going to downplay Carl's success so far this season, but we were all not very good at Dover," he said of Sunday's race. "We have a systemic problem similar to what we did two years ago with our cars when we were struggling bad company-wide."
At Dover, Stenhouse was 13th, Edwards 14th, Biffle 15th, Almirola 18th and Ambrose 19th. By contrast, Keselowski was fifth and Logano seventh.
"We had an hour and a half call-in debrief meeting the other day, and those are normally 30 minutes," Biffle said. "They're getting longer and longer because everybody is working so hard and we're all on board, but we're just struggling with our cars to get them where they need to be."
Laps led is a good indicator. After Edwards with 153, the next-highest Ford driver is Keselowski with 109. Biffle has led only 39.
Edwards, Keselowski and Biffle combined have led 301 laps. By contrast, former RFR driver Matt Kenseth has led 922 laps in his Joe Gibbs Racing Toyota, with teammate Kyle Busch leading a series-best 955.
"We're missing some part of the puzzle right now," Biffle said. "We recognize that. The cat's out of the bag. You look at our performance this season, company-wide, and Petty cars too. All of our chassis are, let's say our cars, are just not up to snuff."
Biffle hopes to see a turnaround the next two weeks at Pocono and Michigan.
"We recognize we have a problem," he said. "We're working very hard on it. We've got huge plans in place going to Pocono and Michigan to get better, get these cars fast again and get these cars competitive.
"Clearly, we're not there right now."
Working more closely with Penske Racing, which gets its engines from Roush Yates, is one area to start. Ford officials acknowledged there is an increased effort to encourage that.
"It's a delicate situation," Biffle said. "It's hard to do. We have proprietary stuff and they do. We're still racing against them for the championship and Chase spots."
June, 2, 2013
06/02/13
11:50
AM ET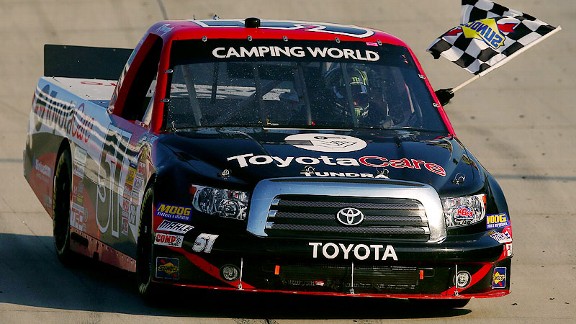 Tom Pennington/Getty ImagesKyle Busch rolled to victory again on Friday, winning a Camping World Truck Series race for the 32nd time in his career.
DOVER, DEL. -- There was anticipation, maybe even wishful thinking, that teenagers Darrell Wallace Jr. and Chase Elliott would battle for the victory in Friday's Truck Series race at Dover International Speedway.
Ryan Blaney and Jeb Burton, too.
The stars of the future.
Instead, Sprint Cup regular Kyle Busch collected his second consecutive victory and 32nd in this series, his 89th in NASCAR's two lower-tier national touring series, counting 57 Nationwide Series wins.
Enough is enough.
While Busch's ability as a driver truly is respected, and this is in no way aimed personally at him, he is ruining the Trucks and Nationwide series with his domination. He is preventing fans from seeing future stars in Victory Lane and future stars from experiencing those moments.
While his presence behind the wheel may bring sponsors and money to Kyle Busch Motorsports in Trucks and Joe Gibbs Racing in nationwide that otherwise might not be there, it's hard to imagine he is putting fans in the seats.
If anything, from comments heard during a jog around the track following the Trucks race, the domination is turning fans off.
Busch, who has six wins this year in the Nationwide Series, understandably has a different viewpoint. After his latest triumph he said, "Yeah, people say it's too easy to win and we're cherry-picking. Whatever. This is a sport we're all welcome to participate in. That's why we're here."
Whatever?
Perhaps if he saw it from the fans' perspective he might feel differently. Perhaps he and NASCAR need to listen to readers such as the one that sent this: "Kyle Busch and the other Cup regulars do the sport no good deed by racing in the lower series and taking wins from the regulars trying to make a name for themselves.
"Today at Dover was a good example. Kyle beat a bunch of children and old men, while having the best equipment. That is NOT a fair fight. One might argue that promoters want a 'big name' in the race. I would suggest that racing for the title among the rising stars of the future would build the sport more.
"The young ones need to win in order to grow the series. Allowing Cup regulars to race in the truck series is a bad decision."
He's right, and he'd be right if we were talking about Dale Earnhardt Jr., Jimmie Johnson or any Cup regular. It is time for NASCAR to take a stand before the 2014 season and limit Cup drivers to no more than 10 events between the Nationwide and Trucks series.
And even that may be too much.
While it may mean fewer entries into both series, maybe even a few less ticket sales and sponsor dollars, fewer ultimately would be better for the long-term health of the sport if it means drivers like Wallace and Elliott get to race for wins.
In case you missed it, Wallace finished 10th, Elliott fourth, Blaney third and Burton ninth.
Anticipation crushed.
May, 25, 2013
05/25/13
4:56
PM ET
CHARLOTTE, N.C. -- Confession: After 30 years of covering live sporting events, I sometimes get desensitized to patriotic symbols.
It happens when you've heard, by my math, the national anthem more than 5,000 times and seen countless more military members honored.
It's not out of disrespect.
You just sometimes take these things for granted, like you do many things in life that you're around all the time.
But this week -- this weekend in particular at Charlotte Motor Speedway -- I am reminded that patriotism in sports is a big deal. It began Monday when I met retired Navy SEAL Mike Thornton, one of 80 living Medal of Honor recipients, during a golf fundraiser for the USO.
At each hole, there was a plaque telling the heroic deeds of others who received the military's highest award for valor in action against an enemy force.
Most read like the one for Thornton:
Upon learning the Senior Advisor had been hit by enemy fire and believed to be dead and believed dead during a three-man Vietnamese Navy SEAL patrol, Thornton returned through a hail of fire to the lieutenant's last position; quickly disposed of two enemy soldiers about to overrun the position, and succeeded in removing the seriously wounded and unconscious Advisor to the water's edge. He then inflated the lieutenant's lifejacket and towed him seaward for approximately two hours until picked up by support craft.
[+] Enlarge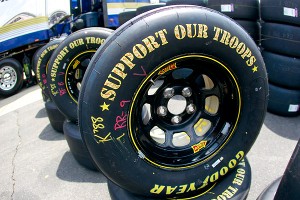 Geoff Burke/NASCAR/Getty ImagesEven the tires carry a message this weekend at Charlotte Motor Speedway.
It was humbling beyond belief.
All of the stories were.
They reminded me I never should forget the significance behind the patriotic symbols that take place at sporting events, at NASCAR events more than most.
Thornton certainly doesn't, particularly when it comes to NASCAR. He grew up in Spartanburg, S.C., with Hall of Famer David Pearson, his racing hero, and 2014 HOF selection Fireball Roberts. Thornton once drove in a charity event with Pearson, Cotton Owens, Lee Petty and Richard Petty.
"I beat [Richard] Petty that day," Thornton said. "I didn't beat Pearson though. And Cotton couldn't see past his hand."
In 1960, Thornton attended the inaugural World 600 at Charlotte Motor Speedway. He still calls it the World 600 -- I love that -- even though it's been the Coca-Cola 600 for years.
He spent time with the late Dale Earnhardt, and Dale Earnhardt Jr. has been his favorite driver since he put the Navy SEAL Trident on his Nationwide Series car years ago at Daytona.
NASCAR is in his blood, and Thornton can't thank the sport enough for everything it does to honor the military.
"God bless we live in a country where we're able to do this," Thornton told me.
Thornton won't be at CMS for Sunday's 600. He is in California for a memorial honoring more than 20 Navy SEALS.
But there will be three other Medal of Honor recipients in attendance. There also will be 10,000 troops in the stands for what is billed as the world's largest military tribute. Six hundred will march through the crowd down to the frontstretch.
There also will be a military member standing with each of the 43 drivers on the starting grid, including a female Marine that will be with Danica Patrick.
Retired Lt. Col. Oliver North will read a speech about the meaning of freedom.
Every Goodyear tire will carry the words "Salute our troops."
"NASCAR's respect for the military is in our DNA," NASCAR president Mike Helton said.
There is no way to be desensitized to this, particularly this weekend.
May, 23, 2013
05/23/13
5:05
PM ET
CONCORD, N.C. -- For most of his career Jimmie Johnson has been called vanilla and boring even though he is neither.
Now some are calling him arrogant.
He's not that, either.
But the five-time Sprint Cup champion was called that by some of you after Saturday night's All-Star Race, when he joked about fans wanting to hate him for winning the event for the fourth time, when he joked that races were rigged and he was lucky as fans screamed conspiracy theory.
He simply was being funny, responding to a question about how the network televising the race confused fans by posting a graphic that incorrectly showed the Hendrick Motorsports driver should have entered pit road 11th instead of fourth, as he was.
[+] Enlarge

Jeff Zelevansky/NASCAR/Getty ImagesJimmie Johnson won his record fourth All-Star Race on Saturday night at Charlotte.
But some didn't take it that way. They took Johnson's response as being smug and arrogant.
Maybe fans simply were frustrated from the lack of passing and slam-bang racing in what was billed as a no-holds-barred event at Charlotte Motor Speedway. Maybe they were upset at having to face the reality that the No. 48 team may win a sixth title this year.
Maybe they were ticked that Danica Patrick won the fan vote.
Or that Bobby Labonte didn't.
Whatever, it was misdirected.
When you think of Johnson, words such as winner, champion, father, husband, athletic and consistent should come to mind.
Arrogant shouldn't be anywhere on the list.
Johnson is as humble as the sport has seen. Ask him how he compares with the Pettys and Earnhardts of the sport, as he was several times before Friday's first practice for Sunday's Coca-Cola 600, and he becomes almost shy.
"I just don't pay that much attention to it all," Johnson said. "It's very difficult to think about where I fit in while I'm still racing. I think of drivers' careers ending mid-40s. I still have 10 years or so to even think about that, worry about that.
"So to be recognized and thought of and even in the conversation with Petty, Earnhardt, Gordon, that's a huge compliment I'm very proud to have, proud to be a part of that conversation. But I haven't thought that much about it."
Peers certainly don't look at Johnson as arrogant. They may be jealous of his success -- 62 wins and five titles -- but they also respect him in the way they do a Hall of Famer.
"People can say whatever they want about him, but I don't know how you [can] say that he's not the best ever," 2003 Cup champion Matt Kenseth said. "Nobody has ever won five championships in a row and probably never will.
"It's kind of cool to be a part of that, because I think someday you will look back at history and be like, 'Oh, yeah, I raced against him.' But at the same time it stinks because you get beat so many times."
Four-time champion Jeff Gordon called his teammate's career "pretty phenomenal." Reigning champion Brad Keselowski called it "pretty damn good so far."
"I know there are a lot of people that would like to have it," he added.
None of the drivers called him arrogant.
That's because he isn't.