'Hole-gate' takes center stage at Daytona
February, 16, 2010
02/16/10
2:23
PM ET
DAYTONA BEACH, Fla. -- If you didn't think the pothole that caused more than two hours of delay during Sunday's Daytona 500 was an embarrassment for the sport, you should have watched "The Late Show with David Letterman" on Monday.
Joke after joke after joke.
It began with comedian/actor Tracy Morgan, who said, "The pothole looked like it belonged in Brooklyn."
It got worse when race winner Jamie McMurray appeared. Letterman began by saying, "You have problems with the potholes in the parking lot, not the racetrack." He then showed pictures of track officials making repairs, mocking the entire process in his best Southern redneck -- sorry, no other way to put that -- accent.
"Yep, that's a pothole," the host said.
The interview ended with Letterman saying, "Will there be potholes in future races?"
"Everyone is making light of the situation," McMurray told me later.
[+] Enlarge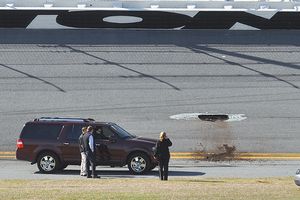 David NewtonThe day after: Officials examine the infamous Daytona pothole that reared up mysteriously Sunday.
If that's not proof enough, the pothole detracted from what otherwise was spectacular racing and a great finish in which Dale Earnhardt Jr. almost came from nowhere to win. Just look at the results of an ESPN.com poll asking fans for their lasting memory of Speedweeks.
Of the more than 22,000 people who responded, 55 percent voted for the red-flag stops to repair the hole. Second at 19 percent was Danica Patrick crashing out in her Nationwide Series debut, followed by McMurray winning the 500 at 15 percent and exciting finishes in all the Speedweeks races at 11 percent.
Not good for a sport looking to re-energize its fan base. Not good for McMurray, who deserved more credit.
If that isn't enough proof, having the sport's most popular driver, Earnhardt, refer to the track as a "2½-mile hole. A s--- hole" over his radio during the first red-flag stoppage should cement it.
Earnhardt went on to say if people -- that would be Daytona International Speedway and International Speedway Corp. Inc. officials -- had listened to him two years ago when he said the entire track needed resurfacing this situation never would have happened.
To be fair, most drivers aren't in favor of resurfacing even though it's in the budget for 2012. They like the rough surface, arguing it produces great racing and to pave it would turn the track into another Talladega Superspeedway, which was repaved a few years ago.
To continue to be fair, the cost is estimated at $20 million and that is a lot during tough economic times.
But suppose the hole caused a competitor to wreck and be seriously injured -- or worse. Do we really want a car to pick up a chunk of concrete going 200 mph like Jeff Gordon's did at a much slower speed at Martinsville Speedway in 2004?
"We're supposed to show up and race," Gordon said at the time. "They're supposed to have the racetrack in the right shape."
This one obviously wasn't.
I got a close-up view of the hole on Monday. Officials had dug out the Bondo and other materials used to fix it. The hole was at least 4 inches deep and more than 2 feet wide in all directions.
If you hit that with your car going 70 mph on the interstate it could cause a wreck, or at least break a part. Jimmie Johnson blamed the hole initially for the broken wheel bearing that sidelined him late.
There's no need to postpone the inevitable. Come up with the money that it will cost to repave now. Use some of the revenue boost that was earned through unexpected ticket sales after Patrick entered the Nationwide race.
If it can be done before the July race, which is doubtful since the process takes about five months, do it. If not, patch the hole well and start repaving the day after the Fourth of July.
Don't wait for something tragic to happen. Don't turn off even more fans and create the travesty NASCAR had at Indianapolis Motor Speedway, which saw approximately a 30 percent decline in ticket sales after the cautionfest created by the track and failed tires in 2008.
And in case you didn't notice, NASCAR, a number of fans left during the two stoppages -- the first one lasted 1 hour, 40 minutes and 45 seconds and the second 44:35.
A lot tuned out on the television as well, as evidenced by a 16 percent drop in ratings to 7.7 percent.
Here is what a few of you said when I asked on Twitter whether the hole overshadowed the race:
• OneryTX -- "First race my girlfriend has watched. Not a fan before. Had her attention until the hole delay. Pretty much a loss after that. A damned shame."
• Chrisjohnson022 -- "Recorded race to watch it later. Had seven hours taped and missed the last 30 laps, so it affected me a lot!"
• Nancy Locke -- "We kept watching, but we are die-hard fans. Probably lost some people. We don't need long halftimes."
• KarlBarthJr -- "For me it became very frustrating. This was the biggest race of the year and it was exciting to watch. I hated the delays."
Some of you, albeit a minority, didn't seem to mind the delays. But imagine had NASCAR not added multiple green-white-checkered restarts earlier in the week. The race would have ended under caution with Greg Biffle taking the checkered. This would have been a public-relations disaster.
Having a great finish with Earnhardt making a late charge and McMurray's emotional display in Victory Lane made a lot of people temporarily forget the pothole.
But not enough, according to all the jokes and the ESPN.com poll, to wipe out the memory. This was akin to having the turf come up in huge chunks at the Super Bowl. I can tell you that would be embarrassing, having seen that happen in a regular-season NFL game in Charlotte.
So was what happened at Daytona.
Whether it was caused by the unusually cold temperatures and rain, the flood last year or cars bottoming out and hitting the track doesn't matter. It happened and it shouldn't have.
Hopefully, the collateral damage can be repaired as easily as the track and we're all talking about something else after this week's race at California.