Kurt Busch caps tour of big-league parks
September, 21, 2011
09/21/11
3:11
PM ET
Monday's race at Chicagoland Speedway was only moments old and Kurt Busch was in such a hurry to get away that he didn't stop for interviews.
Not to go home after rain extended his stay by a day.
To go to a baseball game at Wrigley Field.
Outside of racing, the 2004 Sprint Cup champion has no bigger passion than baseball. He spent Monday night on a rooftop beyond the ivy-covered walls at Wrigley watching his beloved Cubs beat the Milwaukee Brewers 5-2.
[+] Enlarge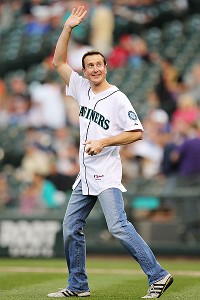 Otto Greule Jr/Getty ImagesKurt Busch threw out the first before the Seattle Mariners played the Los Angeles Angels at Safeco Field on Aug. 31.
Twenty-four hours later, he was at Toronto's Rogers Centre watching the Blue Jays play the Angels.
"I'm a big baseball fan," said Busch, who is fourth in points after Monday's sixth-place finish.
How big? The Toronto game concluded a 12-year odyssey that has taken Busch to all 30 major-league parks. So if you think these drivers don't have a life outside of the stock car, think again.
"I don't know what the initial trigger was to start it," said Busch, who began this journey at Wrigley Field in 2000 when he was driving for Roush Fenway Racing in the Truck series. "It was like, 'Hey, I can go to all these parks and accomplish something that is a personal goal in life.' "
Wrigley easily is Busch's favorite park. Beyond the ivy and history, this is the team he grew up cheering for because his parents were born and raised in Chicago before moving to Las Vegas.
Busch's favorite baseball memory came at Wrigley in 2003 when the Cubs were a game away from reaching the World Series before everything went awry with the infamous "Steve Bartman incident," with a fan attempting to catch a foul ball before it got into the stands.
"It was the week leading into Martinsville," recalled Busch, who played second base and catcher in Little League. "The Cubs have never in my mind been playing baseball when the ivy turns brown in the fall. That was a big moment for me."
Many of Busch's baseball trips have been planned around sponsor appearances or as a celebrity guest. He's thrown out the first pitch at Chicago, Boston, Arizona and Milwaukee. He's sung "Take Me Out to the Ball Game" for the seventh-inning stretch at Wrigley.
And, no, he didn't butcher it like Jeff Gordon and Danica Patrick.
"I'm a Cubs fan," Busch said. "I know it from the word 'go.' "
But most of Busch's baseball excursions have come as a fan.
"Just buy a ticket and go in," said Busch, noting he tries to sit in a different place each time he visits a park.
Along the way Busch began collecting the wooden mini-bats with team logos, albeit he's had to order many online because airport security confiscated them as potential weapons.
Busch also has befriended many players and managers along the way. Nothing has topped meeting childhood heroes Sammy Sosa and Ryne Sandberg.
Unlike his sometimes volatile demeanor in a race car, Busch is relatively calm and quiet while watching baseball. You don't find him screaming "kill the umpire" after a bad call.
"He doesn't have his helmet on at the baseball game, so there's a difference," team owner Roger Penske said jokingly.
No, but the passion is there.
And it will continue to be.
"It's been neat to cap this off, but to know they are always building more parks to go to," Busch said.