Danica-mania in high gear at Daytona
February, 18, 2013
02/18/13
2:32
PM ET
DAYTONA BEACH, Fla. -- The marketing machine at NASCAR has been busier than normal the past 24 hours.
They can thank Danica Patrick for that.
Since Sunday, when the 30-year-old Stewart-Haas Racing driver won the pole for the Daytona 500 -- the first time a woman has earned the top spot in a Sprint Cup race -- there has been a significant spike in interest in the sport.
From ABC's "Good Morning America" to "CBS This Morning" to CNN, Patrick's accomplishment was everywhere Monday. She is scheduled for another round of national shows Tuesday, including ESPN's "Pardon the Interruption."
There is increased interest in Las Vegas as well, as Patrick's odds of winning the Daytona 500 dropped from 66-1 to 18-1, according to Bovada online gambling.
And NASCAR is capitalizing on all the attention.
"Just the sheer volume of media requests we've received … it's staggering to see the breadth of requests, from sports, non-sports, national media, smaller media," said Steve Phelps, NASCAR's chief marketing officer. "It's pervasive and that obviously bodes well for pre-promotion of our racing.
[+] Enlarge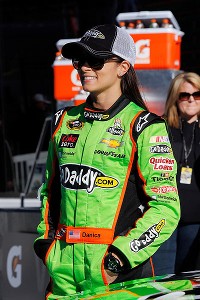 Sam Greenwood/Getty ImagesDanica Patrick became the first woman in NASCAR history to win a Sprint Cup pole Sunday at Daytona.
"The great thing is we're not just in sports conversations. We're in a much broader conversation going to places we normally are not."
You can find it everywhere, even on Twitter where former NFL quarterback Donovan McNabb sent Patrick a congratulatory message -- though he had his wires crossed thinking Patrick won the Daytona 500 and not the pole.
"Congrats to the Illinois native Danica Patrick on her win today. The first female to win in a big race with this magnitude. Big win," McNabb tweeted.
But you get the picture. The sport is reaching people it typically doesn't.
This is significant to NASCAR's effort to grow its fan base and reach a younger demographic, the 18- to 34-year-old age group that has declined in recent years.
"It's very important," Phelps said. "We've got something we call an industry action plan we have in place. One of the key things is to grow new segments. You want to be diverse and get younger. She helps in both places."
Patrick is the only female driver in NASCAR's top series.
"We've had some great stories, we've had some incredible interest, but this is something I would say is unique and special as she continues to break ground in NASCAR," Phelps said.
Patrick already was scheduled to be a large part of NASCAR's advertising plan for 2013. Of the five new commercial spots for the Daytona 500, she is in most of them.
"We're not trying to overexpose one driver versus another," Phelps said. "I don't think she'd want us to. She wants to go out and prove she belongs here. [Sunday], she proved she does."
You can't blame NASCAR for capitalizing on Patrick's popularity. The Davie Brown Index, which measures celebrity appeal and awareness for brand managers and marketers, ranked her third in the sport last year behind Jeff Gordon and Dale Earnhardt Jr.
According to the DBI then, Patrick was known by almost 70 percent of all U.S. consumers, and of those 84 percent liked her to some degree.
According to Fox, overnight ratings for Sunday's qualifying were at 1.9, up 6 percent from a year ago. You have to believe Patrick is a reason.
She has been so big here that Earnhardt, the sport's most popular driver for 10 consecutive years, has seemed like an afterthought.
But NASCAR needs to be careful not to overexpose Patrick. She became the face of the IndyCar Series, which didn't always sit well with the drivers who won races and championships.
Some Cup drivers already are tired of Patrick's relationship with fellow rookie Ricky Stenhouse Jr. stealing headlines.
"We're here to race," Jeff Burton said. "All the media wants to talk about is who is dating who. It's freaking ridiculous. Cover the damn race. We're here to race. We're [not] here to talk about a freaking soap opera.
"It gets old."
Phelps understands that.
"There has to be a balance," he said. "I know she faced some of that in IndyCar. The great thing in our sport is we have so many great stars. … We'll certainly put her out there because she is unique, special and has a huge fan base.
"But we want to make sure we do it appropriately."
After this current tidal wave of attention, that is.