Chase Elliott chasing his own dream
July, 11, 2013
07/11/13
10:27
AM ET
CHARLOTTE, N.C. -- Here's a wild but wonderful thought: Chase Elliott racing against his future Hall of Fame father, Bill Elliott, in the Sprint Cup Series.
It would be a track promoter's dream.
[+] Enlarge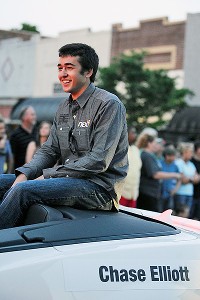 Rainier Ehrhardt/NASCAR/Getty ImagesChase Elliott has finished no worse than sixth in three Camping World Truck Series races.
And we can all dream, can't we?
There's no denying Chase is on the NASCAR fast track. Team owner Rick Hendrick indicated last month at Michigan that he plans to put his 17-year-old developmental driver in a Nationwide Series ride next season.
After two years in Nationwide, perhaps Chase will be ready to step into a Cup ride by 2016. Perhaps he could be the candidate to replace four-time champion Jeff Gordon in the No. 24 at Hendrick Motorsports.
There's also no denying Bill Elliott still wants to race. He said so on Wednesday when I asked if he was ready to retire and begin his three-year waiting period to become eligible for the Hall of Fame.
So maybe the 1988 Cup champion will hang around a few more years, picking up a Cup ride here and there as he did for Turner Motorsports last July at Daytona, until Chase is Cup-ready.
We can dream, can't we?
It wouldn't quite be like having Dale Earnhardt and Dale Earnhardt Jr. on the track together. Or even Bobby and Davey Allison.
Those father-son combinations had a chance to compete when both were competitive and in full rides.
It definitely wouldn't be like 1988 when Bobby and Davey finished 1-2 in the Daytona 500.
But it still would be cool.
Listening to the Elliotts talk during NASCAR's weekly conference call, you could barely tell the difference as they both spoke with a thick Georgia drawl.
Chase even sounded as mature as his father.
And while my wild thought of having them compete in the same Cup race may never materialize, you get the feeling Chase will grow into a star just as his dad was and remains.
Chase is headed to Iowa Speedway this weekend for his fourth Truck series race in the Aaron's Dream Machine/Hendrickcars.com Chevrolet owned by Hendrick. In his other three appearances he has gone sixth, fifth and fourth.
[+] Enlarge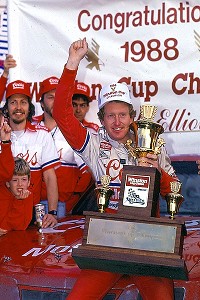 Getty ImagesChase Elliott's mentor is also his father, '88 Cup champ Bill Elliott.
A win can't be far away.
"I think we're close," said Chase, words reiterated by his father.
If all works out as planned, Chase will be sponsored by Aaron's next year in a Nationwide car, presumably out of JR Motorsports, which is co-owned by Hendrick.
"Absolutely," Bill said when I asked if his son is ready for the next step. "There's no question in my mind."
There's also no question in his mind that Chase is further along at 17 than he ever was. Statistics support him. In eight ARCA races, Chase has a win, five top-5s and eight top-10s. In 11 X-1R Pro Cup Series races, he has a win, seven top-5s and 10 top-10s. In 26 K&N Pro East Series races, he has a win, nine top-5s and 15 top-10s.
"I'm not even close," Bill said of comparing himself to Chase at 17. "If you look at his résumé and what he's done to this point, it's incredible."
There's no reason to believe that won't continue, particularly if Chase continues with solid equipment as he's had throughout his career.
"You're only as good as the equipment you're in," Bill said. "If you don't get in good equipment you'll never know how good you are."
Maybe Hendrick -- or somebody -- will put them both in good Cup equipment two and a half years from now. Bill will only be 60, and I say only because Morgan Shepherd (at 71) plans to be the oldest driver to start a Cup race this weekend at New Hampshire.
"Right now, I'm trying to weigh my options," Bill said. "I would like to do a few more races."
Maybe one of them, one day, will be against his son.
We can dream, can't we?