Childress: Paul Menard's Indy win tops list
July, 22, 2013
07/22/13
6:38
PM ET
CHARLOTTE, N.C. -- I dialed into the NASCAR conference call with team owner Richard Childress on Monday in case there were updates on returning the No. 3 to the Sprint Cup Series in 2014 or adding a fourth team.
[+] Enlarge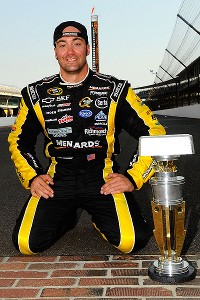 Jason Smith/Getty ImagesPaul Menard stunned NASCAR Nation with his improbable victory in the 2011 Brickyard 400.
What he said was arguably bigger news.
At least more surprising.
The owner of Richard Childress Racing said Paul Menard's victory in the 2011 Brickyard 400 was bigger than Dale Earnhardt winning it in 1995 or Kevin Harvick in 2003.
Seriously, he picked a Menard moment over one for the seven-time champion and the driver who replaced him. And it wasn't to get more money out of Menard's father, whose company sponsors the No. 27 RCR car. They already have an extension.
He was sincere.
"What made that so special was knowing that Paul's family was there," Childress said. "Knowing what John Menard had put into that, I think he had entered like 30-some cars over 20 years at Indy, in the Indy 500. To be part of watching his son win that race was such a special day."
It was a fluke day as well.
Menard won because he got better fuel mileage than Jeff Gordon, who had the dominant car. He'd never won on the Sprint Cup level before and he hasn't won since.
"Not taking anything away from Dale's or Kevin's first win there, but that one was so special because of being able to win a race with Paul, being able to win at Indy where that whole family had put so much into the Indianapolis Motor Speedway," Childress said.
As for bringing back the 3 next year with grandson Austin Dillon, which is expected to happen, there was no update. As for RCR's 2014 lineup beyond Menard and Jeff Burton, Childress says he is getting closer.
Translated: Dillon will be in a third car and a driver to be named will replace Harvick in the No. 29 if full sponsorship is found.
"Right now, we're finalizing some final things," Childress said. "We have sponsorship on a third and we actually have some sponsorship on a fourth.
"But having it all finalized and put together, it could be a couple of months down the road before we have everything ready to do some announcing on any of that."
Stay tuned.