From the archives:

March 2009
March, 31, 2009
03/31/09
7:05
PM ET
CHARLOTTE, N.C. -- OK, who kidnapped Tony Stewart and what do we have to pay to get him back?
The Stewart I listened to for more than 30 minutes on a Tuesday afternoon conference call sounded like the voice of the two-time Sprint Cup champion, but was much too calm, much too content, much too practical to really be him.
[+] Enlarge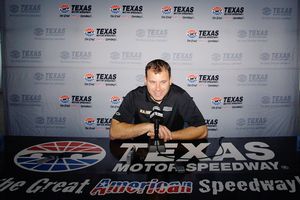 AP Photo/Matt SlocumRyan Newman is on the rise heading to Texas Motor Speedway, and that makes boss Tony Stewart happy.
There was no shot at Goodyear, no questioning of NASCAR, no controversial statements or comments that could be taken in or out of context the wrong way.
He sounded like an … owner.
Oops. Forgot. He is.
And a pretty good one from what we've seen so far. In six weeks he has turned an organization that had absolutely no chance of winning a race, much less a title, into a legitimate contender for both.
Sunday's third-place finish at Martinsville was higher than any in the eight-year history of Haas CNC Racing before it became Stewart-Haas Racing this season. Johnny Sauter finished fifth at Richmond in 2007, but no other Haas driver scratched the top five.
In fact, Haas drivers had only 14 top-10s in 284 races, only one all of last season. Stewart and teammate Ryan Newman already have six, including two at Martinsville.
I'm not sure Haas CNC ever had two drivers in the top 10 in one race.
It also can't go without mention that Stewart is ranked seventh in points and Newman 18th. No Haas driver finished in the top 20 and I'm pretty sure there wasn't one in the top 10 after six events.
No wonder Stewart was in such a good mood. But he's not getting cocky. He's not scrambling to find sponsorships for a third or fourth team, even though that was the goal of the organization before he came on board.
He wants to make sure he and Newman can contend for wins and championships before considering expansion.
"I don't know that it'll happen for next year," Stewart said. "Right now, I want to make sure I give Ryan and I the best opportunity to run for a championship. Until we have that I don't know that diluting into a three- or four-car operation is the best thing right now."
Nobody ever said Stewart was stupid. But perhaps this ownership thing is good for him. He admitted there have been times when he would have left Martinsville mad after a third-place finish. As an owner he understands success isn't always measured in wins, although that contradicts the way he thinks as a driver.
To realize that in six weeks he's competed on almost even terms with Hendrick Motorsports, Roush Fenway Racing and even his former organization, Joe Gibbs Racing, has been almost humbling.
"Success isn't just necessarily measured by wins," Stewart said. "It's measuring yourself against the competition. … A win is more of an individual feeling. Being a car owner helped put that in perspective."
Maybe this is the new improved Stewart. Maybe all those hauler lectures from former team owner Joe Gibbs about how to talk to the media are sinking in.
Maybe Kyle Busch should get into ownership.
March, 27, 2009
03/27/09
11:08
AM ET
CHARLOTTE, N.C. -- If you don't understand the power of the NFL, you will after you read this piece.
Owners at the NFL's league meetings this past week discussed lengthening the regular season by a few games, likely by the 2011 season. That means the Super Bowl would be pushed deeper into February than normal, likely falling on the date of the 2012 Daytona 500.
[+] Enlarge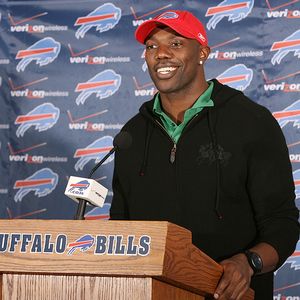 James P. McCoy/Buffalo NewsWant proof the NFL rules the roost? Just remember the Terrell Owens saga.
That means the 500, NASCAR's Super Bowl event, would have to move.
Sponsors certainly don't want a Super Bowl-Daytona 500 doubleheader, especially Sprint, which plays a big role in the NFL and owns the title name for NASCAR's premier series. Television partners certainly don't want it because that would kill ratings and make selling ads for the 500 even tougher than it was this past season.
NASCAR doesn't want the events to coincide because of all of the above.
And if you think the number of media attending the 500 and other NASCAR events has shrunk, wait until you see the 500 trying to go head-to-head with the biggest annual sporting event in the country.
There may be more media covering the NFL meetings than the 500.
To those who wonder whether the NFL would adjust its schedule, perhaps starting its regular season in mid-August to alleviate such a conflict, get real. The NFL has 10 times the audience of NASCAR, and NASCAR is promoted as the second-most-viewed sport on television.
When a colleague thought Terrell Owens' release by the Dallas Cowboys was overblown, I tried to tell him that he hasn't been paying attention. I later noted the Owens news story on ESPN.com had almost 7,000 comments within a few hours.
A good Dale Earnhardt Jr. story is lucky to draw 200 comments.
That's no knock on NASCAR's most popular driver, who garners 10 times the attention of any other driver. It just shows the power of the NFL.
Here's my suggestion: If the NFL lengthens its season, NASCAR should shorten its season and start it later. Cut the season back to 34 or even 32 races. Cut Speedweeks at Daytona from two weeks to one. Run the Budweiser Shootout on Wednesday, the qualifying races on Thursday and the big show on Sunday.
Take advantage of this situation and do what fans and even some drivers have been asking for.
The season already is too long.
In a dream world, the NASCAR season would end when the NFL season starts anyway. But that's another story for another time.
This is about the power of the NFL, and when it comes to Super Bowls, there isn't room for two on the same day.
March, 26, 2009
03/26/09
12:38
PM ET
BRISTOL, Tenn. -- Forget the debate about whether Kyle Busch is better than Dale Earnhardt Jr. Stop worrying about whether Earnhardt and crew chief Tony Eury Jr. belong together.
Let's talk about the biggest story in the first five races of the Sprint Cup season:
AJ Allmendinger versus Scott Speed.
The early returns say Red Bull Racing made a mistake in releasing Allmendinger in favor of the former Formula One driver. Not just a little mistake. A big one.
Bigger than Hendrick Motorsports letting go of Busch to sign Earnhardt. At least in that situation both sides won. Joe Gibbs Racing has 10 wins courtesy of Busch. HMS has a lot of publicity and sponsor dollars thanks to Earnhardt.
Red Bull has little to show for choosing Speed over Allmendinger. Speed ranks 36th in owner points, meaning he isn't guaranteed a spot in the field for Sunday's race at Martinsville Speedway. One slip in qualifying and he could dig a hole so deep he'll never get in the top 35.
Allmendinger is 16th in points with Richard Petty Motorsports. He finished third in the Daytona 500 after having to qualify his way in, and has finished 17th and 16th the past two weeks at Atlanta and Bristol.
But before we jump the gun and call the case closed, Red Bull loses, don't forget Allmendinger's early struggles. He failed to make his first four races in 2007 and didn't qualify for 19 of 36 events.
He finished 43rd in points that season, and 2008 wasn't much better. He finished 36th in the final standings, failing to make the first three races before being replaced temporarily by Mike Skinner.
Allmendinger didn't start to show potential until midway through the season, when he put together a handful of top-15 finishes. By then, executives of Austria-based Red Bull were developing Speed through the ARCA, Nationwide and Truck Series after their huge investment in his F1 career failed. He actually had a victory and nine top-10s in the Truck series. There was promise.
Allmendinger didn't really turn heads until he was released and went to Gillett Evernham Motorsports (now RPM) for the season's final five races. He had four finishes between 11th and 16th and outperformed veteran Elliott Sadler, to the point that Allmendinger was slated to drive the No. 19 Dodge until Sadler threatened legal action.
In those races, Speed had only one finish better than 30th -- 16th in the finale at Homestead-Miami Speedway.
But it wasn't as if Red Bull simply cast Allmendinger aside. The team wanted to give him a one-year deal and put him in a third car. Allmendinger wanted more long-term security, and thought he could get it before the economy shrank opportunities due to lack of sponsorship.
Red Bull had little choice, short of casting Speed aside, but to let Allmendinger go.
And don't forget: Allmendinger still doesn't have sponsorship for a full season, although four more races have been added to what was a nine-race schedule -- the first eight races and the July Daytona race -- to keep him running in hopes that money will come in.
So this isn't a slam dunk win for RPM over Red Bull. Speed deserves time to grow into the position just as Allmendinger has.
There's also no question Allmendinger has been a big early-season story.
"All the love is about AJ," RPM vice president of competition Robbie Loomis said earlier this week. "He's got a great personality and has tons of energy. I love the fact that he's finished 17th at Atlanta and he's like, 'Man, I wish that we could have gotten more out of the car. It was really good.'
"You love that passion and drive and fire in a driver, and I think he's going to be somebody."
We know where Loomis stands in this debate. He was looking at Allmendinger before Petty Enterprises merged with GEM. Red Bull's other driver, Brian Vickers, has maybe a better perspective.
"For me to say it was the right decision, the wrong decision, now, just because of five races and one is higher in points than the other, would probably be irresponsible," he said, admitting he didn't know either driver well at the time the decision was made.
Yes, it would be irresponsible. Let's give this one time to develop.
Now you can go back to talking about Earnhardt and Busch and Earnhardt and Eury.
March, 25, 2009
03/25/09
10:36
AM ET
CHARLOTTE, N.C. -- Many of you are wondering why
Kyle Busch
took a shot at
Dale Earnhardt Jr
. following Sunday's victory at Bristol Motor Speedway.
It's simple.
Because he can.
To be fair, Busch was placed in a position to take the shot when asked first about being compared to the elder Earnhardt and then about how his souvenir sales are picking up.
"We all know who is No. 1 and forever will be," Busch responded, referring to souvenir king Earnhardt Jr. "To me, I go out there to win races, to be No. 1 on the racetrack. That's where I feel like I win, where my benefit is.
"For me, I don't think I would enjoy having the most fans out there. I actually like the way I am, the role I portray. There's probably too much pressure on one guy's shoulders who doesn't seem to win very often."
There's the zinger. There's the shot fired across the bow of Earnhardt Nation.
But was it bragging or simply saying the facts? Busch insists he's not much of a bragger. He didn't even know who Dizzy Dean was or that he coined the phrase, "It ain't bragging if you can back it up."
But he likes the phrase. And that takes us back to why he can take a shot at NASCAR's most popular driver. Because he can.
One could argue the opposite, noting Earnhardt has 18 wins, including a Daytona 500 victory, to Busch's 14. But that's a bit skewed because Earnhardt is 34 years old and Busch is 23.
If you want to compare the two, look at their numbers since Busch was released from Hendrick Motorsports to make room for Earnhardt in 2008. They aren't even close.
Busch has 10 wins. Earnhardt has one.
Busch has 20 top-5s. Earnhardt has 10.
Busch has led 2,190 laps. Earnhardt has led 897.
The only statistic in which Earnhardt leads Busch is most popular driver awards. He won last year to give him six for his career, and he'll likely win again this year. Busch has none and won't be a candidate for one any time soon, judging by the boos he heard before and after Sunday's race.
A reader asked whether Busch takes shots at Earnhardt because he is jealous. I can't get inside Busch's head, so I won't speculate. But you can't blame him if there's resentment.
Rick Hendrick might have made the move because knew he could get Earnhardt. Or he might have done it because he simply tired of Busch's attitude, which often ticked off sponsors and caused friction within the organization. Either way, Busch lost his job at the sport's top organization. The driver who replaced him was Earnhardt, and that made Earnhardt the enemy.
That Earnhardt continues to draw more media attention than anybody in the Sprint Cup garage while Busch wins more than anybody in the garage only adds fuel to the fire.
NASCAR chairman Brian France even admits the sport benefits more when Earnhardt does well. That leads conspiracy theorists to say the governing body gives Earnhardt breaks whenever possible.
You could hear the sarcasm in Busch's voice on Lap 320 of Sunday's race when Earnhardt received the "lucky dog" because he was the first car a lap down when the mysterious debris caution came out, so he got to start on the lead lap afterward.
There was a tad of sarcasm last season after a late run-in between the two for the lead at Richmond left Earnhardt 15th and Busch second.
"No, there's not been any death threats," Busch said a few days later. "That would be ludicrous, I guess. Maybe they're out there. I haven't seen them. I hope my well-being is safe in this deal. Since Junior ended up OK, then hopefully I can end up OK."
Ah, you have to love it.
Busch couldn't say those things -- OK, maybe he could -- if he weren't winning so often. How can Earnhardt respond? Hey, dude, I sell more T-shirts than you.
Earnhardt's lone edge is in popularity. He owns about 30 percent of the market in souvenir sales. Nobody can touch him.
Because of that popularity, if you're an owner starting a new team, you'd have to weigh the benefits of attracting sponsors and other monies against winning races.
If you're Busch, only one thing matters -- winning.
Right now, he owns that market.
Or, if you want to take a shot, he owns Earnhardt.
March, 23, 2009
03/23/09
11:10
AM ET
BRISTOL, Tenn. -- I just watched the television highlights of Sunday's Cup race at Bristol Motor Speedway. It took less than a minute. They showed
Mark Martin
leading the first lap,
Joey Logano
blowing a motor to force a green-white-checkered finish and
Kyle Busch
cruising to the victory.
It was an exciting day for Busch.
It was another Bristol snoozer for the rest of us.
I am starting to agree with the fans. It's time to go back to the configuration before the track was resurfaced two years ago. It's time to go back to the beating and banging -- and, yes, wrecks -- that made Bristol one of the most anticipated races of the season.
"Bulldoze it down and build it back the way it was," one reader said. "What a joke."
It's not that simple. The new car has something to do with the racing because drivers can't so easily spin out a competitor.
But the new surface has opened up several lanes that make the bump-and-wreck move unnecessary.
This looked like a race at California, minus a mile and a half of track. Busch led 378 of 502 laps. Jimmie Johnson led another 88. Sure, there was a lot of passing -- back in the field.
The most heated moment at a track where heated moments used to come seemingly on every other lap came when Juan Pablo Montoya spun out Jamie McMurray after McMurray got into him. NASCAR warned Montoya and that was that. The most heated exchange after the race came from Dale Earnhardt Jr. And it was directed at the media, not another driver.
"Well, to be honest with you, it's not that hard to stay positive until you get around the media," NASCAR's most popular driver said with a laugh after finishing 14th. "I mean, you guys have to take a little responsibility for being so hard on everybody, and some people are going to argue that you are just calling out to the reality of a situation.
"But we're trying to work hard and trying to do our job, and that's what we do every week. Somebody seems to think we still belong here, and so we keep showing up."
That's not quite the same as Ward Burton tossing his heel pads into the cockpit of Earnhardt's car after Earnhardt spun him out battling for 12th in 2002. Or Rusty Wallace slamming a water bottle against the head of Earnhardt's dad after the elder Earnhardt slammed him into the wall in 1995.
It's not the same as the "Intimidator" sending Terry Labonte into a spin on the final lap to capture the 1999 Bristol race.
Jeff Burton once asked, after I suggested a race at Bristol was boring, if wrecks and hot tempers made the race more exciting. My response: "Hell, yeah!" The sport needs mayhem a few times each season to break up the monotony of the 1.5-mile tracks.
It doesn't need a highlight clip like the one I just watched.
March, 22, 2009
03/22/09
12:46
PM ET
BRISTOL, Tenn. -- Members of
Kyle Busch
's pit crew were laughing and smiling as they worked on the No. 18 car early Sunday morning. If they were scarred by their driver's comment at the end of Saturday's Nationwide Series race, they didn't show it.
Busch, 23, should have won that race. He led a race-high 156 laps and was out front when he entered pit road for his final stop on Lap 254.
But a crew member let the right rear tire that was pushed to the wall get away, and Busch was penalized for leaving the pit box before it could be retrieved. He rallied to finish sixth but wasn't happy with that.
OK, he was furious. Steaming.
Instead of leaving his car on pit road where everybody else did, Busch parked it in Turn 3 and headed for the escape tunnel without talking to crew members, reporters … anybody. His last words over the in-car radio were a sharp "y'all suck" to his crew, followed by "get my clothes from the hauler."
Justified or not, the words didn't need to be shared with anybody listening to a scanner. A year ago, teammate Denny Hamlin took a shot at the engine department of Joe Gibbs Racing after a blown engine at Michigan dropped him to 12th in the Cup point standings.
That, crew chief Mike Ford said, made for a long week with "some double throwdown and not-so-friendly meetings."
"The next couple of weeks were very difficult," he said.
Most of the guys who heard Busch's comment were the same ones who service his car on Sundays. Crew chief Steve Addington isn't worried about repercussions, saying that if you take those things personally, "you're in the wrong business."
Addington added that the person who let the tire away wasn't part of the Cup over-the-wall team. Not that it matters.
"You've got to take it with a grain of salt," he said. "It's the heat of battle. It's part of it. Kyle's not the only driver I've worked for that has raised Cain about his car."
He won't be the last, either, but there has to be a better way of showing frustration than taking it out on the guys who bust their butts for you. Hamlin learned. He and Ford credit the Michigan moment as huge for the driver's maturity.
Maybe this one will be for Busch.
March, 21, 2009
03/21/09
2:37
PM ET
BRISTOL, Tenn. -- Upon further review, Formula One drivers apparently don't think this winner-take-all system for determining the F1 champion is such a good idea.
If they tried that in NASCAR there would be a revolt.
You could find more support in the Sprint Cup garage at Bristol Motor Speedway for AIG employees who received million-dollar bonuses than you could for a point system in which the driver with the most wins takes the title.
"It's wrong," Kyle Busch said. "It needs to be based on consistency. Right now it's not the perfect scenario, but it's a good enough scenario where its consistency in the last 10 [races].
"To me for a whole season of wins … I would have finished second in points last year, but to me I don't think it's right."
Four-time champion Jeff Gordon agreed.
"I am not a big fan of them saying just whoever wins the most races," he said. "I do think they need to change the points system a little bit, though. It needs to award a little bit more for first.
"I like what we have right now where it pays more points to win. You can really make up a lot of points or spread yourself out from your competitors when you win." Ditto, said Jeff Burton.
"I like the fact that you have to show consistency," he said.
The list of naysayers went on and on. Dale Earnhardt Jr. basically abstained, knowing whatever he said could stir controversy.
"I would like it no more or no less than what we've got," he said. "I don't want to make any controversy. I like what we've got, but if they want to do that, I would support them 100 percent."
Bottom line: It'll never happen in NASCAR.
And it shouldn't.
That doesn't mean wins shouldn't carry more weight. I'd like to see winners get 20 bonus points instead of 10.
And at the end of the season, how about rewarding the wins leader an additional 100 points? That certainly could make things more interesting. It would have vaulted Carl Edwards from 69 behind champion Jimmie Johnson last season to 31 ahead.
"If you determine your champion just based on wins you're taking a huge gamble of having the wrong champion," Edwards said. "If one guy wins one race and runs 20th in the rest of them and another guy finishes second in every single race, that's not the right guy for the champion.
"At the end of the year you have to say the champion is the guy who ran the best through the season. We kind of have to stay away from messing with the points too much."
But what fun is that?
David Newton covers NASCAR for ESPN.com. He can be reached at dnewtonespn@aol.com.
CHARLOTTE, N.C. -- March Madness is under way and we're all glued to the television set or radio for arguably the best tournament in all of sports.
Maybe NASCAR should take a close look at this. Instead of a 10-race Chase, take the top 12 drivers and create a four-race playoff. Instead of 400- and 500-mile snorefests, we could have exciting heat races.
Let's take last year's Chase drivers and set the pairings for the first round at Las Vegas Motor Speedway, where we would all like to spend another race weekend:
No. 1 seed Kyle Busch vs. No. 12 Clint Bowyer
No. 2 Carl Edwards vs. No. 11 Matt Kenseth
No. 3 Jimmie Johnson vs. No. 10 Jeff Gordon (a marquee matchup of Hendrick Motorsports powers, by the way)
No. 4 Dale Earnhardt Jr. vs. No. 9 Denny Hamlin
No. 5 Jeff Burton vs. No. 8 Greg Biffle
No. 6 Tony Stewart vs. No. 7 Kevin Harvick
We'll run six 50-lap heats, which would be 300 laps, more than enough to keep the track promoter and fans that camped out all weekend happy. The winners advance to Phoenix, or wherever you want to go next. After Vegas I'm not so picky, but I do want Darlington in one round.
I'm going to go with Busch, Edwards, Gordon (gotta have an upset or two), Earnhardt, Biffle and Stewart. Any arguments?
Second-round pairings for 75-lap heat races would be No. 1 Busch vs. No. 10 Gordon, No. 2 Edwards vs. No. 8 Biffle, and No. 4 Earnhardt vs. No. 6 Stewart. The top seed always plays the lowest seed available, if you're questioning the pairings.
My winners: Gordon, Edwards and Earnhardt.
Edwards gets a bye because he's the highest seed remaining, and because we started with 12 teams it doesn't work out to have two semifinals. In a year, we'll expand the field to make it work better.
So it's No. 4 Earnhardt vs. No. 10 Gordon. Three 50-lap heat races with a best-of-three format.
Gordon wins the first. Earnhardt takes the next two to advance.
Championship matchup: No. 2 Edwards vs. No. 4 Earnhardt.
They meet at Daytona International Speedway for the title because I believe the final ought to be at NASCAR's Super Bowl of racing. We'll schedule five 50-lap heats with a best-of-five format.
Edwards takes the first. Earnhardt the second and third. Edwards cruises in the fourth.
And the winner is … Earnhardt, who slingshots past Edwards on the final turn and takes the checkered.
That's for all of you Earnhardt fans who think I don't like your driver.
It's also the only way Earnhardt will win a title.
I'd actually like to create a field of 64 for next season, seeding past and current drivers into four brackets: short tracks, superspeedways, intermediate tracks and road courses. We'd have four No. 1 seeds, perhaps Richard Petty, David Pearson, Dale Earnhardt and Jeff Gordon.
We would have you pick the winners to advance each week until we have two to decide the best driver of all time.
Anybody on board?
Or are you all watching basketball as I am?
David Newton covers NASCAR for ESPN.com. He can be reached at dnewtonespn@aol.com.
March, 18, 2009
03/18/09
10:35
PM ET
CONCORD, N.C. -- Marcos Ambrose brought a driver's helmet and a fireman's helmet and jacket to Wednesday's tire test at Lowe's Motor Speedway to announce a fundraiser he'll kick off this weekend at Bristol Motor Speedway.
No, he's not raising money for crew member Jimmy Watts, who will start serving his four-race suspension this week.
Ambrose believes NASCAR made the right call penalizing his gasman for chasing a runaway tire into the infield at Atlanta Motor Speedway. I agree with Ambrose. The incident forced the governing body to call a caution in the middle of green-flag pit stops, leaving more than half the field at least a lap down.
Watts also put his safety and perhaps the safety of others in danger.
"The penalty was a good one," Ambrose said. "You can't have guys running on pit lane. Jimmy is a great guy. He went on instinct. You can't blame the guy for that. He just went on reaction, and it was the wrong reaction.
"He needs to set an example for others not to do the same."
More than anything, Ambrose is glad NASCAR didn't dock his team points or pass out a monetary fine.
"We're a brand-new team, and we're doing everything we can … to survive out there," said Ambrose, whose JTG Daugherty team is 28th in owner points. "We've got a good package together as far as sponsors are concerned, but we don't have money to waste. It was a good decision all around. NASCAR made the right call."
Ambrose said he knew something had gone awry when he saw 14,000 flashbulbs go off in his pits.
Can't slide anything past him.
"I didn't know if I had run over somebody or our tire rolled into somebody else's pit lane," he said. "It was a disaster."
But back to the helmets and jacket. Ambrose plans to have every driver at Bristol sign them, then to auction them off to raise money to help with the recovery from disastrous bushfires in his native Australia.
The hope is to raise enough to purchase a new 3000-liter four-wheel drive water tanker for the Yarra Glen Volunteer Fire Brigade.
Here's a thought: Let Watts roll a tire from Charlotte to Bristol, Tenn., and have fans donate $1 or more for every mile.
He has time to do it.
March, 13, 2009
03/13/09
3:30
PM ET
CONCORD, N.C. -- Smoke poured around the black curtain. The room darkened with the exception of a single spotlight. Music from "2001: A Space Odyssey" blared from speakers.
Out stepped ... Dale Earnhardt Jr.? Jeff Gordon? Jimmie Johnson?
[+] Enlarge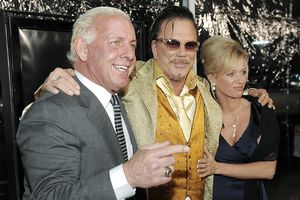 AP ImagesRic Flair, left, mugged for cameras with actor Mickey Rourke at the premiere of the film "The Wrestler."
No, Ric Flair. "Woooooo!"
Lowe's Motor Speedway, in an attempt to add flare to the 25th running of the Sprint All-Star Race, has added Charlotte's best-known Flair to the team.
The 16-time World Wrestling heavyweight champion, affectionately known as "Nature Boy," will serve as the honorary race director.
Wooooo! Wooooo!
In keeping with the wrestling theme the track unveiled a giant event card featuring the face of Sprint Cup drivers on the bodies of the sport's all-time greats. That alone is worth the price of admission for the May 16 event.
The featured match in what is dubbed "a night of fractured fenders and shattered dreams" actually is a rematch from a fight that occurred in the LMS Nationwide Series garage before the October race.
Kevin "Happy" Harvick versus "Cousin" Carl Edwards.
Are you ready to rumble?
"Might be some air-brushing there," Harvick said as he looked at the buff body below his headshot.
On the undercard there was Dale "The People's Choice" Junior versus Tony "Smoke" Stewart, and Kyle "Rowdy" Busch versus "Just About Anybody."
"Everybody wants to run Kyle off the road," Flair said.
[+] Enlarge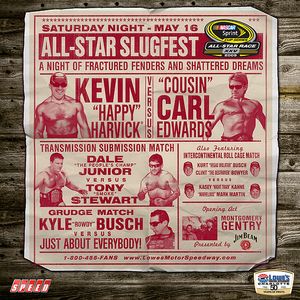 Lowe's Motor SpeedwayGet ready to rumble at the All-Star Race ... er, Slugfest ... May 16 at Lowe's Motor Speedway.
Harvick took a shot at Busch as well. Noting he was the only driver without a wrestler's body below his mug, he said, "They didn't find any body to put on that."
LMS president Marcus Smith had no reservations about pairing NASCAR with wrestling, although it's been done by many before with negative connotations.
Flair said that's unfair, saying "you can't ever denounce NASCAR by connecting it to our sport."
If NASCAR were truly like wrestling, which has been accused of scripting the outcome of matches, wouldn't Earnhardt win every weekend?
Flair laughed.
Bringing Flair to the event definitely will up the intensity. His famous "Wooooo!" will be heard throughout the night, from the drivers' meeting to prerace introductions.
His only question: What took promoters so long to ask? "Finally," he said. "The Nature Boy has been here 35 years. ... Obviously, bringing me into the mix means they're turning up the momentum."
Smith said there will be a few twists to the race format, which last season was four 20-lap segments, but he wouldn't elaborate. Perhaps they should put Flair behind the wheel.
No, Flair will come off the top off a rope with a chair in hand, but he wants nothing to do with coming off Turn 4 at close to 200 mph.
But Flair does plan to offer fighting tips, starting with how drivers should take their helmets off before they start swinging. And he issued a challenge to Harvick to hit as many cars as possible.
"Unfortunately, that probably wouldn't be the first time," deadpanned Harvick, who had a folding chair in hand when he emerged from behind the black curtain.
Flair actually seemed to flinch when Harvick appeared. Perhaps that's because he'd seen the pictures of Harvick and Edwards tussling on top of Harvick's Nationwide car.
"I just noticed the tension," he said of the expression on Harvick's face during Round 1 of Happy versus Cousin. "There has to be a lot of tension. One bad move and you're upside down and dead."
OK, so that may be a bit overstated. But isn't everything in wrestling?
"Wooooo!"