Shaping IRL's car of future no easy task
April, 5, 2010
04/05/10
10:33
AM ET
The Izod IndyCar Series had gained some leadership and direction in terms of determining its new engine and chassis formula for the future. But the decision remains controversial.
Spurred by the unveiling of the radical Delta Wing concept, there's been a lot of recent talk about the new chassis. But things have gone quiet on the engine front.
[+] Enlarge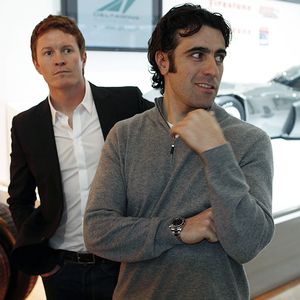 AP Photo/Jim PrischingIndyCar Series stars Scott Dixon, left, and Dario Franchitti were on hand for the unveiling of the 2012 Delta Wing concept car Feb. 10 in Chicago.
That is, until Roger Penske, the most successful team owner in Indy car racing history, stepped into the fray when he met with reporters at the Honda Grand Prix of St. Petersburg.
Citing cost concerns for the teams, Penske advocated introducing the new engine formula first and retrofitting it into the current Dallara chassis, which has been the default chassis of the IndyCar Series since 2003.
"Let's make each step one at a time rather than two steps at once," Penske commented. "I'm all about saving costs right now for all of the teams. I'm not sure if we change cars right now we are going to put 50,000 more people in the stands."
He added: "I don't think it changed NASCAR when we went from the old car to the [Car of Tomorrow], so we just have to look at it. Our team has probably got to have seven or eight cars, so you're talking $2-3 million, plus all your parts. I think they've got to consider that."
Indy Racing League CEO Randy Bernard has met with Penske, and he seems to be leaning toward delaying the introduction of a new technical package until 2013. It's a tricky situation to balance for Bernard:
On the one hand, public perception is that the IndyCar Series badly needs a new design to replace the aged and unpopular Dallara. On the other hand, in the current economic climate, can competitors -- even well-funded ones like Team Penske and Target Chip Ganassi Racing -- afford to make a major equipment change?
One point that shoots down Penske's argument is that the new engine formula is expected to lower engine costs, whether it is the turbocharged V-6 favored by current IndyCar supplier Honda or an inline-4 being pushed by alternate manufacturers.
Bernard is counting in particular on Gil de Ferran, who has been nominated as the team owner representative for the seven-member advisory committee chaired by retired US Air Force General William Looney.
"I think it's very important for Gil to do a team owner survey to see exactly what is important to the team owners," Bernard told reporters at St. Petersburg. "Can they afford, in this economic situation right now, to move into a new car in 2012? Do they like leasing their engines rather than owning their engines? Questions like that.
"I don't want to just shoot from the hip. We could have announced a car last week, and that would have created negative vibes among our fan base and our team owners and sponsors. We need a new car for perception, but if you look at how close some of these races are, the fans love the closeness of these races. We've got something working for us and we have momentum. We have more cars now than we have in the past four years.
"This is one chance that IndyCar can continue to build momentum by making sure this process is well done and well thought out," Bernard concluded. "If the advisory committee comes back and says we need to wait until 2013, we need to think about that."
While the chassis will provide the visual identity for the Indy car of the future, the engine is probably a more important element. Once again, a number of factors need to be considered. Obviously there is the basic format. What kind of fuel should the new powerplant use? How much relevance to street car engine technology should be part of the package?
My own transportation during the St. Petersburg race week was a 2010 Ford Fusion Hybrid, a vehicle I was highly impressed by after driving it. The car's transition from electric to gasoline power was seamless and unobtrusive, performance was on par with a V-6 Fusion, and I averaged 35.5 miles per gallon in more than 300 miles of varied driving. The standard V-6 Fusion probably would have returned mileage in the low to mid-20s.
You could argue that relevance to street car technology is much more important to stock car racing. Of course, NASCAR is legendary in its refusal to adopt modern technology; its spec cars still feature carburetors some 55 years after fuel injection was introduced into Formula One, and the design of basic components such as the live rear axle date to the early '60s.
Formula car racing, on the other hand, has always been about new and advanced technology -- which often carries a higher price tag. But it also provides open-wheel racing with a bit of cache for serious gearheads who love to watch the development of the latest and greatest technology. It also offers car manufacturers an avenue to filter racing technology into their road cars and genuinely prove the adage "Race on Sunday, sell on Monday."
These are the questions the IndyCar technical advisory committee -- and ultimately Randy Bernard -- must grapple with. And with a decision on Indy car racing's future technical direction expected by June 1, time is running short.