Simona De Silvestro showing the right stuff
August, 10, 2010
08/10/10
6:50
PM ET
Simona De Silvestro is best known as the unwitting victim of a shocking display of incompetence by the IndyCar Safety Team at Texas Motor Speedway.
But she's rapidly making a name for herself as the fastest and best female driver in the IZOD IndyCar Series.
The evidence isn't necessarily there so far in terms of results; De Silvestro's eighth-place run Sunday in the Honda Indy 200 at Mid-Ohio Sports Car Course was the best finish of her rookie IndyCar season.
But stand trackside at a road course and watch the 21-year-old native of Switzerland in action and you'll soon be convinced.
[+] Enlarge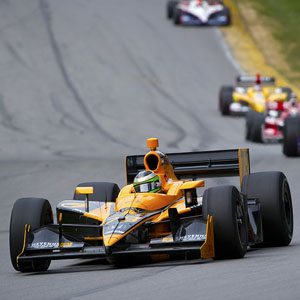 Robert Laberge/Getty ImagesSimona De Silvestro is showing she can run with the big dogs on road courses.
The "Swiss Miss" hustles her car in a way that the more famous (or infamous) female racers in the IndyCar Series can only dream of. The sight of the low budget No. 78 HVM Racing entry giving top stars like Scott Dixon and Ryan Briscoe of the mighty Ganassi and Penske teams all they could handle at Mid-Ohio was highly refreshing in an era in which style matters more than substance and T-shirt sales trump talent.
Comparing apples to apples, De Silvestro has out-qualified (i.e. driven faster than) Danica Patrick in seven of 12 IndyCar races this season, including 6-2 on road courses, on which driver skill is a much bigger factor than on oval tracks. Patrick has a 3-1 qualifying advantage over De Silvestro on ovals, but the one track where SDS ran quicker than DP was Indianapolis Motor Speedway, where once again, the driver counts more than the car.
Those are amazing accomplishments for several reasons:
1. De Silvestro is 12 races into her Indy car career, and until May, had never raced on an oval. Patrick is in her sixth year in the series.
2. Simona and the HVM/Team Stargate Worlds team have maybe 10 percent of the budget and engineering resources of Patrick and Andretti Autosport.
3. HVM's best car was destroyed in the Texas oil fire that generated so much attention and heaped scorn upon the almost comically inept attempt to rescue De Silvestro from her burning car. Since then, Simona has been driving one of the heavier, original Dallara chassis built way back in 2003.
De Silvestro was a five-time race winner -- four of those coming last season -- who should have claimed the Atlantic Championship title in 2009, but was crashed out of the season finale. She's looked better with every race as she gained experience in her rookie IndyCar season.
In her past three starts, she finished ninth at Toronto, qualified an excellent seventh at Edmonton, and put together her best overall weekend at Mid-Ohio, where she consistently ran with the series' top guns.
"It's pretty cool," she told reporters after the Mid-Ohio race. "We had a problem with the clutch in qualifying and maybe could have started more up front than 10th. In the middle of the race, I made a mistake on one restart and Dixon got by me. But I can live with my mistake and I think we can be really happy with P8 [eighth-place finish] because the car was running strong and we were keeping up with the big boys.
"We've been pretty quick everywhere, but the results weren't showing," she added. "Now they are finally here, so I'm really happy about that. If I polish myself out there and not make the little mistakes I do, we should be all right."
Because she's not American and she's unlikely to be tabbed for the "Sports Illustrated" swimsuit edition anytime soon, De Silvestro is never going to achieve the level of popularity and pop culture cache that Patrick has cultivated.
But she's already demonstrated more potential on the track and earned far greater respect from her peers. And in racing, that's ultimately what really matters.