John Anderson gone, but won't be forgotten
December, 16, 2010
12/16/10
6:37
PM ET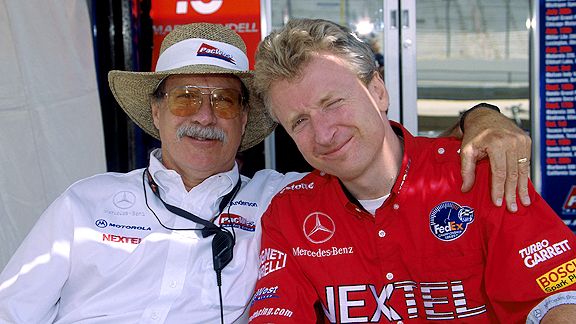 Courtesy of PacWest RacingJohn Anderson, left, talked engineer Allen McDonald into working for him, something McDonald didn't expect to happen when he got the call.
INDIANAPOLIS -- Not many people involved in auto racing don't have at least one enemy. But John Anderson bucked that trend.
Anderson, who died in Indianapolis on Thursday at age 65, was one of racing's good guys, a larger than life character who made everyone he came in contact with smile or laugh.
The native of Australia came to America in 1981 to work for VDS Racing and held management roles for several U.S.-based teams, including A.J Foyt Racing, Team Green/Andretti Green Racing and De Ferran Motorsports. But he was best known as the heart and soul of Bruce McCaw's PacWest Racing Group, the team he built and led from 1993-2000.
Anderson was one of PacWest's first employees, and he helped grow the team into a powerhouse in the CART-sanctioned Indy car series within a few years. PacWest's most successful season came in 1997, when the team won four races with drivers Mauricio Gugelmin and Mark Blundell.
After leaving PacWest in 2000, Anderson joined Team Green, where he was part of championship and Indy 500 winning seasons with drivers Dan Wheldon (2005) and Dario Franchitti (2007).
After leading Gil de Ferran's successful startup team in the ALMS sports car series, "Ando" eventually moved to North Carolina and was set to manage the still-born USF1 Formula One team before the effort folded.
But Anderson's heart was always in Indy cars, and it was almost impossible to find anyone he worked with over the years who had a bad thing to say about him.
"Ando was an incredibly solid part of the team," said PacWest owner McCaw. "He had good focus and good discipline and I think he was a very good judge of talent. He really understood the chemistry part of the dynamics between individuals, so I think he was a very solid leader and he was obviously likeable and fun. I give Ando a huge amount of credit for a lot of our success."
Gugelmin also has positive recollections about his time working with Anderson.
"John was always a great guy, a great personality to work with," said the Brazilian. "He was a real racer and an emotional guy who was down to earth and probably had the biggest heart I've seen in racing. He kept a lot of the fires under control at PacWest. As a person, he was one of the key team members."
Anderson kept in touch with racing people in his homeland and was responsible for bringing Scott Dixon to PacWest, initially to race in Indy Lights (where he won the championship in 2000) and eventually to the CART series.
When Dixon won the 2001 CART race at Nazareth Speedway at age 20, he was the youngest ever winner of an Indy car race. That mark was since eclipsed by Marco Andretti and later Graham Rahal.
"Ando was a huge influence on me," Dixon said. "He was one of the great people at PacWest because he was such a straight shooter and he didn't beat around the bush. He was a huge part of that team and things kind of turned to junk after he left."
Throughout Anderson's tenure at PacWest, office manager Colleen Howerton was his go-to person, in charge of many of the behind-the-scenes administrative aspects of the team including payroll and travel.
"I have a lot of respect for Ando -- always did, always will," she said. "He was a tremendous leader and all around person. He was smart and had more passion in him than a lot of people I ever worked with or worked for. I can't say anything bad about him because I don't think there is much bad you can say about John Anderson. If you had the worst day in the world, he would come in and say 'Hey mate!' and lift your spirits."
Russell Cameron succeeded Anderson as the leader of PacWest's racing operations, but was sad to see his former boss go.
"Ando is the true definition of a mentor, in my opinion," Cameron said. "He wasn't the kind of guy who would selfishly hold on to something he created. He tried to make sure that there were people raised up through the organization. PacWest was really built by John Anderson. He had everybody's full respect, and that is one of the most important things. He was part of the group, one of the guys."
Though he ultimately achieved his greatest success elsewhere, Ando used to look back with extreme fondness on his seven years with PacWest.
"We jumped in at the deep end, obviously," he told me in 2005. "There was nothing in that workshop when we got in there but some very willing people. It was like working in a phone box; you could touch one end of the shop and the other without moving your feet. The satisfying thing was not only to see it grow, but the people themselves and the commitment they had."
When Anderson joined Team Green, he was soon followed by PacWest engineering director Allen McDonald. The pair teamed up to lead Franchitti's 2007 championship-winning campaign.
"I had worked in Formula One for 12 years and was with Arrows in 1996 when this strange Australian bloke rang me up," McDonald recalled. "To be honest, when I went out there, I really didn't have any great intention of doing it. I couldn't see uprooting my family and the whole bit on almost like a whim. But John was such a great bloke and PacWest just seemed like such a nice organization with such nice people. I thought it had a decent chance of success, so I ended up saying, 'Ok, I'll do it.' "
"I don't think I'll ever again feel the kind of attachment I felt toward that team," he added. "Maybe this was one of its faults, but it was very much a family. Everybody loved working there, and that was all down to John Anderson."
Anderson was such an ingrained part of PacWest lore that the team created a dictionary of "Ando-speak" to help newbies decipher his colorful Australian colloquialisms.
He often referred to people as "shag," "slug," or "slick."
"As long as he didn't call you a ferret, you were OK!" laughed Howerton. "If you were a ferret, you were on the down-hill slide!
"Ando was simply one of the best people in racing."