Getting a thrill from LeMons
August, 30, 2012
08/30/12
5:55
PM ET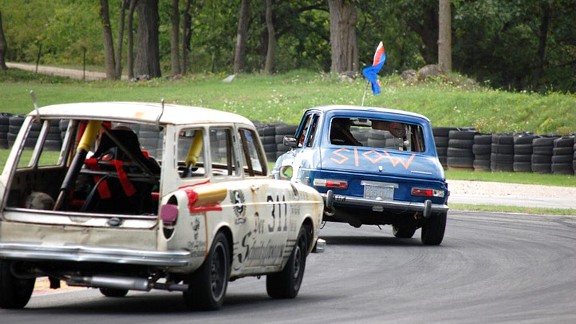 Ryan Long/Special to ESPN.comA VW Squareback chases a Simca 1204 in LeMons competition.
ELKHART LAKE, Wis. -- I have a confession to make.
It was a privilege to be trackside at Road America Aug. 18, watching Guy Smith and Lucas Luhr put on the closest race in American Le Mans Series history.
But the real reason I had journeyed to Wisconsin to my favorite track in the United States was for what followed a couple of days later:
24 Hours of LeMons.
In a nutshell, LeMons is beater racing on road courses. Teams are allowed to spend $500 on a donor car, and encouraged to spend many times more than that on serious safety equipment, which includes race-spec seat, roll cage and fuel system. Modifications to steering, brakes and exhaust also are permitted.
[+] Enlarge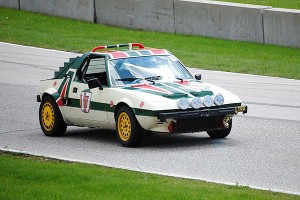 Ryan Long/Special to ESPN.comThis Alfa-powered X1/9 was the overall winner at Road America.
The safety aspect is taken very seriously, but little else is. LeMons rules are fairly restrictive yet loosely defined, keeping in the casual spirit of the series, which features 20 events across America in 2012.
Still, you see some crazy stuff. A team known as Pabst Blue Racing installed a GM Northstar V-8 into the back of a 1990 Nissan Maxima; at Road America, it was a work in progress that wasn't working too well.
Meanwhile, Team Launcha Splatos took a Bertone X1/9, painted it up like a Sandro Munari-era Alitalia Lancia Stratos rally car, dropped in the V-6 from an Alfa 164, and took the overall win.
The Road America event -- dubbed the Chubba Cheddar Enduro, in honor of former Car and Driver editor (and occasional LeMons participant) Csaba Csere -- was my second LeMons race. I recognized about half of the 35 entries from the October 2011 event I attended at Autobahn Country Club, including a late 1960s Volkswagen Type 3 Squareback known as "Der Schnitzelwagen."
"We're putting out 55 horsepower at the wheels and running sub four-minute laps," driver Charles Navarro said.
For the record, Dario Franchitti holds the Road America track record in a 1998 Reynard/Honda Indy car, speeding around at an average of nearly 146 mph.
Another car that caught my eye was an E30-era BMW 3-series, a bright red racer that had a framed 40x 30-inch portrait of former Albanian dictator Enver Hoxha strapped to its roof.
As always with LeMons, there was a story behind the bizarre aerodynamic appendage. Phil Greden, aka Judge Phil, the "Chief BS Judge" of the LeMons Series, wasn't pleased when Team Mark's Harder LemonAid appeared at a prior race with the equivalent of grid girls. Made aware of Greden's known fascination with communist dictators, the Hoxha livery was a transparent attempt to get back in the judge's good graces.
We noticed a ratty old Porsche 944 that was being driven with some verve, and soon learned that the driver was Emanuele Pirro, a five-time 24 Hours of LeMans winner. The real LeMans.
[+] Enlarge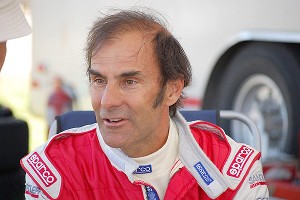 Ryan Long/Special to ESPN.comFive-time 24 Hours of LeMans winner Emanuele Pirro talks LeMons racing.
Pirro did not have a professional obligation to be at Road America on a Monday. He retired from the factory Audi sports car team after the 2009 season, though he has returned to the cockpit for the occasional endurance race.
No, the 50-year-old Italian was in rural Wisconsin purely because he wanted to be there, sharing in the "professional" race debut of his sons Cristoforo and Goffredo while his wife, Marlene, served as the team's hospitality director.
I convinced Pirro that the dork in a bucket hat and shorts using an iPhone as a recorder and camera was really a journalist, and he sportingly agreed to a short interview.
"I'm here for several reasons," he said. "First to race with my sons -- they don't race, but we wanted to have a nice adventure together. This is their very first car race, if you can call it that. We didn't know anything about LeMons. We heard of it but I had never seen it. We thought it would be a good time to do it, with my sons on holiday, so we came from Italy just for this.
"And Road America is a circuit I have always loved," he added. "It's my favorite circuit in the U.S. I had so many great moments here, so to come back brings up good memories."
Driving the legendary Audi R8 prototype, Pirro was the overall winner in ALMS races at Road America in 2005 and '06. I asked him how much adjustment it took to slow down to the level of a tired, old, stock Porsche.
"I really had to force myself to detune my mind because the memories are still so vivid," he said. "I could drive my race car here from scratch and be immediately on pace because I remember everything so well. I had to force myself to forget all that information. Every car has got its own character, and every car should be driven the way she wants. I try to drive well, not necessarily to drive fast. I try to respect the car.
[+] Enlarge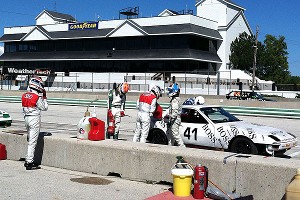 John Oreovicz/ESPN.comThe Pirro Porsche makes a pit stop in the LeMons race. Things are laid-back during LeMons events.
"Honestly, it's not so far from a 'real' car, just at a reduced pace. All the basics are there: braking, downshifting, turning in, a good line. Everything is like the real business, just 50 percent slower."
The battered old Porsche made for a bizarre juxtaposition with Pirro and his sons, who like their father were kitted out in his old Audi Sport firesuits and pro-grade Arai helmets.
It was also strange to see a LeMans (the real one) legend scaling a chain link fence while lugging five-gallon jugs of gasoline out to the pits to fuel his own car. But that's all in the back-to-basics spirit of the series.
"I like it," Pirro said with a smile. "I like the humor of the teams -- the Toyota painted to look like a BMW M1, or the Fiat X1/9 that looks like a rally car. It's really been a nice experience and we're having a lot of fun. I think if you really love motor racing, you tend to like everything, not only the top of the pyramid. We are happy to be here.
"I still have a great passion for racing, and actually I thank God for that. Because sometimes after so long, you can lose a little bit of enthusiasm. Believe me, I'm enjoying my stints in this car very, very much."
I could totally relate to what Pirro was saying. I've been going to racetracks for 35 years, the past 20 of them on a professional basis as a writer or PR man. And while the politics and some other aspects of the job can be depressing or demoralizing, I still get the same kind of buzz from standing trackside and watching race cars being driven to their limit that I did 10, 20 or 30 years ago -- whether it's an Indy car streaking past at 220 mph at Indianapolis Motor Speedway, or a VW Squareback struggling to make it up the hill to Turn 6 at Road America.