Kurt Busch has Indy car history
May, 3, 2013
05/03/13
10:19
PM ET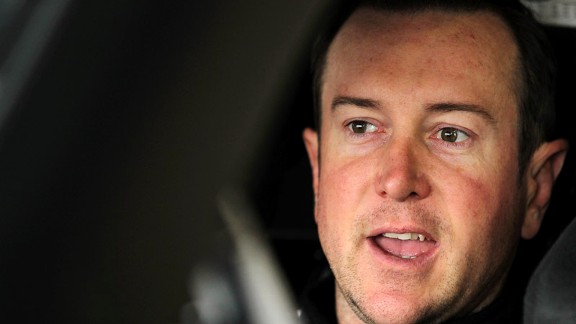 Todd Warshaw/Getty ImagesKurt Busch said doing the Memorial Day weekend double would make for a special one.
INDIANAPOLIS -- Last week, Kurt Busch took time off from his NASCAR duties for Furniture Row Racing to test an Australian V8 Supercar at Circuit of the Americas in Austin, Texas.
Now he's about to get back behind the wheel of an Indy car.
That's right, back.
Busch is set to test one of Andretti Autosport's Dallara-Chevrolets at the Indianapolis Motor Speedway on May 9. But it's a little-known fact the elder Busch brother actually tested an Indy car at Sebring International Raceway in February 2003. Busch wasn't looking to make a career change into open-wheel competition; at the time, he was firmly ensconced at Roush Racing and on the brink of winning the 2004 NASCAR Cup championship.
But in those days, Ford was the exclusive engine supplier to the CART-sanctioned Indy car series, and the Blue Oval arranged for Busch to take a spin in one of Team Rahal's Ford-Cosworth powered Lolas at the popular Florida test track.
Driving the car normally piloted by Michel Jourdain Jr., Busch certainly didn't embarrass himself. In what was basically his first-ever run in a rear-engine, open-wheel racing car, Busch lapped the 1.669-mile Sebring road course in 54.72 seconds -- just less than four seconds slower than test pacesetter Oriol Servia and less than 1.4 seconds slower than PK Racing rookie Patrick Lemarie.
Busch spun a couple of times, but overall, he made a deep impression on about 100 interested onlookers watching his 18-lap demonstration from a hillside between Turns 4 and 5.
[+] Enlarge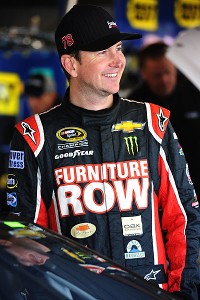 John Harrelson/Getty ImagesKurt Busch has a full-time job in NASCAR, but maybe one other race in the IndyCar Series isn't too much to ask.
"He looks good," remarked Jimmy Vasser, now an IndyCar Series team owner, but back then a driver who spectated during Busch's 30-minute demonstration run along with fellow CART drivers Servia and Paul Tracy. "The guy's obviously got talent because he won a bunch of Winston Cup races last year, and that's not easy."
Busch was grateful to have gotten the opportunity to drive the Team Rahal Champ Car. "The whole experience was first class," he said then. "Team Rahal went above and beyond what I'm used to in terms of telling me what to expect from the car, and Michel was very polite and very generous to let me drive his car today."
Busch spun early in his first flying lap, but he quickly settled into the mid-57 second bracket. After a pit stop to discuss the car with engineer Ray Leto and the Team Rahal crew, Busch returned to the track and steadily chipped away at the lap time until he put in a pair of sub-55 second tours. A second spin at Turn 2 ended his fun after 18 laps.
"After riding around with Michel this morning in a rental car, I knew the section between Turn 1 and Turn 3 was going to be difficult," Busch said then. "My first spin was down to cold tires, and on the last spin, I was just trying to carry too much speed because I was losing a lot of time there, due to the fact that I didn't trust the downforce.
"I probably lost 1.5 seconds of time on the lap just under braking," he added. "The braking was unlike anything I have ever comprehended in my life."
At the time, Busch expanded on his open-wheel experience in a column I ghost-wrote for the English magazine Autosport.
"Believe it or not, I call this my first experience in an open-wheel car," he told me. "I drove a Formula Ford at a Bondurant school four years ago, but that is irrelevant to driving a Champ Car. Many years ago, I went to Phoenix International Raceway to watch Modified and Super Modified cars race, and my dad told me it would be the closest thing I would ever see to an Indy car.
"So I am very appreciative to my friends at Ford for creating this chance, but I'm going to keep my day job," he added. "The door is open now and I enjoyed the experience, but I think I'll stick to what I'm accustomed to."
Busch could hardly have imagined that, more than 10 years later, he would get another shot at driving an Indy car -- this time, courtesy of Chevrolet and on a proper oval track.
Team owner Michael Andretti said he and Busch came into contact last year when they were working on "another racing project" -- presumed to be Andretti Autosport's exploratory effort to enter NASCAR racing -- and he looks forward to seeing what a modern stock car star can do in an Indy car.
"I respect his talent and am happy to give him the opportunity to experience the raw speed of an Indy car," Andretti stated. "It's a unique feel and perspective -- it will be totally different than what he is used to driving each week on the Cup circuit."
Busch was already asked about the possibility of attempting the Indy 500/Coca-Cola 600 double, something only three drivers (John Andretti, Robby Gordon and Tony Stewart) have successfully completed.
"I have always enjoyed racing at Indianapolis, and when IMS and Michael presented me with the opportunity to test an Indy car prior to opening day of practice of the Indianapolis 500, I jumped at it," Busch said.
"I'm looking forward to this test and experiencing IMS at the speeds the Indy cars run," he added. "Let's see how the test goes, and then I can look at the opportunities that could be beyond this coming Thursday. Running the Indianapolis 500 would certainly be a highlight, and doing another 600 miles in a Cup car on the same day would make for a special weekend."