Bet on an IndyCar road race at Indy soon
September, 4, 2013
09/04/13
9:33
PM ET
INDIANAPOLIS -- It's fair to say the prospect of an IZOD IndyCar Series race on the Indianapolis Motor Speedway road course has polarized fans of Indy car racing and of IMS itself.
Brickyard loyalists would love to set the clock back to 1968, tear up the road course and reinstate the Indianapolis 500 as the only game in town, with a 30-day buildup of practice and four full days of qualifying.
[+] Enlarge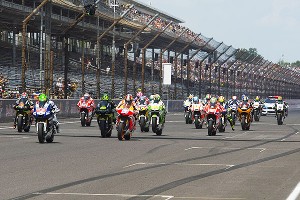 Mirco Lazzari gp/Bongarts/Getty ImagesRoad course races at Indianapolis Motor Speedway definitely have a different vibe.
I tend to agree with Bobby Rahal, who believes that tradition got thrown out the window as soon as IMS invited NASCAR to race on its hallowed rectangular oval.
The introduction of the Brickyard 400 nearly 20 years ago turned Indianapolis into another NASCAR town, and the recruitment of Formula One to the newly built IMS road course in 2000 only pushed Indy car racing further down the Speedway's pecking order.
But for a number of reasons, the Indy 500 has returned to the top spot here at our local racetrack, and the Indianapolis Motor Speedway's new boss, Hulman & Co. CEO Mark Miles, wants to reinvigorate the "Month of May" concept.
That's why Graham Rahal and Ryan Briscoe were pounding around the IMS road course on Wednesday in a pair of Dallara DW12 Indy cars. The test was billed as exploratory, but you can bet your bottom dollar that there will be an Indy car race on the IMS road course next year -- especially now that I'm starting to hear rumors that the IndyCar Series' event in Sao Paulo is going to fall by the wayside.
The notion of an IndyCar road race weekend kicking off the Indianapolis 500 activities has some old timers up in arms, but it's not the worst plan the Speedway could come up with.
"We've lost the whole 'Month of May,' and I think it would be cool to bring it back," said Graham Rahal, who was set to test a number of road course configurations Wednesday, running both clockwise on the Moto GP layout and counter-clockwise on the circuit most recently used by the Grand-Am sports car series.
"People complain a lot about this track, but I think it's a hoot," he continued. "Sure, there's not a lot of grip, so I wouldn't want to go around on a motorcycle. But sliding the car around out there is a lot of fun and I think we could put on a great race."
Indeed, the IMS road course has endured a fair bit of criticism, ever since seven-time Formula One world champion (and five-time Indianapolis GP winner) Michael Schumacher branded it "Mickey Mouse" back in 2000. Champion MotoGP riders, including Valentino Rossi, haven't been any kinder in their assessment of the two-wheeled layout.
But Rahal and Briscoe came away enthusiastic, especially after INDYCAR competition president Derrick Walker showed them plans for potential modifications to the track that would open up the slower parts while creating at least one additional hard braking zone to promote passing.
One potential plan would see the cars running in the same direction as motorcycles and oval races, but proceed all the way through Turn 1 of the oval before diving into the infield for a sequence of turns. Graham Rahal suggested cutting out the current Turn 7-8-9 complex in favor of a very fast right-hander leading onto the Hulman Blvd. back straight.
My own suggestion is to cut out the fiddly bits altogether and create an extremely fast, 6-7 turn road course similar to Monza before it was slowed down by chicanes. The course would need to offer at least one hard braking zone and tight corner for passing, but an average speed faster than Juan Pablo Montoya's 2002 Monza F1 record of 161.4 mph (including chicanes!) would easily be possible. From my perspective, making Indianapolis the fastest road course in the world would only be appropriate.
I'm always amazed at how the character of IMS changes when the facility is used for a road racing event, especially an international flavored one like F1 or MotoGP. The challenge for Speedway management would be to create an Indy car event that has its own unique atmosphere and enhances everything already in place for the Indianapolis 500.
It's unrealistic to think that IMS will fill the massive facility with fans for an early May Indy car race, nor even attract a crowd of 100,000. But with the opening weekend of Indianapolis 500 practice reportedly drawing fewer than 7,500 fans, any moderately successful full-fledged race weekend would improve the Speedway's bottom line.
Indianapolis Motor Speedway traditionalists can howl in protest all they want, but it's clear that plans for an Indy car road race are well under way. Whether it happens in 2014 or further down the line, I hope the naysayers give the event a fair chance and eventually lend their support to the track they love so dearly.