May, 22, 2014
05/22/14
12:06
PM ET
INDIANAPOLIS -- Back home again in Indiana, and it seems that ...
The older Indianapolis Motor Speedway gets, the nicer it gets. Improvements and changes never stop around here. I can still navigate the place, but have to focus. You can't drive through gate 9-A and just go on autopilot anymore.
Bottom line, America's oldest speedway is somehow its most youthful, in a lot of ways. Just the best-kept track in the country.
No doubt I'll get an email or text from Texas Motor Speedway president Eddie Gossage taking issue with my assertions. Confidential to Eddie: When your teenaged track turns 105 years old, we'll talk.
The Yellow Shirts, as we've always called them -- officially the Safety Patrol -- are getting younger. Or is it that I'm getting older?
By younger, I mean a lot of 50-somethings. I even saw one this morning who couldn't have been older than 30. Back in the day we used to joke that to don the iconic yellow shirt and direct traffic and pedestrians, no one under 80 need apply.
Misery loves company to a point, so it's comforting that Jacques Villeneuve is back with considerably less hair, grayer, than when he won the Indy 500 in 1995 as a Canadian youth raised in Europe who really didn't know enough about this race to feel any pressure.
But again, only to a point. This I hate to see and say: Every year I get less and less afraid of A.J. Foyt, because annually I'm more confident I could outrun him if he took a notion to punch me out.
With every pole he wins, and this makes two straight, Ed Carpenter somehow is getting to be more and more of a Mark Donohue look-alike.
The only way to really appreciate the speed of these cars, in the month of May, is to come regularly to NASCAR's Brickyard 400 here each summer.
Only that way do you get the blatant contrast, through the turns alone.
These cars dart, streak through the corners, far more nimbly than the plodding stock cars that lumber through the turns, their weight and clumsiness pushing them up the racetrack.
I just can't, and never will, get over the fact Indy cars run 230 mph-plus here, on a track that was built in 1909 for cars that averaged about 70 mph.
My old friend and colleague Robin Miller was about 25 when I first met him here in 1975, and I'm not at all sure he's turned 30 yet.
You certainly couldn't tell by the way he still writes and talks on TV. He's the youngest guy in the media center -- and unchallenged as the funniest, with his one-liners and his unrivaled impressions of Foyt and Mario Andretti.
Every time I think I've caught a little static from the masses over my coverage of Indy the past couple of decades, I think of all the grief Miller has caught, and weathered. He's got the thickest skin at Indy, that's for sure.
OK, on now to media day, where all the drivers will be present, in a "Chalet," one of those nice, air-conditioned rooms that were built early in this millennium to accommodate the Formula One elite.
Beats the heck out of race week of yore, when the general message to the media was synopsized by the signs on Foyt's garage doors: "Keep Out."
F1 is long gone from here, but the construction for it still helps keep this the No. 1 track in the country in creature comforts.
June, 26, 2013
06/26/13
4:57
PM ET
Courtney Force took a year to think about it before saying yes. The 25-year-old NHRA Funny Car driver is the only auto racer in the Body Issue of ESPN The Magazine, which hits newsstands July 12.
Force is one of 21 athletes who posed nude for the issue.
"I definitely was nervous about it, and I still am," Force said. "But I think it's a way to show how hard we train as race car drivers and how much we work out. And I wanted to show it's OK to embrace your body. I'm not perfect, but I do what I can to make my body strong to be the best I can be in the sport."
Force was asked to pose for the issue in 2012 before she became the NHRA rookie of the year.
"I turned it down because I wanted to focus on drag racing," she said. "It was my rookie year, and I wanted to establish myself as much as I could before bringing all that type of media attention. I wanted to get media attention just based on my driving and nothing else."
Force felt differently this year.
"It is a big deal and a real honor to be asked," Force said. "I put a lot of thought into it before stepping out of my comfort zone. I wanted to make sure everyone in my family was OK with it before going forward."
Her legendary father, 15-time NHRA champion John Force, would have looked a little hypocritical had he disapproved. He posed his dilapidated body in the issue two years ago, showing many of his scars from racing accidents over the years.
"Courtney didn't tell me for a long time," John said. "She wouldn't let me see the photos. She said, 'I know you don't want to see me like this.' She's a good Catholic girl, like her mom, so she struggled with it. But when her mother [Laurie Force] gave her the OK, Courtney was good to go."
Courtney won the NHRA event at Epping, N.H., last weekend, beating her dad in the final round. The 2013 Body Issue athletes were announced two days later.
"It kind of worked out perfect with winning on Sunday," she said. "I ended up telling my team at the race and giving them a heads-up."
November, 10, 2012
11/10/12
4:09
PM ET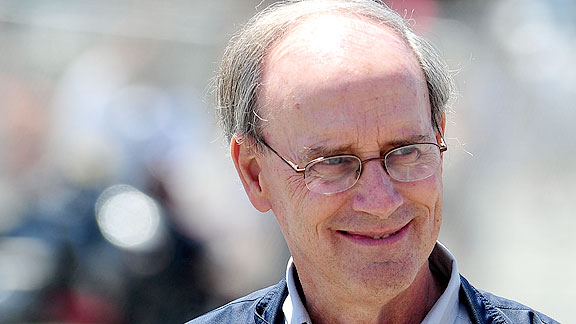 Mark J. Rebilas/US PresswireIf you came to an NHRA event with Bob Frey on the microphone, you knew all you needed to know before the day was done.
POMONA, Calif. -- If you have listened to or watched an auto racing event a time or two over the past 40 years, I can just about guarantee Paul Page has guided you, entertained you, informed you and enriched the moment more times than you realize.
If you have attended an NHRA event in this century, Bob Frey has done everything in his power to increase your enjoyment as you listened to him describe the action.
Page and Frey are working their final NHRA event this weekend. Whether you are sitting at home and watching on TV or sitting in the stands and watching these hot rods rumble, believe me, you are going to miss them.
Few broadcasters in history have done more in motorsports than Page. Calling people "a legend" is an overused term these days, but in this case, it fits.
I can't begin to list all his accomplishments here, but he has worked major racing events for NBC, ABC and ESPN in his distinguished career. His work on the Indianapolis 500 in 1988 and 1989 was a big part of ABC earning a Sports Emmy for Outstanding Live Sports Special.
"I've been very lucky," Page said Saturday. "The other day, I was actually trying to list all the motorsports I've done -- Formula One, Moto GP, Supercross, Motocross, snowmobiles, NASCAR, IndyCar and NHRA. That's a list."
Now at age 66, Page is moving on. He isn't sure how he will feel at the end of the Auto Club Finals on Sunday.
"I don't know," he said. "When it's done and I hear the words, 'That's a wrap,' it's going to be weird taking the headset off and putting it down. But there are other things down the road, like my movie debut."
"Turbo," a DreamWorks animated film about a snail who wants to race, opens next summer.
"I'm the booth announcer," Page said. "I might have a new future in movies.
"But seriously, I'm gonna miss this. The participants and the crowd are just so friendly. I was walking through the pits getting some notes Friday, and so many people came up and said hello and told me they were going to miss me. I think I teared up once or twice."
[+] Enlarge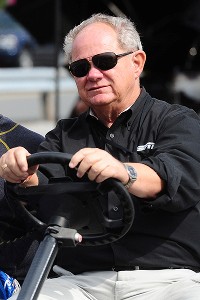 Mark J. Rebilas/US PresswirePaul Page has called nearly every form of racing for NBC, ABC and ESPN.
Why wouldn't he? Broadcasting motorsports has been his life for five decades. Fans should shed a few tears over Page and Frey ending their careers.
If you want to know exactly what Frey did for the NHRA over the years, here's your answer:
You might have attended a drag racing event with little or no knowledge of what was happening, but if you sat in the grandstands for one qualifying session of any NHRA race, you felt like you were an expert.
Frey did that for thousands of spectators over the years with his silky-smooth voice and casual style, announcing the event as if he was sitting on a couch in your living room and having some nachos.
He made enthusiastic fans out of many first-time observers, while spinning a tale that the biggest gearhead at the track could appreciate. That is Bob's gift.
"That's a real compliment," Frey said Saturday. "That's what I try to do. If I accomplished that, I reached my goal. I've always tried to entertain and inform. I'm not a gearhead. I never changed my oil or changed a spark plug.
"But I hope my legacy is fans came to an event and were entertained and had fun because I was there."
Frey, 65, started announcing drag racing events when he was 18 back in his home state of New Jersey.
"Bob Frey's gift is he loves the sport," said Jerry Archambeault, the NHRA vice president of communications. "That's why he's able to enlighten the new fan and educate the hard-core fans. He will be greatly missed.
"I know there are [sportsman class] racers who come up to Bob and ask him, 'Can you call my run?' They love him.''
Like Page, Frey isn't sure how he will feel when it ends Sunday.
"It's been a very nice weekend, but it's bittersweet,'' Frey said. "None of this will sink in probably until the Winternationals next February. It's funny because my wife wanted to do something at home for the holidays with the kids and the grandkids.
"But my daughter said, 'Why not do it the weekend of the Winternationals? Dad will probably be miserable that weekend.' So we're having a party that weekend."
Frey plans to attend a few NHRA events when he can. So does Page.
"I'll be around," Page said. "If you come to Indy for the U.S. Nationals, or Chicago or Norwalk [NHRA events], you might see an old drunk guy in the stands that looks very much like me."
August, 22, 2012
08/22/12
3:01
PM ET
After a lot of tough talking, posturing and threats of ending a great relationship, everyone involved did the right thing in the end.
Cooler and wiser heads prevailed, enabling the IndyCar Series to return to Texas Motor Speedway in 2013, which was announced Tuesday.
"Both sides realized it's best for all of us if IndyCar continues to race here," TMS president Eddie Gossage said. "I really love IndyCar racing and I'm glad we worked it out."
Gossage doesn't have a signed agreement with the league but has a verbal agreement with INDYCAR CEO Randy Bernard.
[+] Enlarge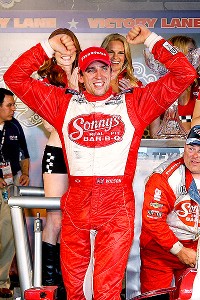 Chris Graythen/Getty ImagesSurprise winner Justin Wilson ended a 46-race winless streak June 9 at Texas Motor Speedway.
"That's not unusual," Gossage said of the contract situation. "One year we actually signed the agreement the day of the race. In this case, we just have a few minor items to complete, but we've agreed of the important points."
There still is a faction within the IndyCar Series that doesn't want to race on high-speed, high-banked ovals like Texas. The movement to eliminate these types of tracks started after Dan Wheldon's death at Las Vegas Motor Speedway in October 2011.
The track was blamed, wrongly in my opinion, instead of many other factors that led to that tragic day -- too many cars, too many inexperienced drivers, safety issues with an aging race car (which was replaced this year), etc.
But IndyCar needs tracks like Texas that produce exciting racing in major markets. It never made sense for a series based on the most famous high-speed oval in the world -- the Indianapolis Motor Speedway -- to contemplate eliminating other high-speed ovals.
There never has been a fatality in an IndyCar event at Texas Motor Speedway since the series started racing at there in 1997. But some drivers, including three-time Indy 500 winner Dario Franchitti, had concerns about tracks such as Texas that produce high speeds in tight packs of cars.
However, the new DW12 chassis has eliminated some of those problems. The race at TMS in June didn't have the tight packs, but still had good racing with lots of passing.
And the bodywork behind the rear wheel of the new car makes it difficult for a car to become airborne by running up on the car in front, which is what happened in Wheldon's accident.
The car changes and the successful 2012 race at TMS were enough to convince most of the drivers and team owners that IndyCar needed to continue racing at TMS, which for years has been the second-most successful event on its schedule to the Indy 500.
Some issues remain for both sides. Gossage doesn't like it that IndyCar will race a street event in Houston next year in October. He feels it encroaches on his fan base, even though Houston is 250 miles south of Fort Worth.
And many IndyCar drivers want to see changes in the catch-fencing at high-speed ovals, moving the support poles outside the fencing or going to a Plexiglas-type structure, similar to what is used in hockey arenas.
"There is no scientific research to prove any of these things is better than what we have now,'' Gossage said. "When there is we can talk about it."
Gossage said earlier this year that IndyCar would not return to TMS if the sanctioning fee went up and the negative talk about the facility continued by some people in the series. The talk stopped, at least publicly, and the fees were worked out.
"But that's not really why this got done," Gossage said. "What did it for me were all the calls I received from drivers and team owners in the series who told me they wanted to race here. They told me not to listen to the naysayers. Most people in IndyCar wanted to race at Texas."
So IndyCar will be back where it belongs next year at Texas Motor Speedway. And hopefully, that's true for many years to come.
July, 1, 2012
07/01/12
10:49
PM ET
Erica Enders was famous a long time ago as a teenager. Now she's part of drag-racing history.
Enders became the first woman ever to win an NHRA Pro Stock event when she defeated four-time champion Greg Anderson in the finals at Chicago on Sunday night.
"I've been waiting for this moment for 20 years, since I was 8 years old in a junior dragster," Enders told ESPN after her victory. "It's been a long road and I've worked my butt off to get here."
Anderson, one of Pro Stock's all-time greats, was gracious in defeat and the first person to congratulate Enders.
"I'm in the history book now for the wrong reason," Anderson told ESPN. "But the bottom line is this has been a long time coming for Erica. You knew she was going to win soon.
"I didn't want to be the guy on the other end, but I am now and it's probably going to open the floodgates for her."
Enders is a Houston native who lives in New Orleans with her boyfriend, fellow drag racer Richie Stevens Jr. She first came to national attention in 2003 when a Disney Channel movie was made about her and her younger sister, Courtney.
The movie was titled "Right on Track," a story about how the sisters regularly beat the boys as young girls in the NHRA Junior Drag Racing League. Actress Beverley Mitchell played Erica in the movie.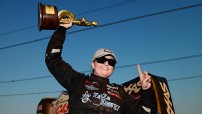 Mark J. Rebilas/US PresswireErica Enders finally got to hold her first Wally as a professional driver.
The movie led to high expectations for Enders when she turned pro in 2005 at age 21. She was a runner-up at Chicago in her rookie season when she lost in the final to Jason Line. She reached another final in 2006 at Gainesville, losing to Tom Martino.
But Enders lost funding and didn't have a ride after the 2007 season. She struggled in 2009 and 2010 while running a limited schedule.
Things turned around last season when she went back to her roots and drove for team owner Victor Cagnazzi. Enders reached three final rounds and was the top qualifier at two events, but a victory kept eluding her.
"Victor gave me a chance to do this for the first time in one of these cars when I never had let out a clutch," Enders said Sunday. "This is amazing to finally win with him."
Cagnazzi said all Enders needed was a quality car and team to bring her talents to the top.
"She is an unbelievable driver," Cagnazzi told ESPN Sunday. "But this is the first time we've given her the car she deserves."
No one was happier for Enders than crew chief Dave Connolly, a talented Pro Stock driver in his own right who has been instrumental in helping Enders become a winner.
"She put in her time for this and she earned it," Connolly said Sunday. "We all knew it was coming."
It's coming soon for another talented female driver, as well. Sunday almost was a double-win day for the ladies. Rookie Courtney Force, daughter of NHRA legend John Force, reached her first Funny Car final, but lost to Jeff Arend.
Enders said she was happy that her first win came against the best of the best in Anderson.
Now she's more than just the woman who had a movie made about her life as a kid. Now Enders is a Pro Stock winner, something no other woman can say.
"This is for all the kids who were told they never could do it," Enders said. "You can do it."
May, 25, 2012
05/25/12
1:21
PM ET
INDIANAPOLIS -- IndyCar Series boss Randy Bernard held court with the media Friday morning and has a plan for future success that follows these points:
• Prop up current road and street courses to make sure they are profitable.
• Add a couple of short-track ovals and a new street race in Fort Lauderdale, Fla.
• Don't have competing events in the same geographic area.
• Continue to court more manufacturers.
• Say bye-bye to big ovals with too many empty seats.
[+] Enlarge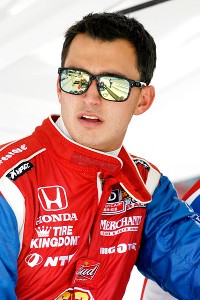 Brian Spurlock/US PresswireGraham Rahal on the possibility that he or Marco Andretti will win the Indy 500: "As much as I would hate to see an Andretti win this race, it would be really good for the sport. I'm sure Marco probably would say the same thing about me."
Will it work? Sure, as long as two or three of their current young drivers find a way to stardom. Otherwise it doesn't matter much.
The key to long-term success is national name recognition for a few drivers. Sort of like Danica Patrick had, except drivers who actually will win races.
Two drivers come to mind right off the bat -- Marco Andretti and Graham Rahal. They have a leg up on the name-recognition thing, thanks to the family history in open wheel. Now they just need to win regularly and compete for titles -- hopefully, against each other.
And the best-case scenario is to have that up-front rivalry come to fruition Sunday in the Indy 500.
"I think it would do incredible things for the sport," Rahal said Thursday. "It really would, without a doubt.
"As much as I would hate to see an Andretti win this race, it would be really good for the sport. I'm sure Marco probably would say the same thing about me. I'm not the guy he wants to see win either, but at the end of the day, we both get it. It would be a great thing."
It hasn't happened yet, but the time is right with the first Danica-less Indy 500 in eight years. Rahal says the best is yet to come for him and for Marco.
"I think what people have to remember about us is I'm only 23 and Marco is 25," Rahal said. "Don't write us off. Marco and I have many, many days of racing together ahead of us. And we want to do it for wins, which we will.
"But right now, it's hard for us to compete against a guy like Dario Franchitti. He's been doing this since 1997, since I was 8 years old. Think about that. He knows so many things that I still have to learn."
Franchitti is 39, a two-time Indy 500 winner and a four-time series champion. But his first win at Indy came at age 34, as did his first championship.
Bobby Rahal, Graham's dad, got his Indy 500 victory at age 33, the year he won his first CART title. Mario Andretti, Marco's legendary grandfather, won the Indy 500 at age 29.
So give the youngsters more time. In the meantime, Bernard has his agenda. Chevy returned to the series this year and Bernard thinks more manufacturers are coming.
"We have some very strong interest," he said Friday. "I think you will see some other manufacturers out there this weekend looking around."
Bernard talked about hopes of returning to short ovals at Richmond and Phoenix, but most big ovals with tons of seats are not in the picture.
"We saw some events last year that weren't very good," Bernard said. "We need races that have that wow factor. It's important we continue to look at ovals, but we don't want to go to a place with 150,000 seats if only 30,000 people are in the stands."
IndyCar racing doesn't get more of a wow factor than high-speed ovals, but it takes big names competing up front to put people in the seats.
Bernard also doesn't want to pit one event against another in the same geographic area. That's bad news for Michigan International Speedway (which falls into the big-oval category's well) with the series returning to Detroit's Belle Isle street race next week.
"It's important for us to give Roger Penske's group [the promoter at Belle Isle] a chance to succeed," Bernard said. "So MIS is not an option for us right now."
Bernard feels the same way about Road America in Elkhart Lake, Wis. It won't get a race with IndyCar returning to the Milwaukee Mile next month.
"Milwaukee is important to us," Bernard said. "Michael Andretti's group has taken over the promotion there. We are helping them every way we can to make it succeed.
"Let's see how well the Milwaukee Mile does this year. That track opened in 1903. It's the oldest track in America. I don't want to see it shut down on my watch. If we don't make a go of it this time, it will go to the mothballs."
The no-compete theory will be interesting news to Texas Motor Speedway president Eddie Gossage, who isn't happy about IndyCar's return to Houston next year for a race around Reliant Stadium.
Bernard said he also hopes to work a deal for a street race in Fort Lauderdale next year, and he has an interest in returning to Australia and possibly the West Coast.
"We are not interested in having dates,'' he said. "We are interested in marriages for many years."
That's great, but track marriages won't matter unless track stars are made, and an Andretti-Rahal rivalry is a good place to start.
April, 19, 2012
04/19/12
4:54
PM ET
Matt Hagan's exploding Funny Car has gone viral. And Hagan is receiving far more attention for blowing up than he did for winning the NHRA championship last year.
The ESPN video of Hagan's incredible exploding car has been seen by 19 million people worldwide via television and the Internet, according to Don Schumacher Racing officials.
The car went kaboom during qualifying for the Four-Wide Nationals last weekend at zMax Dragway in Concord, N.C.
If you haven't seen it, take a look. It's a shocker as racing car explosions go, even topping Juan Pablo Montoya's jet dryer collision in the Daytona 500 earlier this year that caused a towering firebomb.
Hagan has made appearances this week on "Good Morning America" and the "Today Show." He had a TV interview with the BBC on Thursday morning. Hagan said he was told the video of his accident was the second-most viewed item on the BBC website behind the story about Dick Clark's death.
[+] Enlarge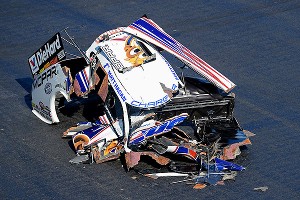 Mark J. Rebilas/US PresswireThis crumpled heap is what was left of the body of Matt Hagan's Funny Car after an explosion during qualifying at zMax Dragway on Friday the 13th.
"It has blown me away how much attention this has gotten," Hagan said Thursday from his cattle farm in Christiansburg, Va. "I even have a friend in Australia who called me and said, 'Hey, man, I saw you on the news here.'"
Hagan was about halfway down the track when the engine in his Dodge Charger exploded, virtually disintegrating the body of the car. The firebomb was caused by a $36 broken valve spring getting into one of the cylinders, which destroyed a $75,000 race car.
Along with the stunning explosion, Hagan's reaction as he exits the car has helped make the video such an Internet sensation.
Instead of being happy he was still alive and unhurt, Hagan was furious about the failure. As he climbs out of the cockpit, he grabs a metal plate (about the only piece of the car body left near him) and slams it down on the track.
"I react to things, so that explosion really pissed me off," Hagan said. "I put my emotions on my sleeves sometimes and they caught me doing it on that one.
"It's just been such a frustrating year for us. We're coming off the world championship, but we've struggled this year. I know our car is better than that."
So what was the metal piece he grabbed and abused?
"It was a carbon-fiber shield that protects our hands," Hagan said. "I was climbing out of the car and I saw it hanging there. I thought, 'Well, this is a hunk of junk,' so I grabbed it and spiked it."
Hagan has experienced three car explosions in the four-wide event (the only NHRA race in which four cars race at the same time instead of two) over the past three seasons.
The zMax Dragway officials now have renamed Lane 2 as Matt Hagan Way, but it isn't because of last week's explosion.
"I set the NHRA record [322.27 mph] in that lane last fall with the first 3-second pass in a Funny Car [3.995 seconds]," Hagan said. "So that lane is either going to win for me or kill me, I guess. Next time I go to the four-wide event, I'm gonna wear two firesuits."
Hagan, 29, can joke about it now, but he realizes professional drag racing is a dangerous business.
"That type of thing is [a] way of life out here," Hagan said. "Every run we make is death-defying stuff. It's 8,000 horsepower at more than 300 mph. You roll the dice every time because you are driving a time bomb."
Hagan failed to qualify for the zMax event, something that doesn't happen in NASCAR for its top drivers because they have a guaranteed spot in each race.
In the NHRA every driver shows up every week with no guarantees. Sometimes the top guys fail to make the show. But in this case, Hagan's sponsor received far more attention than it would have had he qualified and won the event.
"It's not what we want to do, obviously," Hagan said about blowing up and failing to qualify. "But this attention is good for our sport and my sponsor, Aaron's. But I don't want to do it again."
March, 25, 2012
03/25/12
2:27
PM ET
FONTANA, Calif. -- Maybe NASCAR can bring John Force in every weekend as the prerace entertainment. The NHRA legend never fails to spark things up whenever he attends a NASCAR race.
Sunday was another example, when he held court in the media center at Auto Club Speedway.
Force, a 15-time Funny Car champion, was asked whether he ever considered racing in NASCAR: "Well, they would need rest stops out there for me. I can't race that long at one time."
Force attended the event with drag racing daughters Courtney and Brittany Force, along with son-in-law Robert Hight, the 2009 NHRA Funny Car champion.
[+] Enlarge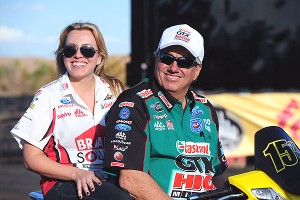 Mark J. Rebilas/US PresswireBrittany Force is the next of John Force's daughters gearing up for a career in the NHRA Full Throttle Drag Racing Series. She's hoping to run Top Fuel beginning next year.
Auto Club sponsors Hight's car at John Force Racing, so it made sense for the Force drivers to come to Auto Club Speedway for the Auto Club 400, especially since the team's headquarters is down the road in Yorba Linda, Calif.
As usual, Force didn't disappoint reporters trying to get him to say something funny, not a difficult thing for him to do.
A German reporter asked him: "Do you remember me?"
Force: "Yes. Do you know I'm German? I'm Oklahoma German."
Another reporter to Force:  "John, I have one quick question and I hope I get a short answer."
That brought a roar of laughter from the room. There are no short answers from Force.
"That's OK," Force said. "You can make fun of me. Even my family does that."
Force said he just returned from an event in Kentucky. Country singer Randy Travis was there, but Force called him Travis Tritt.
"I think I made him mad," Force said.
Hey, he just got his Travis references messed up. For those who don't know, Force is a constant whirlwind of energy, something his daughters have learned to live with.
"People don't believe it, but he's always like this," Brittany said. "After spending a day with him, you're exhausted."
Brittany's younger sister, Courtney, is a rookie this year in Funny Car. Brittany is spending this season testing in a Top Fuel dragster with hopes of running in Top Fuel in 2013.
She does test runs on Mondays and Tuesdays after each NHRA event with Jimmy Prock, Hight's crew chief. She loves her dad, but she's glad when she gets a break from his super-hyper ways.
"I don't know how Mom [Laurie Force] deals with it all the time," Brittany said.
Then she smiled and glanced over at John and said, "Sorry, Dad."
February, 11, 2012
02/11/12
7:10
PM ET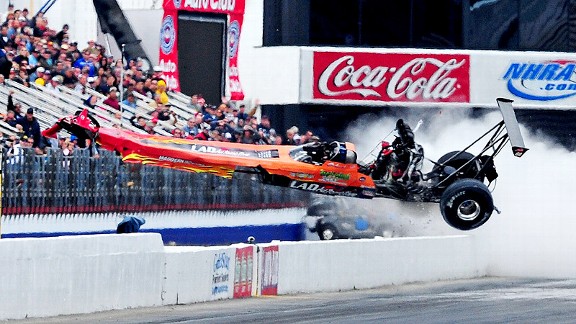 Mark J. Rebilas/US PresswireNHRA Top Alcohol Dragster driver Mike Austin goes for an involuntary ride Saturday at Pomona, Calif. He walked away from the crash.
POMONA, Calif. -- Just call Mike Austin the luckiest man in California on Saturday.
Austin walked away unhurt from a terrifying crash during the O'Reilly Auto Parts Winternationals, where his Top Alcohol Dragster flew over the retaining wall in the first round of eliminations.
Austin, who lives in Medford, Ore., was along for the ride when his dragster made a violent turn to the right from the right lane.
The car turned over on its left side before the nose went over the wall and shot the dragster into the air. At one point, the entire car was more than 10 feet off the ground and twirling around in the air.
Austin's car slammed back down to the pavement between the track and the grandstands. It slid all the way down the support lane, and slammed the underside of the chassis into the base of the timing and scoring tower.
Safety Safari workers rushed to the scene and the crowd sat in silence, hoping and praying Austin was OK. After a few minutes, word came that Austin was alert and speaking to safety officials.
He was helped out of the car and walked away, but safety officials said his first reaction was anger over tearing up his dragster.
Being mad never looked so good.
June, 9, 2011
06/09/11
2:48
PM ET
FORT WORTH, Texas -- Are race car drivers athletes?
It's an age-old debate, and a lame one at that. Of course they are, but trying to prove it backfired on Texas Motor Speedway officials Wednesday.
IndyCar Series driver JR Hildebrand tore the ACL in his left knee in a fluke accident during a promotional gimmick at TMS to prove racers are good athletes. He still will race Saturday night in the Twin 275s doubleheader.
Could anyone possibly have worse luck than this guy? The IndyCar rookie for Panther Racing had the Indy 500 victory in his grasp two weeks ago before slamming into the Turn 4 wall on the final lap. Now this for a 23-year-old guy who, believe it or not, really is a quality athlete.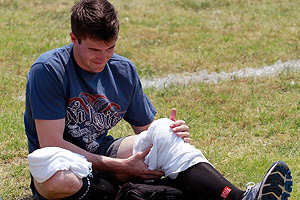 Tom Pennington/Getty ImagesJR Hildebrand tends to his injured left knee after tripping over a hurdle in the "Driven to Fitness" promotion at Texas Motor Speedway.
The promotion was titled "Driven To Fitness." Olympic gold medalist Michael Johnson came in to put three drivers -- the others were Ryan Briscoe and Will Power -- through the paces of a boot-camp style obstacle course to prove race car drivers are athletes.
It all went swimmingly until the final test, a short hurdles race. Hildebrand's knee hit a wood board on the final hurdle.
Hildebrand finished the race, then sat on the ground holding his knee. It was iced down before TMS officials took Hildebrand to the infield care center, where he learned of the ACL tear.
So all the skeptics out there who love to rip on racers will say, "See, race car drivers are not athletes."
Wrong, muffler breath.
In almost any test of athletic prowess, I'd take my chances with Hildebrand.
"The guy is a total adrenaline junkie," said Panther Racing spokesman Mike Kitchel. "He boxes, he does MMA stuff and mountain bikes. He can do anything athletically."
Hildebrand was a standout high school baseball player in Corte Madera, Calif., and it showed when he recently took batting practice with the Triple-A Indianapolis Indians.
"He was smashing line drives," said IndyCar spokesman Arni Sribhen. "One Indianapolis player asked, 'Who is that guy?'"
Hildebrand also threw out the first pitch, zooming a strike across the plate that popped the catcher's mitt.
So don't come up with a false conclusion based on one unlucky incident in a goofy promotion.
The next move for Panther Racing officials is to determine when Hildebrand should undergo surgery to repair his ACL. This is a similar situation to what NASCAR driver Denny Hamlin had last year.
Hamlin tore his ACL in a pickup basketball game in the offseason. He started the 2010 Sprint Cup season racing with the damaged knee, but decided a month later to have the surgery in March.
Three weeks after the surgery, Hamlin won in Texas.
Panther Racing officials have contacted Joe Gibbs Racing officials in hopes of talking to Hamlin to solicit his advice of what Hildebrand should do.
The IndyCar Series has three events (four if you count two at TMS Saturday) over the next three weekends, all on oval tracks, including Milwaukee and Iowa.
IndyCar has a week off after the Iowa Speedway race before returning to road/street races for three events.
No decision has been made, but one choice could be to undergo the ACL surgery before returning to the road courses, which are more physically demanding on drivers.
TMS officials feel horrible about what happened in what was meant to be a fun promotion.
"I was crushed and didn't sleep a wink last night," said Mike Zizzo, TMS vice president of media relations. "Now I know how that third-base coach for the Rangers felt when he sent Josh Hamilton home."
Hamilton, the 2010 American League MVP, suffered a broken arm earlier this season in a collision at home plate after third-base coach Dave Anderson gave him the green light to try to score.
Stuff happens. All in all, Wednesday's incident was horrible luck for everyone, especially a talented young driver with a bright future.
Keep your chin up, JR. Things will get better. Someday you will look back at this stretch and chuckle.
Just not today.