Brad Paisley and Jeff Gordon: Two of a kind
May, 25, 2011
05/25/11
7:39
PM ET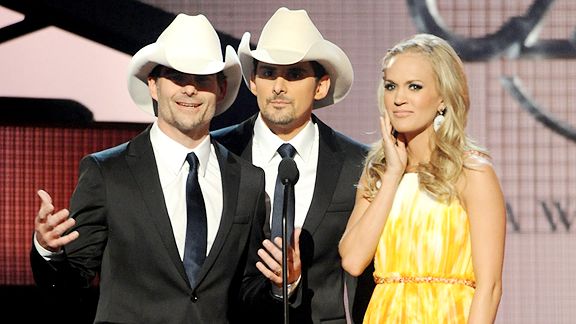 Rick Diamond/Getty ImagesCould Jeff Gordon, left, possibly be Brad Paisley's long-lost twin brother? Even Carrie Underwood did a double take at the 2010 CMA Awards.
Family, faith and Virginia Tech football not withstanding, my life's greatest passions are NASCAR racing and country music, and for the very same reason: Both are authentically southern and fundamentally rooted in an outlaw past.
Anyway (David Pearson shout-out), those passions collided at Charlotte Motor Speedway on Saturday. Brad Paisley showed up at the Sprint All-Star Race to hang out with a couple old buddies, Rick Hendrick and Jeff Gordon, and debut the video for his excellent new single, "Old Alabama."
It was the perfect scenario. Paisley already was planning to attend the race as a fan, then found out the track had a television screen on the backstretch big enough for the astronauts to watch from Endeavour. Why not debut a video on it?
So there he was, parked on site in the Nationwide garage, seated in the heavenly shadow cast by his blue and white tour bus.
Most folks in the racing industry are aware of my country music fandom. Including the Hendrick Motorsports folks. So they arranged for me to sit for a time in Paisley's shade to chat about the video, which includes a slew of Hendrick's classic cars and stars Gordon, naturally, as Paisley's buddy.
[+] Enlarge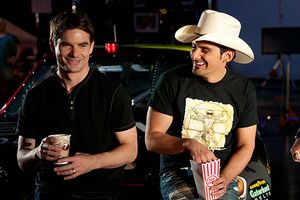 Hendrick MotorsportsReal-life pals Jeff Gordon and Brad Paisley play good buddies in the country music video "Old Alabama."
It was 4 p.m. And it was at least 8,000 degrees. In 2010, Paisley released a song called "Water." I thought I'd make a quip about the heat and how badly I could use some water. But then I realized that wouldn't be funny. So I didn't.
When I sat, I shared with him that I'm probably the biggest country music fan on Earth.
"Oh, wow, good," he said. "I'm glad to know that person exists."
Zing.
Paisley and Gordon may as well be twins. During the 2010 CMA Awards show that he co-hosted with Carrie Underwood, Paisley had the idea that he and Gordon should wear identical suits, and Gordon should walk onstage wearing his hat. Gordon played along, and the two took a photograph together beforehand.
"I went, 'Oh my God, that's me,'" Paisley chuckled. "He walked out with Carrie and started presenting. The trick was we didn't have him speak. When he talks, he sounds like Jeff Gordon. There's only one voice like that. We don't sound alike. But it was absolutely hysterical. He could have stood there the whole time.
"We have a common friend in John Lasseter [CCO] at Pixar, and have gotten to know each other through them. All it takes is one other family that you hang out with, and next thing you know you're all around together. I think the world of Jeff. He's a good guy."
So when the time came to write the video plan for "Old Alabama," Paisley had another idea for Gordon.
"This song is all about driving and listening to music in a nice car, so we did a NASCAR take on it," he said.
They shot the video on the Hendrick Motorsports campus, where Rick Hendrick opened the doors to his classic car collection.
"Rick's been so generous," Paisley said. "He let us use all these old cars and his facility. We couldn't have done this without him. We had '57, '59, '63, '65 Corvettes. You've got these backdrops that look like they're part of a set, but they're not. They're part of his facility. If we'd have had to pay for this stuff, it would have been a million-dollar video."
Paisley describes the production as "a buddy flick," in which he and Gordon cruise around the CMS backroads, then take a seat on the hood of an old car to watch a movie on a drive-in screen while they reminisce.
[+] Enlarge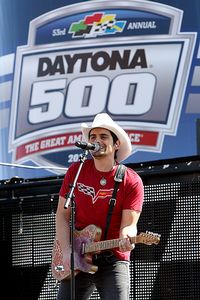 Kevin Kane/WireImageBrad Paisley rocked the house during a prerace concert at the 2011 Daytona 500 in February.
"We drove the 24 car around on the road out here," Paisley laughed. "We didn't make it street-legal. We just drove the thing. That's the beauty of videos -- they'll close down roads for you. People were freaking out, man. Imagine that car going by you -- Jeff himself was out there driving his race car on the roads. People saw him go by, and were like, 'What? He didn't even take time to switch vehicles before driving home from work?'"
As the video concludes, Johnny Law shows up and asks which one of them is Gordon.
Gordon points at Paisley.
Paisley gets the ticket.
That's how the video ends. But, in fact, it is only the beginning. Both gentlemen are quite philanthropic, and the video project offers an opportunity for more giving.
"We're using this video as an excuse to give some tickets away," Paisley said. "We're pairing up to give away tickets to the races to my fans, and tickets to my concerts to his [fans], and combining our charities here and there. We've only begun that process.
"Now we've got this video common-thread, in addition to it looking like my father made his way back to California or wherever. ... I don't think my dad was in California ..."
Zing.
"Anyway, it's a chance for both of us to do good that way. And it'll be a great use of a famous friendship."
The past year has been huge for Paisley. He was integral in helping buoy Nashville emotionally following the flood last spring, then helping rebuild it physically in the aftermath. Then, in November he achieved one of country music's highest, rarest honors: Entertainer of the Year.
"It's our Cup championship," he said. "Even though we don't necessarily earn it in points. It's a voted-on thing, so it's subjective. But it's a feeling of history in a way that only a few moments have matched. Like The [Grand Ole] Opry -- that's the gift that keeps on giving. When you get that, you can play there the rest of your life. That's better than the Hall of Fame, in my opinion, because the Hall of Fame is like, 'Nice job, you're done. I hope you had a good time because it's over.'
"Although, they put in George Strait recently and he's nowhere close to done. But the Opry is an award that's like the keys to the city. And Entertainer feels just as big, because it's achieved. Kenny Chesney called me and said, 'Enjoy this. They don't give these away. These are earned and you did a great, great job. Congratulations.'"
NASCAR is an obvious fit for Paisley. NASCAR people are his people. We're country and proud of it. And as a fan, one thing I really appreciate about him is, like us, he pays particularly genuine homage to the pioneers who built his platform.
"It was easy to cross right into [NASCAR] as a fan, because it's so much my world," he said. "Other than that it's a lot of the same types of people. I never feel out of place at races. I feel right at home."