Empty seats a sad sight at hallowed Bristol

By Terry Blount
ESPN.com
Archive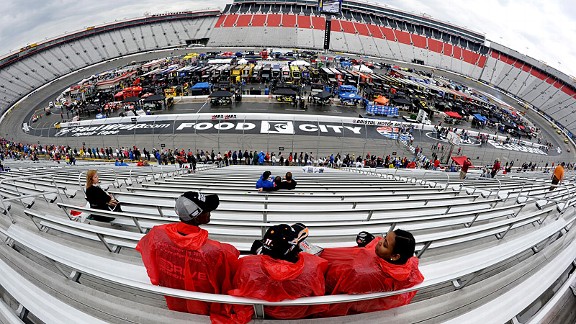 Rainier Ehrhardt/Getty ImagesPrerace showers surely kept some fans from attending Sunday's Cup race at Bristol Motor Speedway.
Do fans miss the old Bristol so much that they refuse to go to the new Bristol?
It sure looked that way Sunday, when almost half the seats appeared empty as Brad Keselowski won his second consecutive event on the half-mile oval.
What is going on here? It's not Keselowski, who simply proved he doesn't need any timing-lines manipulation to win at Bristol.
But where is everybody? This place was NASCAR's shining example of success, the Rose Bowl of racing.
It wasn't long ago that 160,000 people packed the house. You had to will your tickets to family members or give a scalper your first born just to get a seat for the show.
A lot has changed since those days. The economy nosedived, and the part of the Southeast where Bristol Motor Speedway sits was particularly hard hit. The area has limited hotel space, and those room rates skyrocket for a race weekend to prices you would expect to pay on New Year's Eve in New York City.
But based on what fans say on our chats and comments section, it isn't the economy or the prices. It's the reconfigured track. The old banging and bashing days of Bristol are gone, the days where drivers often wanted to punch each other after a typical wreck every 40 or 50 laps.
Since the track was repaved with progressive banking, it's more about actual racing with side-by-side action. Drivers love it and fans seem to hate it.
Just not enough wrecks now, although Sunday's race had a big one early that ruined the day for Kasey Kahne, Carl Edwards and Marcos Ambrose.
But it was shocking and sad to see so many empty seats at a facility that was NASCAR's showcase for years.
"It's tough," Keselowski said Sunday after the race. "Everybody looks up at the grandstands and says, 'Well, I remember five years ago ... ' Well, I remember when gas prices five years ago were a lot cheaper, too. It's a different world."
Let's be fair and note that Bristol has close to 160,000 seats. So half full still is 80,000, which is more than a full house at other NASCAR tracks and more than most NFL stadiums hold.
It's the fact that Bristol was packed with people for so long that makes Sunday's crowd seem comparatively sparse.
"I just think you're seeing a shift to where it's harder to sell tickets, but there's still a lot of interest in the sport," Keselowski said. "I think you have to be very careful of how you read into that because, obviously, each person is different. But I still think the sport is very strong and very healthy."
And he's right. This isn't about the health of the sport. It's about Bristol.
Attendance was outstanding at Phoenix and Las Vegas in the two races before Bristol. Not sellouts, but big crowds with the grandstands close to full. So Bristol's poor attendance Sunday seemed out of line with the trend.
No doubt the economy has something to do with it. And the forecast called for rain. It rained a little Sunday morning before the race. Maybe some people stayed home to watch the NCAA tournament.
But those are secondary reasons. It's the track and how it has changed, along with its perceived new reputation for less exciting racing, that likely is keeping people away. And that's not something that easily can be changed.
David Newton column | Racing Live! rewind | Recap | Results
Nationwide Series: Red-hot Sadler 2-for-4 in 2012
The last time Elliott Sadler won two races in a season was 2004 in Cup. The last time he won two races in a Nationwide Series season was 1998. And the last time he won two of the first four races in any series?
That would be never, until now.
Sadler's victory at Bristol continued the best start of his career. He has yet to finish worse than third.
And his win Saturday continued the most surprising trend in NASCAR this season -- a winless showing by the Cup stars in Nationwide events. The Cup boys haven't gone 0-for-4 in the Triple-A league in 17 years.
Four Cup regulars finished in the top five spots at Bristol. But Sadler beat them to the finish line, partially because crew chief Luke Lambert had him stay on the track during the last caution and partially because Sadler just had a darn fast car.
The Nationwide regulars are outrunning the Cup guys. This is no fluke, except possibly the season opener at Daytona where James Buescher (who is a Camping World Truck Series regular) went from 11th to first by avoiding all the last-lap carnage.
Whatever the reason for the Cup regulars' slump, let's hope it continues. This is what the Nationwide Series has needed for years. It gives the developmental league its own identity and helps make stars out of the guys who aren't in Cup.
As for Sadler, who raced 12 seasons in Cup, a return to the top series full time could come his way if he continues to win races (and possibly a championship) in the Nationwide Series.
Another thing that could give the Nationwide Series a boost is a victory by Danica Patrick, or at least some competitive runs by her. That hasn't happened in the first four races this year. She finished 19th Saturday, two laps down.
Two rookies rank in the top five in the standings -- Cole Whitt (Patrick's teammate at JR Motorsports) is fifth and Austin Dillon (the 2011 CWTS champ) is fourth.
Brant James column: Danica finishes frustration-free 19th | Recap | Results
Camping World Truck Series: Martinsville on deck
The Camping World Truck Series is off until March 31 at Martinsville.
Terry Blount is a senior writer for ESPN.com. He is the author of "The Blount Report: NASCAR's Most Overrated and Underrated Drivers, Cars, Teams, and Tracks." He can be reached at terry@blountspeak.com.
Racing Resources says …
Sprint Cup Series

• Brad Keselowski won the Food City 500 Sunday at Bristol Motor Speedway. It was his fifth career Sprint Cup victory in 93 races and his second win in five Bristol races. His most recent win entering the race came at Bristol in August 2011.
• Keselowski became the fourth winner in four Sprint Cup races in 2012.
• Keselowski's two victories at Bristol are his only top-10 finishes in five races at the Tennessee track.
• It was Keselowski's second top-5 this season (fifth at Phoenix).
• Keselowski led four times for 232 laps, including the final 111.
• Penske Racing posted its 72nd Cup series victory but first win of 2012. Penske has 10 wins at Bristol, tying Roush Fenway Racing for second all time.
• Dodge posted its first victory of 2012 and became the fourth manufacturer to win in four races this season. Dodge has eight Cup wins at Bristol, including two in a row -- both by Keselowski.
• Matt Kenseth (second) posted his sixth straight top-10 finish at Bristol since August 2009. He is one of two drivers to lead in all four races in 2012.
• Martin Truex Jr. (third) scored his second top-10 finish in 2012. In 13 Bristol races, Truex has just two top-10 finishes, both in the past two races.
• Clint Bowyer (fourth) posted his best finish in 2012 and second top-10 finish this season, both in his past two races (sixth at Las Vegas).
• Brian Vickers (fifth) posted his first top-10 finish in 15 races at Bristol in his first start of 2012.
• Michael Waltrip Racing had three cars finish in the top 10: Truex (third), Bowyer (fourth) and Vickers (fifth).
• Teammates Jamie McMurray (seventh) and Juan Pablo Montoya (eighth) had their best finishes of the season.
• Jimmie Johnson (ninth) posted his third straight top-10 finish since finishing 42nd at Daytona.
• Paul Menard (10th) posted his third top-10 in four races in 2012.
• Kevin Harvick (11th) came back from an early wreck, pitting eight times during the first caution to repair damage.
Nationwide Series

• Elliott Sadler won the Ford EcoBoost 300 Saturday at Bristol Motor Speedway. It was his seventh career Nationwide Series win in his 168th start and his second Bristol win in his 11th start there. He won two weeks ago at Phoenix.
• Sadler, the Nationwide points leader, has top-3 finishes in all four races this season.
• Sadler has two victories in four races with new crew chief Luke Lambert.
• Saturday marked the first time since 1995 that the first four Nationwide Series races of the season were won by non-Cup drivers.
• Sadler is the only driver to lead in all four races this season. He led once for the final 35 laps at Bristol.
• Sadler was one of only two drivers to stay out on the final caution.
• Richard Childress Racing posted its 58th career win in the Nationwide Series and seventh victory at Bristol, the most by any team.
• Chevrolet posted its series-leading 30th win at Bristol and its third victory of 2012.
• Kasey Kahne finished second for the third time since his last win. All three runner-up finishes were at Bristol, and his last victory in Nationwide was at Bristol in August 2007.
• Brad Keselowski (third) has finished in the top three in five of his past six Nationwide starts.
• Joey Logano (fourth) posted his fifth top-10 finish in his seventh Bristol start, including his fourth straight.
• Dale Earnhardt Jr.'s (fifth) average finish of 6.36 at Bristol is the best among all drivers with more than four starts.
• Ryan Truex (10th) has finished in the top 10 in five of his seven Nationwide starts with Joe Gibbs Racing, including the past four.
• Kyle Busch (17th) has finished outside the top 10 in the past four races. The last time he finished outside the top 10 in four straight races was between Las Vegas and Nashville in March 2008 (he went on to win the next three races following this bad streak).
• Danica Patrick finished 19th, two laps down.

-- Racing Resources