LAS VEGAS -- Ross Chastain works on a watermelon farm in Florida but has spent the past seven years competing on the national series level to realize his dream of winning a NASCAR national series race.
Chastain, whose career appeared nearly over in 2014 when he did only 10 races after spending two seasons driving a truck for Brad Keselowski, won the NASCAR Xfinity Series DC Solar 300 on Saturday at Las Vegas Motor Speedway.
Driving in his second race as part of a three-race deal with Chip Ganassi Racing, the 25-year-old Chastain led 180 of the 200 laps, including 51 of the last 52, for his first victory in his 132 career starts in the series. The win was the fifth for the Ganassi team in the series this year.
"I'm just a kid from Florida, an eighth-generation farmer who started hobby racing when I was 13 because my dad hobby-raced when he was younger," Chastain said. "I remember watching him and he would sneak me in the pits.
"It was never supposed to be this. ... I knew when this opportunity came, this is what everybody works for."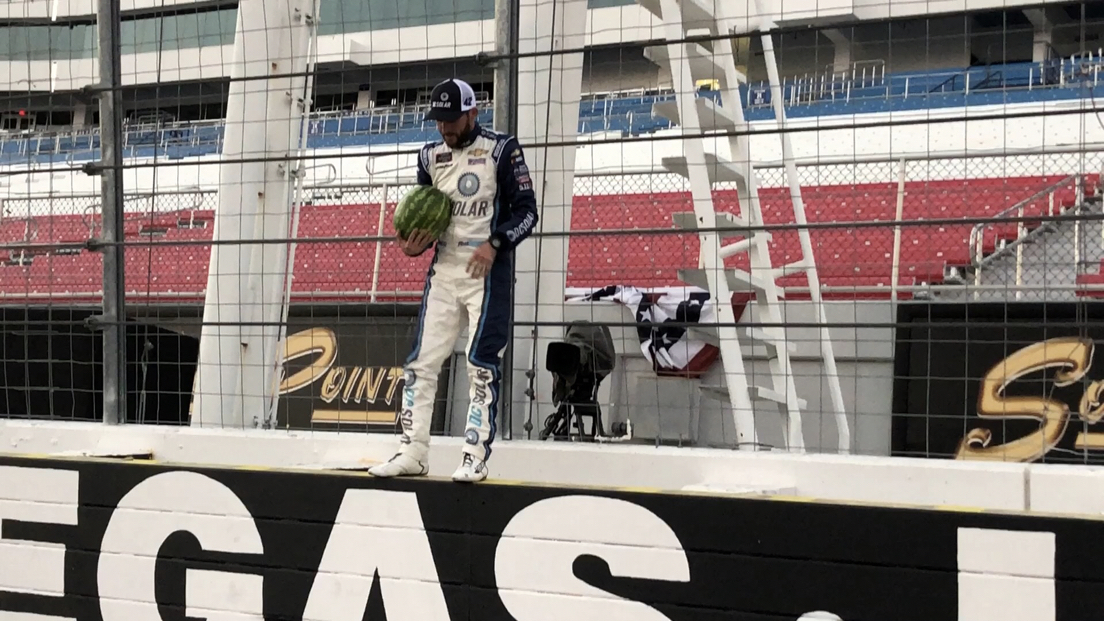 Watermelon farmer Ross Chastain celebrates his Xfinity Series victory by smashing a watermelon on the finish line Saturday night at Las Vegas:
Chastain has driven the past four years for JD Motorsports in the series and started gaining attention this year by vying for a playoff spot as well as driving with respectable finishes in the NASCAR Cup Series for Premium Motorsports.
Not getting paid any salary to run the Ganassi races, Chastain nearly won in his first start in the Ganassi car two weeks ago at Darlington before contact with Kevin Harvick resulted in a crash that ended his chances.
"Everybody that races one of these cars, [they have] the ability to go out there and do it," said Xfinity Series regular-season champion Justin Allgaier, who finished second in the race. "What really makes the difference is you have to be willing to work for it. Ross is willing to work for it."
Four years ago, Chastain was fired by Ricky Benton Racing after a couple of truck races in 2014, and that nearly ended his career before getting a call from JD Motorsports owner Johnny Davis to compete in the Xfinity Series in 2015.
"I got fired after Martinsville and told to go back to the farm and told to quit racing," Chastain said. "That was tough.
"And I did go back to the farm and re-thought about everything and what I wanted to do. ... That middle part of 2014 was tough, but it obviously made me stronger because I didn't listen to them against what they said."
Even without the win, Chastain would have made the Xfinity playoffs. The 2018 NASCAR Xfinity Series playoff field: Allgaier (points reset to 2,039), Christopher Bell (2,032), Cole Custer (2,011), Elliott Sadler (2,011), Daniel Hemric (2,010), Tyler Reddick (2,010), Chastain (2,010), Brandon Jones (2,006), Ryan Truex (2,003), Matt Tifft (2,003), Austin Cindric (2,001) and Ryan Reed (2,000).