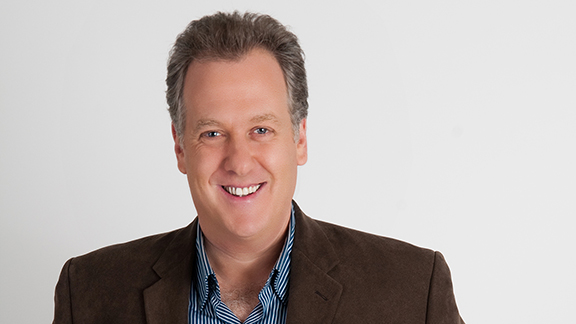 Michael Kay is the award-winning host of 98.7 FM ESPN New York's weekday afternoon drive show and his 25+ year career makes him one of the New York market's most recognizable broadcasters. Kay is an original 2001 member of ESPN New York's talent lineup and hosted the station's midday show. In 2005, thanks to Kay's success and growing audience, he assumed the prestigious afternoon drive slot. Michael Kay and co-host Don La Greca are now heard weekdays on 98.7 FM and on Sirius XM satellite radio from 3 to 7 p.m. "The Michael Kay Show" is also simulcast on the YES Network.
Kay's 98.7 FM ESPN radio show is known for featuring a "Who's Who" of sports newsmakers from current all-stars to league commissioners to legendary broadcasters. His broad journalistic background makes him an important source for newsgathering organizations which come to him for his perspective on breaking news.
Kay grew up ten minutes from Yankee Stadium with the dream of becoming a Yankee broadcaster. His dream was fulfilled in 1992 when he became the color analyst and play-by-play radio voice of the New York Yankees. He is noted for his insightful commentary, owing to his journalism career, and his trademark "See-ya" home run calls. Kay reached another milestone in his career when he moved over to the TV booth in 2002 when he joined the YES Network for its inaugural season, where he calls the majority of Yankee games, and he is now considered to be the TV voice of the Yankees.
Kay has been the play-by-play man for YES' New York Yankees telecasts, and the host of the network's CenterStage with Michael Kay interview show, since the network launched in March 2002. He also hosts various programming specials on YES. Kay has won seven New York Emmy Awards and has earned 23 Emmy nominations during his tenure at YES.
Prior to joining YES, Michael was a locker room reporter for MSG Network since 1989 covering the Yankees and the Knicks. From 1992 to 2002, Kay worked as Yankees analyst on WABC Radio during a period when the team won four World Series championships. While at MSG, he was part of a team that won a series of New York Sports Emmy Awards. Earlier, Michael was a reporter for the New York Post from 1982 to 1989 and the New York Daily News from 1989 to 1992.
At 1050 ESPN Radio, The Michael Kay Show won the prestigious 2003 and 2004 NY Metro AIR (Achievement in Radio) Award. Kay was among the 2018 inductees into the New York State Broadcasters Association's Hall of Fame. Additionally, in 2018, he was selected to be the 11th recipient of the Vin Scully Award for Excellence in Sports Broadcasting from WFUV Radio (the noncommercial, member-supported public media service of Fordham University).
The Bronx, NY native is a graduate of Fordham University. He is married and currently lives in Connecticut.