The Toe Poke Daily is here every day to bring you all the weirdest stories, quirkiest viral content and top trolling that the internet has to offer, all in one place.
Jump to: Manchester City unveil their own jumbo jet | Freddie Ljungberg gets booking in Arsenal match -- 4,578 days after his last one | Athletic Bilbao stars greet 92-year-old fan in "dream" return
Chelsea midfielder Jorginho introduced a new star to Stamford Bridge this week -- his mother.
As documented in several Instagram stories, the Italy international spent the afternoon larking about at the stadium with members of his family.
Jorginho showing his mum and family members around Stamford Bridge is so wholesome 😍💙 pic.twitter.com/GOAqlBgsV2

— ESPN FC (@ESPNFC) October 22, 2019
The club played their famous prematch music, "Liquidator" by Harry J All Stars, over the speakers as the family had a go at walking out of the tunnel together.
Jorginho then teed up a fantasy scenario in which his mother is needed to come on as a game-changing, impact substitute. Maria Tereza Freitas then jogs out on to the touchline looking ready for action. She then proceeds to warm up, going through a series of stretches and waving to the "crowd," no doubt before entering the fray to head home a 90th-minute Chelsea winner
Sign her up!
- ESPN fantasy soccer: Sign up now!
- Luck Index: Liverpool too good by half?
- All the new 2019-20 kits for Europe's top clubs
Manchester City unveil their own jumbo jet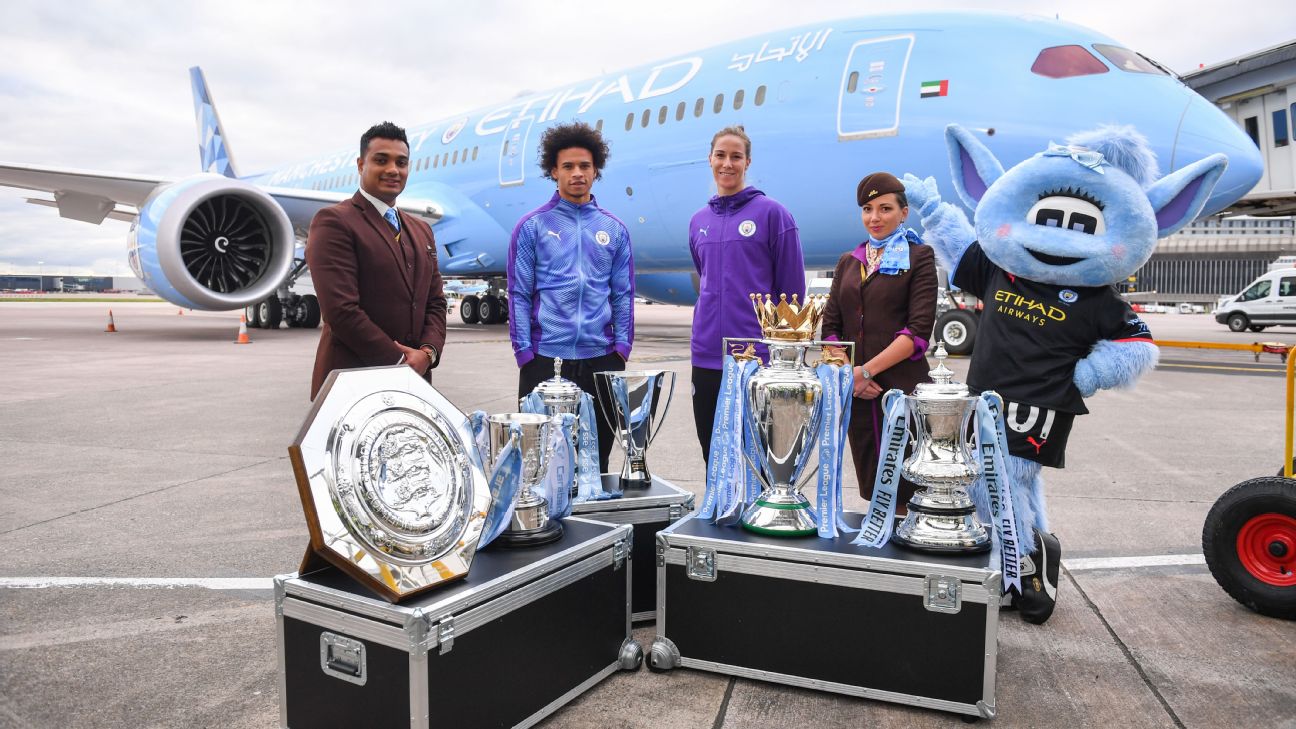 Manchester City have well and truly hit the big time with the unveiling of a brand new, vastly expensive winger -- their very own club-branded Boeing jumbo jet.
The 787-9 Dreamliner, resplendent in blue City livery to celebrate 10 years of partnership between the club and Etihad Airways, touched down at Manchester airport this week after making its inaugural flight from Abu Dhabi.
City stars Leroy Sane and Karen Bardsley were in attendance to greet passengers and staff as the gigantic plane flew in.
The Boeing Dreamliner is the first plane to be covered in City branding since 2011, when the club unveiled the "Blue Moon Rising" A330-200 to coincide with the launch of Etihad Airway's second daily service to Manchester.
In the coming months, the specially painted City Boeing is also scheduled to fly in and out of Jordan, Spain, Indonesia and China, among other destinations.
- The greatest ever free kicks scored by goalkeepers
- When will Man United next win the Premier League?
- Barca's 'MSG' hit goal landmark quicker than 'MSN'
Freddie Ljungberg gets booking in Arsenal match -- 4,578 days after his last one
Booking... For Freddie Ljungberg 😳

Arsenal are fuming as Saka is booked for simulation after going down in the Sheffield United area

📺 Watch #MNF now live on Sky Sports PL & Main Event pic.twitter.com/uEIGKg7odu

— Sky Sports Premier League (@SkySportsPL) October 21, 2019
Safe to say Arsenal endured something of a disappointing outing during Monday night's 1-0 defeat against Sheffield United.
After conceding relatively early, the Gunners were unable to wrestle their way back into the game as Chris Wilder's side comfortably kept them at arm's length for the remainder.
They did however pick up yet another booking for diving (the club's seventh since the start of last season) when youngster Bukayo Saka was cautioned for cheating in the second half.
This provoked an irate reaction from Sako's former youth coach, Freddie Ljungberg, who was subsequently shown his first booking for Arsenal since 2007 -- almost 5,000 days ago, in a 0-0 draw at Newcastle in his third-from-last Arsenal appearance before he left the club at the end of the 2006-07 to join West Ham.
4578 days between PL bookings for Freddie Ljungberg for Arsenal. which is also the number of shots they've conceded this month

— Duncan Alexander (@oilysailor) October 21, 2019
It was also the first time the former Sweden midfielder had been booked by referee Mike Dean since 2006, when he picked up a yellow during a 3-1 defeat against Bolton.
Still, he showed more spirit at Bramall Lane than most of his players did on the field.
- Arsenal ratings: Aubameyang 5/10 on woeful night
- Laurens: Wenger turns 70, ready for next challenge
Athletic Bilbao stars greet 92-year-old fan in "dream" return
92 años de amor al @AthleticClub. #ElDíaDespués pic.twitter.com/HkKgtvDxjs

— El Día Después en Movistar+ (@ElDiaDespues) October 21, 2019
Athletic Bilbao were graced by a visit from one of their most venerable fans recently when 92-year-old Jose Luis Hidalgo made a special trip to San Mames.
Travelling all the way from Uruguay, where he emigrated 72 years ago, Hidalgo attended a recent game as guest of honour and was even able to meet several members of the current squad, including Inaki Williams and Iker Munain.
Hidalgo grew up watching the great Bilbao sides of Telmo Zarra and Agustin Gainza, but despite the club changing managers, players, presidents and even stadiums in the interim, the deep love still remains.
"For me this is a dream," he said. "When I wake up I will wonder whether this is a dream or not. They have made me super happy. Too happy."
If that doesn't represent the very essence of football, then we don't know what does.