The Toe Poke Daily is here every day to bring you all the weirdest stories, quirkiest viral content and top trolling that the internet has to offer, all in one place.
Jump to: Manchester United offering fans chance to watch games on Old Trafford couch
A hapless pair of Liverpool fans managed to miss their team's 4-1 Champions League win in Belgium on Wednesday despite making the midweek trip.
The two travelling supporters arrived in plenty of time for a match at Gent. The problem was that their beloved Reds were playing over 150 kilometres away in Genk -- with a "k".
- Reddy: Ox, Keita show Liverpool have options aplenty
- Liverpool ratings: Ox 9/10 as Reds run riot
- Sterling joins Ronaldo, Neymar on quickest hat tricks list
According to Sporza, the supporters only realised their error 30 minutes before kick-off after failing to locate the Genk stadium, largely because it is on the other side of Belgium.
They were able to find a bar and watch the match where they posed for a slightly embarrassing photo with their match tickets.
However, there is a silver lining of sorts, with local side KAA Gent (who, for an extra layer of confusion, are based in the city of Ghent) offering the pair complimentary tickets to attend their Europa League tie against Wolfsburg the following evening.
🇧🇪Als iemand deze twee kent of hun gegevens heeft, zeg hen dat ze vanavond welkom zijn in de Ghelamco Arena voor #GntWol!

🇬🇧 If anybody knows these two or has their contact details, tell 'em they're invited for our game against @VfL_Wolfsburg tonight.https://t.co/rtr90pYMqo

— KAA Gent (@KAAGent) October 24, 2019
Gent also offered to provide the lost Liverpool supporters a crash course in Belgian geography to hopefully avoid similar mishaps in the future.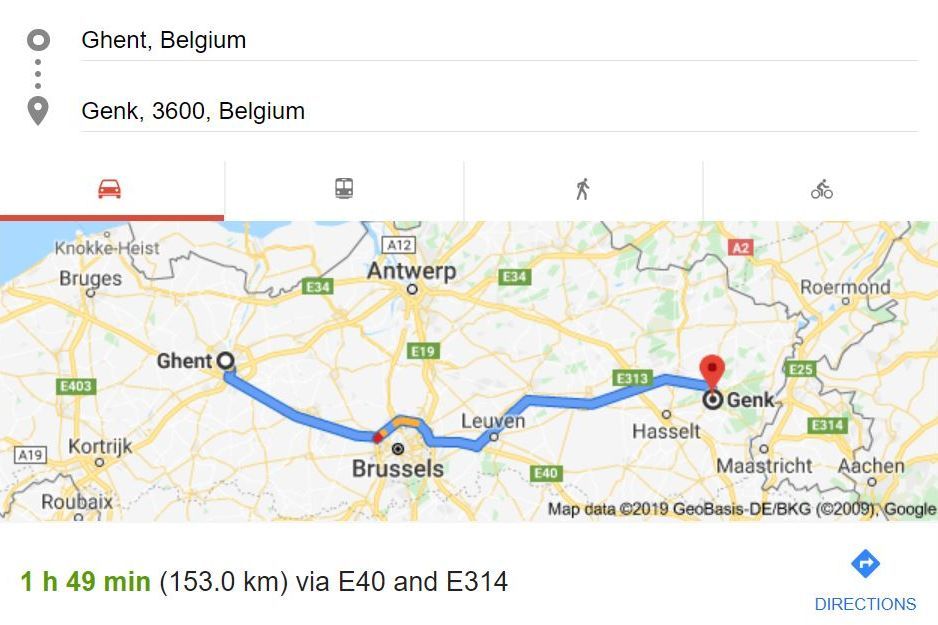 Still, it could be worse. They could have been one of the 400 Athletic Bilbao fans who missed the 2012 Europa League final by charting a course to the wrong country entirely after mistakenly travelling to the Hungarian capital of Budapest instead of the match venue in Bucharest, Romania.
Manchester United offering fans chance to watch games on Old Trafford couch
.@ManUtd and Marriott have unveiled the "Seat of Dreams" - a new concept that will be launched at the club's Old Trafford stadium.

The new addition at the Theatre of Dreams will be awarded to four fans at random through a complimentary upgrade to their existing match ticket. pic.twitter.com/eJKZYy5i0o

— Front Office Sports (@frntofficesport) October 23, 2019
Manchester United are offering their fans a slice of true luxury by laying on a new VIP experience at Old Trafford on matchdays.
United will treat four fans per game to a complimentary upgrade to their ticket which will allow them access to the "Seat of Dreams" -- a sofa installed in the Sir Alex Ferguson Stand.
In fairness a big, plush couch is exactly what you need to nap in comfort while United grind their way through 90 minutes of toil.
Before you scoff, it's perhaps worth noting that United aren't the first team to ply supporters with gimmicky furnishings. Far from it, in fact...
Jacuzzi
En el duelo entre Grasshopper y St. Gallen se vio algo único: dos personas disfrutaron el partido en un jacuzzi pic.twitter.com/9piqMF90xy

— DIRECTV Sports (@DIRECTVSports) March 11, 2013
Swiss club Grasshopper Zurich had the idea to provide fans with a VIP experience that included seats in a pitchside jacuzzi at the Letzigrund Stadium as well as generous access to a supply of free beer.
Pizza delivery
Leyton Orient added a "third dugout" to their stadium at the beginning of the season that housed eight paying fans in the corner of the ground and included pizza delivery at half-time.
Bed
Vanuit dit bed bekijken de winnaars van #FletcherValentijn #Vitesse vs sc Heerenveen. Zij dineren nu @fhdoorwerth. pic.twitter.com/v43MOzo4QM

— Vitesse (@MijnVitesse) February 13, 2016
As a Valentine's Day promotion in 2016, Dutch club Vitesse Arnhem allowed a loved-up couple to watch their Eredivisie tie against Heerenveen from a double-bed installed at their stadium.
Full suite
After signing a deal with Marriott International, Bayern Munich are offering fans the opportunity to watch matches at the Allianz Arena from their hotel room! 🏨#FCBayern pic.twitter.com/affr2KyUHf

— Yahoo Sport UK (@YahooSportUK) February 12, 2018
Taking Vitesse's idea and ramping it up a notch, Bayern Munich offered their supporters the chance to watch matches from the luxurious vantage of their own private hotel suite.
Sausage train
It's times like this we refer back to the St Pauli sausage train, which we honestly assumed would be the pinnacle of in-stadium technology.. pic.twitter.com/fxz8a1Yp9t

— Who Ate All The Pies (@waatpies) May 19, 2017
Of course, it would be remiss to not give an honourable mention to the true peak of matchday VIP opulence -- namely, the St Pauli miniature sausage train, which tooted around the ground and delivered wursts to hungry fans without them having to leave their seat.