Giannis Antetokounmpo and his brother Thanasis got to play keep-ups on the Parc des Princes pitch as they visited Paris Saint-Germain with their Milwaukee Bucks teammates ahead of Friday's NBA Paris match against Charlotte Hornets ...
The Toe Poke Daily is here every day to bring you all the weirdest stories, quirkiest viral content and top trolling that the internet has to offer, all in one place.
Jump to: PSG unveil new Jordan kit with Hornets | Dele debuts NBA2K goal celebration | Young belts out Bob Marley for Inter initiation song | Real's Carvajal leaves sweet smell of success at Salamanca
Paris Saint-Germain have been playing host to some high-profile guests this week with the NBA rolling into the French capital.
The Bucks are due to play Hornets in Paris on Friday, and in the meantime, the basketball stars have been enjoying hospitality by the local football club.
Giannis Antetokounmpo, who this week scored his 10,000th career point in the NBA, received the VIP tour of PSG's premises.
🔙🎥

Take advantage of half-time and watch the Milwaukee @Bucks' visit to the Parc this afternoon! 🏟️

🏀 #NBAParis pic.twitter.com/y0CGhOm4CF

— Paris Saint-Germain (@PSG_English) January 22, 2020
Giannis, his brother Thanasis and Bucks teammates Pat Connaughton, Donte DiVincenzo and Cameron Reynolds took an all-access tour that included going inside the locker room and hanging out pitchside at the Parc des Princes.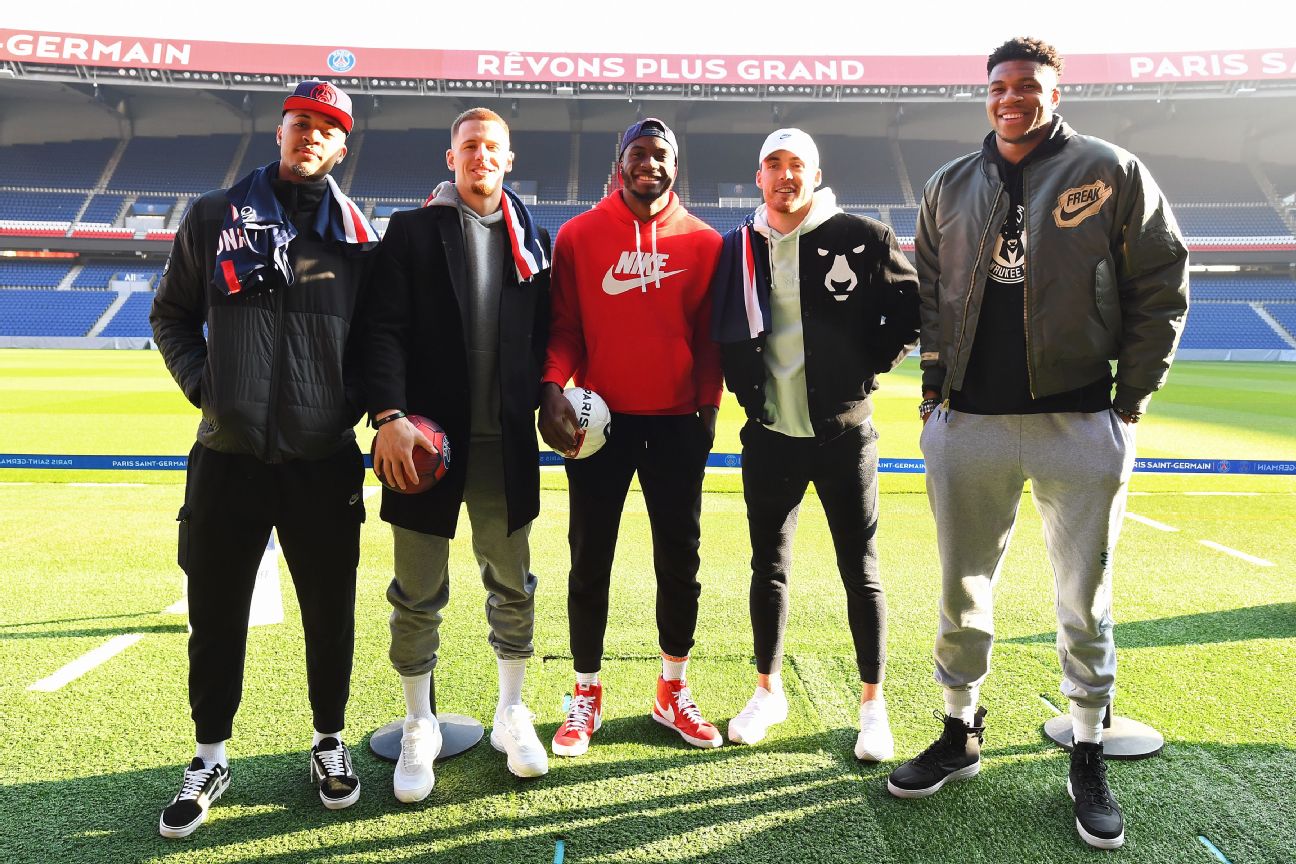 "The Greek Freak" was obviously a little jet-lagged after his long-haul flight, so he made himself comfortable.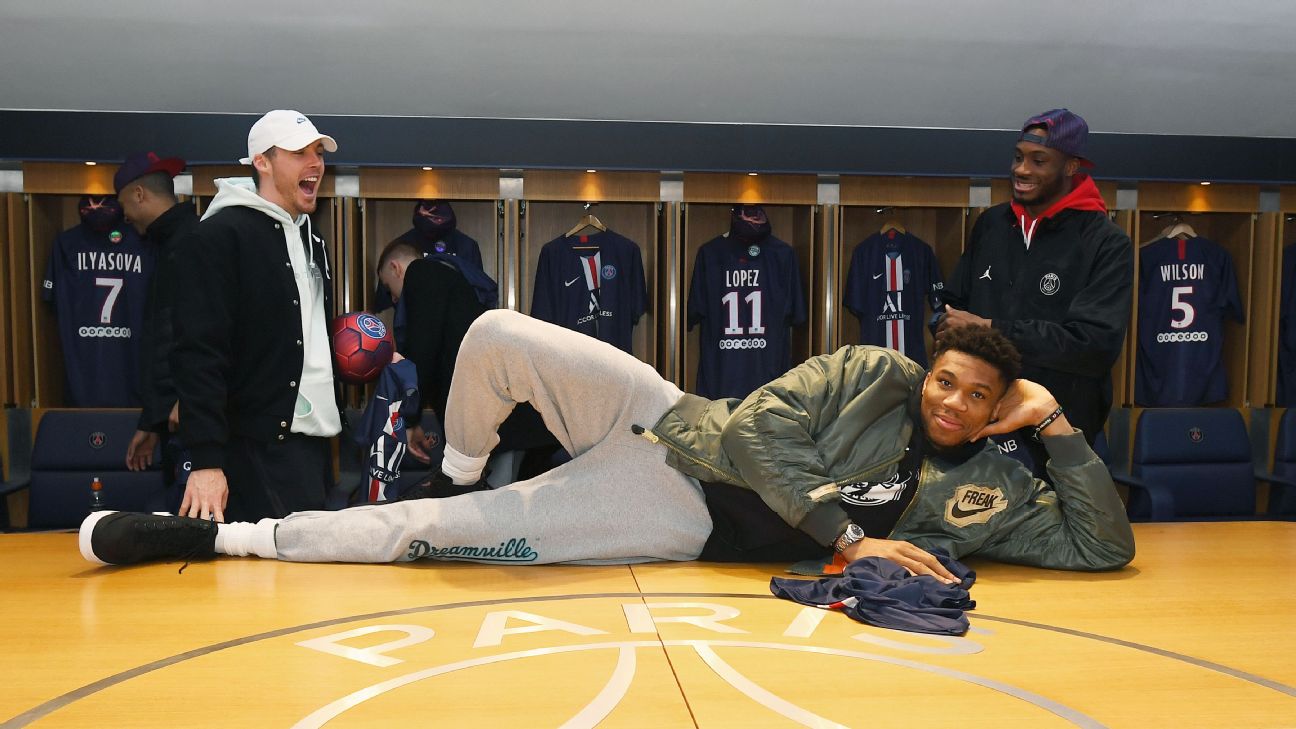 Several players clambered into PSG's high-tech virtual reality drone for an aerial tour of the stadium ...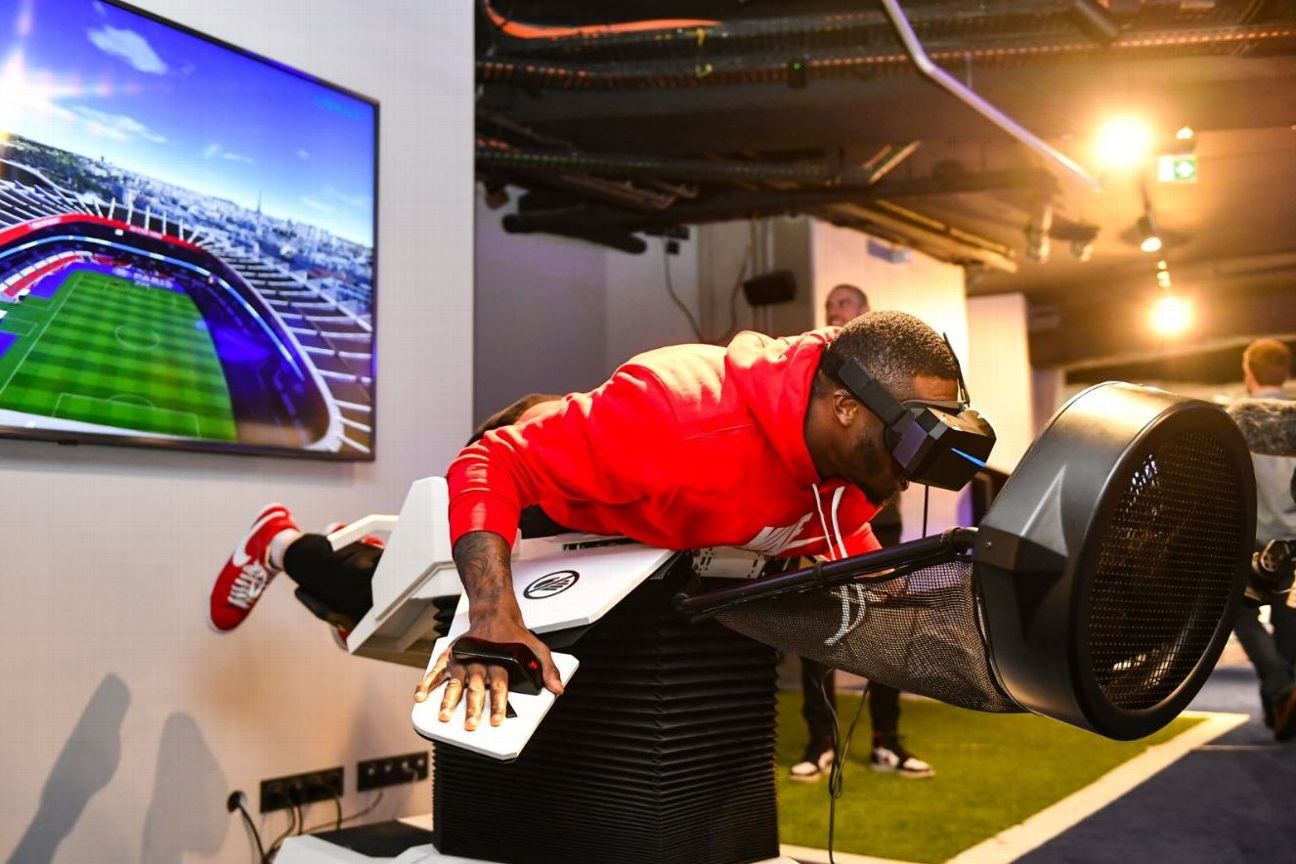 ... while everyone received personalised jerseys.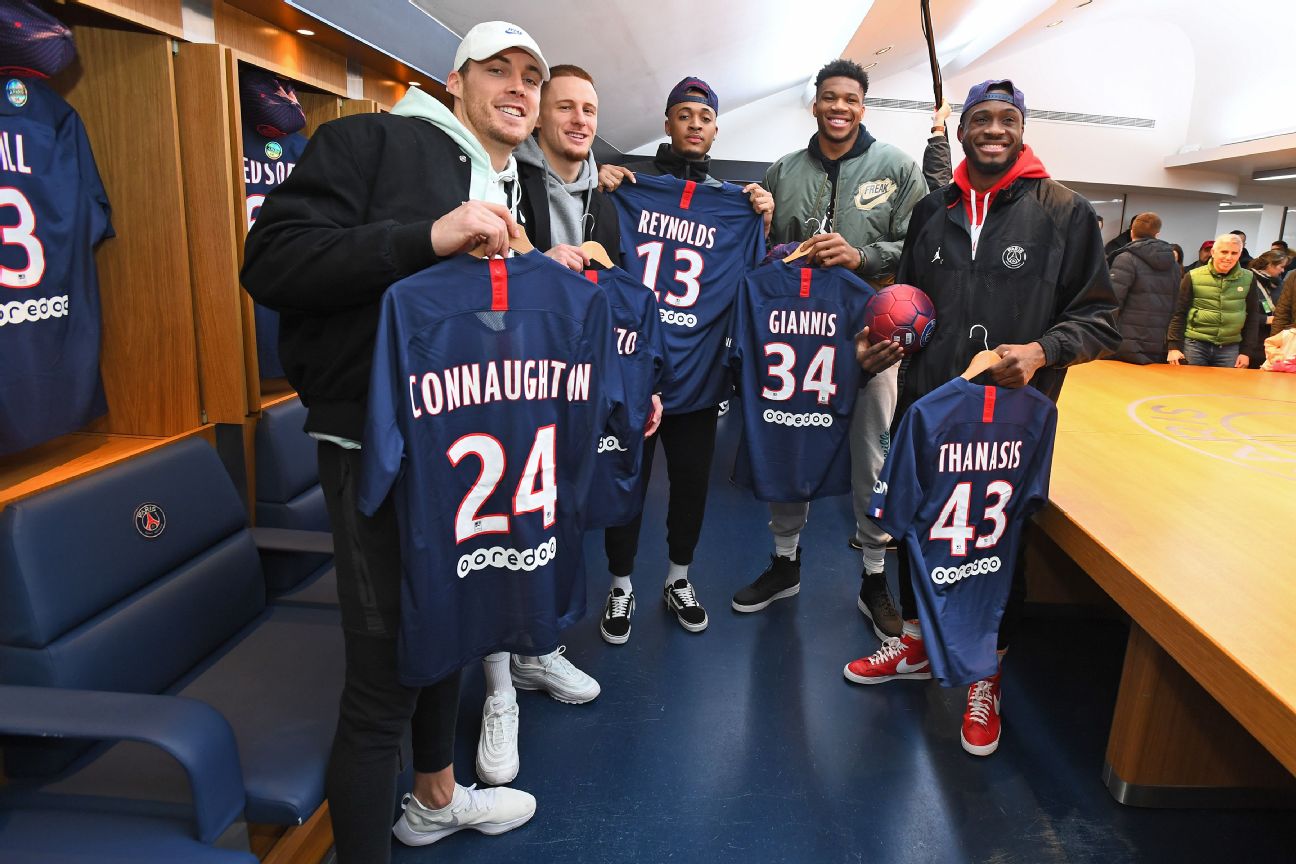 Giannis then ventured out onto the pitch, where he proceeded to play keep-ups with Thanasis -- both forwards demonstrating impressive skills with the ball at their feet.
🏀⚽️ The @Bucks take the pitch!

🇫🇷 #NBAParis 🇫🇷
🗓: Friday, 1/24
🆚: Bucks / Hornets
📺: 3pm/et, @NBATV pic.twitter.com/RPArSATvvl

— NBA (@NBA) January 22, 2020
"I'm a big fan of PSG," Giannis said. "Whenever I play the FIFA video game, I always choose them. One of the most exciting young players and the best players in soccer play in the same team, Neymar and Kylian Mbappe. And obviously they have a big history -- Zlatan Ibrahimovic, one of my favourite players, was here in the past."
Who knows, after showing they both have the classic "good touch for a big man," the Antetokounmpos might just find themselves selected on the bench for PSG's trip to Lille on Sunday if they hang around for the weekend.
- James Harden visits Arsenal, tries crossbar challenge with a difference
PSG unveil new Jordan kit
And there was more NBA-PSG crossover action on Thursday, too, as Milwaukee's opponent on Friday the Charlotte Hornets stopped by to help launch the Ligue 1 champions' latest collaborative effort with the Jordan brand.
Hornets players Nicolas Batum, who is French, and Bismack Biyombo joined PSG stars Neymar, Kylian Mbappe, Marquinhos, Mauro Icardi and Thiago Silva as they modelled the new kit.
Ready to take off 🔵🔴 @Jumpman23 x @PSG_inside pic.twitter.com/qGC37OUatx

— Kylian Mbappé (@KMbappe) January 23, 2020
The PSGxJordan combination has proved lucrative since its inception and the nod of the head towards the American manufacturer's basketball roots could not be clearer with this week's showpiece event.
Dele debuts NBA2K goal celebration
Arriving in the box. Finding the net. @dele_official ™️ #THFC ⚪️ #COYS pic.twitter.com/PIvxXOWYih

— Tottenham Hotspur (@SpursOfficial) January 23, 2020
It wasn't just the Bucks who were getting in on the soccer/basketball crossover act on Wednesday.
Keen-eyed fans might have noticed that Dele Alli unveiled a new celebration after scoring Tottenham's opening goal in the 2-1 win against Norwich City.
After guiding Serge Aurier's cross home at the near post, Alli eschewed the usual elaborate handshake and instead performed a nifty jump shot and "peekaboo" routine.
It turns out that Alli was mimicking one of the custom character celebrations included in NBA2K, one of the England star's favourite video games.
Away from the pitch, the 23-year-old is a keen gamer and esports fanatic, and is even signed up as an official ambassador for a high-end gaming headset brand.
Young belts out Bob Marley for Inter initiation song
.@youngy18 is living his best life in Milan 😂🇯🇲

(via romelulukaku/instagram) pic.twitter.com/58NRVyGMyF

— ESPN UK (@ESPNUK) January 23, 2020
Given that Ashley Young completed his mildly shocking transfer to Inter Milan recently, it was only a matter of time before we saw him on chair, belting out his obligatory initiation song.
Young selected "Three Little Birds" by Bob Marley for the occasion, and proceeded to holler it from on high as his new teammates, including former Manchester United cohorts Romelu Lukaku and Alexis Sanchez, cheered him on.
Thankfully, Lukaku was on hand to film the stirring performance and post it on his Instagram story.
My brothers, My boys , My Friends , My teammates @Inter 🖤💙 pic.twitter.com/bC3883fa6U

— R.Lukaku Bolingoli9 (@RomeluLukaku9) January 22, 2020
A jolly good time had by all -- apparently including Victor Moses (seated halfway down the table on the right), who also appears to be in the process of swapping the Premier League for a new start at the Nerazzurri.
Real's Carvajal leaves sweet smell of success at Salamanca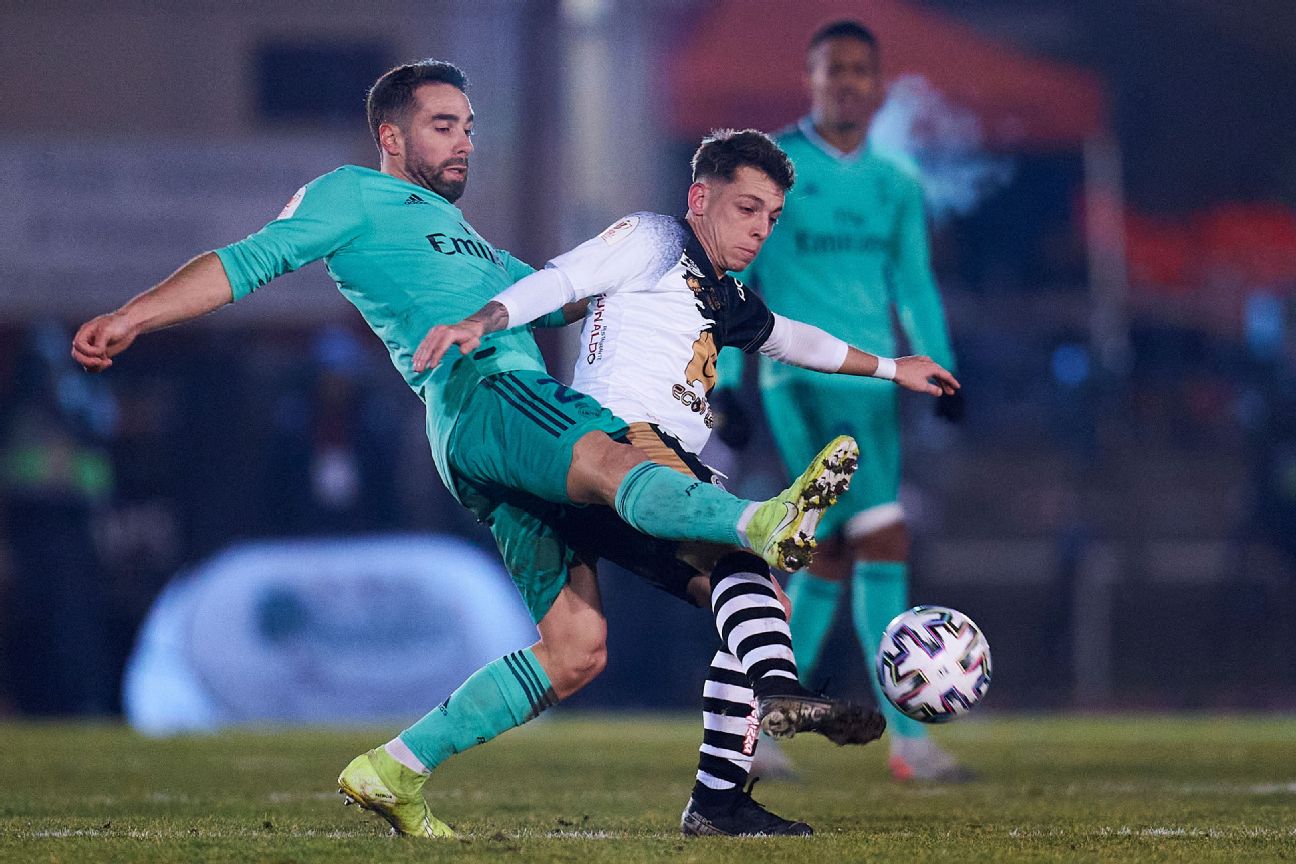 Unionistas de Salamanca winger Alvaro Romero, who scored his team's only goal in their 3-1 defeat to Real Madrid in Wednesday's Copa del Rey game, has a memento from the match.
Real Madrid right-back Dani Carvajal gave his jersey to the player known as "Varo" after the encounter in Salamanca.
The winger of the third-tier team told Onda Cero radio: "I'm going to tell you the truth and it's no joke. Carvajal gave me his jersey after the game and it was the jersey that he wore during the match, not a new one, and it smells really good.
"I don't know what cologne he uses, but it smells as though he hadn't worn it. It's marvellous!"