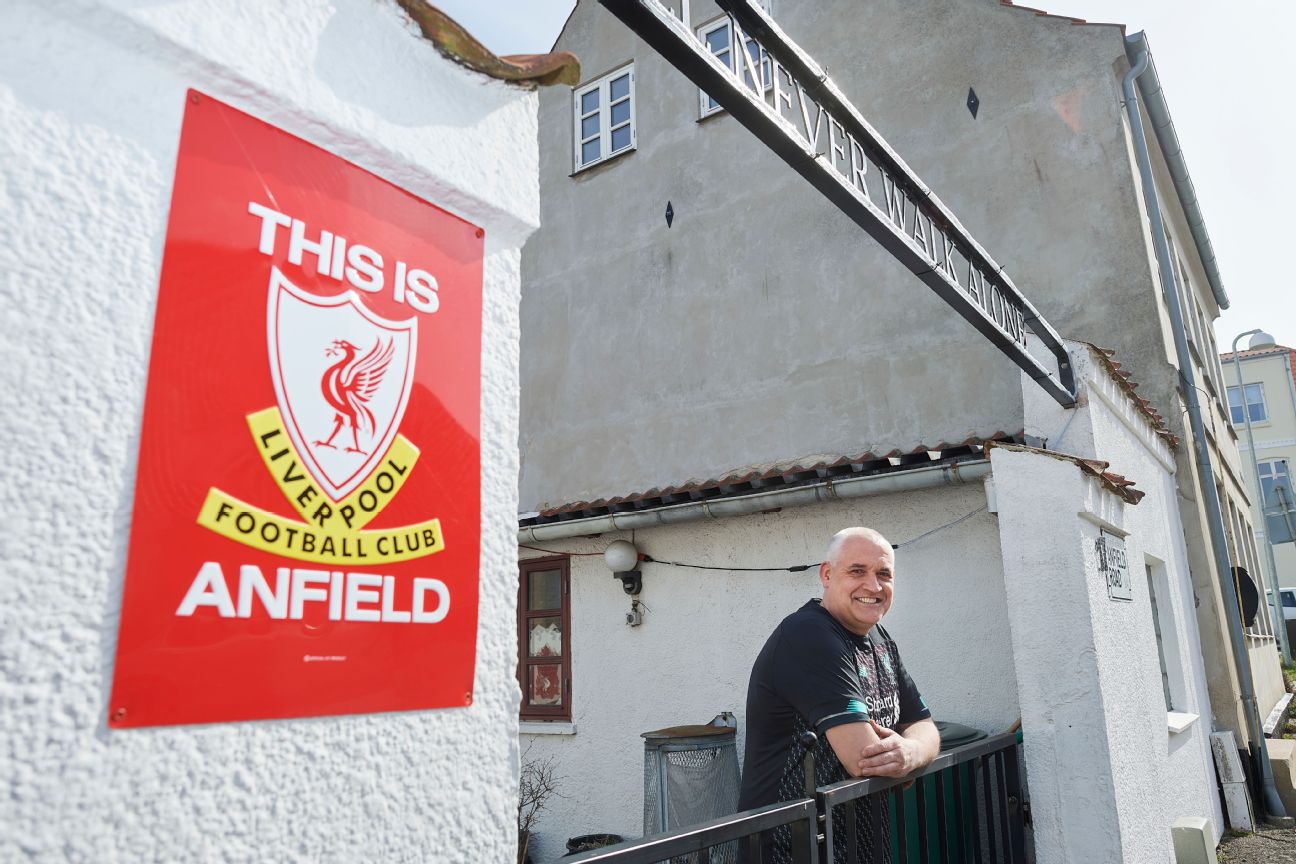 Photo by Lars Ronbog / FrontZoneSport via Getty Images
One Liverpool fan has taken his love for the club to impressive extremes by turning his house into a shrine to the club.
Danish supporter Kjeld Rinfeldt, 52, has transformed his home into a glorious tribute to his beloved Reds and their famous Anfield stadium.
Rinfeldt has been a season-ticket holder at Liverpool for more than 40 years and regularly makes the 1,800-mile round trip from his hometown of Skaelskoer, just south of Denmark's capital Copenhagen, to watch every single home match live.
And on his return, it's almost as though he never left The Kop, with the entrance to his property even bearing the iconic "You'll Never Walk Alone" motto above the threshold.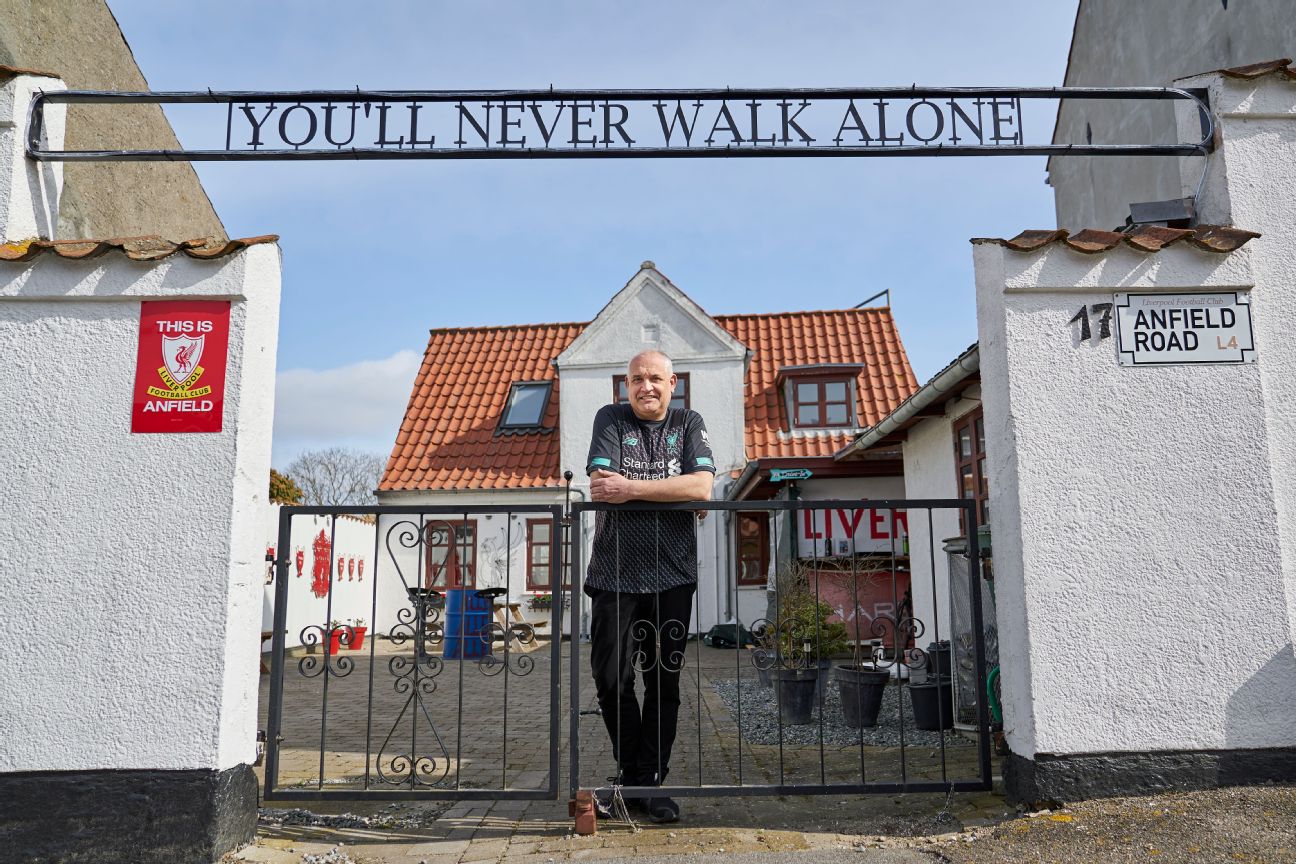 Photo by Lars Ronbog / FrontZoneSport via Getty Images
Other than his season ticket, the cast iron piece is Rinfeldt's most treasured possession and was custom made by one of his friends, who is a skilled metalworker.
"It's a guy I know, he can make you anything you want," Rinfeldt told ESPN. "It started with an LFC barbecue, and then I just asked him if he could do that too."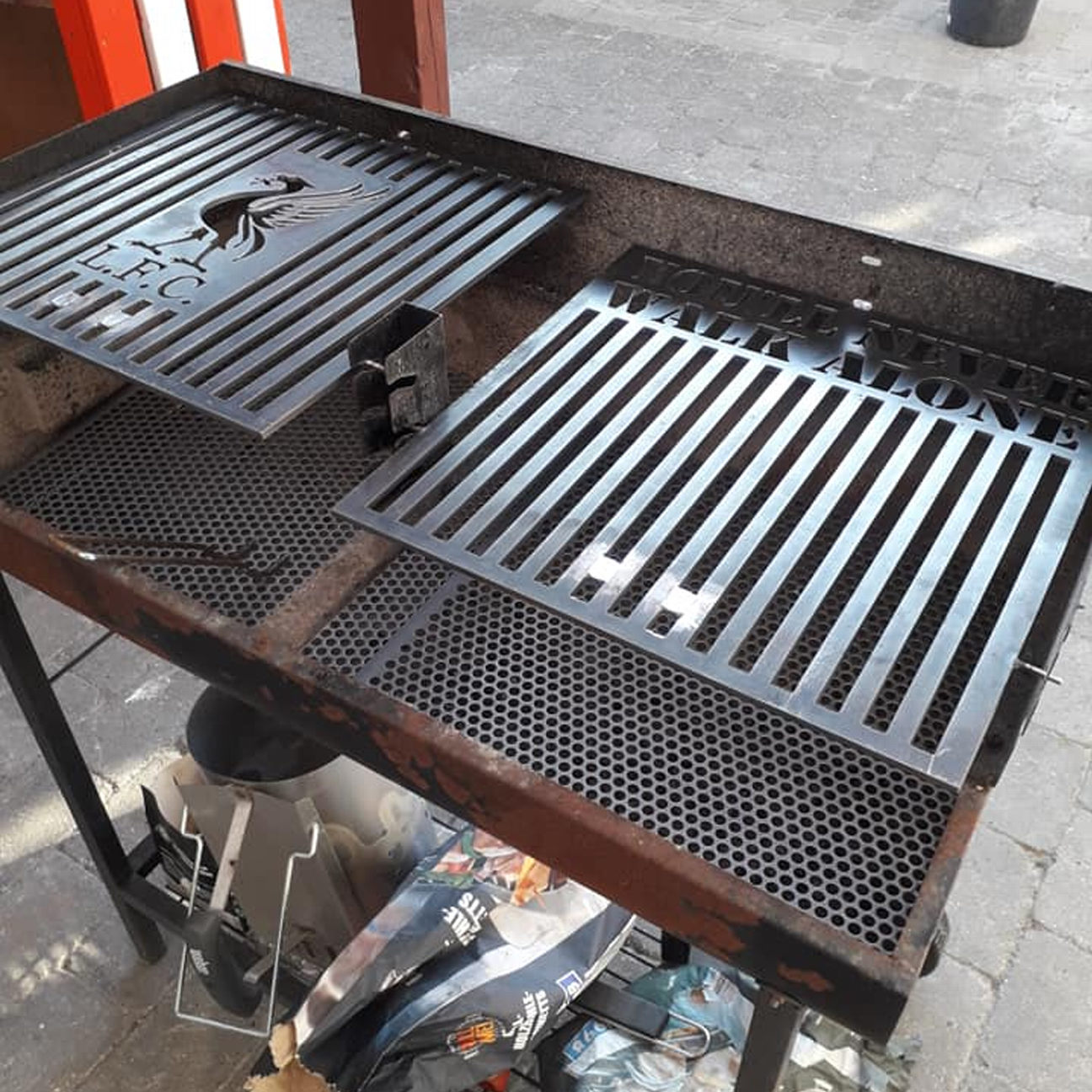 Photo by Kjeld Rinfeldt
As for his next major project, the brewery worker revealed he's planning to add a full replica of Anfield's famous Shankly Gates to go underneath his YNWA scroll, just like the real thing.
Asked if he keeps a running total of how much money he spends on Liverpool, Rinfeldt replied: "No. It's not a fortune but for me it's a priority. I spend £25,000 ($31,000) a year on Liverpool -- flights, tickets, hotels, etc."
- Stream new episodes of ESPN FC Monday-Friday on ESPN+
- Stream every episode of 30 for 30: Soccer Stories on ESPN+
The rest of Rinfeldt's garden is also festooned with club memorabilia, from a replica of the famous "Welcome to Anfield" tunnel sign to his pair of Hillsborough torches that adorn the back wall.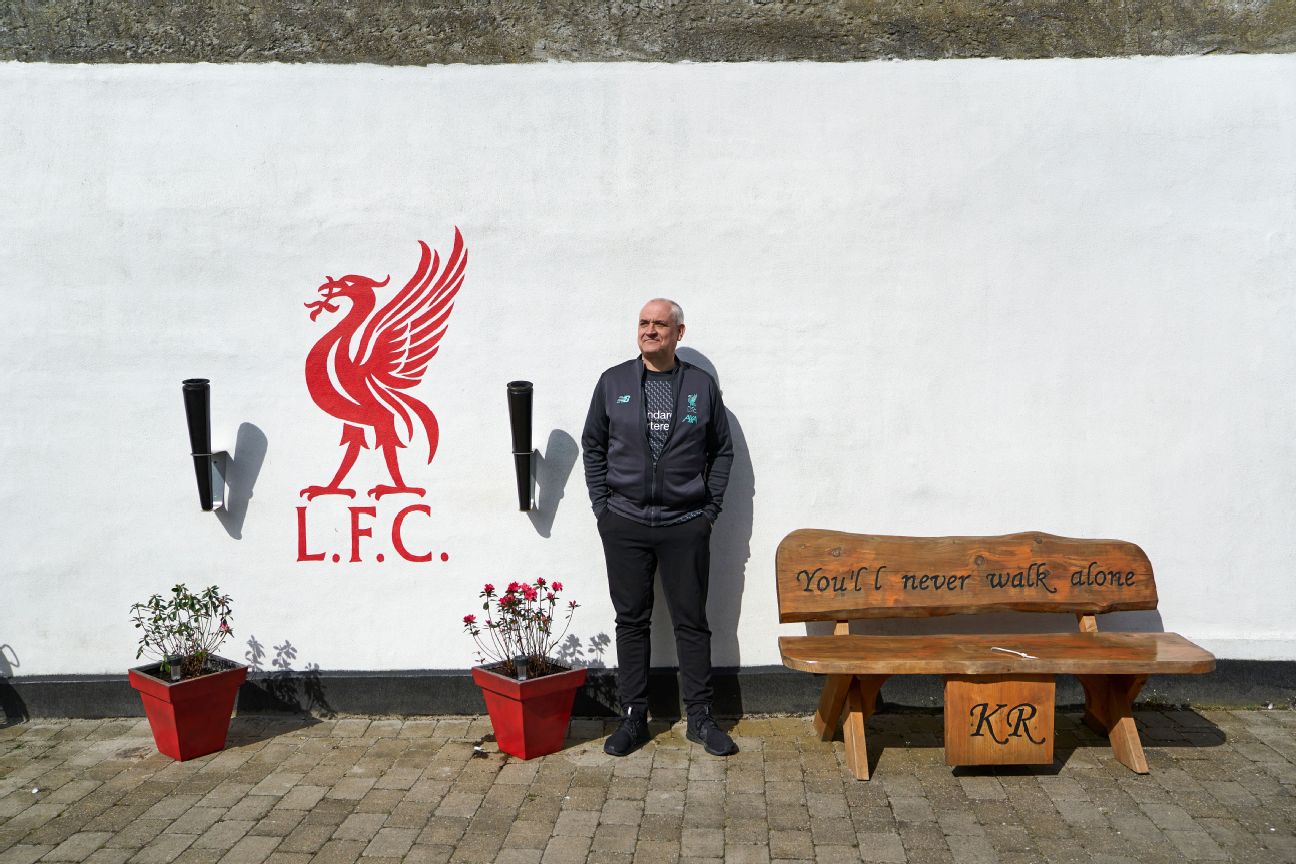 Photo by Lars Ronbog / FrontZoneSport via Getty Images
The theme continues inside the house too, with a vast collection of photos, souvenirs, furniture, books and artwork further cementing his love for all things LFC.
"There is lots more Liverpool things but nothing of real value," he added. "So if a burglar turned up he would be very disappointed."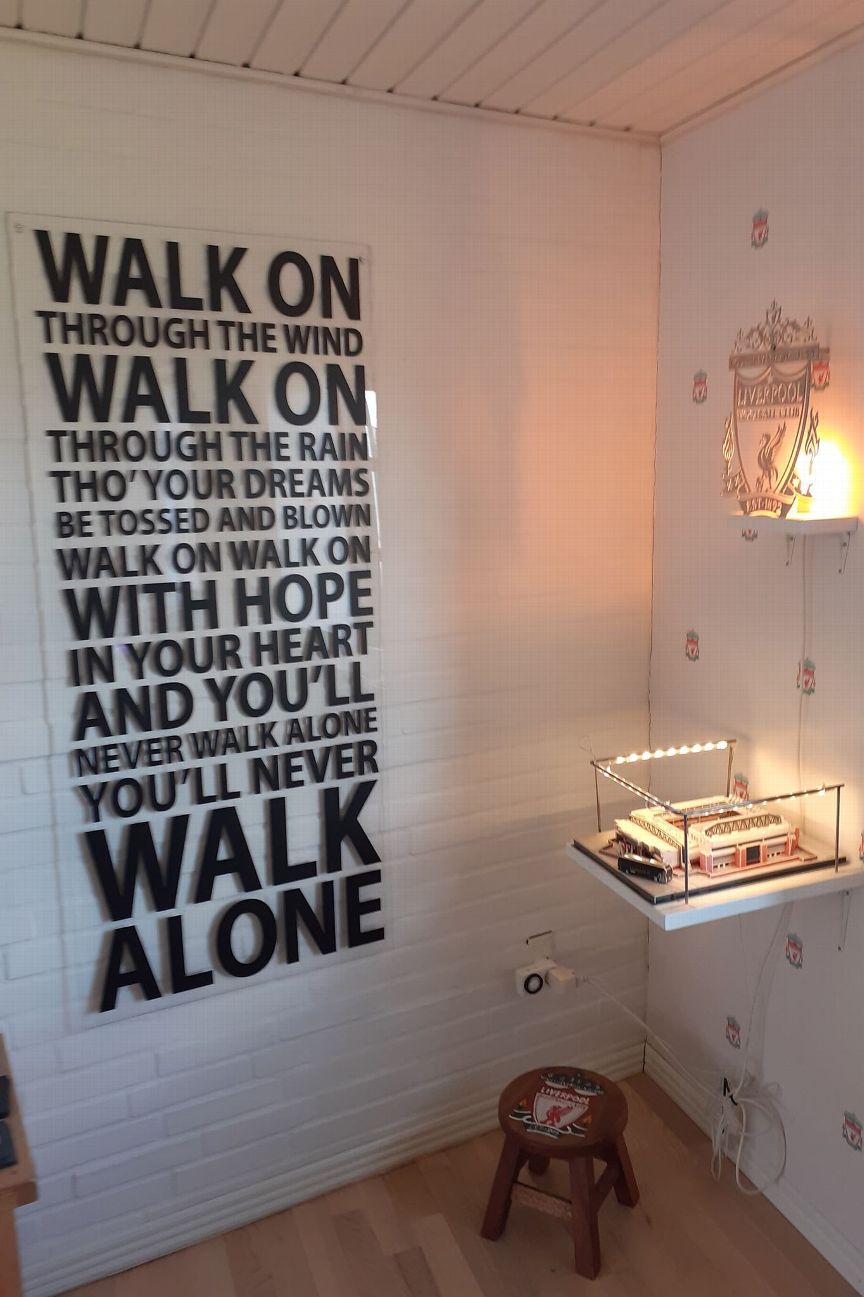 Photo by Kjeld Rinfeldt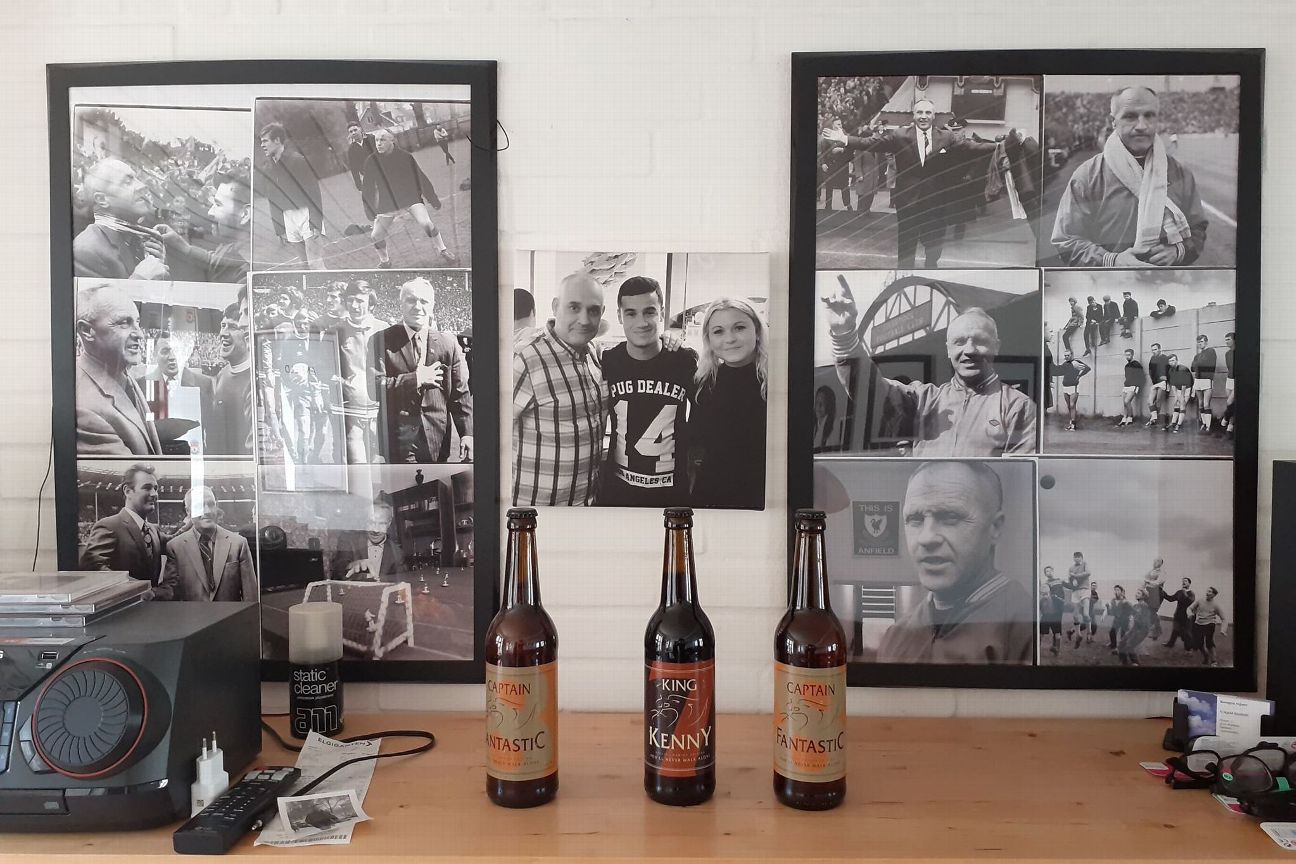 Photo by Kjeld Rinfeldt
Thankfully, Rinfeldt's neighbours seem to be perfectly happy with him slowly building a football stadium next door. Perhaps even more fortunately, there aren't many supporters of Everton in the vicinity either.
"No, no. I live in Denmark so there are not many Everton fans," he said. "The person who lives next door doesn't even know Liverpool won the Champions League last season. They just look at me and think I'm mad."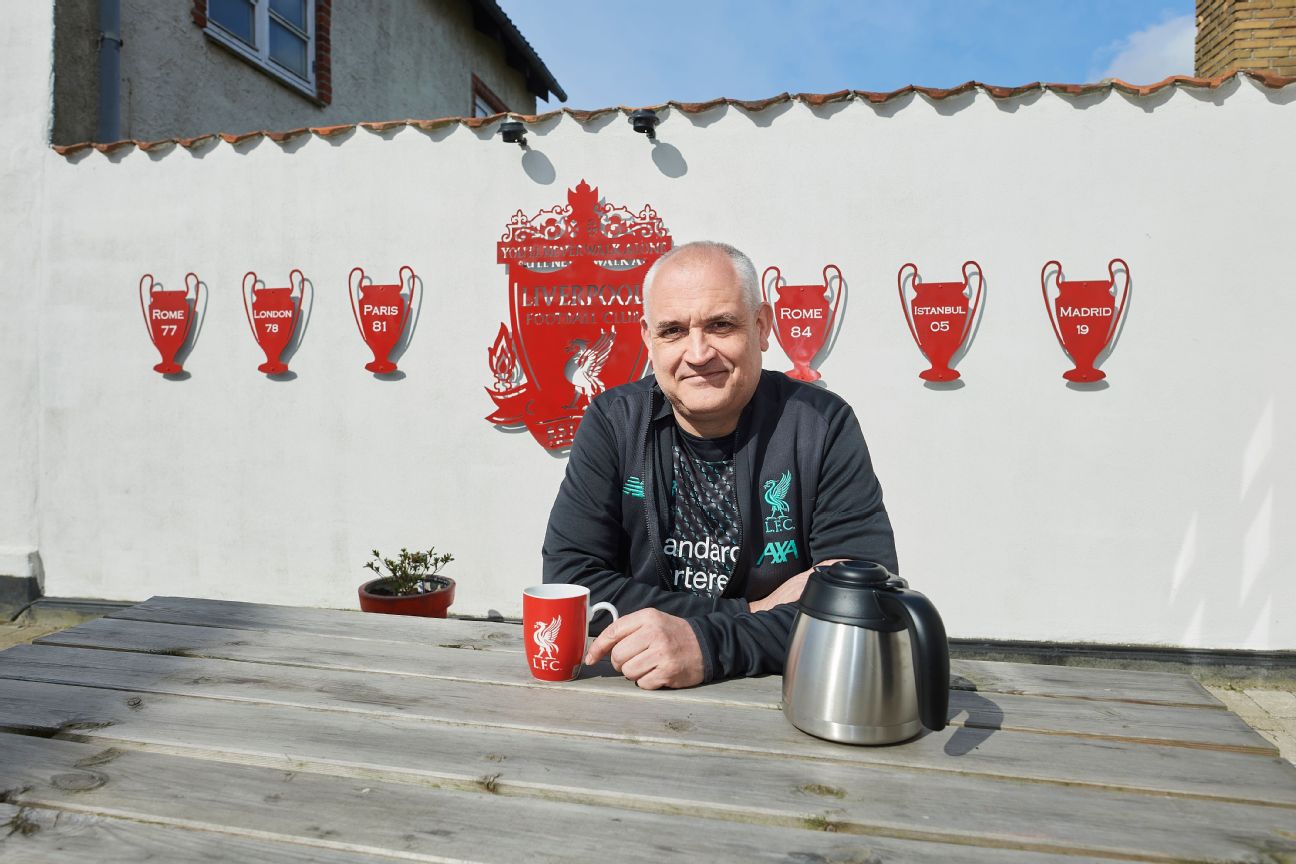 Photo by Lars Ronbog / FrontZoneSport via Getty Images
Every summer, Rinfeldt likes to invite a group of his friends and fellow fans over from Liverpool to get together and discuss the past season. Unfortunately, much like the Reds' title charge, the celebrations have been put on ice this year due to the coronavirus outbreak.
"It's a nightmare," he said. "But me and my daughter are still healthy and our jobs are safe. That's most important. All my friends in Denmark and Liverpool are well, and that's what counts right now."
You may not be surprised to hear that Rinfeldt fully intends to be there in person if and when Jurgen Klopp's side are confirmed as champions of England for the first time in three decades.
"I miss travelling and I miss my mates -- and I will love to see them [Liverpool] lifting that trophy," he said. "I can just wait and see how it will end. Next time Anfield is open, I will be there."
We don't doubt that for a second.