This story is from the winter/spring 2018 issue of Howler, a quarterly magazine about soccer. Get 20 percent off a subscription with promo code HOWLER14 at shop.howlermagazine.com.
THE MOST ACCOMPLISHED AMERICAN REFEREE, Mark Geiger, performs a ritual before every game he works. He calls this ritual his "thing."
"I have a fear of failure," he says. "I think most guys do. It's just morphed into something that happens now."
He can feel it coming on hours before kickoff, when he's packing his bag in his hotel room. A trigger, a little twinge of anxiety, fires when he showers before catching a shuttle to the game. This evening, at the new Mercedes-Benz Stadium in Atlanta, about 20 minutes before the pregame procession of players from Atlanta United and the visiting Philadelphia Union, he's trying not to think about the ritual. He's trying to focus on the task at hand.
"We need to talk about the game," he says to his crew. He sits at his locker in a small room shared with four other officials -- two assistant refs, a fourth referee to oversee substitutions, and one more who will sit in a booth watching monitors for instant-replay review. Together they've already walked the pitch -- another trigger -- making sure that the lines on the field are straight, the goals are standard size, and the nets are free of holes. It's a late-season Major League Soccer game, not particularly prominent on the schedule.
Geiger's left knee bounces up and down as he talks.
"It's hard to say what we'll get because Atlanta is playing very well at home, lighting it up," he says. "If Philly loses tonight and Red Bulls win, then they are out. At this point, we have to assume they're playing for their jobs. We may see an intensity out there. Last weekend there were a lot of weird results. Teams won that you wouldn't expect. So let's be waiting for the unexpected tonight."
C.J. Morgante, an assistant referee who worked with Geiger at the Confederations Cup in Russia, rolls his left arch over a can of that white foam they spray on the field for free kicks. Geoff Gamble, the fourth referee and a Canadian, checks the air pressure in the game balls clustered in a bag in front of his locker. He uses his own gauge, which he brought from Ontario.
"Talk to me," Geiger continues. "Give me valid info. Yellow card. Red card. Tell me, 'Red, red, red!' The time to give me an opinion is when I ask for it. Instead, give me what you're seeing. Studs up, whatever info you have. 'PK, PK, PK!' or 'Outside the box!'"
Coming into tonight, Atlanta is averaging just over two goals per game. In one match, United scored seven times, and it's currently on a 19-3 run. It is a team of pricey forwards, each one delivering what he's paid for. Philly's back line, in contrast, is anchored by former national-teamer Oguchi Onyewu, age 35.
"Gooch is Gooch," says Geiger. "He does not have the speed to keep up with Atlanta's front line. So I wouldn't be surprised if Atlanta breaks on through with a few runs. It's going to be quick! Let's be ready for that. Let's also be ready to deal with time wasting. Philly needs three points, but they might be content to hang back."
He looks down at his feet for a moment, then quickly around the room. He decides there's nothing else to add. "If this game goes like it should on paper, then we'll be fine," he concludes. The video ref, Ekaterina Koroleva, who flew in this morning on a red-eye from Seattle, heads upstairs to her bank of monitors. The other refs talk casually. One assistant ref, a criminal justice student named Matt Nelson, complains that there are too many service dogs on airplanes these days. Gamble believes Delta has a better frequent-flier program than United. Geiger pulls on a pair of yellow wristbands embossed with the Champions League logo. He thinks about one of the first games he ever reffed, where a player almost suffered a serious injury because of a bad call. He thinks about another game here in Atlanta, extremely high profile, where everything went haywire and Geiger lost his confidence for the whole next year. He knows the trigger is about to fire, so he stands up.
"Okay," he says. "I'm just going to do my thing."
Geiger exits. Morgante, the assistant ref, explains what's happening. "He vomits," Morgante says. "Every game. If it's a particularly big game, like when we were in Russia, he might vomit twice."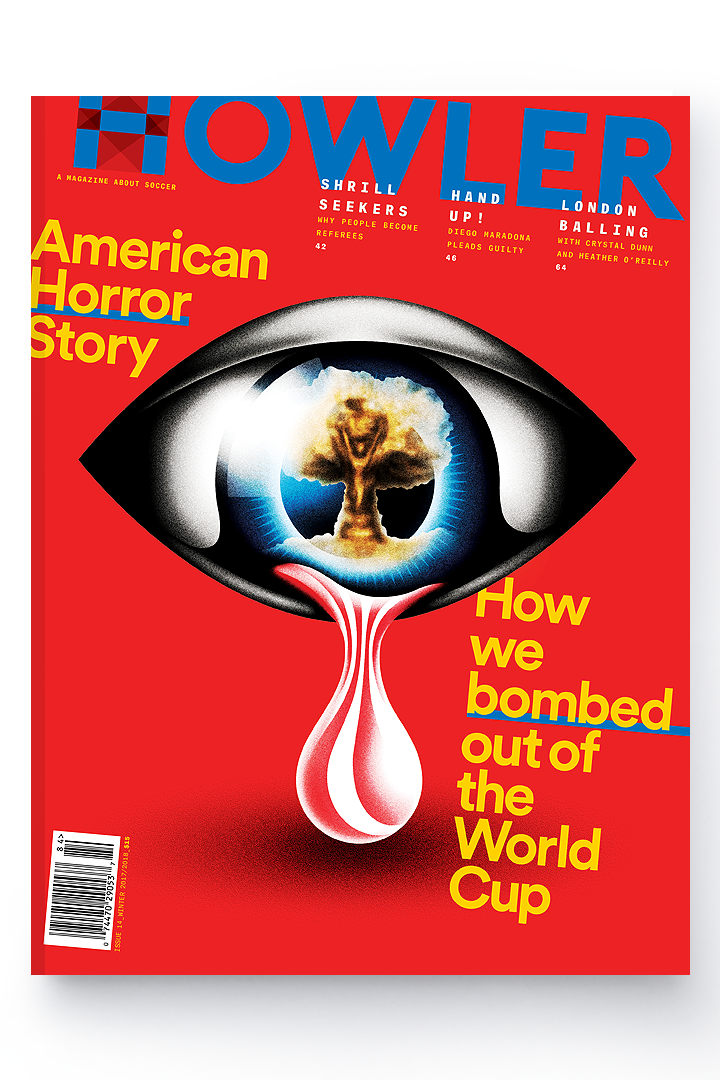 GEIGER IS A 43-YEAR OLD former math teacher from Pine Beach, New Jersey. He started refereeing soccer games in grade school and stuck with it when he realized the whistle let him stay in the game longer than athletic ability ever could. He reffed his first Major League Soccer game in 2004. He worked his first international game four years later. In 2013, he quit his teaching gig to referee full-time. He has become the most accomplished referee the United States has ever produced.
Geiger was MLS Referee of the Year in 2011 and 2014, and he's one of three finalists for the award this season. He reffed the 2011 U-20 World Cup final in Nigeria. He reffed a CONCACAF Champions League final in Mexico. In Brazil, he was only the second American to ever ref a World Cup game and the only American to ever ref the knockout round. (He also worked as the fourth ref when Germany destroyed the hosts 7-1.) He's been on the whistle for finals of the MLS Cup and the US Open Cup. In 2014, he won CONCACAF Referee of the Year. Last summer, he and Morgante traveled to Russia to work the Confederations Cup. Geiger will be returning to work the 2018 World Cup.
"To be the best, you have to compete," says Morgante. "You have to be on the big stage and perform at a top level in a big competition. Mark has done it over and over again."
Geiger speaks in clear, precise, almost basic words, as if he's still teaching algebra to a classroom of students. He tends to lean toward the listener, showing that he's engaged in the conversation. Pierluigi Collina, the Italian referee with famously expressive eyes, is a role model. When Geiger calls in his crew to clasp hands in the center of the room, he looks at each of them, indicating his focus. He's right here, in the moment.
"All right, you guys? You ready? Keep it simple. Be patient."
The eight retractable petals that form the roof are closed, to Geiger's relief. "It's hot on the field," he says. "Even at night. If they ask me, the roof will be closed all the time." The refs step onto the pitch first, streams of fire dancing around them. Back in the locker room, after both teams had presented their uniforms for inspection, a stadium official warned Geiger there would be fire but said not to be afraid -- it's all safe.
"That's simply not true," admitted the referee liaison after he left. "It's hot. It's scary. In the first game, the fireworks lady used four times the amount of explosives she's authorized to use."
The flames illuminate 43,000 Atlanta fans, another amazing turnout for a team in its first year of existence. This pleases Geiger. "The more passionate the fans, the better the game will be," he says. A former Braves outfielder pounds a golden spike in the supporters section, the new franchise's attempt to create a tradition. Red lights swirl overhead on a huge circular screen, the largest video board in the world. Geiger, standing just off the midfield circle, points an arm at Philadelphia's goalkeeper, blows his whistle, and starts the game.
When Geiger, as a math teacher, set up his classroom in the morning, he would recall how he felt as a student. Sitting at his desk, trying to focus on the lesson, he might find himself distracted by small things that were out of place, perhaps on the chalkboard. "The board couldn't have streak marks," he recalls. "I would sit there and I would fixate on that streak mark." So when he erased the board as a teacher, he made sure each little streak was gone. "Everything needs to be in its place; everything needs to be in sync."
That feeling -- which Geiger reluctantly acknowledges as a strain of OCD -- is relevant to how he calls a soccer game. If he's doing his job well, he's invisible, erased. Only when he screws up do streaks show. "We're the opposite of players," he says. "They are remembered for what they do right, and their mistakes are usually forgiven. We are remembered exclusively for our bad calls."
He stays mainly in the center of the field. When he moves, it is along an invisible diagonal line, partly reacting to the play and partly anticipating what will happen next. The ball never leaves his line of sight. This is objective number one: follow the ball. His head swivels as if he's a barn owl. If the ball crosses behind him, he will turn his body once, 180 degrees, eyes always on the target. Nobody in the stadium is watching the ball closer.
As for the rules, he insists there's not much he needs to know. Only 17 laws constitute FIFA's newly streamlined manual. But each law contains nuances and room for judgment calls. One law, number 12, covers all fouls and misconduct. That includes all yellow cards, all red cards, how to restart the game, whether there's a direct or indirect free kick. Interpreting the laws is more complicated than knowing the difference between wrong and right. There's an art to it.
"You know in your gut that it's a foul," Geiger explains. "So much of what we do is refereeing with our gut. That's the emotion. Whether it's a yellow card or a red card, these are gut reactions on some of this stuff-on how intense the foul was, how much force was used. You know if there's any malice in it. That's all coming from our emotions."
Geiger is the one ref on the field who gets to make judgment calls. For Morgante and Nelson running the lines, it's binary, fact-based refereeing. Nelson, the assistant studying criminal justice, prefers it that way. "I'm introverted," he says. "I don't want the limelight on me at all." Geiger finds that odd. It's calmer, easier for the main referee, he says. He can fudge things. He can sell his calls.
"Don't you realize that half of what we're doing out there is theater?" Geiger explained to Nelson the previous night while eating dinner at their airport hotel. "I'll even tell the players, 'Okay, calm down. I'm going to use my arms now and make a show of things. Let's move forward.'"
At field level, during live play, the game moves remarkably fast, much quicker than it appears on television. Atlanta is a speedy team by design. The plastic FieldTurf is a factor, too, the ball skipping up- and downfield with less friction. All the action is in Philadelphia's defensive end. Thirty minutes in, with Atlanta already leading 1-0, Geiger whistles a forward for a minor foul. United's head coach, Tata Martino, stares at Geoff Gamble, the fourth official standing near him. Martino holds up his fingers as if he's pinching the bottom of something. He continues staring and pinching until Gamble notices him. Martino knows that with the headsets they wear, all the refs talk to each other. He wants word sent to Geiger that he shouldn't have called a foul.
Another Philly free kick follows, and this time Martino, an Argentine, shouts in English, "Come on!" He holds his hands up again, still pinching. He resumes staring at Gamble. It's a friendly look, funny. He's trying to influence with honey, as if he's just a kindly grandfather guiding the referees to the proper call. Gamble shouts over that the matter is being reviewed, which may be a bluff. Very soon thereafter the call is forgotten when United scores a second goal. Martino hugs his assistant coaches, who sit with him at a considerable remove from the players on their bench. The fans in section 101 chant, "Dos a cero!" Geiger jogs back to the center circle.
In the van ride to the stadium, Geiger talked about a college showcase he's been asked to work. He'd rather not, he explained. Oh, he'll go for a day or two to mentor young referees, but the games will be so dull. In college showcases, all the players are on their best behavior. Nobody commits fouls. Geiger prefers a crunching tackle or two. He likes it when there's emotion and energy. This game, despite the goals, despite how happy the Atlanta fans are, has been perhaps too clean. There hasn't been a card yet. Even with Martino's benign theater on the sideline, there's no controversy. Geiger blows twice on his whistle. Not a demanding first 45.
"When you do your job well, no one notices that you are there," he says after returning to the locker room at halftime. "They talk about the great tackle, the sharp goal, the diving save. When they do talk about you, that's rough."
THE MOST TALKED-ABOUT MOMENT is easy to find. Google his name and it comes right up. "Oh yeah," he acknowledges. It's right there.
"Security needs to escort referee Mark Geiger and his team off the field after Mexico vs. Panama."
"Overseas Opinions of MLS Waver after Mark Geiger Gold Cup Debacle."
"All Hell Broke Loose in the Panama-Mexico Game and It Was Entirely the Ref's Fault."
"Gold Cup Match Fixed, Panama Official Says."
After the game, which took place two years ago here in Atlanta, a newspaper in Panama ran a front-page illustration of Geiger fanning $100 bills, suggesting he was paid to throw the match. The headline, half in Spanish: "¡F---ing Árbitro!" All in Spanish is a YouTube video entitled "Mark Geiger, un enemigo público de futbol."
There are so many videos. Slow-motion, frames frozen, Geiger's calls analyzed as obsessively as the Zapruder film. It was a Gold Cup semifinal, the old Georgia Dome packed with so many green-clad fans it could have been Estadio Azteca. Midway through the first half, Geiger delighted the crowd with a tough call on Panama, a red card that even Mexico's coach said "no era penal." Few would have bet on a shorthanded Panama beating the most popular team in CONCACAF, the federation's cash cow, the crowd favorite.
Yet Panama shut Mexico down and, somehow, took a lead into the 88th minute. Mighty Mexico looked like it would miss out on the final. Until Geiger made himself anything but invisible.
With time running out and the ball bouncing into Panama's 18-yard box, defender Roman Torres tried to bicycle kick the ball upfield and out of harm's way. He failed to connect with the ball in large part because a Mexican forward had pushed him. As he fell backward onto the turf, Torres landed partially on the ball. Geiger called him for a hand ball -- immediately, forcefully, and clearly, as referees are instructed. Don't hesitate. Sell the whistle. Geiger did not call a foul on the Mexican player who pushed Torres. Nor did he allow that by landing on the ball, which Torres wasn't able to see as he fell, any contact with his arm had been inadvertent. Penalty kick for Mexico. Andrés Guardado converted, and Mexico enjoyed a stay of execution-as did the tournament's organizers, who wanted Mexico and its fans' money in the final.'
In the extra time that followed, Geiger awarded Mexico still one more penalty kick, and the game. This call was defensible; it was a foul. But it was also Geiger's third major call of the game against Panama. Without those calls, Mexico would have lost. Instead, Mexico advanced.
The Panamanian team, including coaches and bench players, rushed at Geiger. Initially he walked away, trying to look calm. Then he broke into a run, his arm up near his face in a defensive posture.
"It's game over and they're chasing Mark Geiger," said JP Dellacamera, up in the broadcasting booth. "That's gonna really, really put this game on an uglier note than we already had. You cannot charge the referee like that. You cannot."
Color commentator Tony Meola: "Oh man, this game needs a serious review."
Dellacamera: "Everything, right? Top to bottom."
"All over. I don't even know where to start," concluded Meola, who added that he was sympathetic to the anger at Geiger. "Panamanian players, I get it."
In their locker room, those Panamanian players posed with a banner calling CONCACAF officials ladrones ("thieves"). Team executives called for the CONCACAF Referees Committee to resign. Fox Broadcasting's officiating expert, Joe Machnik, analyzing the penalty that saved Mexico and extended the game, sided against the referee.
"What I see here is the Panamanian defender actually being fouled," he said, "and falling backwards and then making inadvertent contact with the ball. There's no intent here. And this is a very, very harsh decision."
Panama's head coach said afterward that he thought of retiring from soccer on the spot. "I was saying to myself, 'I don't want to carry on any longer in football because this was a vile robbery.'" In postgame articles, even respected members of the American press danced up to the edge of calling Geiger corrupt.
"I wouldn't know," Geiger says now, two years later. "I never read any articles about the game. I watched the film afterwards like always, once." But then he moved on-or tried to. Geiger says he doesn't like to talk about the Panama game. Yet back in Atlanta now, on a business trip spanning three days, Geiger brings up the Panama game four times, spontaneously, without prompting. At lunch with his crew at the airport hotel before tonight's game, while discussing video assistant referee (VAR) and its implementation league-wide, Geiger said if there had been VAR in that Gold Cup, then he would have been able to correct his mistakes; Panama would have won; and, in his words, "I wouldn't have lost a year of my life."
VIDEO REVIEW DEBUTED INTERNATIONALLY in the summer of 2017, at the Confederations Cup that Geiger worked. To fans watching on TV, it felt like a nuisance. Reviews crashed the flow of play. Goal celebrations deflated into awkward, often extended pauses. The calls that were overturned weren't necessarily clear-cut. Yet the Professional Referee Organization (PRO), which Geiger and all MLS referees work for, is pro-VAR, calling replay reviews "a crucial development for the sport." The organization hired retired World Cup referee Howard Webb to oversee VAR's rollout.
MLS had begun testing VAR back in February, in preseason matches. From March through August, referees ran VAR offline, with no impact on the game. In August, video review went live. Geiger admires the league's commitment. He thinks video review will be part of the game from now on, so it's good that MLS is all-in so quickly. He believes he and the other referees who work MLS games will be ahead of the curve globally.
"Throughout my career, we've had so many tools that have come along," he says. Flags that beep and vibrate. Headsets so refs can talk to each other. "And now this. It's just another tool that we use."
Six minutes into the second half, Atlanta forward Héctor Villalba slots a shot past Union goalkeeper Andre Blake. From his position just inside the penalty area, Geiger looks over to his assistant referee, Matt Nelson, and sees that the offside flag is down. Geiger points his arm toward the center circle, indicating an Atlanta score. "GOOOOOOOOAL" circles around the huge 360-degree scoreboard. Martino and his
assistant coaches hug. An announcer bellows Villalba's name despite the fact that, on the field, Philadelphia has already put the ball back in play with a free kick. Villalba didn't score. The goal was overturned upon video review.
"That was the quickest turnaround from calling for VAR to overturning the goal to getting the ball back in play," Nelson will say later. As soon as the shot went in the net, Geiger was thinking to himself that the player who assisted the goal, Josef Martínez, had been offside. With Nelson's flag down, Geiger was required to motion for a goal, but he was already confident the call would be overturned. "That's coming back," he thought. Up in her booth, Koroleva almost immediately confirmed Geiger's gut instinct. Offside, she told him -- not by much, but conclusively. Geiger blew his whistle and signaled the free kick, hurrying the ball back into play.
Boos rain down when the crowd figures out what's happened. Martino looks to the fourth ref. No longer is he pinching his fingers. He now appears to be cupping his breasts, his harshest criticism. But play continues. The offside call is quickly, deliberately in the past.
"The game happens so fast, right?" Geiger will say afterward. "Tackles happen so quickly, and we can't physically see it all, all the time. VAR is really able to slow it down, get that point of contact right from the video. They can freeze-frame it and tell me definitively this person is in an offside position."
It's notable how collaborative it all is. The five referees are a single organism with 10 eyes and one mind. Morgante the linesman insists teamwork is one of Geiger's strengths, that he assembles good crews and then empowers everyone. But it also seems as though maybe it reduces Geiger's role. Is he the one making the call? Who's in charge?
"Even with VAR, ultimately, everything falls on my shoulders," Geiger says. "Even with replay, even with linesmen, I still am the one making the call. I can choose to overrule her or not follow her suggestion. That's important. Because the referee needs to be seen, the person on the field. The coaches and the players don't want somebody in a booth that they can't see making the decision on the field."
Martino's team still has a two-goal lead. The coach drops his hands from his breasts and begins to make adjustments. He subs in a player and then calls for another switch. Before forward Jacob Peterson checks in, Martino huddles with him, speaking a few choppy words in English. He slashes his hand forward, an indication for Peterson to make a run, like a Falcons receiver slotting across the middle. "Boom!" Martino says. Peterson nods his head. Maybe two minutes after he enters the game, boom! Peterson breaks toward the net. He's met with a pass from midfield, as planned. His first touch of the game is a deke past the keeper. His second touch lands in the back of the net. Three-nil. Just as Martino sketched it out.
That's the final score. Geiger and his assistants stand at midfield after the whistle, shaking hands with any players who approach. There was a card handed out in the second half, a yellow for Atlanta's Josef Martínez -- the player who had been offside earlier -- for "unsporting behavior." But in the locker room afterward, the only talk of the game concerns the offside call, and then only in passing.
"My whole problem is I overthink things," says Nelson, the linesman who'd kept his flag down.
"Yep," Geiger says. "Yep. You're right."
"It's because the one time you raise the flag and you're wrong, you're fucked, you know?" Nelson says. "I knew it was going to VAR, so I didn't call it. But that's why I've gotten into trouble over the years. I've overthought my decisions."
"Amen," says Geiger. "If you follow your gut, you're going to be right most of the time."
In the year after the Panama-Mexico game, Geiger wasn't living out of his car or anything. He shaved. He ate regular meals. He still refereed games, MLS and international. But he didn't feel assured on the pitch. It took a long time for him to feel normal again.
"I don't think I was desperate," he says. "But that game was a really, really bad game. And from there I lost my confidence. I found myself second-guessing my decisions. Maybe I'd hesitate to blow the whistle, wondering if I was sure of the call. We call it refereeing on eggshells.
"It's like a player, right? When a player has confidence, every shot is on frame. Every touch is spot-on, every single time. With referees, it's the same thing. We have to have confidence. When we call fouls, we need to feel that we're accurate. When we make a penalty decision, we have to be sure. As time goes on, as you make more and more positive, correct, big decisions, you get the confidence back."
A MONTH-AND-A-HALF AFTER this Atlanta United game, Geiger will fly 9,000 miles to Wellington, New Zealand, to call the first leg of the World Cup qualifying playoff between the All Whites and Peru. The assignment is a high honor, a sign of his solid standing with FIFA. Yet even now, two years on, newspapers in Lima will print advance articles about Geiger, the "polemical ref." They'll attach pictures of Panamanian players yelling at him. It's like that match is his permanent tattoo.
"Everyone remembers the one great goal that players score, and tend to forget about a player's mistakes," he says. "It's the opposite for us. If you've been around this game long enough, you will encounter this type of situation, unfortunately. It's the life we live. It's become a part of me."
Morgante whacks his game boots over a trash can, shaking off the FieldTurf's black rubber pellets. Delta's frequent-flier program again comes up. Nelson, calling out from the showers, complains that there's no hot water in this brand-new, billion-dollar-plus stadium. Compensating somewhat is the spread of spaghetti and meatballs, salad, and soft sugar cookies. Morgante, forking a meatball, asks if anyone is interested in a night out in Buckhead. Geiger says no but that he'll have a beer back at the hotel. It's the usual choice. The assistants ref only one or two games a month. Geiger usually works a couple more games and a few three-day clinics each month with PRO, the referees organization. (He also spends days working with young refs coming up in New Jersey and also in Maryland, where one of his own mentors lives.) He requests whom he wants on his crews, but the rosters still vary from assignment to assignment. The night after the game is for hanging out with this particular group, all of whom he likes, some of whom he hasn't seen in a while. Morgante accepts the hotel option.
"Howard just sent a note," Geiger calls out from his locker. He's zipped closed his suitcase and made a final check of his cell phone before heading to the van that will take them back to the hotel. "Howard" is Howard Webb, the former referee who is overseeing VAR's rollout. "Very nice job on the review," Geiger reads. Elsewhere in the stadium, in his press conference, United coach Martino says nothing about
Geiger or any of his calls. The game write-up on the website Dirty South Soccer makes no mention that Geiger was even here.
He'll drink exactly one pint of Samuel Adams Octoberfest in the atrium lobby of a chain hotel. In the morning, he'll catch a shuttle to the airport and then a United flight back to New Jersey. He'll slip out of Atlanta quietly this time, without incident, as inconspicuously as he'd hoped.
---
This story is from the winter/spring 2018 issue of Howler, a quarterly mag about soccer. Get 20 percent off a subscription with promo code HOWLER14 at shop.howlermagazine.com.
Robert Andrew Powell is a writer who lives in Miami. Twitter: @robertandrewp