Editor's note: This piece has been updated since Feb. 5, 2015, when ESPN FC celebrated Ronaldo's 30th birthday.
If you're like me, you have a love-hate relationship with Cristiano Ronaldo. So what better way to celebrate the 33-year-old's greatness than to list the 33 reasons to love, or hate, CR7. Warning: Some things below cannot be unseen (in a good and bad way).
Love Ronaldo
If it wasn't for his vain celebration in the Champions League final after scoring his penalty vs. Atletico Madrid, the world would never have been given this gift from Peter Crouch -- the first memorable one of its kind since he did the robot.
Hate Ronaldo
For giving us Nani, his countryman, who was supposed to be the "Next Ronaldo." Instead, Manchester United ended up with a so-you-think-you-can-dribble street performer who frustrated and entertained in equal measure. Minus the goals, of course. All was almost forgiven, though, when Nani stole Ronaldo's goal during a 2010 Portugal friendly vs. Spain. This one never gets old.
Love Ronaldo
If not for Ronaldo, Sir Alex Ferguson would never have dropped this gem of a quote in 2008 when rumors suggested that Ronaldo was leaving Old Trafford for the Bernabeu: "Do you think I would get into a contract with that mob [Real Madrid]. Jesus Christ, no chance. I wouldn't sell them a virus."
Hate Ronaldo
His ready-for-Vegas diamond boots remind us of his less-than-likable side.
Love Ronaldo
He is football's version of Zoolander.
Hate Ronaldo
Table tennis is a glorious sport. And Ronaldo gave up a chance to be a professional pingpong player to sign with Sporting Lisbon. Though it is funny that Nani -- Nani! -- thinks he could take C-Ron in a game, as this trash-talking video demonstrates.
Love Ronaldo
Whether you support Lionel Messi or Ronaldo, there's one component to Ronaldo's CV that Messi can't match: Ronaldo succeeded in the Premier League, winning all there is to win while suffering far more physical abuse than either of them endures in La Liga. Consider it a tiebreaker when comparing the two. And if you really want to pile on, throw in Euro 2016 (see below)
Hate Ronaldo
He broke up with Irina Shayk. Our daily Google image searching has just gotten a whole lot duller.
Love Ronaldo
What can we say, the man knows how to rebound as he stepped out on the town in late 2016 with his new girlfriend, Georgina Rodriguez.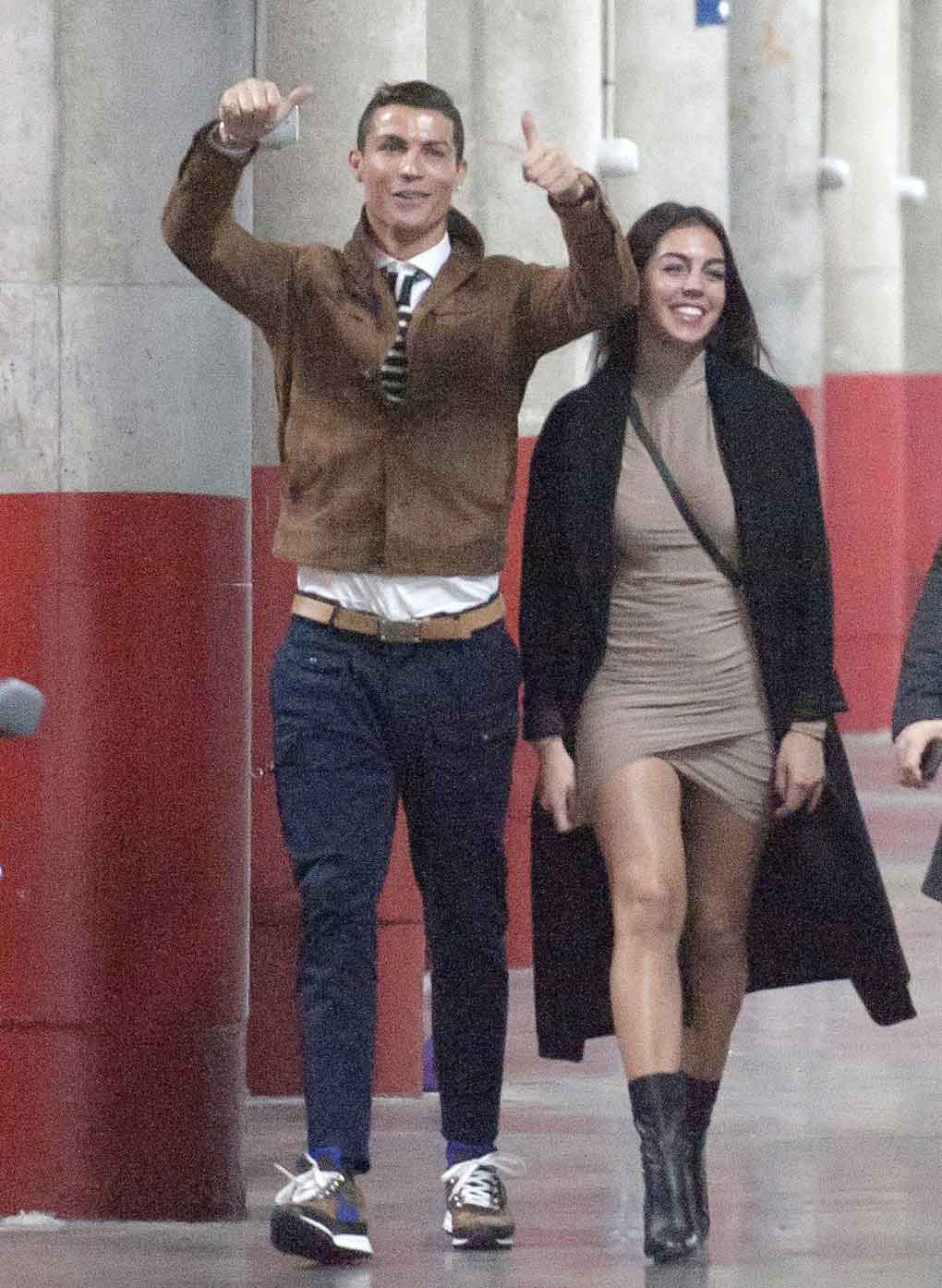 Hate Ronaldo
He has a reported body mass index of 23.4. In other words, he's perfect for his height and weight. Think about that the next time you pop open some Doritos for a fresh serving of self-loathing.
Love Ronaldo
For his glorious goals, all of them. Picking the top one is like trying to select your favorite child, so we'll highlight a few. First up, his scorching, long-range, run-of-play shot for Manchester United against Porto in 2009.
Hate Ronaldo
His statue. The world hasn't seen something so impressive since White Goodman's inflatable codpiece in "Dodgeball."
Love Ronaldo
The man got Real Madrid boss Carlo Ancelotti to mimic his goal-scoring celebration.
Hate Ronaldo
One word: voodoo. That's right, if not for the fact he's such an otherworldly talent, Pepsi wouldn't have posted disconcerting pictures on Facebook of Ronaldo as a voodoo doll. As if the creep factor wasn't enough already, Pepsi put Voodoo Ronny in precarious situations, including on a train track and with countless pins in him. Suffice to say, the company eventually apologised.
Love Ronaldo
In a series of sports science lab experiments, his free kick was recorded at 80 mph, the fastest in the world.
Hate Ronaldo
Can anything good come from being linked with Kim Kardashian? No. The answer is no.
Love Ronaldo
Another goal, this his backheel flick for Real Madrid against Valencia last year.
Hate Ronaldo
The master of the backhanded compliment. When Gareth Bale failed to pass to him in front of goal during a Real Madrid win over Espanyol, Ronny defended him in a way only he can: "What happened ... is in the past. Sometimes I make mistakes too, so it's part of the business, part of football. I think the people will be nice with him, and they should be nice with him."
Love Ronaldo
Hard to leave out the time he absolutely leathered this free kick against Portsmouth in 2008.
Hate Ronaldo
As clever as they come on the pitch, Ronaldo's ability to concoct a crafty nickname needs work. Surely, he can do better than this when referring to Lionel Messi, no?
Love Ronaldo
If Arthur Fonzarelli had played football, he would have set up to take free kicks just like Ronaldo. It's the coolest iconic image in the sport.
Hate Ronaldo
According to that same sports science study, Ronaldo generates five times more power than a cheetah jumping in full flight. No one likes a showoff, Ronny.
Love Ronaldo
Big stage, big kick: Ronaldo all but clinched the 2009 Champions League semifinal tie with this free kick for Manchester United. All Arsenal could do was sit back and watch the brilliance.
Hate Ronaldo
Players like Sergio Busquets can't shake their bad reps for simulation, but let's not forget Ronaldo's rather shameless effort in this department. The scene: the 2010 Champions League, Real Madrid vs. AC Milan. The act: Ignazio Abate's hand and arm gently smacks Ronaldo in the upper chest. The feign: Ronaldo shouts, waits and then clutches his eyes as he hits the ground in paroxysms of "pain."
Love Ronaldo
He once paid $83,000 for a 10-year-old child's brain surgery.
Hate Ronaldo
For campaigning to get United teammate Wayne Rooney sent off in the 2006 World Cup quarterfinal between Portugal and England. Yes, it was a dastardly gesture that he topped off with an impudent wink after Wazza stomped on Ricardo Carvalho, but it also gave rise to some ridiculously, hilariously delusional thoughts that he might have cost England the World Cup. The BBC's reaction -- Rooney the victim! -- is still good for a laugh, including when Alan Shearer suggested Rooney should go back to the United training ground and "stick one on Ronaldo."
Love Ronaldo
Another sports science experiment: In going head-to-head against Spanish sprinter Angel David Rodriguez over 25 meters, Ronaldo clocked in at 3.61 seconds to Rodriguez's 3.31 seconds.
Hate Ronaldo
Because he once said this: "[People are envious of me] because I'm rich, handsome and a great player."
Love Ronaldo
Has there been a better broker of peace between Ronaldo and Messi than his son, CR7 Jr.? Leave it to a son, here 4 years old, to create a touching diplomatic moment.
Hate Ronaldo
For making us see strange things that can't be unseen when trolling the interwebs, like his supposed endorsement for the Japanese facial device called the Vocative, a sort of Shake Weight for the face?
And so as not to be too cruel, we end with a double dose of mad love for the best player in the world ...
Love Ronaldo
He wasn't always on the pitch, and he didn't exactly endear himself to Iceland by blasting their "small mentality," but in the end Ronaldo and Portugal won Euro 2016 to add a big-time international trophy (sorry, Leo) to his collection of hardware. All that's left is the World Cup.
Hate Ronaldo
He can have his cake -- in this case, his underwear cake, to celebrate the one-year anniversary of #CR7Underwear -- and eat it too.
Love Ronaldo
I guess the love is piling up for Ronny, but how can you not appreciate how -- even on the wrong side of 30 -- he desperately wants to show that he's still the world's best. To the point that he's not afraid to put his most prized and priceless possession, his true money-maker around which he's built his career, on the line.
This past January, when Real Madrid faced Deportivo La Coruna in a 7-1 romp, Ronaldo dove head first for a ball near the penalty spot, scoring his second goal. It was brave, no doubt: Fabian Schar ended up striking Ronaldo's face with his right boot, leaving CR7 with a nasty cut close to his left eye.
Ronaldo took a kick to the head and asked the physio for his phone to see how bad it was. He is absolutely raging too after assessing the damage. pic.twitter.com/CMRMbFl8MM

— Robbie Dunne (@robbiejdunne) January 21, 2018
Never fear! Ronaldo's priorities were straight: As he was being led off the pitch, he promptly asked his escort for his phone so Ronaldo could examine the damaged goods: his face. It was the ultimate Ronaldo moment: narcissism meets nonpareil talent.
---
So that's a lot of reasons to love or hate one man. What are yours? Did we miss any? Leave your thoughts and comments on one of the world's greatest ever players in the comments section below.