MUNICH -- Philipp Lahm is the best defender of his generation, and his retirement at the age of 33 will leave a massive void, not just at Bayern Munich -- a club he led with intelligence and always by example -- but also within the game.
Lahm's unswerving brilliance helped him to eight Bundesliga titles (sharing the record with Mehmet Scholl, Oliver Kahn and Bastian Schweinsteiger), six DFB Pokals, the 2013 Champions League and then the World Cup a year later. World-class in at least four positions across the backline and midfield, his tactical nous and discipline made it look all so easy.
He was a supreme professional -- one of the few remaining role models in the unscrupulous world of football -- and, remarking on his consistent performances over the years, Scholl described his former teammate as "75 percent outstanding, 25 percent world-class."
"To compare him with Paolo Maldini is correct," Bayern Munich boss Carlo Ancelotti told ESPN FC ahead of Lahm's final game as a professional this Saturday.
"Both players played for one team their whole career. There are so many similarities in quality, professionalism, attitude, personality and character. It's a compliment for both to be compared with each other.
"He's really important for the club, the manager and a great example to his teammates. I love his professionalism and his quality. If we had 20 Philipp Lahms we would have no problems."
"Bayern were his club and, as a son of the area, he knew not to mess with what he had. Lahm could have played for any team in the world but recognised that he was living the dream of so many young Germans. It's going to take a bit of getting used to not seeing No. 21 Phillip Lahm on the team sheet for Bayern next season."
- Derek Rae, Bundesliga commentator for ESPN.
PERSUADED by a friend, Lahm attended his first training session at the age of 5 at local club FT Gern, where his father, Roland, used to play and his mum, Daniele, ran the youth department.
Childhood dreams of becoming a baker and a banker fizzled out and Lahm settled on a new career choice at Rudolf Diesel School in Munich.
"He repeated time after time, I want to make it as a professional footballer," Lahm's teacher Bernd Mainhardt once said.
Signed by Bayern from Gern in 1995, aged 11, Lahm enjoyed the added responsibility of being a ball boy at their home games at the Olympiastadion and was on the side of the pitch when Borussia Dortmund beat Juventus in the 1997 Champions League final.
Graduating serenely from the youth teams, a paltry crowd of 22,000 witnessed his first-team debut, entering the fray as a substitute in added time in Bayern's final group game of the atrocious 2002-03 Champions League campaign -- the Bavarians finished bottom of a group containing AC Milan, Deportivo La Coruna and Lens. However, Lahm found his immediate path to the first XI blocked by France international full-backs Willy Sagnol and Bixente Lizarazu.
Considering his prodigy too good to languish in the reserves, coach Hermann Gerland arranged a two-year loan spell at Stuttgart, where Lahm made his Bundesliga debut as a substitute on the first day of the 2003-04 season in a 2-0 win over Hansa Rostock.
He quickly established himself (at left-back) as a regular in Felix Magath's young side, also leaving a lasting impression on Sir Alex Ferguson who wanted to sign him after his first Champions League start against Manchester United.
Under Stuttgart's Matthias Sammer (now a former Bayern sporting director), Lahm endured an injury-ravaged second season, suffering both a right foot fracture and a cruciate ligament tear, which curtailed his loan spell in Swabia. But, returning to Munich, Lahm finally made his Bundesliga debut for Bayern under new coach Magath against Arminia Bielefeld in November 2005 and hasn't looked back since.
In 516 games (soon to be 517), Lahm collected the same number of club titles as his shirt number (21), just behind the number of yellow cards (24) in his Bundesliga career. He even enjoyed over a year of serene Bundesliga action without even committing a foul, in 24 games between September 2014 and October 2015.
Incredibly, he's never even looked like getting sent off in his career, despite playing predominately as a defender and then in midfield under Pep Guardiola, who dubbed him "perhaps the most intelligent player I have ever trained."
"For perhaps the world's best full-back to be made into a midfielder as he approaches 30 is unusual. That the same player should make such a success of it that his national team adjusts to accommodate his new role is something else -- and in the case of Philipp Lahm, indicative of not only his extraordinary application and professionalism in making a great job of both positions, but his integral importance to every team he played in, club or country."
- Andy Brassell, European football expert.
HOWEVER, it's a huge injustice to the man to single him out as purely the prim and proper professional. He possessed the inner strength to stand up for himself and his team, questioning the direction of the club in 2009, having the gumption to criticise Bayern over transfer policy -- earning himself a record €50,000 fine in the process by backing then-coach Louis van Gaal.
Having reportedly rejected offers to join both Barcelona and Manchester United, Lahm blasted Bayern's transfer policy, costing him a hefty fine in an uncharacteristically forthright interview.
The defender said at the time: "Other clubs have a system, a philosophy, and buy the players accordingly. We don't. It's not enough to buy good players -- we have to build a team."
Now ask yourself whether it's a coincidence that ever since Lahm's verbal shot in the arm, Bayern have become major players in the transfer market.
He was also enough of his own man to snub a new role as the club's sporting director. Lahm implied president Uli Hoeness wasn't quite ready to hand over sufficient control to him in organising Bayern's team affairs.
"Generally, you can only influence things in and around the team when you hold that responsibility," he said.
"Lahm put football and the team ahead of any other interest. He was a player without excesses: he never missed training, never conspired against his coach, never stopped helping his teammates and never acted against fair play. When I met Lahm he seemed to me a transparent and clear man, belonging to those who do not betray. Not only a footballer of superlative intelligence, but also above all an honest man."
- Marti Perarnau, author of Pep Confidential.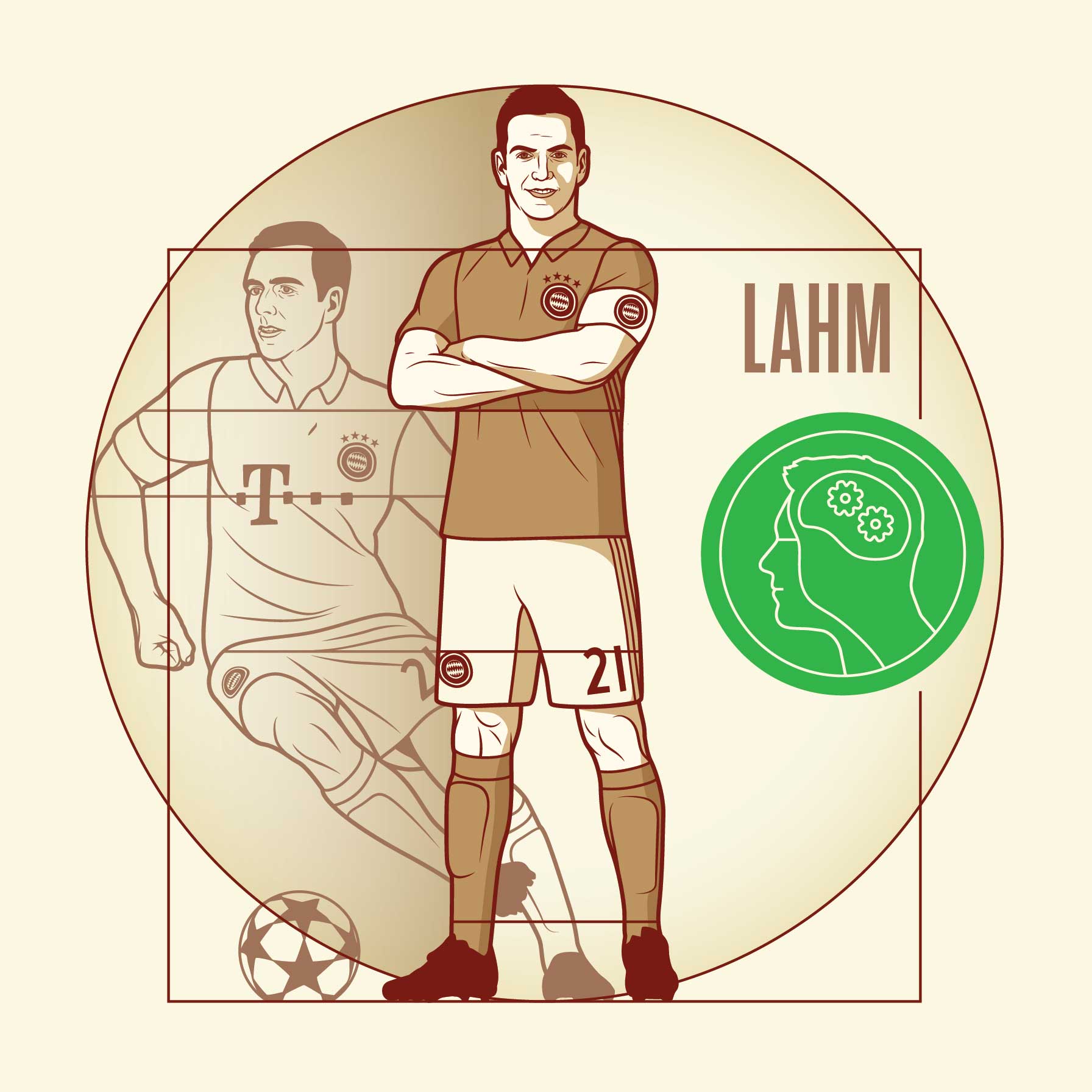 Lahm appeared on ESPN FC's 'Perfect Player' for his mind
WHEN he announced his retirement from football, Lahm said: "I'm sure that I can deliver top performances until the end of the season, but no longer than that." And recently we've witnessed a few signs that suggest old father time may be catching up with him after 22 years at the club.
A rare blemish gifted Borussia Dortmund a winning goal exquisitely taken by Ousmane Dembele in what proved Lahm's last ever DFB Pokal tie. Typically, he fronted up after the game, admitting: "I made the decisive mistake."
He also made an uncharacteristically clumsy error in last Saturday's 5-4 Bundesliga comeback win against Leipzig -- taking a heavy touch in the box, which Timo Werner capitalised upon.
But Gerland, one of Lahm's mentors, insists performing at such a high level for such a long time has raised expectations for every game.
"Philipp went on to win almost everything there was to win. He only failed to win the European championship," he told the official Bayern website.
"The only sad thing is that he hasn't been named Player of the Year, which I don't understand. Sure, Philipp doesn't play in a spectacular manner. But if he's sidestepped only once or plays a bad pass everyone's asking: what's wrong with Philipp today? That's the mark of an extraordinary career."
"He never looked like a footballer -- too unassuming, maybe -- but appearances were so deceptive because he has been one of the smartest and most consistent players for a decade with Germany and Bayern Munich. The biggest compliment you can pay is that he made everything look easy, which it really is not."
- Mark Ogden, ESPN FC's senior football writer.
So after the dust and Weissbier settles following his farewell game on Saturday against Freiburg, what's next?
From December at Munich's Residenztheater, the retiring skipper is set to become the subject of a play -- unsurprisingly titled "Philipp Lahm." Lahm is "the symbol of the Noughties," says playwright and Bayern fan Michael Decar.
"He embodies Germany like no other and his life is a reflection of modern times. He's super correct, super intelligent -- so boring that it hurts."
But the man himself will take time out of the game to spend more time with his wife (who is pregnant with their second child; they also have 4-year-old son, Julian), play a bit of golf and ski more in the winter, commit to his extensive charity work and attend to his various business interests. "My wife is already a little afraid. I've set myself the goal of getting to grips with cooking," he said. "It promises to be very, very exciting."
However, a mind as keen as Lahm's needs to stay busy. It certainly wouldn't be a surprise to see him back at Bayern in the future, perhaps in the boardroom when Hoeness is finally ready take a backward step.