The Premier League season is only four weeks old, and we're already starting to see the first signs of Lady Luck turning her back on certain teams.
ESPN and the team led by Dr. Thomas Curran, at the London School of Economics, compile the Luck Index, which returns for a third season. It examines how the Premier League would be if luck were not a factor.
- Marcotti: Luck Index 2019 - Here's what we found
- It's official: Man United were lucky all season long
The Luck Index will judge how fortune has affected the Premier League each month through this season.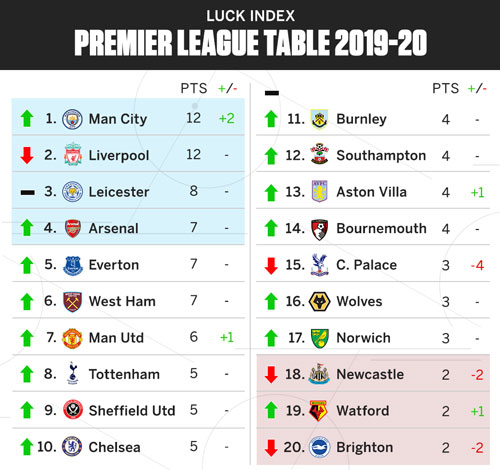 The table shows how many points teams would have gained, or lost, if luck were not a factor -- and how that then plugs into the Premier League table. The bigger the positive number, the more unlucky you are. A negative figure, and you've been very lucky so far.
Manchester City were one of the unluckiest teams last season, and should have finished on more than 100 points. It's started off in the same vain for Pep Guardiola's side this term.
JUMP TO: The Anti-VAR Index
City are two points worse off than they should be, with the Luck Index calculating they would have won the home game against Tottenham had referee Michael Oliver given the champions a penalty after Rodri was bundled over in the box by Erik Lamela.
It means the first Luck Index table of 2019-20 has City on top on goal difference ahead of Liverpool, with both teams boasting a 100% record.
Any other unlucky teams? Man United, for one. Ole Gunnar Solskjaer's United suffered a 2-1 home defeat to Crystal Palace, but Gary Cahill was lucky not to be sent off for a professional foul with the score at 1-0 to the south Londoners. The Luck Index concludes that United would have come back to gain a point against 10 men.
Aston Villa and Watford should all be a point better off.
On the flipside, Palace fans are laughing right now as they are the luckiest team, sitting four points better off than they should be. When you consider the luckiest team last season, Brighton, only gained eight additional points through good fortune across the whole campaign, Palace have been given a significant lift.
Palace are fourth, but once you strip out the huge slices of luck, they slump down to 15th. They should also have conceded a late equaliser at home to Aston Villa.
Two other clubs have seen their results changed by luck. Newcastle should be on one point, rather than three, with their victory at Tottenham turned into a draw after Harry Kane was denied a penalty.
Then we have Brighton, whose luck was well and truly in as they avoided conceding a penalty at Watford when 1-0 up. That means the win becomes a draw -- and leaves the Seagulls rock bottom.
---
Anti-VAR Index
VAR, VAR, VAR, VAR, VAR ... That's all we seem to talk about these days. Despite the endless column inches that have been taken up by the subject, so far only six goals have been overturned. So how much has everybody's favourite new toy (OK, that might not be completely serious) really influenced the league table? Very little.
Maybe we're talking about it too much, but on Thursday refs' chief Mike Riley did admit more decisions should have been overturned. When that happens, the "Anti-VAR Index" is going to come into its own. Will big clubs benefit most, or will the smaller clubs teams be able to fight back?
- The Ultimate Var Guide: All your questions answered
The table is still in its formative stages, but yet again we see that Man City should sit top of the table with Gabriel Jesus' late disallowed goal against Tottenham worth an extra two points.
The most affected team so far is Brighton, with VAR costing them two points after they had Leandro Trossard's goal against West Ham disallowed for offside. That would have resulted in a victory, lifting them from 16th to seventh.
Wolves would also climb six places to 11th, with an extra two points from Leander Dendoncker's disallowed goal in a 0-0 draw at Leicester.
Leicester, West Ham and Tottenham are the only teams that have a net gain of points thanks to VAR so far this season.
Here, we run through all the overturned decisions. The bigger the positive number, the more points VAR has cost you. The biggest the negative number, then VAR has come to a team's aid.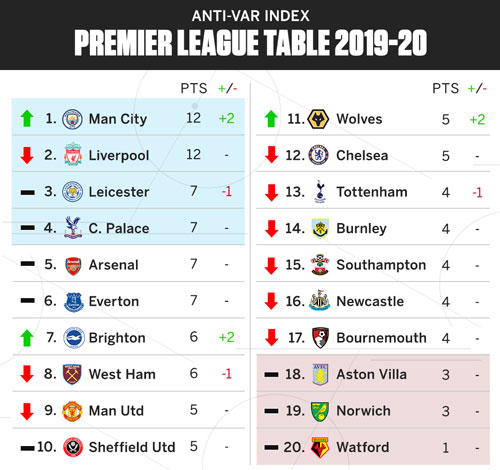 What will the VAR review?
- Goal/no goal
- Penalty/no penalty
- Direct red card (not second yellow card/caution)
- Mistaken identity (when the referee cautions or sends off the wrong player)
What will it not review?
- Any yellow card (including second yellow card leading to red)
- Any free kick offence outside the box (other than red card offence)
Leicester City +1 goal
Game: Wolves (H; Aug. 11)
Incident: Wolves goal for Leander Dendoncker disallowed for handball in build-up by Willy Boly, 51st minute
Norwich City +1
Game: Chelsea (H; Aug. 24)
Incident: Chelsea goal for Kurt Zouma disallowed for a foul on the goalkeeper by Olivier Giroud, 77th minute
Tottenham Hotspur +1
Game: Man City (A; Aug. 17)
Incident: City goal for Gabriel Jesus ruled out for handball in build-up by Aymeric Laporte, 90th minute
West Ham +1
Three decisions
Game: Man City (H; Aug. 11)
Incident: City goal for Gabriel Jesus ruled out for an offside against Raheem Sterling earlier in the move, 53rd minute
Incident: Missed City penalty retaken due to encroachment by Declan Rice. Retake scored by Sergio Aguero, 86th minute
Game: Brighton (A; Aug. 17)
Incident: Brighton goal for Leandro Trossard ruled out for offside by Dan Burn, who created the goal, 27th minute
Brighton & Hove Albion -1
Game: West Ham (H; Aug. 17)
Incident: Brighton goal for Leandro Trossard ruled out for offside by Dan Burn, who created the goal, 27th minute
Chelsea -1
Game: Norwich (A; Aug. 24)
Incident: Chelsea goal for Kurt Zouma disallowed for a foul on the goalkeeper by Olivier Giroud, 77th minute
Manchester City -1
Three decisions
Game: West Ham (A; Aug. 11)
Incident: City goal for Gabriel Jesus ruled out for an offside against Raheem Sterling earlier in the move, 53rd minute
Incident: Missed City penalty retaken due to encroachment by Declan Rice. Retake scored by Sergio Aguero, 86th minute
Game: Tottenham (A; Aug. 17)
Incident: City goal for Gabriel Jesus ruled out for handball in build-up by Aymeric Laporte, 90th minute
Wolves -1
Game: Leicester (A; Aug. 11)
Incident: Wolves goal for Leander Dendoncker disallowed for handball in build-up by Willy Boly, 51st minute