We're eight games into the Premier League season, and and it already looks as if our hopes of a title race might be over. Liverpool have amassed an eight-point lead in winning every match, but they are lucky to be so far ahead.
ESPN and the team led by Dr. Thomas Curran, at the London School of Economics, compile the Luck Index, to examine how the Premier League would be if luck were not a factor through this season. And our latest update shows that Liverpool's lead would in fact be slashed in half if they weren't so lucky.
- Marcotti: Luck Index 2019 - Here's what we found
- It's official: Man United were lucky all season long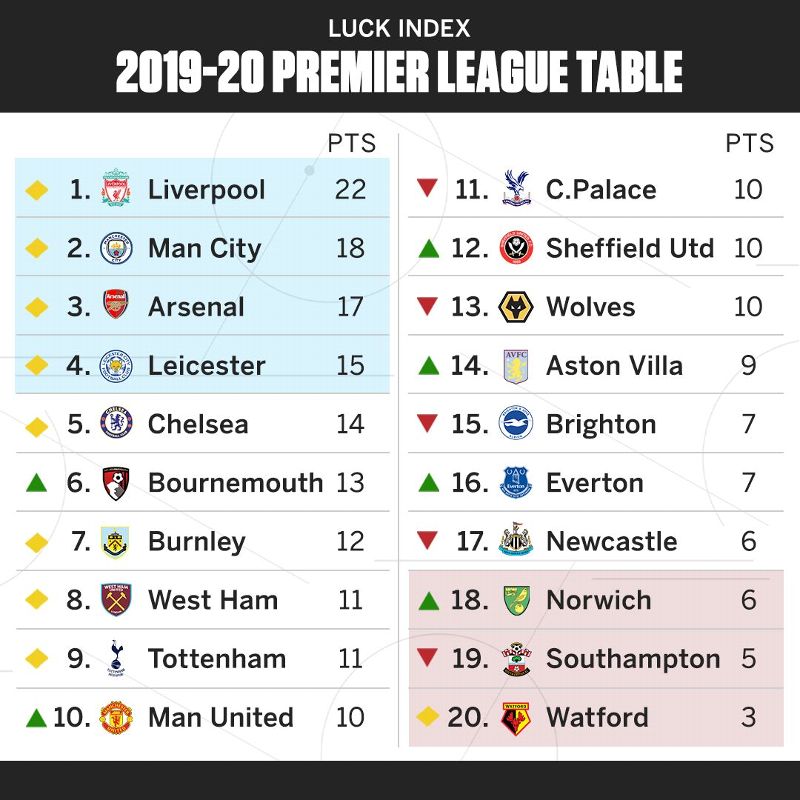 Liverpool were headed for a surprise 1-1 draw against Leicester at Anfield before, five minutes into added time, Sadio Mane fell to the deck after contact from Marc Albrighton. Penalty! James Milner converted with virtually the last kick of the game -- one point turned into three with seconds remaining. Lucky? Plenty of people would say so. Even though there was contact, Mane's theatrics earned the penalty.
Manchester City are two points worse off than they should be after referee Michael Oliver failed to give the champions a penalty against Tottenham earlier in the season. One point that should have been three.
If those decisions were reversed, Liverpool lose two points and City gain two, reducing the gap between first and second to four points.
JUMP TO: The Anti-VAR Index
Any other unlucky teams? Bournemouth are two points worse off, with Aaron Cresswell's deflected goal for West Ham helping the London side claim a draw. Turn that into a home victory and Bournemouth would be sixth in the table, rather than 10th.
Man United were unlucky that Crystal Palace's Gary Cahill wasn't sent off with a straight red card for denying a goal-scoring opportunity. If the ref had made the correct call and Palace went down to 10 men, the Luck Index predicts that United would have earned a point and, as a result, would be two places higher in the table, in 10th place.
Arsenal (loss of 2 points), plus Aston Villa, Leicester and Sheffield United (1 point) complete the list of the league's unluckiest teams.
But hang on, where is Lady Luck sending her charm? Crystal Palace are four points better off and would be 11th in the table, five places lower, if they weren't so lucky at Man United and in avoiding a late equaliser at home to Aston Villa.
Brighton, Newcastle and Southampton have had luck go their way, winning games that would have turned out to be draws. The loss of two points would shift each club a couple of places down the table.
West Ham complete the list, one point better off.
---
Anti-VAR Index
Decisions, decisions, decisions ... In a shock turn of events over the past month, VAR has actually started giving goals to teams rather than taking them away.
We've seen Bournemouth, Arsenal and Crystal Palace all awarded goals that last season would have been chalked off by the linesman's flag. That's a good thing, right? Well, don't let the football purists hear you say that.
So far 15 match-changing incidents have been overturned, with 11 goals disallowed. But what does this all mean for the Premier League table? Who would be much higher in the table without VAR, and who has VAR helped the most?
- The Ultimate Var Guide: All your questions answered
- Every VAR decision in the Premier League
The Anti-VAR Index mirrors the Luck Index at the top of the table, with Liverpool's lead cut in half to four points. Jurgen Klopp's men lose two points because, without VAR, Chelsea would not have had a goal disallowed against them at Stamford Bridge, resulting in a draw. And Man City would have won at home to Tottenham earlier in the season.
Man United can also have a good moan about VAR, as Arsenal gained an equaliser at Old Trafford when Pierre-Emmanuel Aubameyang had a disallowed goal ruled back in, costing the Red Devils two points.
The only team to suffer a greater points drop than the Manchester clubs are Sheffield United. Chris Wilder's team have enjoyed a great start to life back in the Premier League, but just imagine if the goal disallowed for offside at home to Southampton, when the score was 0-0, had stood. The Anti-VAR Index say the Blades would have won rather than suffer a 1-0 defeat, shooting them into lofty heights of seventh. That climb of six places is the greatest in the list.
West Ham, who have been involved in a third of all overturned decisions, would be two points and three places better off in fifth. Aston Villa, Brighton and Wolves would also have two more points.
Meanwhile, Bournemouth and Tottenham have profited most from VAR decisions and would slide five places down the table to 14th and 15th, respectively, had original decisions stood. So things could be worse for troubled Spurs boss Mauricio Pochettino. Burnley don't fare much better, dropping four places into 11th, when you strip out VAR decisions.
While that trio of clubs might drop the most positions without VAR, it's Southampton who lose the most points. With two VAR decisions in their favour, they are docked three points, but as they are 17th they can only fall into 19th but one point off the foot of the table.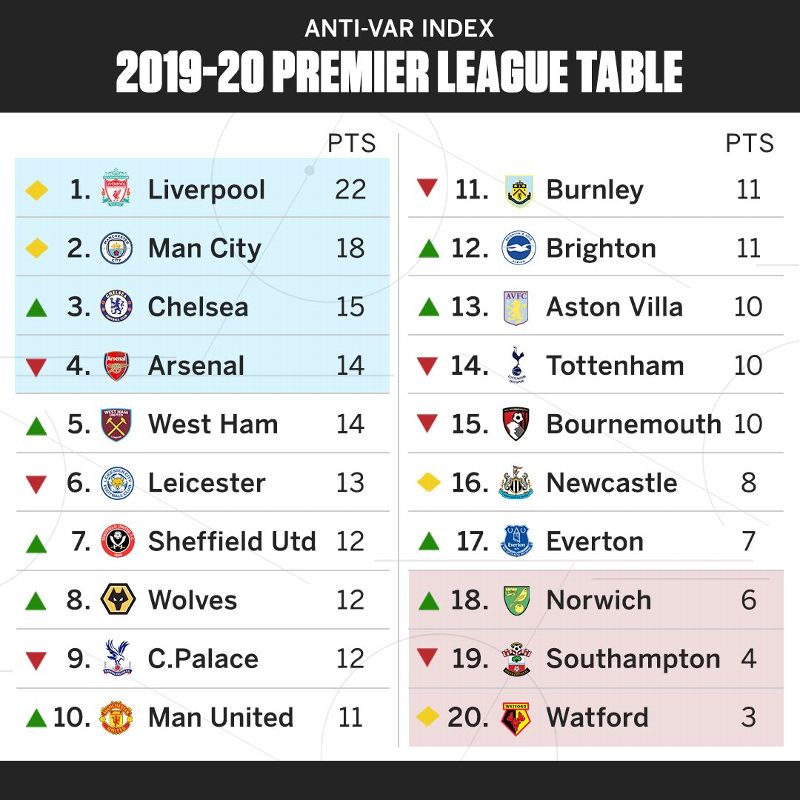 VAR in the Premier League: The stats
Total checks: 475
Overturned decisions: 15
Penalty decisions: 0
Red cards: 0
Most decisions in favour: Southampton (2)
Most decisions in against: Chelsea (2)
Most involved club: West Ham (5 overturns)