The long-range shot is dead. Long live the long-range shot.
In every Premier League season since 2009-10, there had been at least one goal scored from 35 metres out or beyond. The peak was in 2013-14, when five long-rangers found the back of the net, while the average from 2009-10 through 2017-18 was just under two and a half howitzers per season. The high-water mark for total attempts was 81 in 2011-12, while the average through 2017-18 was 70 per year.
Then came last year: no goals from that distance and only 42 attempts, numbers that are unlikely to tick back up any time soon.
In the five Premier League seasons before the 2014 World Cup, the season-by-season average was 77.4 shots from 35 metres or more. The low was 73. The year immediately following Germany's triumph in Brazil back in 2010, that number plummeted down to 49, and it hasn't crept up above 54 since. In fact, the current season was on pace to drag the bar down even lower; there have been just 19 long-distance attempts even though roughly 75% of games are already in the books.
- Stream new episodes of ESPN FC weekdays on ESPN+
- Stream every episode of 30 for 30: Soccer Stories on ESPN+
So, did everyone buy into the 2010 World Cup winners' style and try to copycat their way to "German efficiency" after Jogi Low & Co. took home the trophy? Not quite, although there's no one reason these long-range strikes have diminished in recent years. Rather, it's likely a confluence of factors.
Luis Suarez left Liverpool for Barcelona that summer, and he'd led the league in distance drives (six) during the prior season. Andre Villas-Boas's Tottenham were infamous for their terrible shot selection, and he was fired midway through the 2013-14 campaign. On top of that, analytics -- especially the concept of expected goals -- started to gain a tenuous foothold right on the outskirts of the mainstream right around 2013. Since then, teams in all of Europe's big leagues have crept closer and closer to goal with their average attempts in each passing season.
If some coaches and players are vaguely aware of the importance of shot quality -- i.e. the closer you are to the goal, the more likely you are to score -- then it stands to reason that the most egregious violations, the shots that almost never go in, would be the first ones to disappear.
But in sports, there's nothing quite like a goal from 40 yards out; the sheer audacity of the attempt combined with the sheer improbability, plus the outsized impact on the outcome of the game it can have. Each one requires an individual to grab hold of what's supposed to be the ultimate team game and risk looking like a complete idiot.
The goal that Clarence Seedorf scored against Atletico Madrid back in 1998 is still almost beyond comprehension. It's like he put reality on fast-forward, and it's unlikely we'll see many goals like this ever again. Is that a bad thing, from an aesthetic perspective? Maybe not. While we might be losing the occasional joy emitted by a successful screamer, we're also being spared from the dull monotony of the more likely outcome: a ball launched into the stands or fluttering meekly into a keeper's waiting arms.
But before we move on from the long-distance shot era, let's take a look at some of the fading art's foremost practitioners, for better or worse. All stats are from Europe's Big Five leagues for the 2009-10 season through today.
The King
Charles Graham Adam, ladies and gentlemen! Since the 2009-10 season, no other player in Europe's Big Five leagues has taken more shots from range than the ageless former Blackpool, Liverpool and Stoke City midfielder. From 35 metres or more, he's dialed up his own number 41 times, and he's scored ... once. Despite Adam's steadfast belief in the power of his left foot, he's converted his shots at an ever-so-slightly-below-average rate: 2.4% of the time, compared to the Europe-wide rate of 2.5% from that distance.
However, the one goal that he did score -- a from-his-own-half line drive over Chelsea's Thibaut Courtois for Stoke City in 2015 -- was referred to by Alan Shearer as "the best long-range goal I've seen in the Premier League." It came against eventual champions Chelsea, and the opposing manager that day, one Jose Mourinho, said, "It was a fantastic goal, every player in the world would like to score a goal like that. Diego Maradona to Lionel Messi to all these brilliant players."
No one remembers the 40 misses before and after. Forget the one that went in, though. Adam's pièce de résistance was his 2010-11 season with Blackpool. This shot map, which doesn't even show a handful of shots from the actual halfway line, belongs in the Museum of Natural History. Human beings are incredible creatures.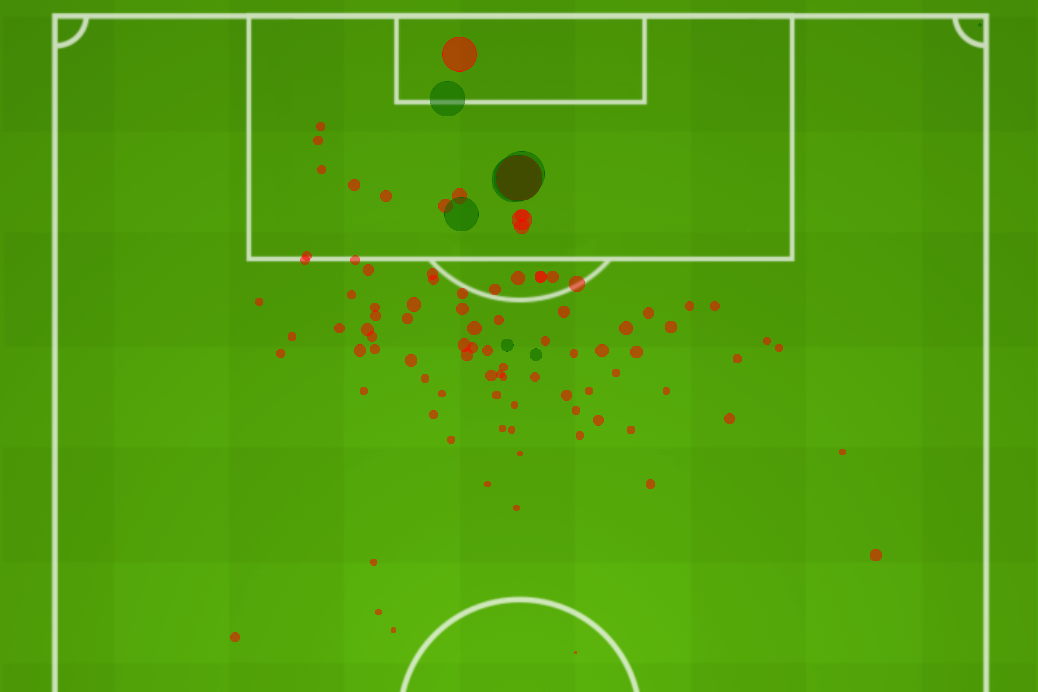 In 2010-11, Adam took 17 shots from at least 35 metres out -- the most in a single season by any player in the dataset, and just two fewer than the entire Premier League has combined for this season. Just three of the shots even found the target -- or 17.6%, well below the European shot-on-target percentage for these attempts of 24.7%. What's especially notable about this season is that it was Adam's first in the Premier League. It was an unadulterated failure in terms of long-range marksmanship, but rather than convincing him to go another route, he just kept shooting and shooting and shooting until, four years later, he finally found the back of the net.
The Contested Gunner
You probably have a rough picture of all these attempts in your head. Most likely, it involves a player in a ton of space: no defenders around him, no one closing him down. He's got enough time to look up, look up again, decide that he's going to shoot from a spot where no one ever shoots, and then make all the minor physical calculations that you need to hit a ball with the proper pace, trajectory, and accuracy for it to have a chance to both get past the keeper and stay on goal.
The image you have created would generally be accurate -- unless we're talking about Antonio Candreva. The Inter Milan winger/wing-back has attempted 10 shots from 35 meters or more since 2009-10, and six of them have been blocked. No other player with at least 10 attempts has come close to being stonewalled at such a high rate. Candreva's shots are all either long-range free kicks that he just wallops into the wall, or an off-balance open-play attempt that slams into a nearby defender. The usual considerations that encourage players to rip from range have never applied to Candreva.
However, he did get them earlier this season, and guess where the ball ended up? He hasn't attempted another shot from distance since.
The Beggar
Raul Garcia has had a really nice career. He's picked up a couple caps for Spain. He won a La Liga title with Atletico Madrid. Only Lionel Messi and Antoine Griezmann have played more La Liga matches since 2009-10. He's scored 91 goals and assisted 42 more in domestic play, to go along with four and three in the Champions League.
It's an unfortunate quirk of timing that his generation also happens to include a bushel full of the greatest Spanish midfielders of all time, but he's been one of La Liga's most consistent performances for over a decade now. That is, except when it comes to shots from distance.
Since 2009-10, only Adam has attempted more shots from 35 metres and beyond, but no one has taken more of them without scoring. He's attempted 35 shots and just seven -- 20% -- have found the target. From distance, no one in Europe has completely missed the net more often than Garcia.
Will he ever do it? Well, the odds are against him, just like they're against anyone, every time they attempt to score from this far out. Plus, Garcia himself may have given up the quest. In 25 games this season, he hasn't attempted a single shot from range.
The Steph Curry of Football
In Europe's Big Five leagues since 2009-10, there have been 4,811 shots taken from 35 meters or more. There have been 130 goals. No player has scored more than two, and just nine players have even scored that many: Wayne Rooney, Wahbi Khazri, Inigo Martinez, Luis Suarez, Angel Di Maria, Angel Di Maria, Hakan Calhanoglu, Ricardo Rodriguez, Gregory Proment, and Chris Malonga.
You know Rooney's efforts: one came with Everton and the other for Manchester United. The latter was from just over the midfield line and in front of a spectator, David Beckham, who'd also scored a goal from his own half for Manchester United.
One of Khazri's came against Manchester United, but it was an untouched free kick that Jermaine Defoe dummied while en route to the back post. Suarez is the thing of poor John Ruddy's nightmares. Di Maria has only taken five "shots" from more than 35 yards out, but both of his goals were from untouched crosses that froze the keeper.
Rodriguez and Calhanoglu both play for AC Milan now, so I'd direct screamer enthusiasts to start watching their matches. Proment scored both of his goals in his final Ligue 1 season. Malonga, who's currently in the second division in France, has only played about 800 minutes in Ligue 1, and he's only taken two shots from 35 metres or more. It gets crazier: he scored them both ... in the same game. However, the only reason the previous sentences aren't in all caps is because both of the goals were of the cross-that-hits-no-one-and-ends-up-in-the-net variety.
None of these names come close to comparing to Inigo Martinez, though. Perhaps you remember when Steph Curry hit a shot from just inside half court to beat the Oklahoma City Thunder in 2017. This was right when Curry was hitting everything from everywhere, shooting from far beyond the three-point line and forever redefining the geometry of the sport. It was a signifying moment for a new era in the NBA, and wake me up when he does it with his feet, OK?
Over a two-month stretch in the fall of 2011, Martinez was otherworldly. First, in October, he tied up a game against Real Sociedad's Basque rivals and his future team, Athletic Bilbao, with a behind-midfield piledriver that just kind of casually arrowed into the upper corner. After an injury re-start with the majority of both players in the other half, and no one near him, he decided to plant one in the back of the net. The first was unlike anything most people had ever seen -- until the next month. With the clock well into injury time and the score tied at 2-2 against Real Betis, Martinez ripped a shot -- once again, from his own half -- off the crossbar and across the goal line to win the game.
Martinez is the only player in Europe's Big Five leagues to score more than one goal from 50 metres or more over the past decade. He hasn't scored from range since the Betis goal, now nearly nine years ago. In fact, he's only attempted seven more shots from 50 metres or farther. (Adam is the king of this subset, too: 22 attempts from 50-plus, while no one else is north of 14. But rather than mourning the end of an era, perhaps we might all just think of it this way: Over his career in England, Spain, and Italy, Cristiano Ronaldo has converted 15.4% of his shots.
Martinez has a better conversion rate on all the shots he's taken from behind midfield. Long live the long-range shot indeed.