The long wait is nearly over. With the 2018 World Cup in Russia kicking off Thursday, we asked our panel of experts to answer some of the key questions ahead of the tournament. Who will win the World Cup? Which player will win the Golden Ball? Our experts provide their predictions to those questions and much more.
---
World Cup 2018 must-reads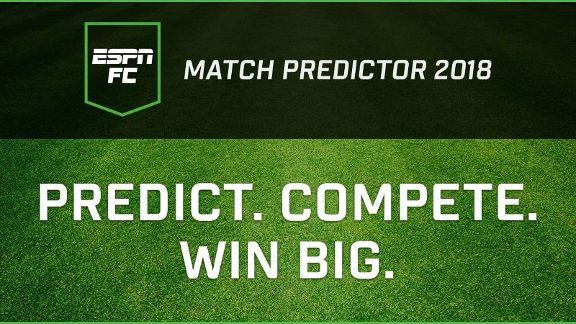 - Make your picks with ESPN FC Match Predictor 2018!
- Welcome to the Alternative 2018 World Cup Fans' Guide
- ESPN FC's experts make their picks
- Marvel's amazing World Cup spoilers
- Revealed: World Cup 2018 Ultimate XI
- Fixtures, results and full coverage
- Team-by-team previews of all 32 nations
---
Who will win the Golden Boot (top scorer)?
Gab Marcotti: Luis Suarez, Uruguay
A weak group and the fact that I have Uruguay going far suggest he may hit his peak after a relatively lacklustre -- by his standards -- club campaign.
Craig Burley: Neymar, Brazil
Neymar is much more prepared to carry his country than he was four years ago. He's had a good rest after injury, too, so fitness permitting, he has the ability and supporting cast to back his showmanship up.
Mark Ogden: Neymar, Brazil
It usually takes six goals to win the Golden Boot. With Brazil benefiting from a soft group and a good route to the latter stages, it is difficult to see past Neymar in the race for top scorer.
Shaka Hislop: Gabriel Jesus, Brazil
Gabriel Jesus will launch himself into the top tier of players in world football, joining the likes of teammate Neymar.
Stewart Robson: Lionel Messi, Argentina
Given a free role, the best player in the world will finally show it on the world's biggest stage.
Paul Mariner: Antoine Griezmann, France
Surrounded by top players, he will get the supply and will be on all of France's dead ball opportunities. Always cool under pressure and a great finisher.
Alejandro Moreno: Timo Werner, Germany
I know this pick may be surprising to some, but Germany will be around for a while in this tournament and were drawn into a favourable group that could provide Werner with more opportunities than most to have very productive matches. Werner is not a popular pick, but I am guessing neither were past Golden Boot winners Salvatore "Toto" Schillaci (1990) or Oleg Salenko (1994).
Raphael Honigstein: Antoine Griezmann, France
One of the favourites, France are destined to go far, and Griezmann is in top form.
Julien Laurens: Neymar, Brazil
The fact that he didn't play at all between the end of February and mid-May means that he will be fresher and sharper than other big players. This is a Brazil team that will go far in the competition and will score lots of goals, and Neymar will be at the heart of everything they do going forward.
Which two nations will reach the final?
Gab Marcotti: Spain vs. Uruguay
If last-minute replacement Fernando Hierro can guide a gifted and experienced Spain team to the final, it will be because they can beat you many different ways. Uruguay is more of a long shot, obviously. But that explosive attacking tandem, coupled with the grizzled warriors at the back and some fresh legs in midfield means they may just do it ... and even upset favourite Brazil along the way.
Craig Burley: Germany and Brazil
Quite simply, two best teams entering the tournament will be the two best teams at it.
Mark Ogden: Germany and Brazil
Sorry to be predictable, but who can beat either of them?
Shaka Hislop: Germany and Brazil
Both Brazil and Germany looked impeccable in qualifying and will take that form and their tournament experience into the World Cup.
Stewart Robson: Brazil and Spain
Both countries have been brilliant in qualification and have mixed outstanding quality with defensive organisation.
Paul Mariner: France and Spain
There is massive pressure on France's Didier Deschamps to get it right, and the players will respond. Spain, on the other hand, have quality in all the right areas and are experienced on this stage.
Alejandro Moreno: Brazil and Spain
The two best teams coming into the tournament will not disappoint. They may have a couple of nervous moments in the latter stages of the competition, but experience, character and talent will eventually separate these two from the rest.
Raphael Honigstein: Brazil and Spain
Brazil and Spain should both win their groups and will survive tough semifinals vs. Germany and France, respectively, to set up a mouth-watering final.
Julien Laurens: France and Argentina
France will beat Brazil in one semifinal and Argentina will knock out Germany in the other. Les Bleus will then get a superb 3-2 win thanks to a late Kylian Mbappe goal.
Who will win the World Cup?
Gab Marcotti: Spain
A shutdown goalkeeper, a veteran defense, a midfield that can keep the ball all day ... all they need is some directness up front. If they can find it, they will be world champions.
Craig Burley: Germany
I'm swaying on this pick as Brazil in particular do look strong. However, the continuity in terms of coaching with Joachim Low means they can usually sail through rough seas as they did in 2014. They've been unconvincing recently in friendlies, but Germany aren't about friendlies. Personnel changes mean some players are untried at this level, but they still have enough big-game players and game-changers to just sneak it.
Mark Ogden: Brazil
Brazil are stronger than four years ago, and if Neymar stays fit, they should go all the way this time around.
Shaka Hislop: Brazil
Brazil to bury the ghosts of 2014 and avenge that infamous 7-1 defeat to Germany!
Stewart Robson: Spain
This Spain team has many of the qualities of the clubs responsible for recent glories, but also includes a more penetrative attacking element and more athleticism.
Paul Mariner: France
The pressure is on the French, but with talent all over the field and a star like Griezmann, Les Bleus repeat their exploits of 20 years ago.
Alejandro Moreno: Brazil
Assuming Neymar is fully recovered from his foot injury, Brazil has everything you want from a team in a World Cup. Brazil are the total package as they have attacking talent everywhere, balance in midfield and discipline in the defensive half. Brazil's best is just better than that of every other contending team.
Raphael Honigstein: Brazil
The perfect blend between skill, depth and tactical balance.
Julien Laurens: France
It is France's destiny, 20 years after their 1998 triumph, to win the World Cup again. This squad is ready for it!
Potential dark horse(s)?
Gab Marcotti: Senegal
Boasting arguably the best defender in the competition in Kalidou Koulibaly and plenty of punch up front, you're not sure what you'll get with them, but if they're in stride, they can spring a few surprises.
Craig Burley: none
Think it'll be the usual suspects. Don't see a smaller nation making a huge dent in this World Cup.
Mark Ogden: Uruguay and Egypt
Uruguay are the perennial dangerous outsider, capable of beating any team on their day with a combination of skill, mental toughness, cynicism when required and goal threat. Egypt, meanwhile, are an African powerhouse and could make it to the last eight here if Mohamed Salah is healthy.
Shaka Hislop: Senegal
Africa's second-highest-ranked team will surprise a few. Given a good draw as well with Poland, Colombia and Japan in Group H.
Stewart Robson: Uruguay
Luis Suarez, Edinson Cavani and Diego Godin allied with an experienced coach in Oscar Tabarez make the South American team a dangerous opponent.
Paul Mariner: Colombia
The Colombians boast pace on the counterattack and are rock-solid in central defence.
Alejandro Moreno: Colombia
This squad is filled with skill and athleticism all over the field. If they defend well and David Ospina has a solid tournament in goal, Colombia has enough to scare the big teams.
Raphael Honigstein: Colombia
A manageable group followed by a decent shot vs. Belgium or England could see Colombia make it to the quarterfinals.
Julien Laurens: Senegal
I really fancy Senegal to surprise a lot of people. They are back at the World Cup for the first time since 2002, where they were wonderful and reached the quarterfinals. This is a golden generation for Senegal with lots of talented players, and coach Aliou Cisse was the captain of that team that reached the quarters in 2002.
Which country will flop?
Gab Marcotti: Germany
OK, we're talking "flop" by German standards. And that means failing to make the semifinal for the first time since 1998. But hey, they set the bar very high. Joachim Low has had a tremendous run, but striking the right balance between youth and experience might be a big ask this time.
Craig Burley: Belgium
Belgium are full of talented individuals but have yet to prove themselves a contender on the international stage. Manager Roberto Martinez's usual defensive carelessness will bite them against the real big boys.
Mark Ogden: Portugal and Mexico
Portugal may be the European champions, but they still rely too heavily on an aging Cristiano Ronaldo. As for Mexico, it will be the same old story of high hopes and early disappointment.
Shaka Hislop: Argentina and England
All eyes are on Messi, including those of his teammates. He can't do it alone, though. Same old story for England.
Stewart Robson: Portugal
They may be the champions of Europe, but not enough creativity and an ultra-defensive approach will see them crash out early here.
Paul Mariner: Belgium
Loads of talent but with very high expectations around the world, the pressure will be too great.
Alejandro Moreno: Portugal
I don't know how much is expected of them, but much like Greece years ago, Portugal is an unlikely European champion that will not be able to sustain that level of success in the World Cup.
Raphael Honigstein: Argentina and Portugal
Don't see Portugal's defensive approach being rewarded a second time. Argentina won't flop in the sense of crashing out super early, but they will exit at the quarterfinal stage at the hands of Spain, if not in the round of 16.
Julien Laurens: Portugal
I don't believe in them. I think they have a tricky group outside of Spain. Spain will beat them in their first game and a talented Morocco team and Iran could give them trouble. I don't see Cristiano Ronaldo having a good tournament, either.
Who will win the Golden Ball (best player)?
Gab Marcotti: Luis Suarez, Uruguay
So difficult to call this. It's usually from the World Cup winners, but Spain are so multidimensional that a goal-rich tournament and a run to the final from Suarez might just swing it his way despite Uruguay falling at the final hurdle.
Craig Burley: Neymar, Brazil
This has a chance to be his tournament. He needs to deliver and I think he will.
Mark Ogden: Neymar, Brazil
The guy who scores the most goals usually dominates the individual awards, so Neymar again. But Antoine Griezmann may be an outside bet.
Shaka Hislop: Neymar, Brazil
Neymar in the yellow of Brazil isn't the arrogant and sometimes selfish player we see in the blue of PSG. He usually responds well to the pressure of his country.
Stewart Robson: Lionel Messi, Argentina
Why would you bet against the best player in the world over the past 10 years? Messi will take home the top individual hardware for the second straight World Cup and become the first player to win the award twice.
Paul Mariner: Antoine Griezmann, France
France is my pick to win it and Griezmann is their best individual. Griezmann was the best player at Euro 2016 and will do it again here, this time on an even bigger stage.
Alejandro Moreno: Neymar, Brazil
This is his moment. There is always pressure when you wear the No. 10 and captain's armband for Brazil, but under Tite, Neymar seems to have embraced this responsibility. The World Cup stage will provide Neymar with the unique opportunity to take a big leap and put his name alongside Lionel Messi and Cristiano Ronaldo at the very top of the game.
Raphael Honigstein: Antoine Griezmann, France
Griezmann's goals will power France to the semis while Brazil's stars, while deserving, are likely to split the vote.
Julien Laurens: Kylian Mbappe, France
He is only 19 and this is his first big tournament, but he is the type of prodigy we see only once every 20 years or so. The PSG youngster will play with freedom, without any pressure and will take the World Cup by storm.
Who will win the Golden Gloves (top goalkeeper)?
Gab Marcotti: Alisson, Brazil
He has all the tools to make this tournament his own defensively ... at least until the semifinal.
Craig Burley: Manuel Neuer, Germany
Neuer had a difficult season with injuries, but I think if Germany do go all the way, he'll have been a busy boy. Not convinced by the German defence, so success could hinge partly on the goalkeeper.
Mark Ogden: Jordan Pickford, England
The new England goalkeeper is confident, good with the ball at his feet and a risk-taker. He has the ability to be spectacular, too.
Shaka Hislop: Marc-Andre ter Stegen, Germany
With the lack of playing time for Neuer this season, I have a sneaky suspicion that Ter Stegen will get the nod. At Barcelona, he has established himself as one of the world's best. Expect to see just that in Russia.
Stewart Robson: David De Gea, Spain
Not only does De Gea make match-winning saves, but he rarely makes a mistake.
Paul Mariner: David De Gea, Spain
He makes the key saves when called upon and, almost as importantly, is an error-free goalkeeper.
Alejandro Moreno: Thibaut Courtois, Belgium
Belgium is a sexy pick for many in and around the game. If Belgium advance deep into the competition, Courtois may have to come up with a few big saves and maybe even a memorable penalty kick shootout performance.
Raphael Honigstein: Alisson, Brazil
The most gifted of keepers, Alisson is set to have a breakout tournament.
Julien Laurens: Alisson, Brazil
The Brazilian had a superb season with Roma and has proved to be a wonderful shot stopper. In an attacking Brazil side, he will show how good he is in this tournament.
Player most likely to be red carded?
Gab Marcotti: Mats Hummels, Germany
What he lacks in pace he makes up for in reading the game. But you only get away with it for so long. And in a tournament marked by flat-out speed -- and on a team that tends to play on the front foot and can get caught on the counter -- he's got to be among the candidates.
Craig Burley: John Stones, England
I like John Stones as he's a flamboyant centre-half, but I think he takes too many risks and makes some bad decisions, both with and without the ball. Can see him making a daft challenge in desperation and seeing red.
Mark Ogden: Dele Alli, England
The England midfielder has insisted he will not fall foul of the officials in Russia, but opponents will be wise to his short fuse and we have yet to see evidence that Alli can count to 10 before reacting.
Shaka Hislop: Sergio Ramos, Spain
Sergio Ramos is always good for an error in judgement. With VAR he won't be able to get away with things he often does.
Stewart Robson: Nicolas Otamendi, Argentina
A great season under Pep Guardiola but too many rash challenges from behind in an emotionally charged environment makes Otamendi a prime candidate to see red.
Paul Mariner: Dejan Lovren, Croatia
In Croatia's group with Argentina, Iceland and Nigeria, the front players are too quick, technical and strong. He will struggle.
Alejandro Moreno: Sergio Ramos, Spain
There will be a lot of people watching Sergio Ramos very closely after the Champions League fallout. With VAR in play in the World Cup, maybe one of the multiple cameras catches Ramos doing something naughty.
Raphael Honigstein: Luis Suarez, Uruguay
Luis Suarez might just stumble and accidentally bite into someone again.
Julien Laurens: Pepe, Portugal
He is 35 and played only four games with Besiktas between March and May. He will be out of form if he starts for Portugal, and despite his experience, I expect him to get sent off.
Group winners (A-H)
Gab Marcotti: Uruguay, Spain, France, Argentina, Brazil, Germany, Belgium, Senegal
Craig Burley: Uruguay, Spain, France, Argentina, Brazil, Germany, Belgium, Colombia
Mark Ogden: Uruguay, Spain, France, Croatia, Brazil, Germany, Belgium, Colombia
Shaka Hislop: Uruguay, Spain, France, Argentina, Brazil, Germany, England, Colombia
Stewart Robson: Uruguay, Spain, France, Argentina, Brazil, Germany, England, Colombia
Paul Mariner: Uruguay, Spain, France, Argentina, Brazil, Germany, England, Colombia
Alejandro Moreno: Uruguay, Spain, France, Argentina, Brazil, Germany, Belgium Colombia
Raphael Honigstein: Uruguay, Spain, France, Croatia, Brazil, Germany, England, Colombia
Julien Laurens: Uruguay, Spain, France, Argentina, Brazil, Germany, Belgium, Colombia
Group runners-up (A-H)
Gab Marcotti: Russia, Morocco, Peru, Nigeria, Serbia, Mexico, England, Poland
Craig Burley: Egypt, Portugal, Peru, Nigeria, Serbia, Mexico, England, Poland
Mark Ogden: Egypt, Morocco, Denmark, Argentina, Serbia, South Korea, England, Senegal
Shaka Hislop: Egypt, Portugal, Peru, Nigeria, Costa Rica, Mexico, Belgium, Senegal
Stewart Robson: Russia, Portugal, Denmark, Croatia, Serbia, Mexico, Belgium, Senegal
Paul Mariner: Egypt, Portugal, Denmark, Croatia, Serbia, Mexico, Belgium, Poland
Alejandro Moreno: Russia, Portugal, Denmark, Croatia, Switzerland, Sweden, England, Senegal
Raphael Honigstein: Russia, Portugal, Peru, Argentina, Switzerland, Mexico, Belgium, Senegal
Julien Laurens: Egypt, Morocco, Peru, Croatia, Switzerland, Mexico, England, Senegal