The 2016 Major League Soccer season is underway, and for the second straight year, ESPN FC has been speaking to its players.
In the weeks prior to the start of the campaign, questions were targeted at 123 current players, who answered on the condition of anonymity. Some also offered additional thoughts on topics, and a selection of those responses have also been included.
Furthermore, as well as the topics covered below, survey participants were also asked for their thoughts on the most overrated and underrated players in the league and to name the coach for whom they would most like to play.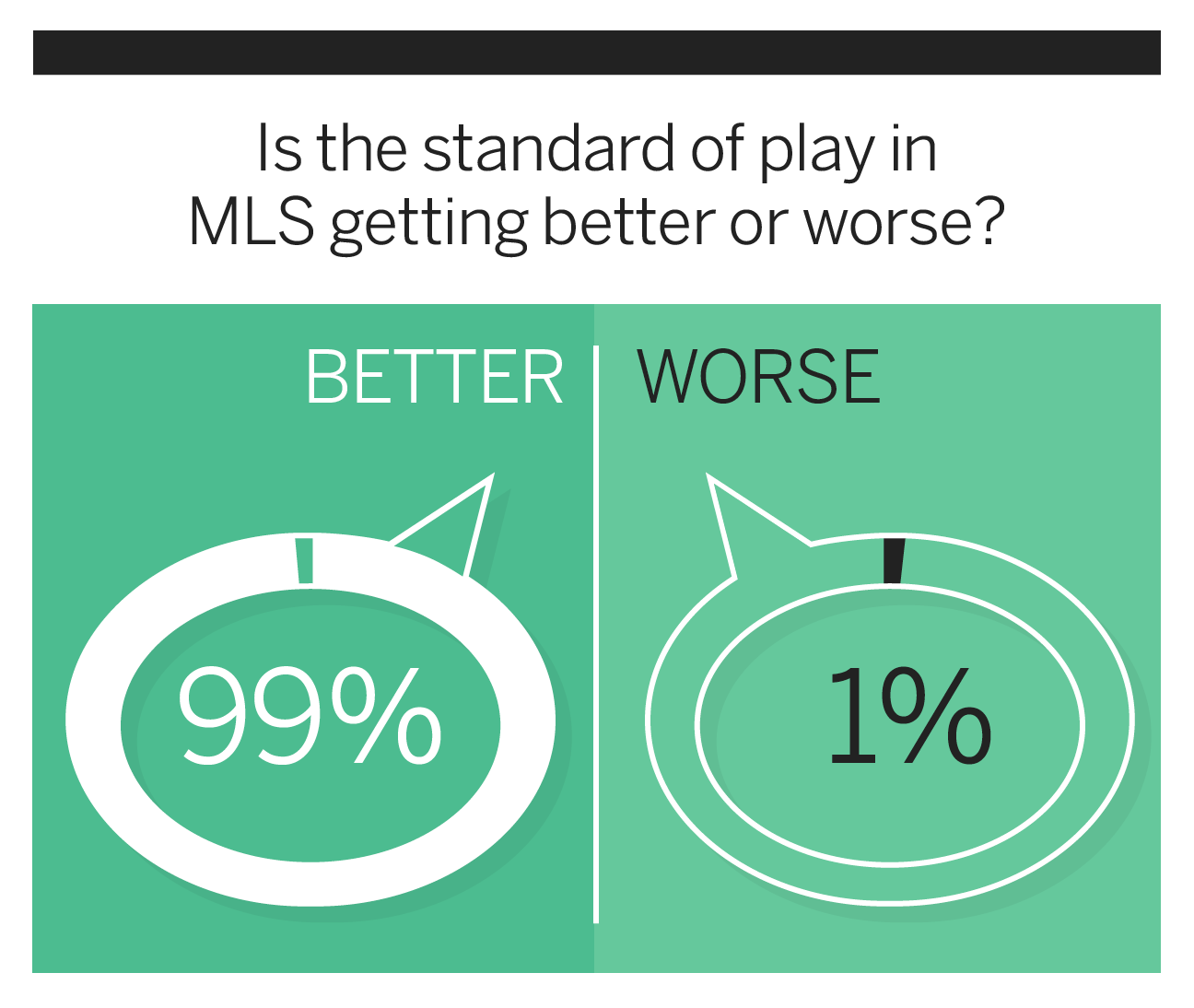 What the players said:
"I feel like the game is moving away from a vertical game, where you're just going forward, and moving toward a more possession-type game."
"I think the quality of players is better now. You have guys who have played internationally. You have guys who are coming from other countries."
"I'm not sure the 11 starting players on the field are better than some of those D.C. United teams that were really good early on. I think the younger players are better today, though."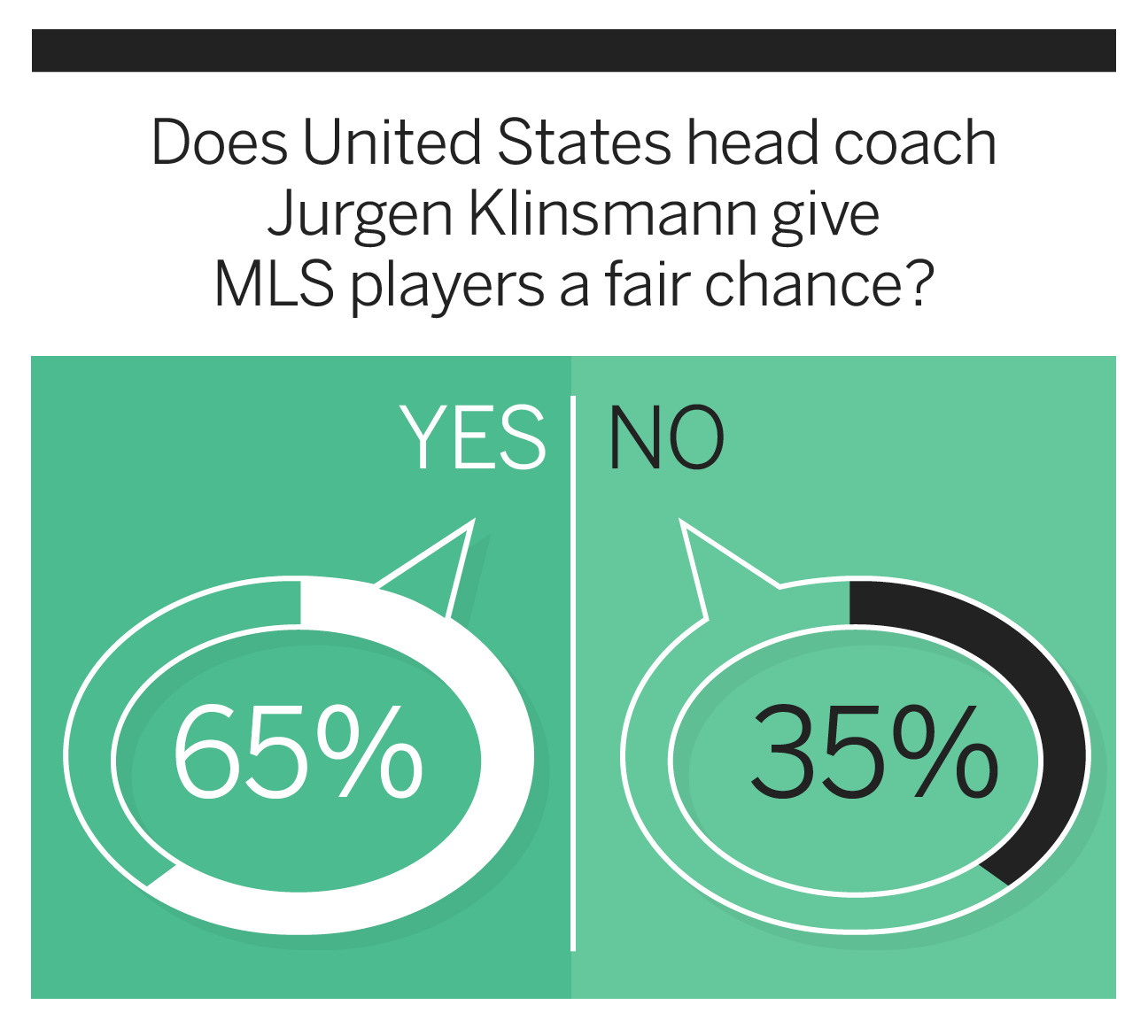 What the players said:
"I think having national team staple players, such as Michael [Bradley], Jozy [Altidore], Clint [Dempsey], in the league has forced the national team to look more here. What I would say is that it's not always as consistent. It shouldn't just be for the January camp."
"Then you look at Jordan Morris. The kid is in college. Who said, 'Hey, Jurgen, go watch this college kid instead of watching an MLS game'?"
"He's a guy who spent his whole career in Europe, so I definitely think he rates playing in Europe over MLS, but I think he has come to recognize that talent can still come from your domestic league."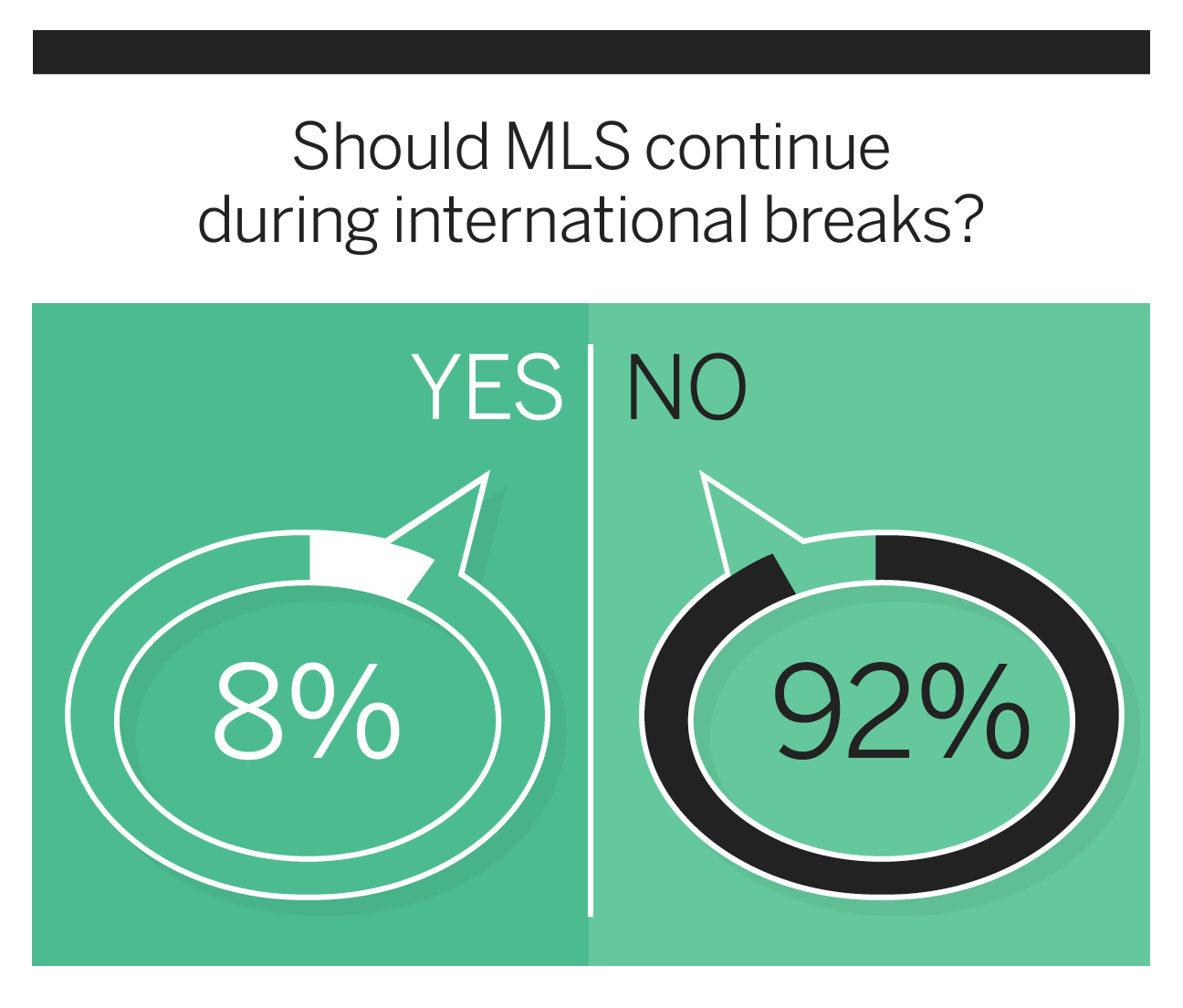 What the players said:
"All the best leagues in the world take them off. If we're trying to get to their level, why would we play on those dates?"
"The quality of games is what we're after -- not depleting our teams during international breaks. It's not beneficial to the league."
"The way it is now, it gives young players opportunities to step in and show what they can do."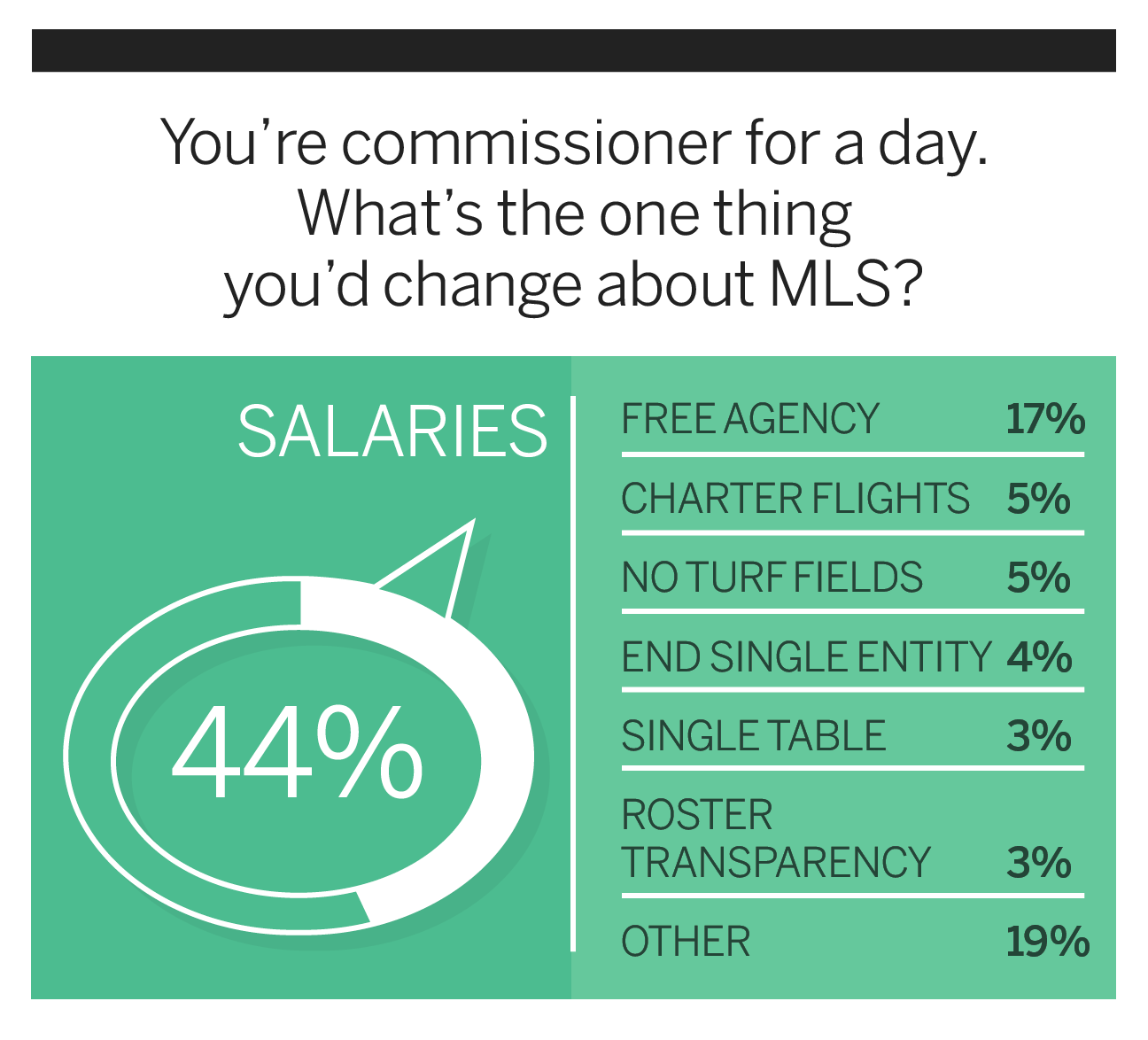 What the players said:
"Guys have to know that if you do well in MLS, it can be a career. Right now, almost every single player in this league knows that this is one of two or four careers that we're going to have because the wages just aren't there yet."
"I'd make winning match bonuses a lot more. Then, at the end of the year, you'd see guys give a s---, to be honest."
"I would change the allocation system. I would have just a straight-up salary cap. This is what it is. We just get rid of the confusion and mystery [dollars] that they create."
"I think the Supporters' Shield [winner] should get a bye all the way to the conference final."
"I'd make the commissioner be a player for a day. Then he'd see what it's like."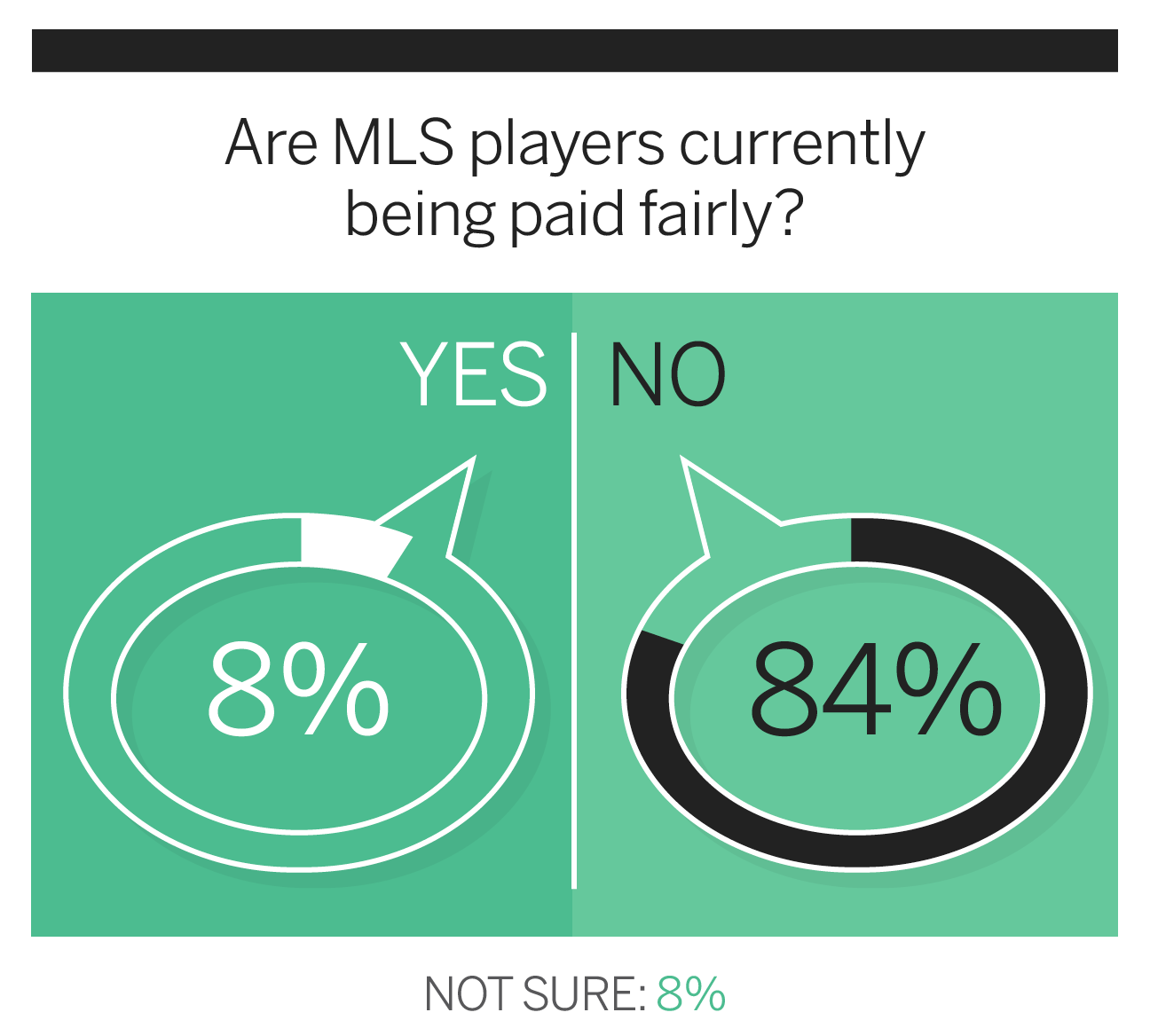 What the players said:
"When you look at guys who leave this league and then they go to Scandinavia and make double or triple what they were making here, obviously the MLS guys are not being paid enough."
"I think it's just hard to say that it's fair when you can be making $60,000 and a guy on your team is making $8 million. You don't see gaps like that in other leagues."
"Players are getting more money every year. We're still not comparable to other leagues, but we don't have the TV packages those leagues have."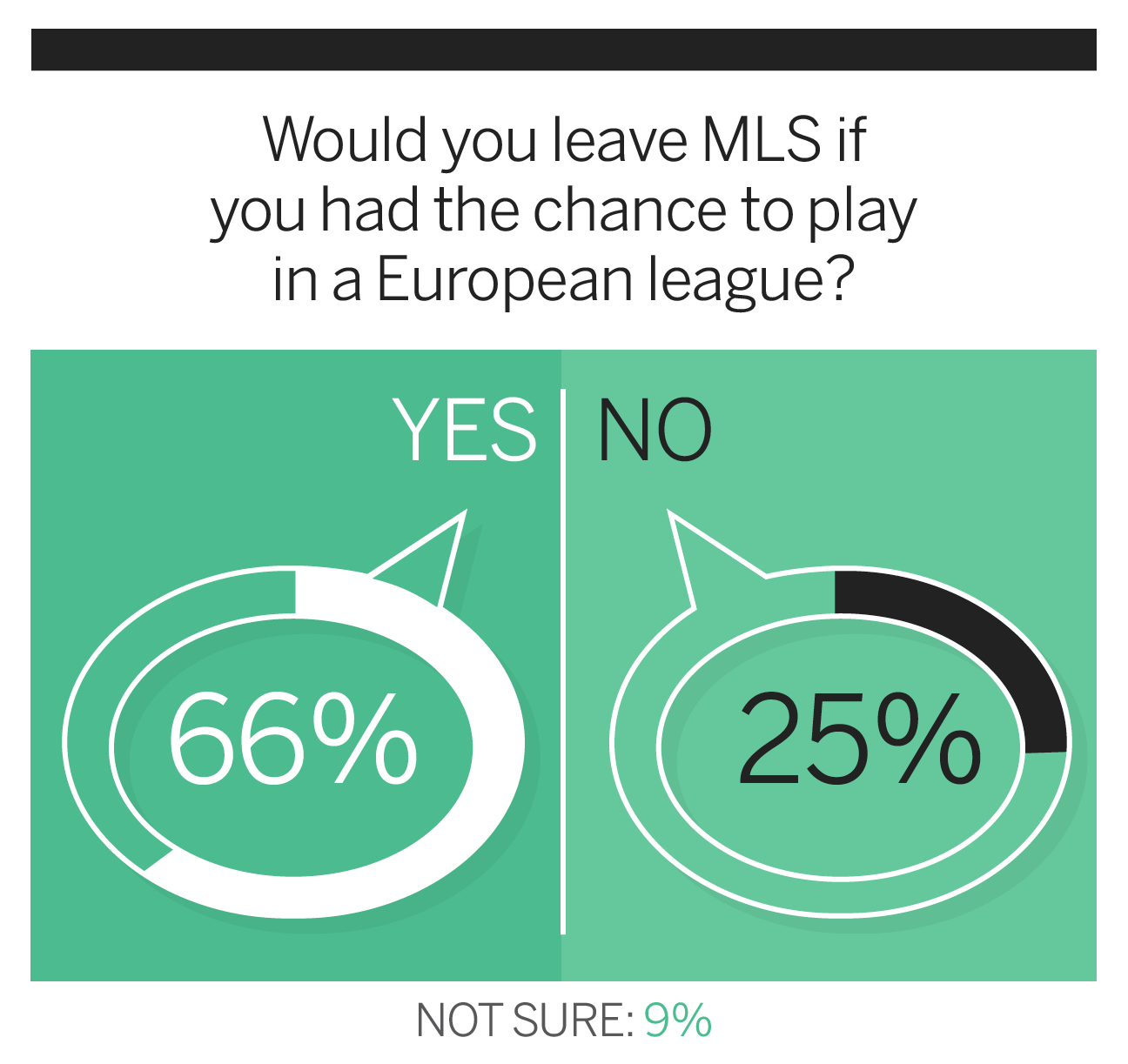 What the players said:
"I get this question all the time. It depends. If the Premier League called tomorrow, of course. If it's to go play in the Finnish second division, I might as well go to the [third-tier] USL."
"It's a good way to get recognition from your national team. I think they recognize that quite a bit."
"The fact is that you can make history in this league, whereas you're another player in Europe, unless you do something drastically good."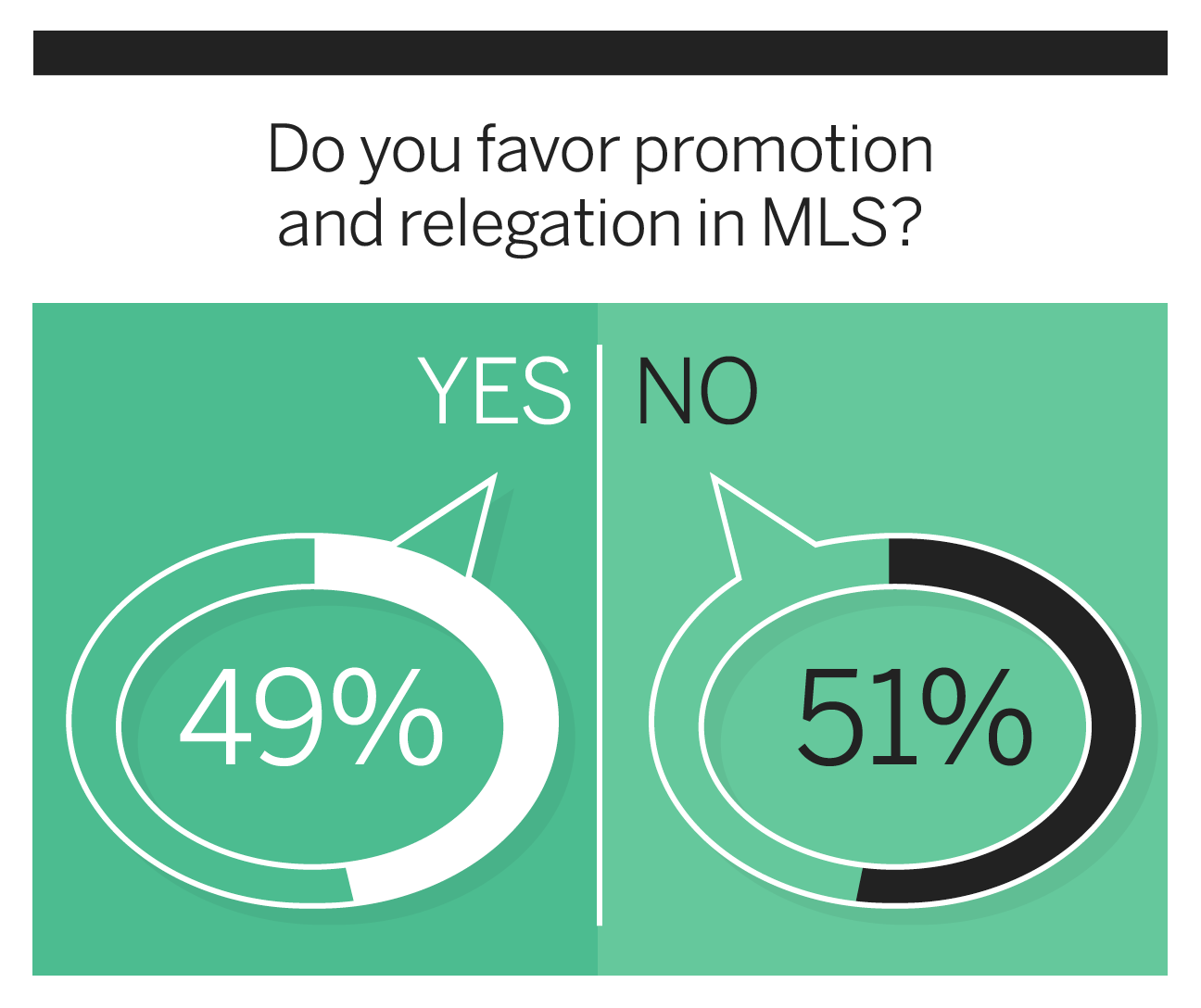 Editor's note: Last year, 64 percent of those asked favored promotion and relegation, 34 percent were against it and two percent answered "not sure."
What the players said:
"Whether you're playing for promotion or to avoid relegation, it makes every game that much more important. In MLS, if you're having a bad season, some guys just ride out the last couple [of] months because they know they'll be in the league next year."
"It would bring more pressure. You wouldn't have teams waiting to tee it up three games before the playoffs and then start to kick ass."
"There's no scenario where I could see that. We're not even close to being ready for that now."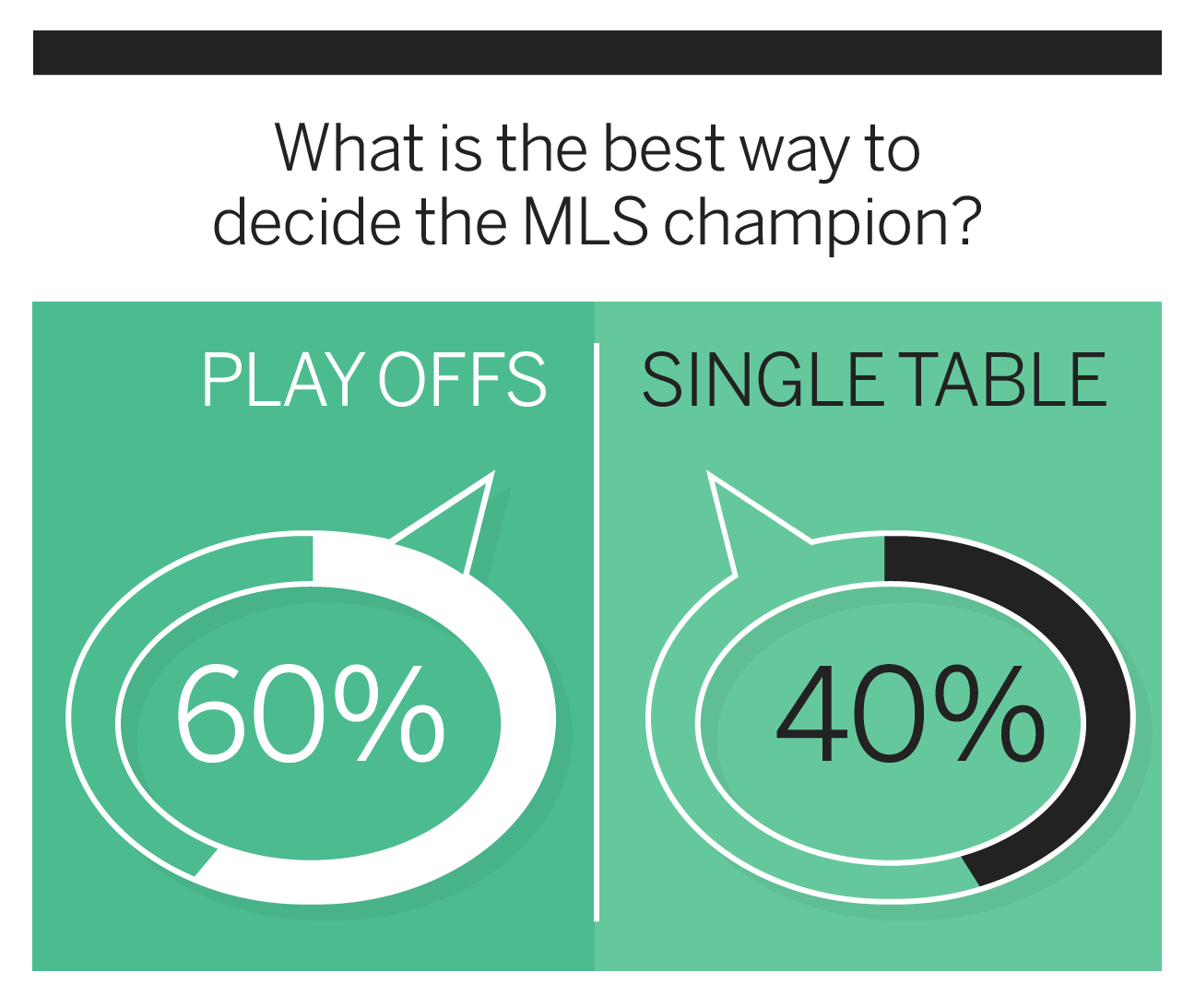 What the players said:
"The playoffs give everyone a chance to win something. Sometimes it's not fair, but I think it's cool."
"A lot of teams make the playoffs, and anything can happen at that point. A team goes on a streak. A team has a hiccup. I think a full year is representative of who is the best."
"If the goal for MLS is to be a top league, then I think you're going to lose respect if you have a 10th-place team that could squeak in and win [the] MLS Cup."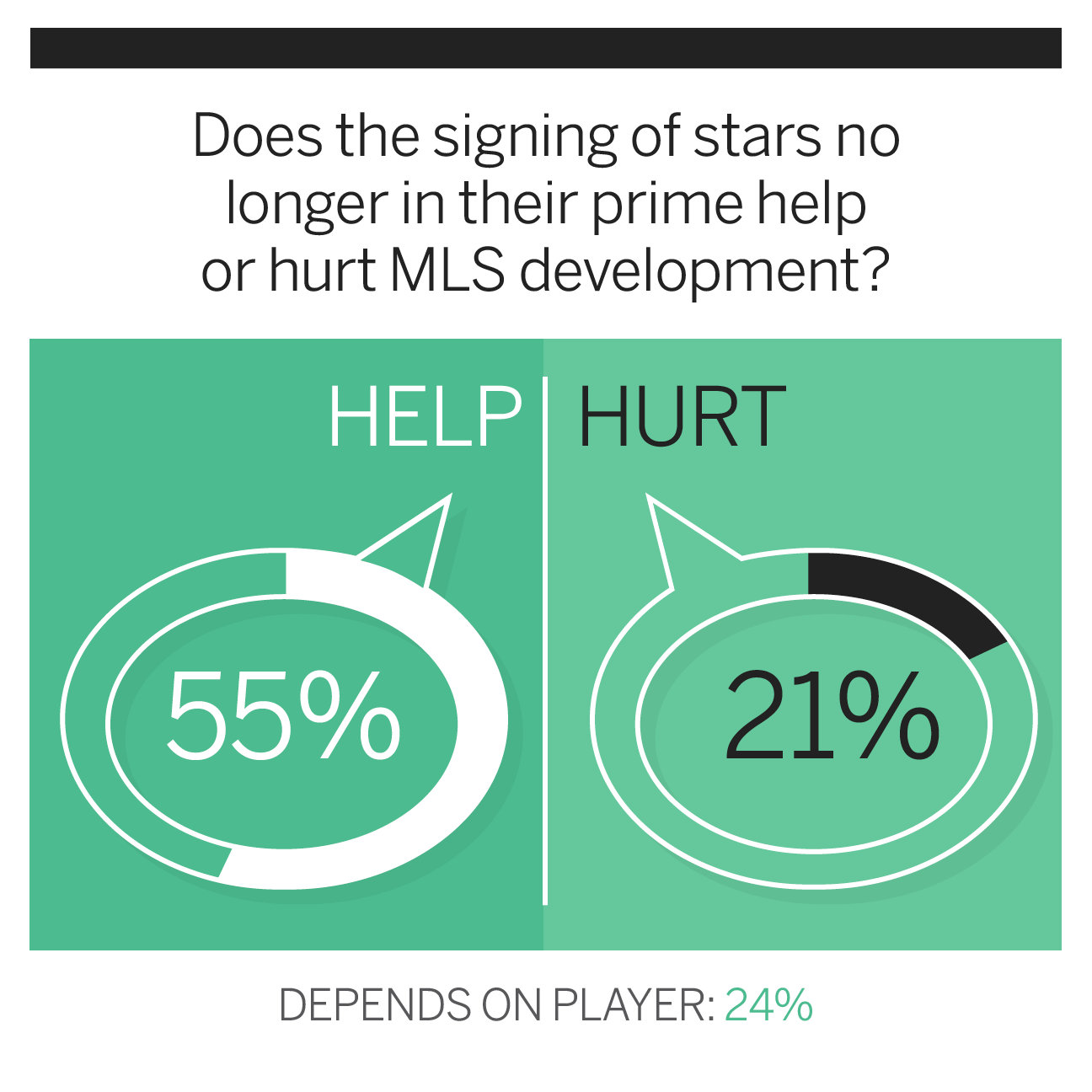 What the players said:
"Back in the day, [David] Beckham, he helped. [Didier] Drogba, he helped. When players are hungry like that, they can come in and help. Other players -- I don't want to name names -- but they are more here to enjoy life, then of course, it doesn't help."
"These guys aren't staying here long-term. It's a retirement league for them."
"The guys I've worked with I've learned a lot from. As long as they're competitive guys, I think it's good for the league."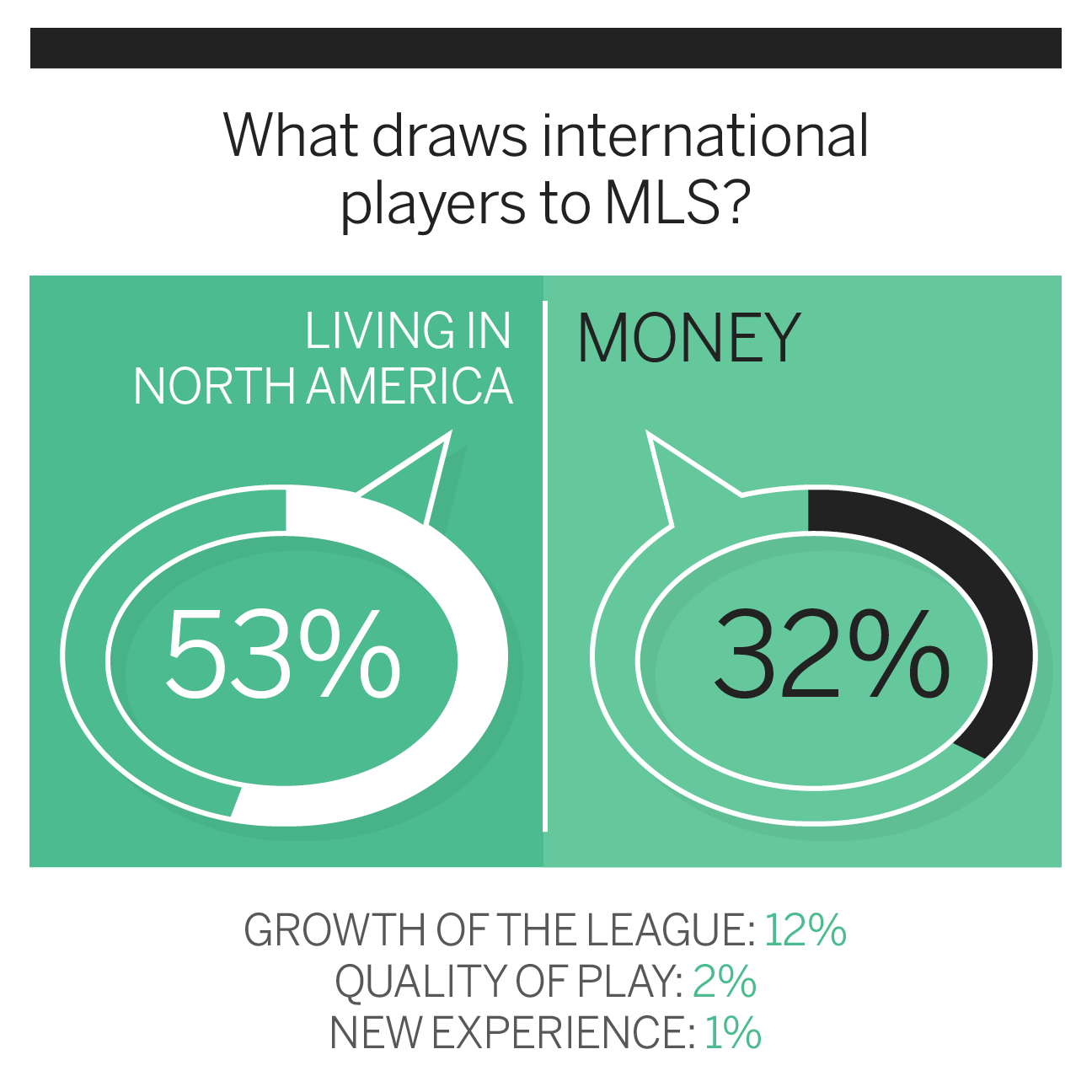 What the players said:
"I think the potential in this league. Playing soccer in the U.S. is a huge draw."
"Our facilities are unbelievable. Some of the top teams in the world don't get to show up to work and have what we have."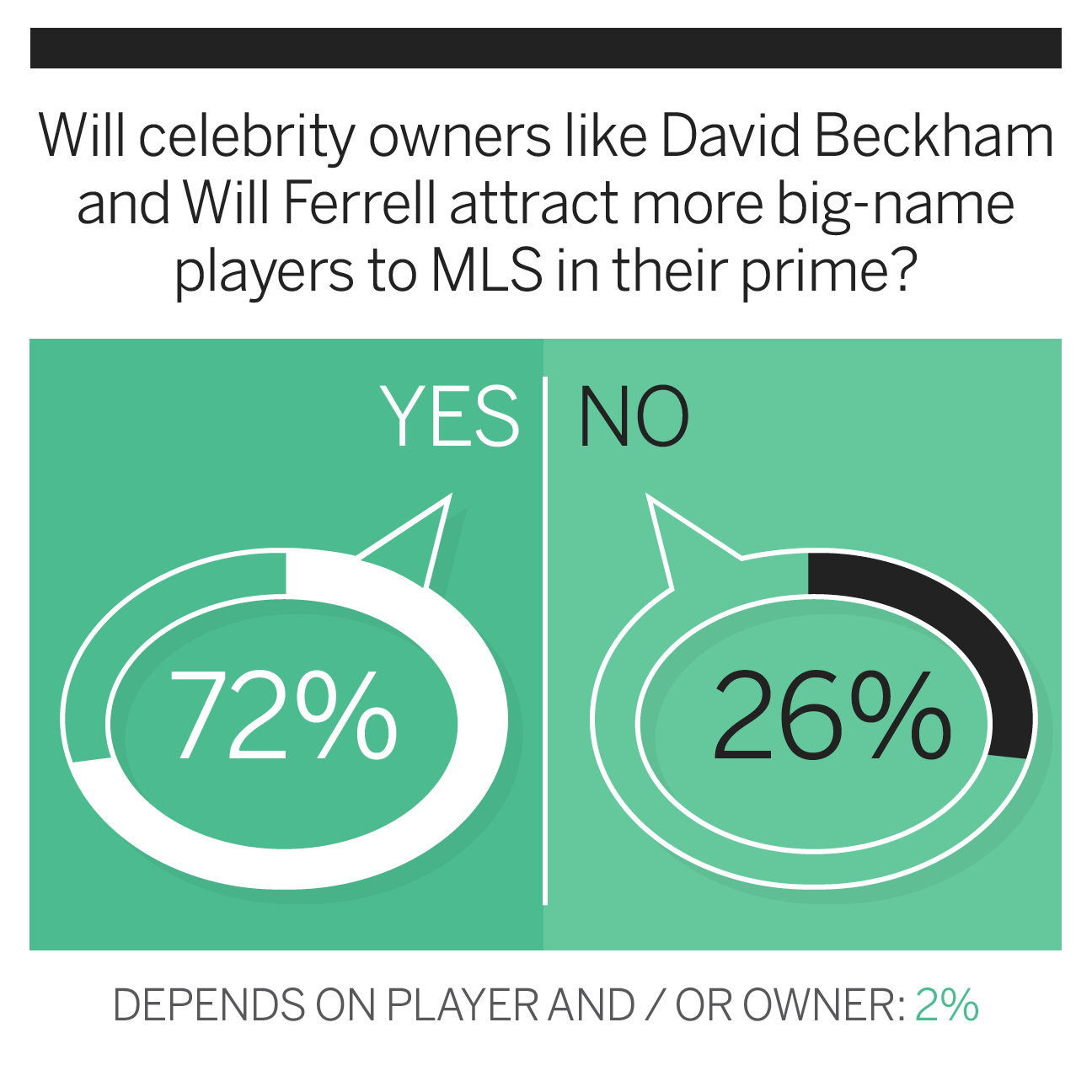 What the players said:
"Beckham could be beneficial because he is well-respected in the game and he played here. But if you're trying to sign a guy like, let's say Jack Wilshere, I'm not sure he's going to come because Will Ferrell is a part-owner."
"I get the feeling that a lot of European stars will want to play for David Beckham's club. For him, but also because the Europeans love Miami."
"Money attracts big-name players in their primes."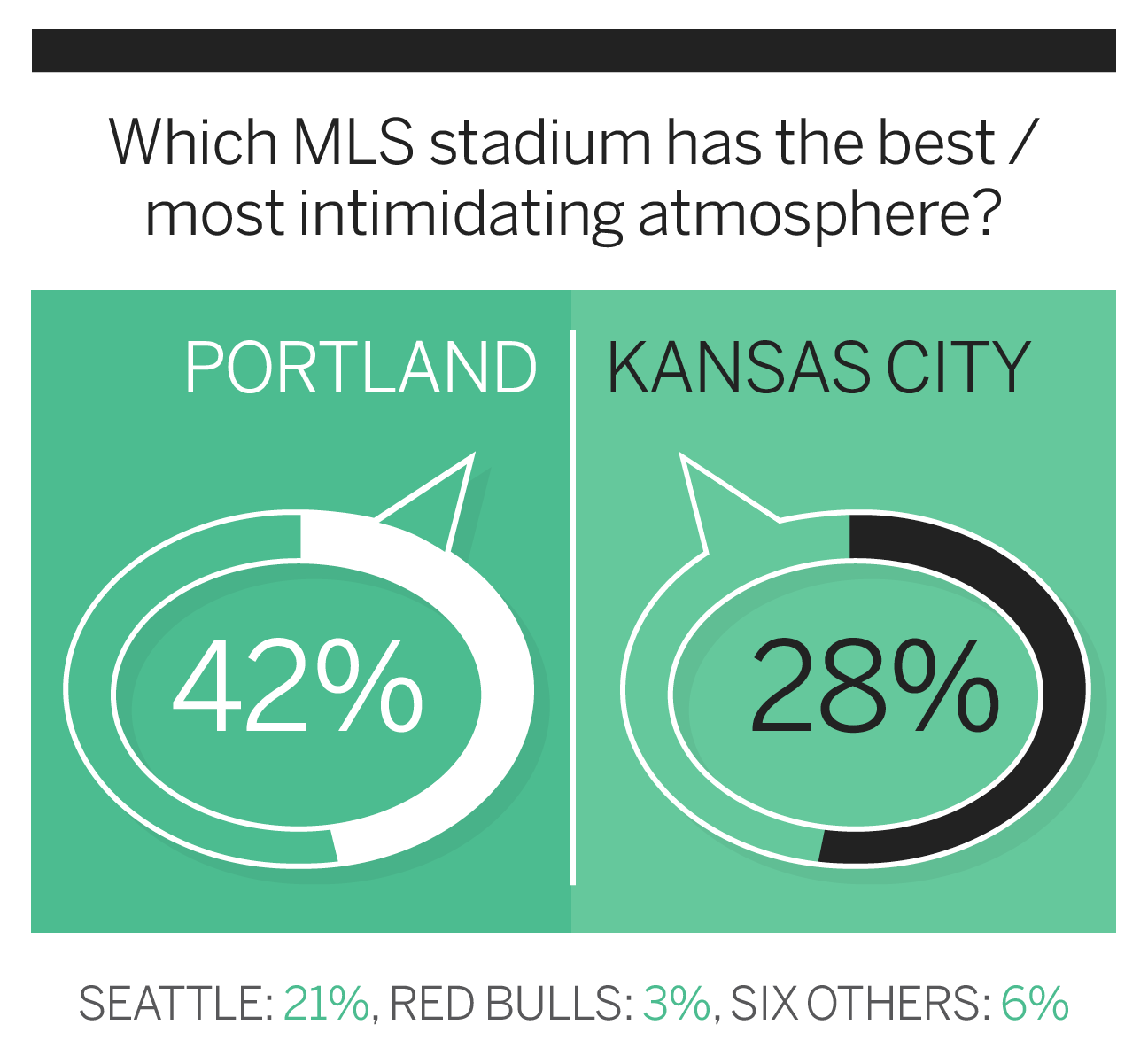 What the players said:
"There isn't one stadium in MLS that I consider intimidating. The best atmosphere is Portland. But the best overall experience is Kansas City because they're full and it's grass."
"Intimidating to me is playing at FC Dallas at two in the afternoon in mid-July."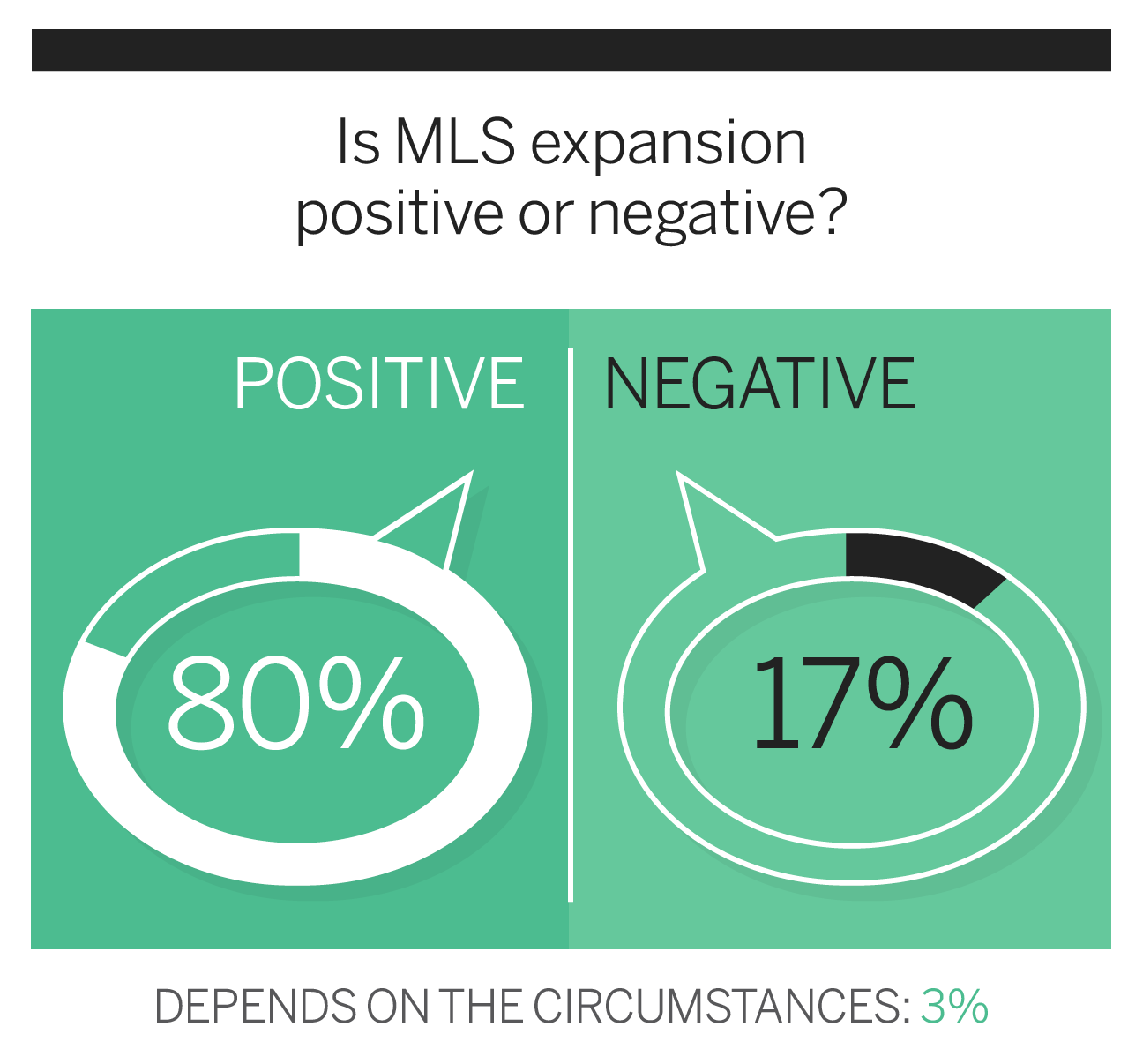 What the players said:
"I think it will dilute the talent initially, especially when we get to 28 teams, and we'll see a step down in quality of games for a couple [of] years. But I think once the academies have 15 or 20 solid years of development behind them, the league is just going to get better and better."
"I'm concerned about it. I think it needs to be done in an extremely strategic way. We don't want to dilute it by having college kids come up. The fact of the matter is that the college game is kind of going down."
"It's been very positive, and the quality of play is improving drastically year over year. There is no fear of diluting the player pool."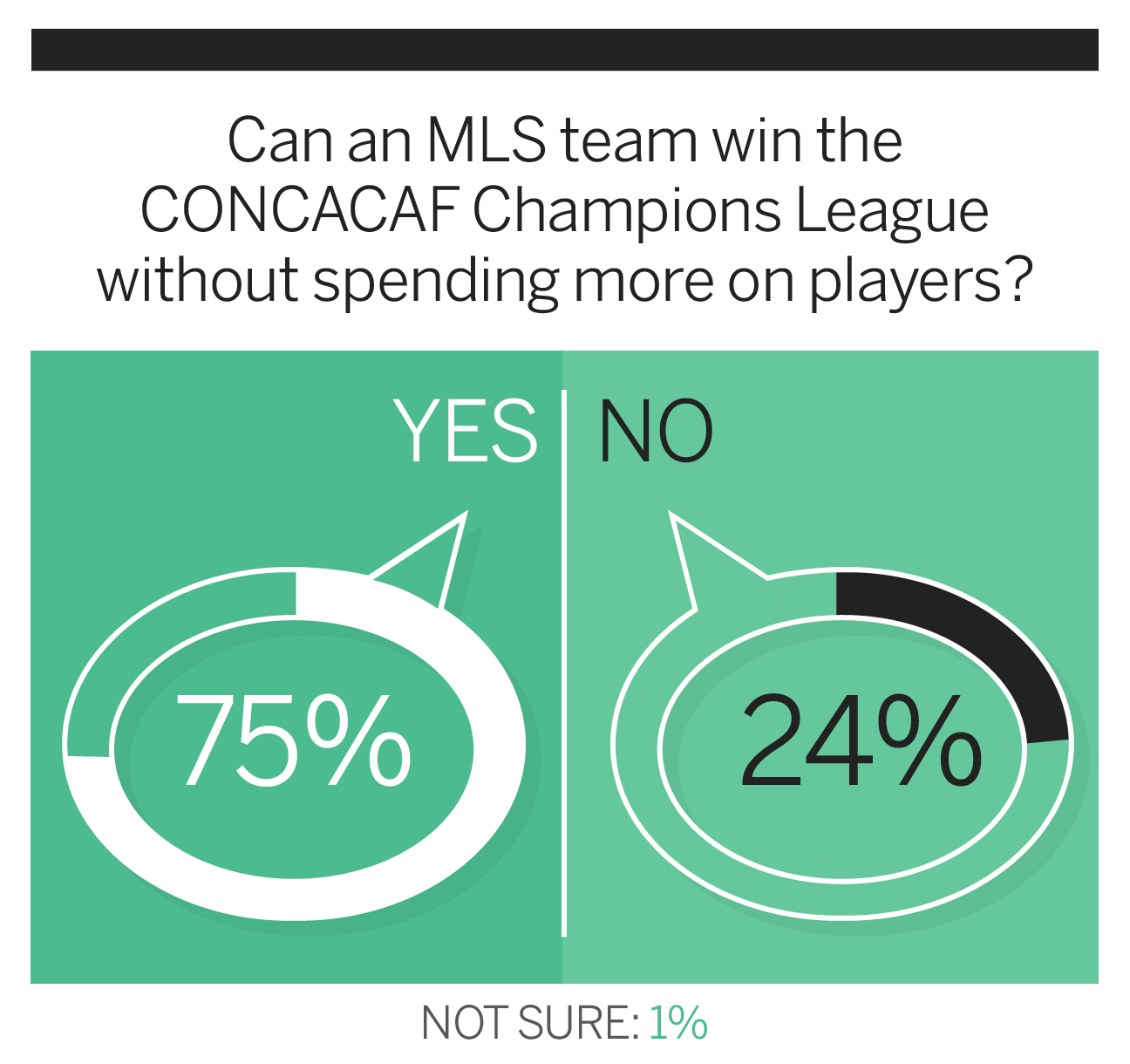 What the players said:
"It's hard for an MLS player making $50,000 to get up for an extra game for like a $30,000 bonus between 30 players. A lot of guys look at it like 'Oh, crap,' rather than an opportunity."
"It's very difficult to believe you could win two home-and-away series against a top Mexican team."
"I think an MLS team will win it in the next three or four years."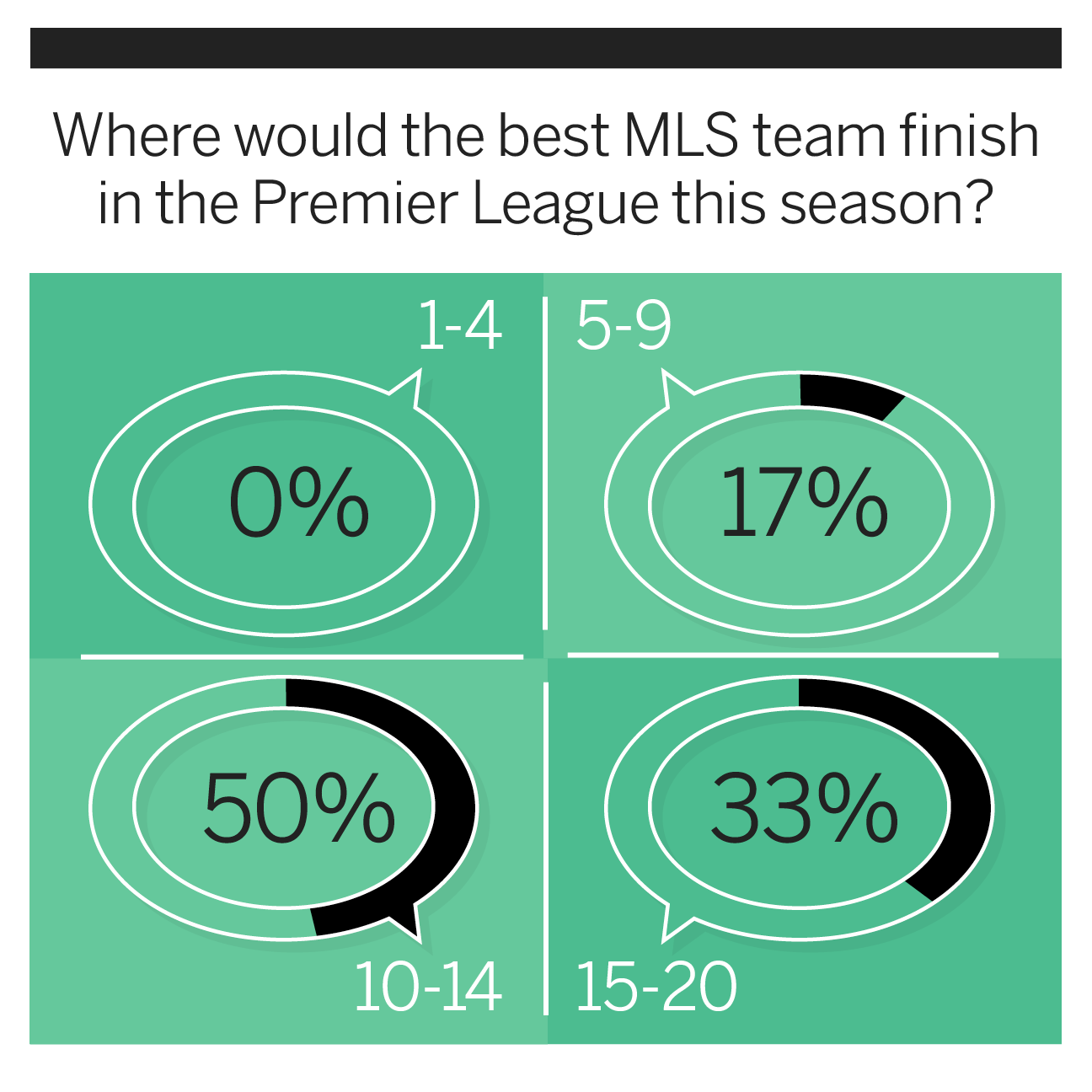 What the players said:
"Sixth. Guys would play in that league and figure it out. I think guys in this league are a lot better than people give them credit for."
"Relegated. The best MLS team would get relegated every year in the Premier League. An MLS All-Star team would fight to [survive] in the bottom half."