This story is from the winter/spring 2018 issue of Howler, a quarterly magazine about soccer. Get 20 percent off a subscription with promo code HOWLER14 at shop.howlermagazine.com.
It was an event so disastrous that Twitter had to double it character limit just to accommodate the calls for everyone at U.S. Soccer to be fired. In the aftermath, we've read roughly 5,742 think-pieces, each trying to zero in on the one thing that could have prevented the United States men's national team from failing to qualify for the 2018 World Cup.
Of course, the reasons behind the failure are complicated and many, so we have unburdened ourselves of word limits and the need to stick to a single train of thought. What follows is an entire mass transit system of what went wrong for the USMNT in 2017.
I. Blame it on bad luck...
AWAY FIXTURES ARE ALWAYS DIFFICULT and every team in CONCACAF presents a tough environment. Both of Trinidad Tobago's goals were massive flukes. Omar Gonzalez couldn't place a shot like that on his next 99 attempts. Nor could Alvin Jones, who might as well have been standing on a neighboring island when he scored his worldy.
That, of course, doesn't explain the massive bounces of bad luck outside of Couva. Both the Ticos and Mexico had already booked their Aeroflot reservations. And both led their matches at half-time against inferior opponents, results that would have allowed the U.S. to join them in Russia no matter the outcome in Trinidad.
There's been no confirmation that Juan Carlos Osorio and Oscar Ramírez spoke at half-time and agreed to concede twice to knock the U.S. out. However, there's also been no confirmation that they didn't. In any case, that is what happened. Panama snuck past the Yanks in part because of a phantom goal that never cleared the line and in part because center-back Roman Torres reinvented himself as a center-forward and applied the People's Elbow to U.S. qualifying hopes in the 88th minute. And Mexico? Turns out Estadio Azteca is highly selective about when it serves as a fortress and Honduras somehow beat El Tri. An own goal. A Hail Mary goal. A phantom goal.
Three results gone the wrong way. That's called fate. There's nothing the U.S. could have done.
II. Or Bruce Arena
MAYBE THERE WAS A LOT the U.S. could have done. The previous Thursday, the Nats had beaten the very same Panama side in Orlando to the tune of 4-0. The offense was clicking, Christian Pulisic was doing special things and the back line seemed reinvigorated by the return of Newcastle right-back DeAndre Yedlin. Bruce Arena's team came into the match obviously well prepared. He was so confident that he told the media he wasn't even thinking about Trinidad Tobago until after the first game was over.
Oops. After just 10 minutes in Couva, with the U.S. team's rhythm disrupted by only four nights' rest and a flight to Port of Spain that might as well have been the distance to the earth's core, it seemed clear that Arena should have swapped out a few starters. The best you can say about the decision to go with the same lineup, coupled with Arena's comments after the game that "nothing has to change," is that it reflects a staggering level of arrogance. And to be fair, that Long Island 'tude is often Arena at his most fetching. But looking back, our players and our tactics were tired and the decision to play Gonzalez over Stoke City defender Geoff Cameron, who didn't feature in the first match, still doesn't make sense.
Equally puzzling was the benching of Clint Dempsey, who was fresh after seeing the field for only 20 minutes against Panama. Deuce would have been motivated by the fact that a single strike would have given him the all-time U.S. scoring record. Rather than trust him to go 90 minutes, Arena subbed him in at half-time, when the U.S. was already down by two.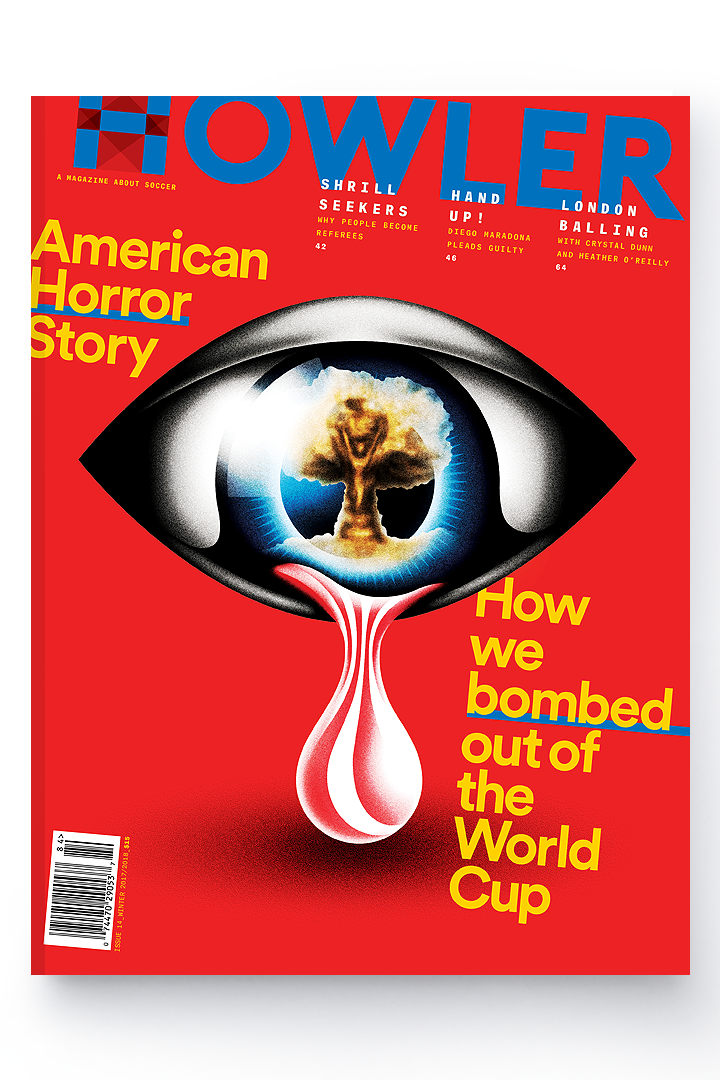 III. Then again, Arena was an emergency hire (and that's a problem)
CLOSE YOUR EYES AND THINK of a happy place. For many of us, that happy place is actually a happy time, specifically any time before 2016. Prince roamed the earth, and the United States had a perfect record of qualifying for every World Cup since 1990. It was a happy time in which advancing from the "Group of Death" could be viewed, rightly, as a solid achievement. And thank goodness, because regardless of our performance in the 2014 World Cup, the U.S. federation had already retained Jurgen Klinsmann as coach for another four years.
You'd have to go back to Steve Sampson and the U.S. team's last-place finish at the 1998 World Cup to find a manager who was not retained for a second cycle. For some reason, we have normalized a practice that is extremely rare in the rest of the world. Klinsmann's second cycle perpetuated a program in disharmony. He insisted on deploying players out of position (Michael Bradley as a No. 10, anyone? Alejandro Bedoya as holding midfielder against Brazil? Jermaine Jones at the center of a back three?) and had a habit of shooing them onto the field with little in the way of tactical instruction.
The U.S. finished fourth at the 2015 Gold Cup, a spectacular failure. This forced the first-ever CONCACAF playoff, where the U.S. looked over-matched against Mexico and failed to make the Confederations Cup. Ahead of the Hexagonal, the United States made it to the Copa America Centenario semifinal on home soil -- another high point -- but once there, the team was utterly humiliated by Leo Messi and Argentina.
The dysfunction was apparent well before November of 2016, when Klinsmann sent his players out in an unfamiliar 3-5-2 formation for the first Hexagonal match, against Mexico, at Columbus's MAPFRE Stadium. Mexico won, dos a uno. Then the team flew down to Costa Rica and received the hammering of its life. In hindsight, just one point from those first two matches would've gotten the Americans to Russia.
So how did Arena get the job? He was the emergency fix for a crisis we -- and by we, I mean the people whose job it is to monitor these things -- should have all seen coming. While it's easy to blame the German for guiding the program into such a shambolic state, Sunil Gulati and the U.S. Soccer Federation allowed it to happen.
IV. Let's talk about Major League Soccer
Julian Green: You will see me again with the USMNT
In an exclusive interview with ESPN FC, Julian Green reflects on the highlight of his career and his desire to return to the U.S. national team fold.
WHAT IF KLINSMANN WAS RIGHT and the return of his most trusted players to Major League Soccer from their European clubs had a tangibly negative effect on his own ability to lead the USA to victory? Let's investigate.
The relationship between MLS and the men's national team is complicated. Early on, the league fostered the growth of fringe national team players while the very best played in other leagues. Landon Donovan came back after failing to catch on at Bayer Leverkusen and became the gold standard for attackers in MLS. For a while, he seemed like something of a one-off.
That all changed in 2013 when Dempsey signed with the Seattle Sounders. Soon, Bradley, Jozy Altidore, Bedoya, Jones, DaMarcus Beasley, Tim Howard, Brad Guzan and Paul Arriola would chase their own American dreams back to MLS. Others, such as Jordan Morris, Darlington Nagbe, Matt Besler and Gyasi Zardes, did not venture abroad even though that was the usual move for players of their standing within the national team. (Gonzalez was one player who did transfer to a more challenging environment, Liga MX.) And there's simply no denying that choosing to move back or remain stateside meant these players faced lower-quality opponents than they would have by playing in top foreign leagues.
This is a case where MLS's business priorities put it at odds with the overall improvement of the national team. Signing established players helps the league market American stars. And because the league owns player contracts and takes more than half the cut from transfer fees, clubs may choose to keep their best players rather than let them go.
Among the starters in the loss to Trinidad Tobago, Pulisic, Bobby Wood, Yedlin, Gonzalez and Jorge Villafana played in leagues of higher quality than MLS. Others, such as Cameron and Fabian Johnson, were available but did not play. Who knows what might have happened in the Hex had more of Arena's preferred starters been battle hardened by playing outside of the United States and Canada?
V. (whispers) What if this group of players just isn't that good?
YOU BELIEVE THAT WE WILL WIN. I believe that, for a country of more than 300 million people, it's kind of pathetic that the United States has but a single player getting minutes in the Champions League group stage. The truth is that Arena (and Klinsmann before him) was forced to make do with only a few international-caliber players in the prime age range of 24 to 27.
In October, Brian Sciaretta analyzed three decades of U.S. player development for americansoccernow.com. He found that each birth year produced, on average, two to three solid national team contributors. But he termed the range from 1990 to '94 "the Lost Generation" because only three players born in those years have emerged as regulars: Wood, Yedlin and Nagbe.
Since the U.S.'s run to the World Cup quarterfinals in 2002, the team, along with Mexico, has been the class of CONCACAF. Qualifying was rarely difficult and the team was able to escape all but one group stage from 2002 onward. But comparing the ideal starting XI for the Trinidad game to that 2002 side is
a humbling exercise.
Brad Friedel then was better than post-Everton Howard. Tony Sanneh at right-back was a better pure defender than either Yedlin or Graham Zusi. Eddie Pope would be a lock to start in the current squad. Pablo Mastroeni, Claudio Reyna and John O'Brien controlled a far tidier midfield than Bradley plus Jones or Bradley more or less by himself. Neither Altidore nor Wood changes games with the consistency of Brian McBride. There is no winger in the current pool as dangerous or direct as DaMarcus Beasley. It's an odd coincidence that the player with the most attitude in both squads was a southerner named Clint. And while Dempsey is now considered one of the U.S. team's all-time greats, I might pick 2002 Clint Mathis over 2017 Clint Dempsey for the rigors of an international tournament.
The one exception is a question of preference between Pulisic and Donovan, who previously filled the role of Germany-based teenage sensation. It's easy to forget just how spellbinding young Donovan could be but Pulisic's experience with Borussia Dortmund gives him the edge. (At press time, he ranked third in dribbles among players in Europe behind only Messi and Neymar. Decent.) Regardless, this was far from the most talented team to represent the United States and in most areas of the pitch, it wasn't even particularly close.
VI. There's some serious talent on the horizon but we still need to expand the pipeline
SCIARETTA'S PIECE ENDED ON A POSITIVE note: The talent was flowing again by 1997. Weston McKennie, 19, and Jonathan Gonzalez, 18, are starting for Schalke and Monterrey, respectively. Luca de la Torre is on the books at Fulham, Brooks Lennon at Liverpool, Gedion Zelalem at Arsenal, Cameron Carter-Vickers at Spurs and 17-year-old Josh Sargent, who finished second in the charge for the Golden Boot at the U-20 World Cup in June without ever playing in a professional game, will join Werder Bremen in January.
But several structural weaknesses hinder player development. The most glaring is pay to play, the system by which youth clubs cost bazillions of dollars to join. Between coaching fees, travel and equipment, the cost essentially prices the world's game out of many a family budget. Financial aid programs exist, but just think about that for a minute: we've created a system so absurd that simply playing soccer sometimes requires financial aid. If you don't join a top team, the chances of a scout noticing you diminish. And the system disproportionately overlooks or excludes Latino and African American kids.
Those who can cover the registration fee don't always find themselves in an optimal environment to improve. The overall level of coaching knowledge is low compared with more established soccer nations, and our sporting culture places too much emphasis on winning over learning at a young age. Until we prize attributes like decision-making and comfort on the ball as much as size and speed, the best teams will keep kicking our ass when it matters.
VII. Okay, Bernie: how do youth clubs make money without charging?
IT'S A COMMON GLOBAL PRACTICE -- not to mention mandated by FIFA -- to include a solidarity payment clause in the contract when a player's signed by a professional club from a youth team. This number is minimal, usually around five percent, and is paid out if the former youth product is sold to a second professional club. When the Seattle Sounders youth academy plucked Yedlin from Washington youth program Crossfire Premier and the player turned an eye-opening 2014 World Cup performance into a $3.71 million transfer fee to Tottenham, a five percent take would have netted Crossfire $185,000. But the USSF doesn't enforce solidarity payments, citing child-labor, nonprofit and antitrust laws. There's a case
pending in FIFA's Dispute Resolution Chamber over this very example.
Allowing solidarity payments can help a program like Crossfire in two major ways. First, it shifts the focus ever so slightly from winning youth matches to developing future professionals. Turning out more and better professionals will net more money. Second, those payments can subsidize the costs of training, allowing programs to open their doors to talented underprivileged youth without the need to charge exorbitant fees.
VIII. Even if youth soccer were free for everybody, we would still need more qualified coaches
THE USSF HAS TAKEN STEPS to improve youth coaching. In 2015, it launched the Digital Coaching Center to increase the reach of coaching instruction. This is a positive step that ensures all coaches in an organized youth league will have a standardized approach to managing their players. However, a massive problem still remains, and it'll sound familiar. The combined cost of the national A and B licenses is a cool $7,000. In Germany, the A license costs $600 while Spain charges $2,800. If it's tough for some families to justify a high club cost for their kids, it's even more daunting for an adult to drop several months' wages to earn a coaching badge.
IX. You might need a diploma to fix American soccer but forget the degree if you want to play
ASIDE FROM THE CRIPPLING DEBT, there's nothing wrong with going to college. But players who split time between the pitch and the lecture hall will generally lag behind their professional peers. As academies grow, the college game will continue to diminish as a source of national team talent but it doesn't necessarily have to be that way.
The abbreviated NCAA schedule is the biggest hurdle. In 2017, Stanford's men's team played an 18-game regular season between Aug. 25 and Nov. 9: an average of two matches per week. Five more wins through Dec. 10 earned them the NCAA championship but then the program went relatively dormant because the NCAA imposes strict limitations on weekly off-season training hours. So for three-and-a-half months, players experience a huge amount of wear and tear on their bodies, and then they go without the kind of training and instruction that is crucial for young players for the rest of the year. Besides, unlike development academies, Division I soccer programs are oriented not to produce future professionals but, again, to win, because that increases donations and helps recruitment.
Perhaps someday, the NCAA will allow teams to play year-round. Or it could simply require schools to offer "Becoming the American Messi" as a major.
X. The pro/relephant in the room
WHETHER THE U.S. EVER ADOPTS a system of promotion and relegation is a complex business and political decision. But the merits of such a system for producing a deeper player pool are quite clear, and we can demonstrate them not by offering hypotheticals about how it would work in the U.S. but by pointing to the tangible ways pro/rel benefits the many other countries in which it is the norm.
These include incentives for small clubs to scout and train local players (especially urgent in regions that remain unserved by MLS clubs), a more fluid market for players and coaches, and the opportunity for players to experience more high-pressure game situations.
XI. Are we basically blaming everybody?
THE FAILURE WAS PERSONAL AND SYSTEMIC. It was a fluke and a long time coming. Improvement will happen little by little and in lots of different places at once with kids spending more time kicking around with their friends, coaches learning to train their players with an eye to making them better rather than winning trophies, and youth systems earning rewards for turning out top talent.
The age of guaranteed World Cup entry is over-at least until FIFA expands the tournament and gives CONCACAF six spots. Other regulars like Italy, the Netherlands, Chile, Ghana, and Cameroon failed to qualify for Russia 2018. It's a sign that weaker teams are closing the gap. And it means that national programs like ours need to do some serious self-reflection.
This story is from the winter/spring 2018 issue of Howler, a quarterly magazine about soccer. Get 20 percent off a subscription with promo code HOWLER14 at shop.howlermagazine.com.
JEFF RUETER is a writer in Saint Paul who contributes to the Guardian, ESPN FC and U.S. Soccer Players. Twitter: @jeffrueter
RENAUD VIGOURT is an illustrator who lives in Besancon, France. Twitter: @renaudvigourt