It has been 12 years since David Beckham absconded to Los Angeles from Real Madrid, in the name of bringing soccer to the forefront of American sports fans' consciousness. (Hey, he tried.) There were only 13 teams in Major League Soccer then, attendance was roughly 16,770 a game, and the LA Galaxy (shocker) were the most valuable franchise at $100 million. In that decade-plus in MLS, the era of the Designated Player, few if any have been as prolific as The Lion, Zlatan Ibrahimovic.
The Designated Player Rule -- a stipulation that each team can acquire up to three players whose salaries don't count against the team's salary cap beyond the league's max budget charge of $504,375 -- was enacted to draw marquee global stars to America. There have been stratospheric highs like Ibra, LAFC's Carlos Vela and Atlanta United's Josef Martinez in recent memory alone. There have also been catastrophic lows. Any Denilson fans in Dallas? How do Nery Castillo jerseys sell in Chicago?
But the advent of the DP and U.S. Soccer's Development Academy have yielded an MLS in bloom: 24 teams with two more coming next year (including Beckham-owned Inter Miami), attendance up over 21,000, 11 teams worth more than $250 million, 72 DPs in 2019 with an average age of 26-and-a-half, up from five and more than 31 in 2007. There have been only three 30-goal seasons in MLS history, all within the past 12 months: Martinez's record-setting 2018, Vela's record-breaking 2019 and Zlatan's 2019.
At 38, the Lion, Major League Soccer's highest single-season earner in 2019 and of all time, should have lost steam years ago. Zlatan's first top-10 Ballon d'Or finish was in 2005 at age 24; he's the only one still on an active roster from those 10 men. Ronaldinho just retired from a futsal stint in India, Adriano last played three years ago in the fourth tier of American soccer, and the rest have long moved into managing or front office work.
In the past 12 years, a Designated Player has taken up a roster spot roughly 500 times. No one has ever been better-paid or scored as regularly, on a minute-to-minute basis, than Ibra, who has notched 52 goals in 56 MLS games and, logically, spawned "best-ever MLS player" discourse. We took a look at the history of Designated Players in MLS as a marker for league evolution and how The Lion matches up among men.
---
Zlatan's getting paid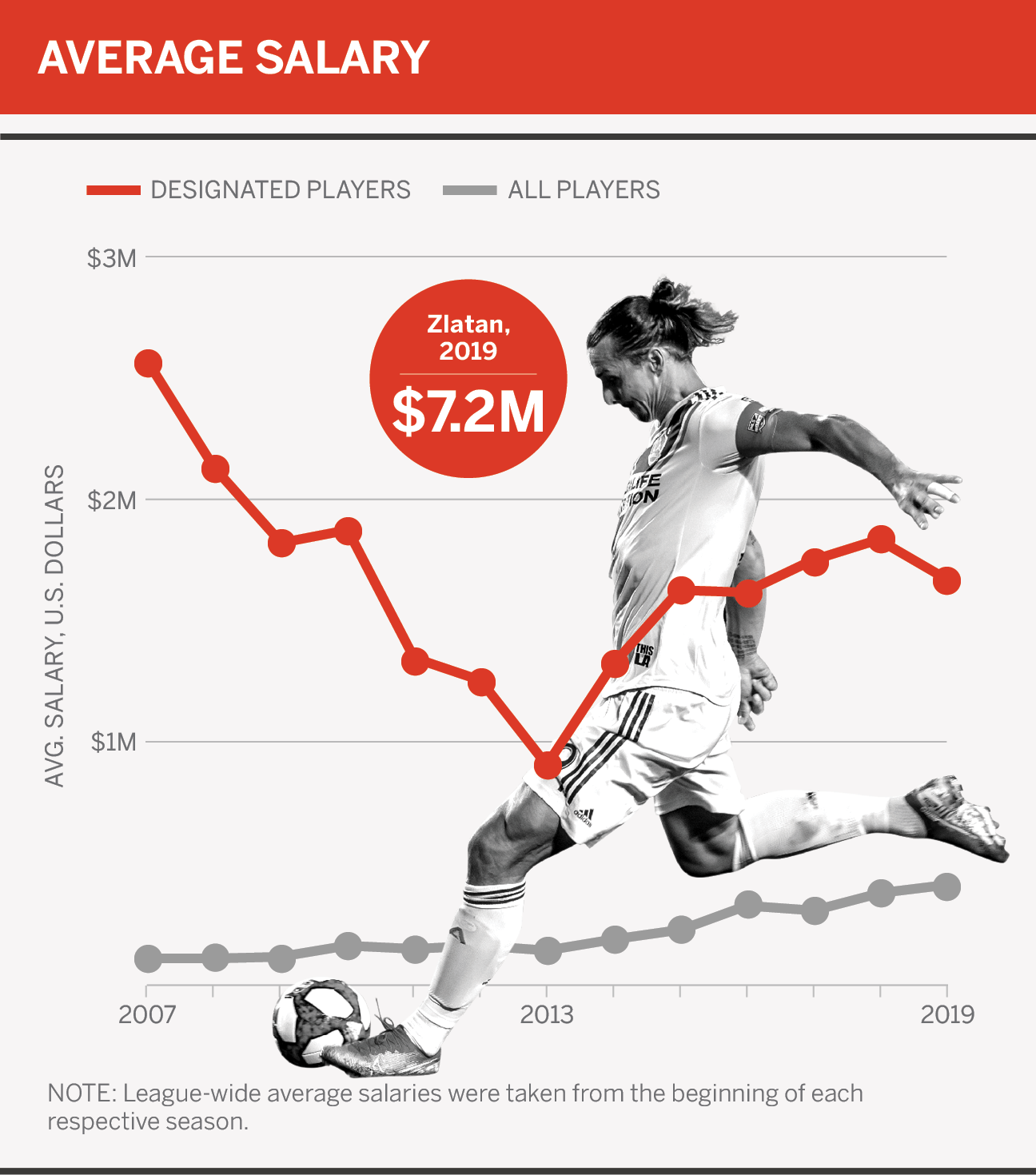 When Becks arrived in Carson, California, the minimum salary in Major League Soccer was $12,900 -- roughly $2,700 above America's poverty line that year -- but the average salary across the league was $103,715.18. As DPs were a new creation and something of a luxury, there were only five at that time: the Chicago Fire's Cuauhtemoc Blanco, New York Red Bulls' Juan Pablo Angel and Claudio Reyna, FC Dallas' Denilson, and Beckham, combining for $12,889,572 in salary, an average of $2,577,914.40. (The, ahem, lion's share of salary was Beckham's $6,500,000, which amounts to well over $8 million in 2019 dollars.)
Today? The league minimum salary is $56,250 -- still less than that of your average engineer, but a far cry from 2007. The average salary across the league is $414,803 and 2019's 72 DPs total $120,067,247 in guaranteed compensation. The average DP salary, logically, has levelled out to $1,667,600.65. Zlatan is, unsurprisingly, 2019's highest-paid player with $7.2 million in guaranteed compensation, which is also the highest single-season guaranteed compensation of all time. Only two other players, Orlando City's Kaka and Toronto FC's Sebastian Giovinco, have banked more than $7 million in a season.
---
Age is just a number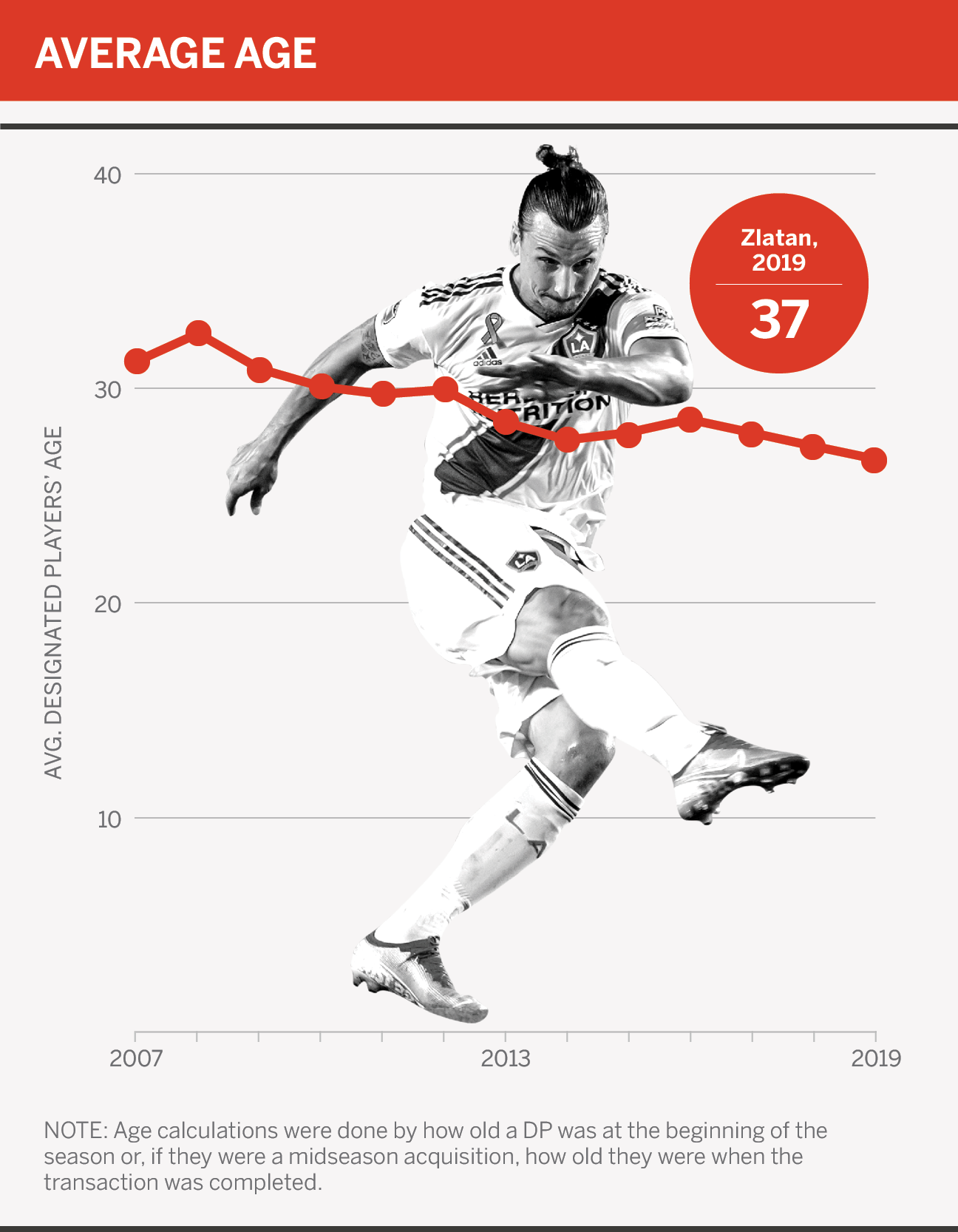 At the outset, DPs were typically older European stars who felt they still had gas in the tank, looking for a fresh start and a generous salary to boot. Thierry Henry tallied 51 goals and 42 assists in five seasons as a Red Bull, and Robbie Keane amassed 83 goals and 45 assists in 125 games for the LA Galaxy. Even Andrea Pirlo limped his way to 18 assists in three seasons at Yankee Stadium of NYCFC.
The knock on MLS has long been that its biggest names are past-their-prime European castoffs mingling with assorted talent. That might have been the case 12 years ago, when the average age of a DP was just over 31 -- it wasn't until 2011 that there was a DP younger than 24 -- but quietly, MLS has gotten younger and more competitive.
In 2019, 26 of the 72 DPs (roughly 36%) were 24 or younger when the season started, or if they were transferred midseason, at the time of the move. The average DP age across the board is 26.7. Vela, who turned 30 in March, notched at least nine goals in five of his seven seasons in Spain before becoming the face of LAFC and breaking the single-season MLS scoring record, set by Atlanta United's Martinez, then 25, in 2018.
The league has lost young talent in recent years, with Atlanta United's Miguel Almiron (Newcastle), Vancouver's Alphonso Davies (Bayern Munich), Red Bulls' Tyler Adams (RB Leipzig), New York City FC's Jack Harrison (Manchester City) all leaving -- you can even go back to when Matt Miazga and DeAndre Yedlin were purchased by Chelsea and Tottenham, respectively. And yet, Zlatan waves all the evidence away with a dismissive, if gloriously tattooed, shrug.
Despite recently turning 38, Ibrahimovic has banged in 52 goals and added 17 assists in only 56 games. Of all players in MLS history with 50 goals, no one scores more often than Zlatan, who manages a goal every 91.4 minutes. Martinez, at 92.8, is the only other player in that club who averages a goal every less than 128 minutes. -- Dan Hajducky
---
Performance: Zlatan is at the top of the class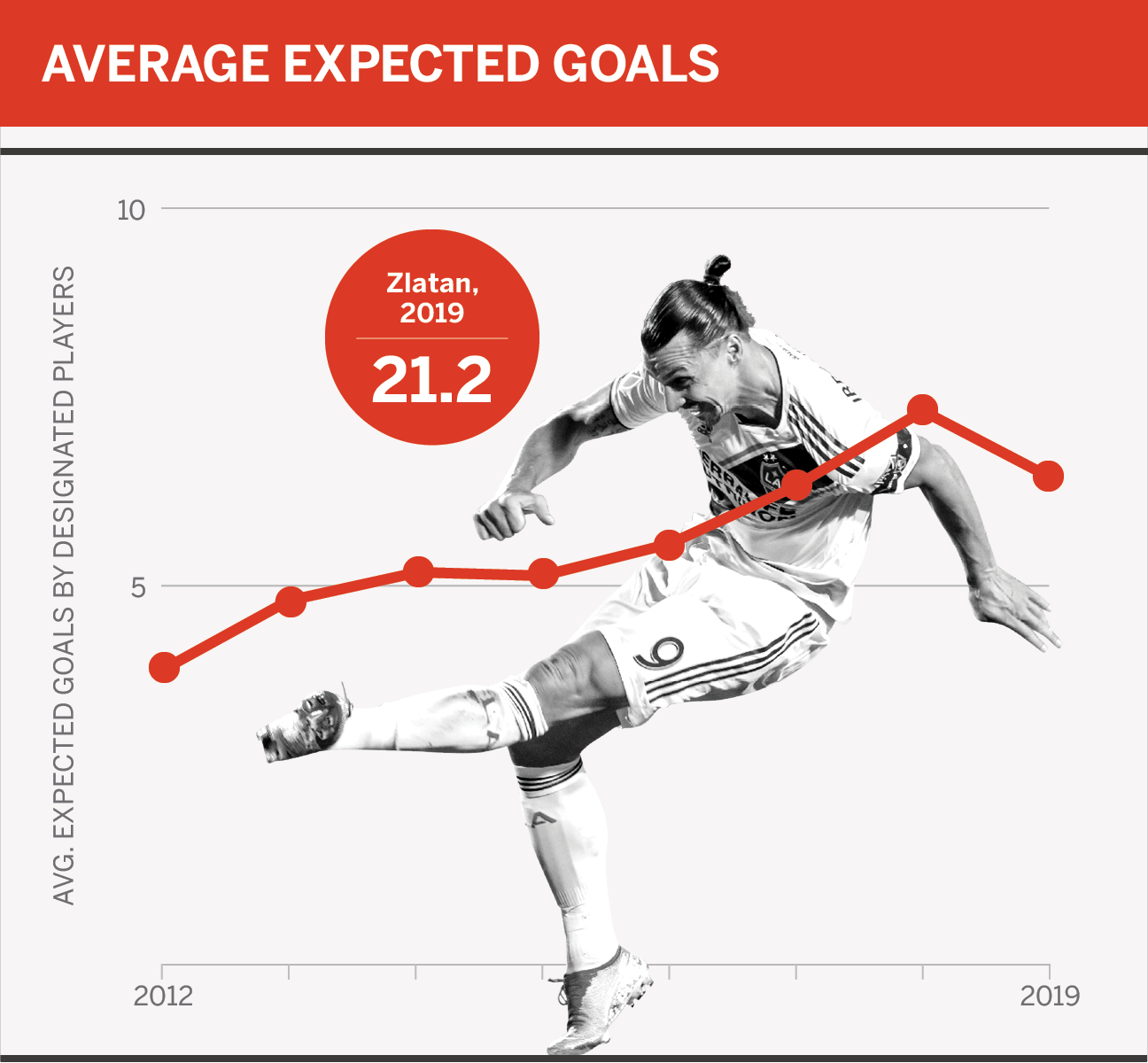 When it comes to getting bang for your buck, very few have delivered more than Ibrahimovic. In fact, only two players, Martinez and Vela, have delivered a higher expected goals total (xG) than Zlatan. (Expected goals are the cumulative number of goals that would be expected to be scored taking into account shot quality and shot volume.)
In 2019, Ibrahimovic had 51 shots on target from open play, second most in the league behind Vela. Ibrahimovic was such an important part of the LA Galaxy offense that 259 possessions that he was involved in ended with a shot, and 47 possessions he was involved in ended in a goal, third most in MLS. Perhaps most important when it comes to setting up the offense, possessions involving Ibrahimovic advanced the ball 42.8 meters, most among any player with 20 or more games played.
---
And finally: Zlatan's the king of expected goals
Ibrahimovic's 21.16 xG total in 2019 was 14.71 higher than the average Designated Player. In fact, with Martinez and Vela recording their exceptional totals over the past two seasons, we are seeing the highest quality of Designated Player offensive play in MLS history.
In 2012, the average Designated Player averaged 3.90 xG but that total has risen steadily before it peaked in 2018, thanks to league MVP Martinez setting the MLS xG record with 34.11. Ibrahimovic's 2019 total would have led every single season before 2018, but this year he's joined at the top by Martinez's 2019 total of 23.22 and crosstown rival Vela's total of 22.75. In 2012, the average Designated Player had 33.7 shots and 4.32 goals. In 2018, those averages spiked to 59.53 and 7.86.
As teams have spent more money on Designated Players, they've also become more precise with the ones they sign, as 57 of the 72 Designated Players in 2019 were either forwards or attacking midfielders. -- Sachin Dave Chandan