The 2019 Major League Soccer is cruising towards the halfway point and the annual All-Star Game, so what better time to see how the players are feeling about soccer in the U.S. and much, much more.
- Stream MLS on ESPN+
- MLS shopping lists: Who needs what in the summer transfer window?
- What happened to Freddy Adu?
As has become a tradition at ESPN, we asked MLS players during preseason and the early weeks of the 2019 campaign for their thoughts about some hot-button issues in the sport, collecting their answers for our fifth edition of MLS Confidential. This year, we went a step further: how do they spend time away from the pitch? What do they like to eat? Are they movie fans or do they prefer binge-watching TV shows? Which kits are their faves, and which teams do they hate going to play the most?
For the first time, all 24 MLS teams -- and 128 players -- put up responses as we compile the most comprehensive and colorful edition yet. Also of note: the illustrations are representations of the answers we received as all players provided answers on the condition of anonymity.
Previous editions: 2018 | 2017 | 2016 | 2015
Let's get into it.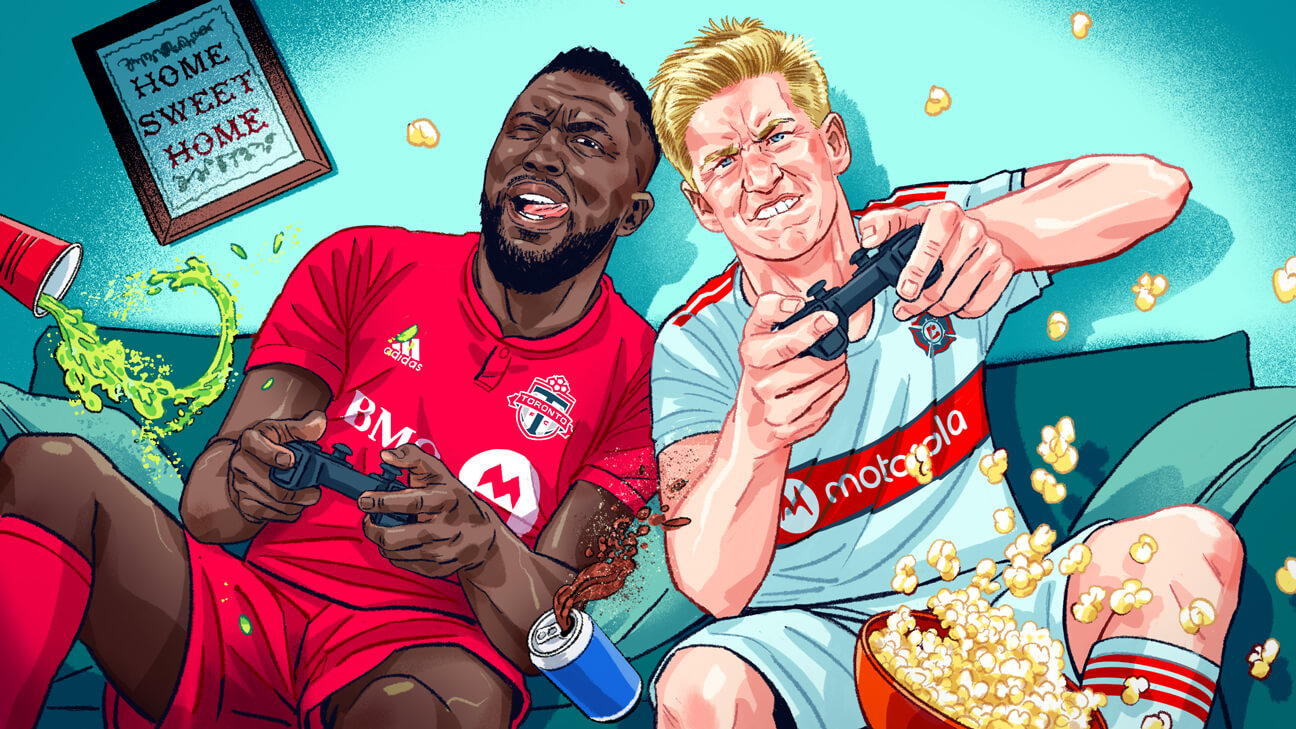 DOWNTIME: How they relax away from the field
Being a pro athlete means you're constantly in the spotlight when you're at work, doing your job, but how do the stars of MLS spend their time when they're not on the clock?
---
1. How do you unwind after a win?
Drinks: 26 percent
Go home/hang with family: 24 percent
Celebrate with teammates/go out on the town: 24 percent
Go for a nice dinner: 16 percent
Relax/sleep/recover: 10 percent
What the players said:
"I usually can't sleep much [after a game] so I chill with my dog and watch some TV."
"I celebrate at home with my family: my kids really help put it all in perspective."
"Probably just go out and have a few drinks with teammates. Nothing crazy."
---
2. Do you have a secret Twitter account?
No: 92 percent
Yes: 3 percent
No comment: 2 percent
Don't use Twitter: 2 percent
I used to: >1 percent
Secret account elsewhere (e.g. Instagram): >1 percent
What the players said:
"Nope. I tweet what I want."
"I used to. We used to have them in the USL so we could tweet out funny observations, not to argue with anyone."
"Twitter, no, but Instagram, yes. It's just for friends."
"No. I don't need that. I'm pretty secure with who I am."
---
3. Date night or Netflix?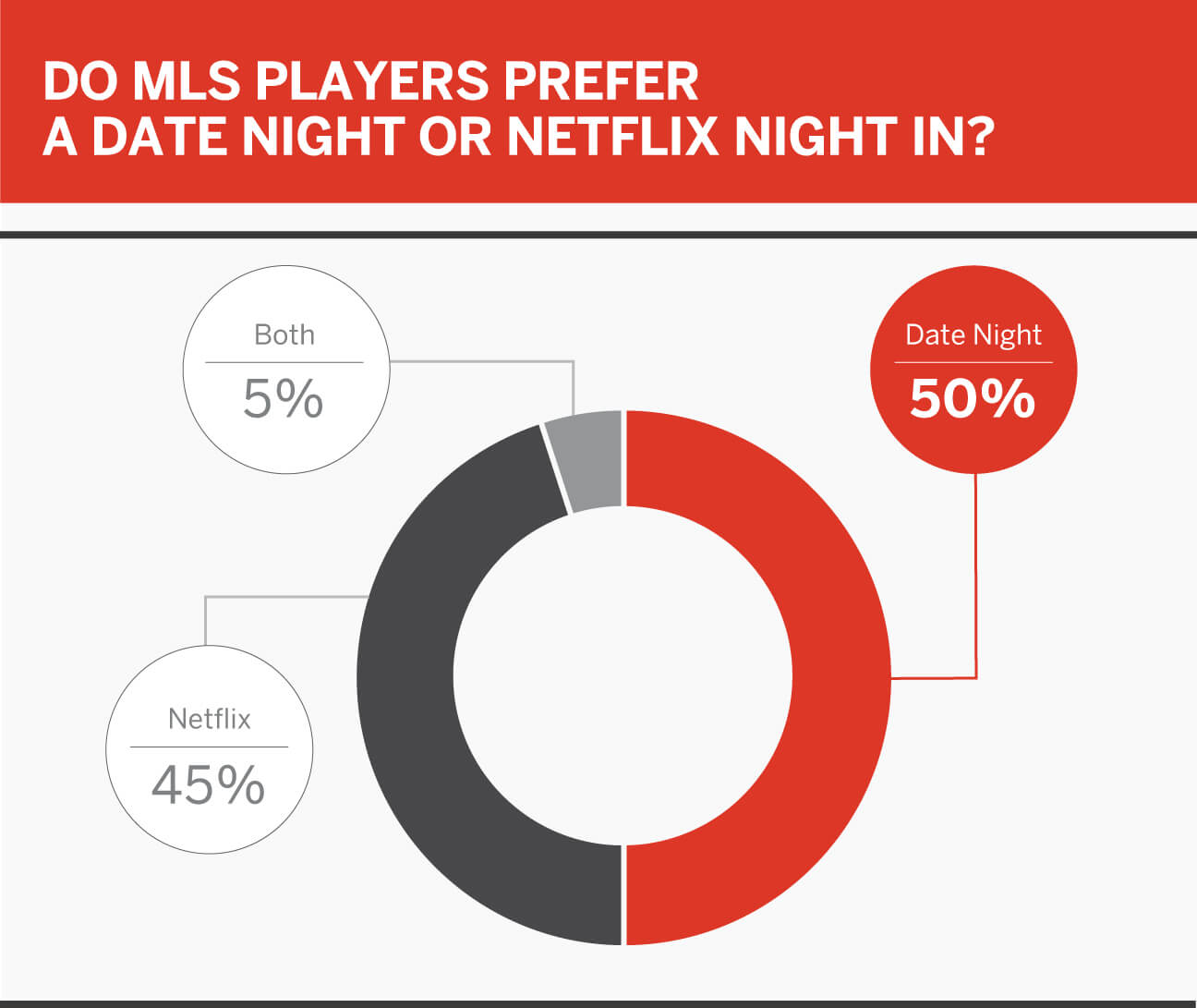 What the players said:
"Players are always inside chilling so it's nice to go out."
"Date night because when you become a dad, they are so rare."
"Netflix. Going out is expensive. I'm a low-key guy, it fits my personality."
"Netflix. It's more relaxing. Me and my fiancé can just hang out on the couch."
---
4. Fortnite or FIFA?
FIFA: 63 percent
Fortnite: 29 percent
Neither/no video games: 5 percent
Other game: 3 percent
What the players said:
"FIFA. I played Fortnite once and I died in about two seconds."
"Fortnite because I'm doing too much soccer already."
"FIFA. Fortnite is overrated."
"Fortnite because of the banter with the guys."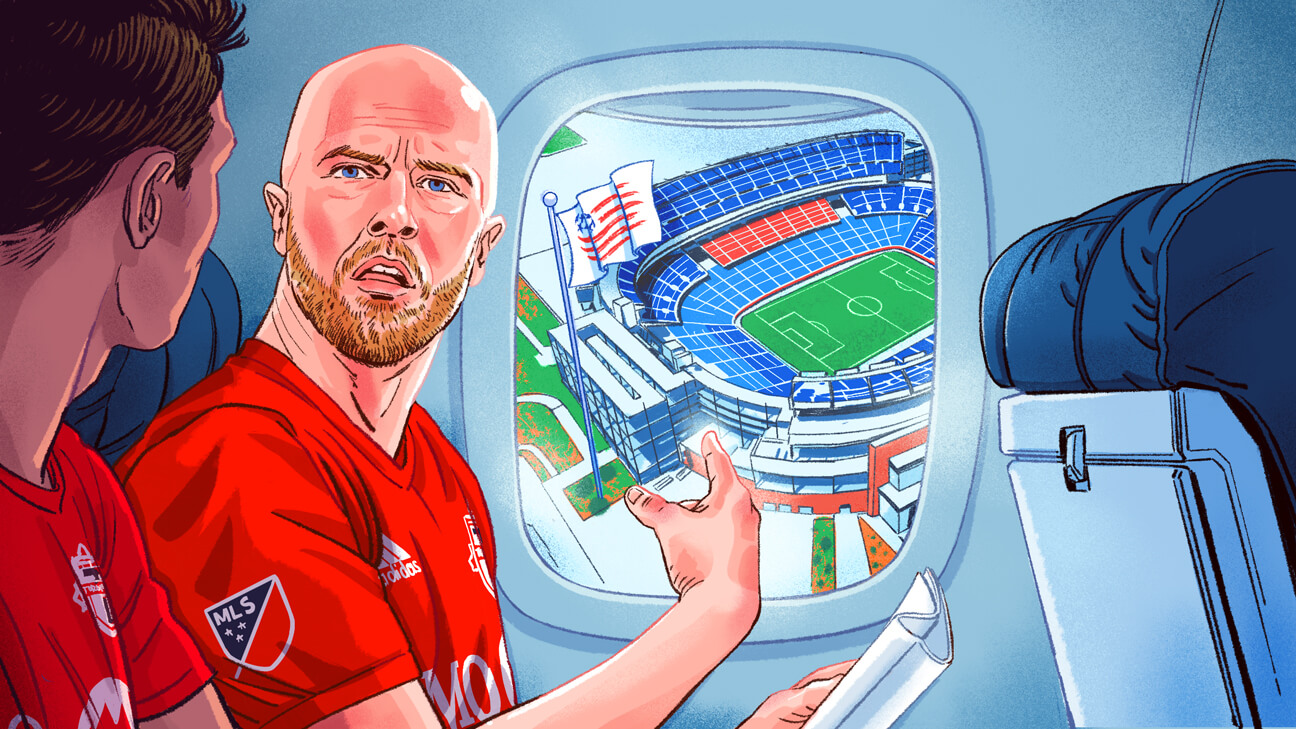 WORK MATTERS: MLS players on MLS
It's game day. That means focus, preparation and execution. How do the players get ready for the big game? How do they celebrate after a big win? Which road trips do they dread as soon as they see the schedule? And how does this generation feel about the revamped playoff format -- which boasts single-elimination games hosted by the higher seeds instead of a two-legged process -- and the age-old question of whether U.S. soccer can handle promotion and relegation?
---
1. Which away game do you dread the most, and why?
New England: 23 percent
Houston: 12 percent
Columbus: 11 percent
Real Salt Lake: 7 percent
Orlando: 5 percent
Kansas City: 4 percent
San Jose: 4 percent
Dallas: 4 percent
Montreal: 4 percent
Vancouver: 4 percent
New York (Red Bulls or NYCFC): 4 percent
Minnesota: 3 percent
Toronto: 3 percent
LA (Galaxy or LAFC): 3 percent
Don't have one/love all road games: 3 percent
Seattle: 2 percent
Colorado: 2 percent
Philadelphia: >1 percent
Atlanta: >1 percent
What the players said:
"The cross-country flights are pretty tough, but New England is the worst. The hotel is right next to the stadium and there's nothing else to do around there. The fans aren't the best, the field isn't the best. Just the whole package I guess."
"Columbus, dull city and black and gray all the time."
"Houston: it's a long trip, always hot there and downtown is a ghost town on weekends."
"NYCFC: Small pitch, not many fans, long ride to the stadium from the city."
"New England. Terrible turf. Tom Brady world. Trader Joes and Bass Pro Shops."
"RSL/Utah, because it wouldn't be a place I'd like to live. A friend living out here said it's boring unless you are really into the outdoors."
---
2. What are your pregame rituals or superstitions?
None/not really: 43 percent
Same meals/routines: 18 percent
Same clothing and/or same pattern of getting dressed: 17 percent
Same music: 8 percent
Too many to note: 6 percent
Other: 8 percent
What the players said:
"I always listen to the same two songs before I take the headphones off and shut the phone off. I have smaller ones too. After the team picture on the field I always come over to the equipment guy and get a sip of water, then sprint towards the fans to acknowledge them and then come back to the huddle. It's always the same. [What two songs?] 'Congratulations' and 'Goosebumps.'"
"None. I learned early on that if you start doing that, you'll go crazy trying to remember everything. I do walk with my right foot on the pitch first, but that's more out of habit."
"I'm not too superstitious. I like to keep with my routine but it's a loose routine. So as long as I'm doing the things around my routine, like my pregame meal at a certain time, if I can get some pasta before a game, but I'm not superstitious."
"I watch the same YouTube video before every game. Eden Hazard, the dribbling machine."
"If I score, I'll eat the exact same stuff and at the same time have coffee. If I don't score, I'll change it up."
"If we lose a game or I played poorly, I won't wear the same kit and socks again."
---
3. Who has the best kit in MLS?
LAFC: 26 percent
Atlanta: 16 percent
Sporting KC: 13 percent
Seattle: 11 percent
FC Cincinnati: 6 percent
Orlando: 5 percent
Vancouver: 5 percent
NYCFC: 5 percent
Portland: 4 percent
New York Red Bulls: 2 percent
LA Galaxy: 2 percent
Chicago: 2 percent
Montreal: 2 percent
Real Salt Lake: >1 percent
Chicago: >1 percent
DC United: >1 percent
Minnesota: >1 percent
Toronto FC: >1 percent
What the players said:
"Seattle. The black and pink is nice and tight."
"LAFC. I like the bad boy look. They always look like the bad boys of L.A., like the Raiders used to."
"Atlanta. They are sharp: can't go wrong with black and red."
"Atlanta, because I was there to help put that star on."
"Sporting KC. They always have something nice and clean."
"Love Orlando's all-purple kits."
"Cincinnati. I like the orange and blue. I think it's a good combo."
LAFC. I've always liked their jerseys. Simple and they have an impact."
---
4. New playoff format: love it or hate it?
Love it: 68 percent
Meh/don't care: 23 percent
Hate it: 9 percent
What the players said:
"Love it. I just feel like that the best teams over the course of the season should be rewarded with a one-off game at home in front of their fans. It also eliminates a lot of travel. I like the advantage for the higher-seeded team."
"There are positives and negatives. It makes for a long offseason. If you go to MLS Cup final, you still get proper time to rest. If you don't make the playoffs, it might be too long. I don't want to be off the field for that long."
"I don't like it. I think that home and away is important, so when you cut that short, I don't think you're going to get the best team necessarily winning."
"Like it. It speeds up the process and you need just four good games to win the championship. It gives opportunity to a team that wouldn't necessarily have a chance."
---
5. Would you like to see promotion/relegation in MLS?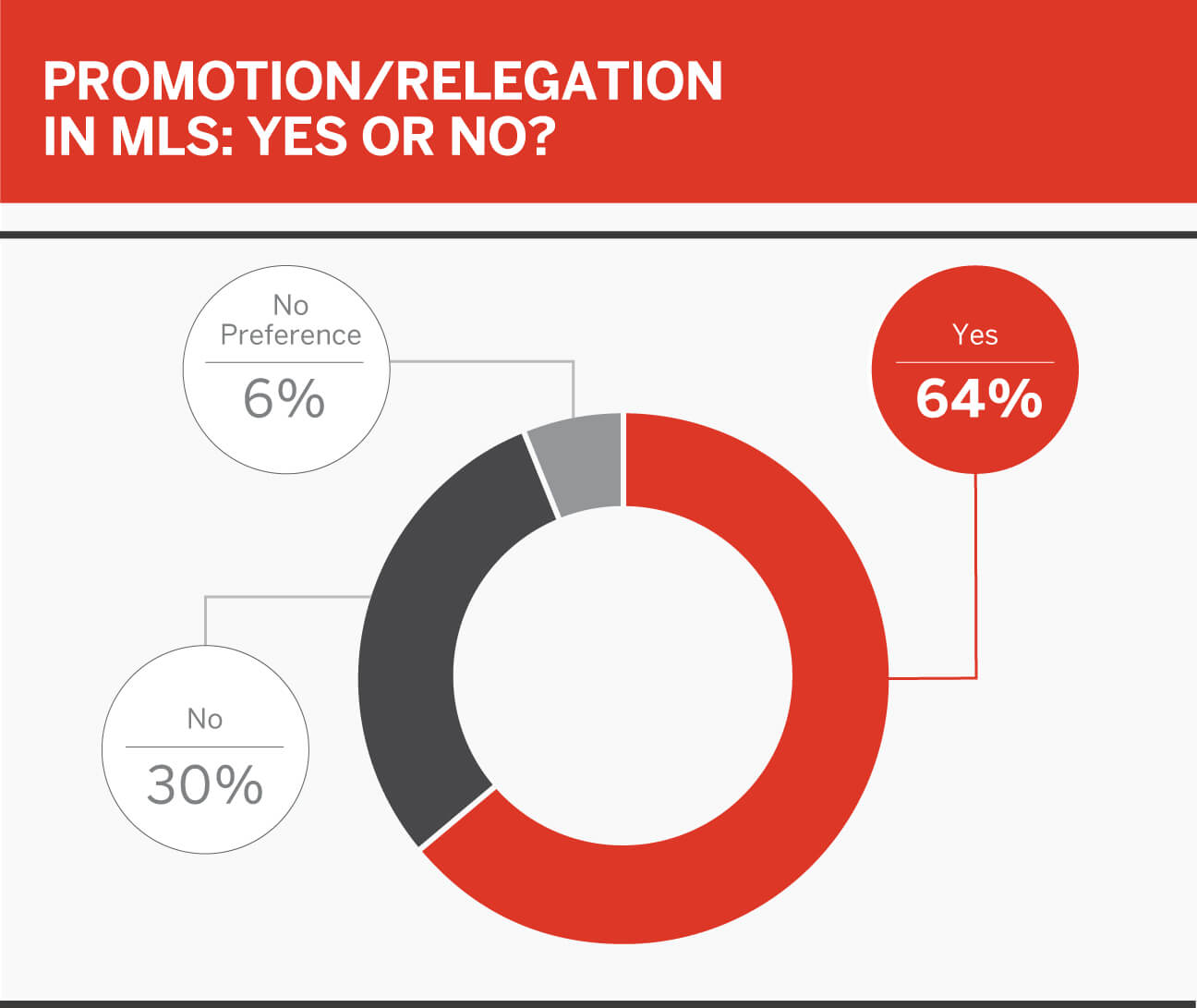 What the players said:
"No. I just don't think it's feasible. I don't think an MLS team that gets relegated will be supported the way it needs to be supported. I think that the fan base isn't strong enough yet and ownership will lose too much money. I also don't think a USL team that comes up will be able to compete without spending a ton of money."
"It would never work. There's no infrastructure within the lower leagues. I think there's MLS teams that are still figuring things out, and it would just demolish the league entirely."
"If there are enough solid teams, yes. If we can get to 30 teams that average 15 thousand and above, 100 percent. But I wouldn't want to have 5,000 fans a game. I did it in Norway in the second division and those games are no fun to play in."
"No: It's too early for that in my opinion. I just think we can't afford to have a team like Atlanta or Seattle or Portland, a big-market team, get relegated and then have a team like Orange County come up. It would be ridiculous to play in front of 200 people at Orange County's USL stadium."
"No. I don't think U.S. Soccer is stable enough with the lower-level teams. I think if you look at how the USL played out last year, if a team like Red Bulls 2 won it, then you'd have an academy league playing in MLS."
"I just think the competition within the league and the Supporters' Shield race as the season winds down, some teams just tend to throw in the towel. And if there's promotion/relegation, the quality of games is still going to be high all the way through."
"Yes, 100 percent. I feel like it brings a lot more pressure. The competition will propel the sport even further in this country and the development. I think soccer should be more like the rest of the world in this country."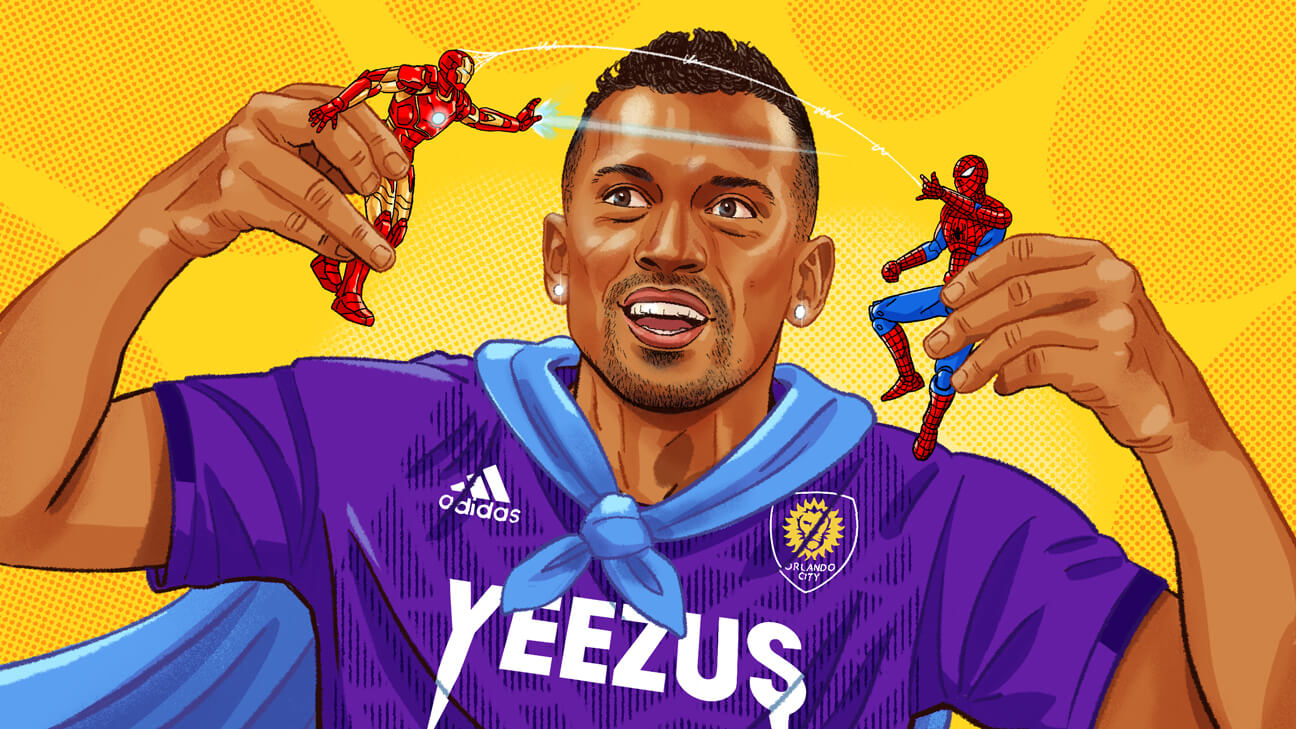 POP CULTURE: A look at their own fandom
Athletes have faves of their own, you know. Which musicians, movies and TV shows do they enjoy, especially when trying to relax or while traveling to a road game?
---
1. Who's your favorite superhero
Batman: 28 percent
Superman: 19 percent
Spider-Man: 15 percent
Thor: 5 percent
Hulk: 5 percent
Iron Man: 5 percent
OTHER (receiving 1 vote): 5 percent
The Flash: 5 percent
Black Panther: 3 percent
Captain America: 3 percent
Wolverine: 3 percent
Power Rangers: >1 percent
Teenage Mutant Ninja Turtles: >1 percent
Deadpool: >1 percent
My parents: >1 percent
What the players said:
"My Dad. He's done everything for me."
"Batman. He's the most realistic of superheroes. He's got the human element to him."
"I'm kind of into the Thor movies. I like watching him walk around and just whack people with his hammer."
"As a kid I really liked the Flash, but his movies are trash so I don't know if I like him anymore. I'm gonna go with the Flash."
"Iron Man. I like his house and that he's big on technology. I love all the gadgets he has."
"Captain America because it's one of the nicknames I used to have. I even have a tattoo."
"Spider-Man. I grew up with his comics. My dad read me his comics. He's young, relatable and makes mistakes."
---
2. Which TV show are you binging?
Game of Thrones: 28 percent
The Office: 11 percent
Friends: 5 percent
Ozark: 5 percent
Don't watch much TV: 5 percent
Stranger Things: 2 percent
The Wire: 2 percent
Suits: 2 percent
Other (shows receiving one vote each): 40 percent
What the players said:
"I could watch the 'Fresh Prince of Bel-Air' and 'Martin' all day long and not get tired of them."
"'Game of Thrones.' I'm into the ancient times and dragons. It's pretty dope the way they put everything together."
"'Game of Thrones.' It has everything: drama, betrayal, violence."
"'The Office.' It's funny, it's realistic. The humor is so subtle that every time you watch it you catch something new."
"'Ozark.' The suspense always leaves you wanting to know what happens next."
---
3. Who do you prefer: Kanye West or Drake?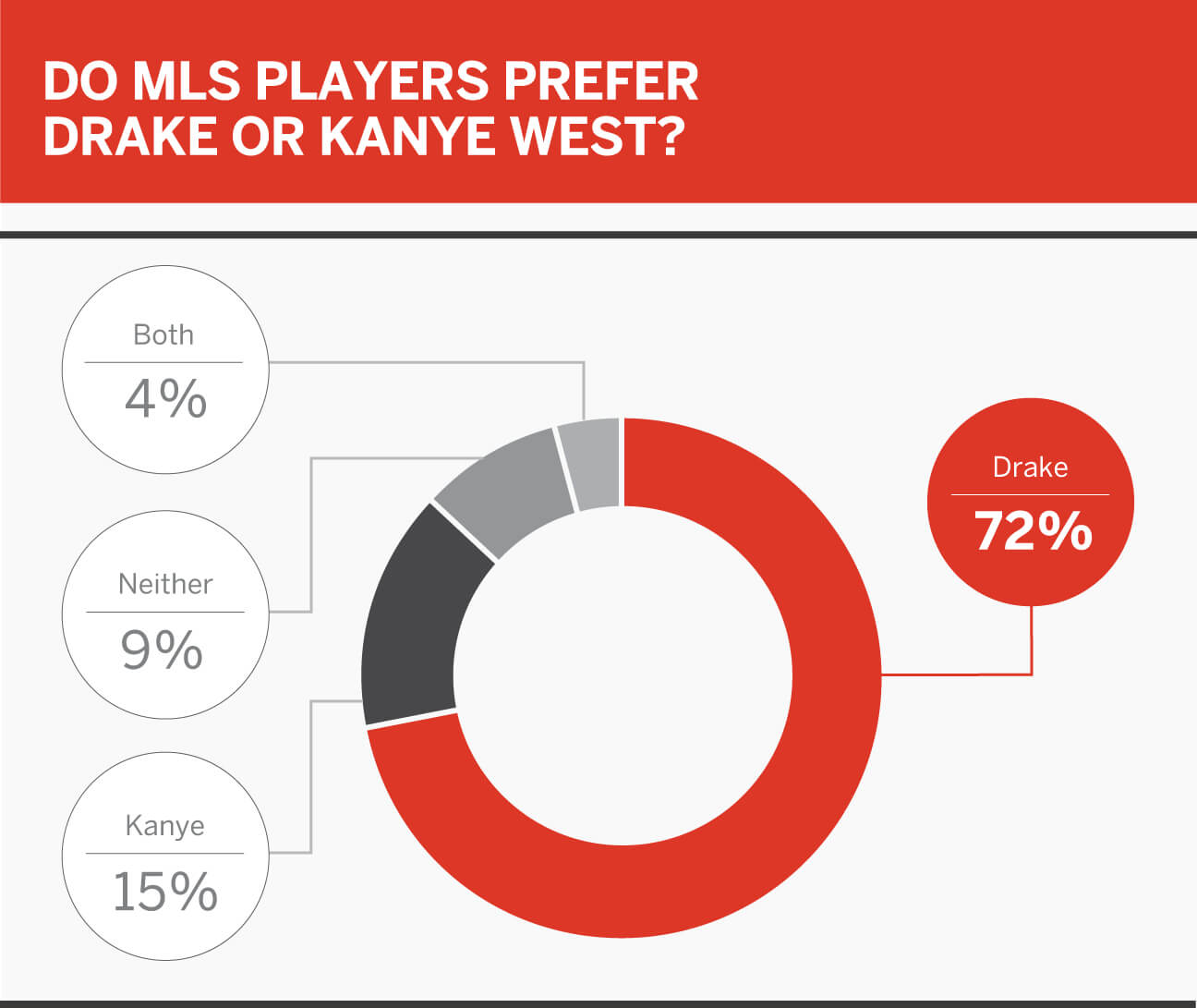 What the players said:
"Drake. With Kanye, you never know what's gonna come out of his mouth."
"Kanye just because he's a better rapper. He's a better MC. Better lyrics. Drake is one of the best musicians of this century but Kanye could rap circles around Drake."
"Drake. He just makes better music. Right now he's untouchable. His worst song is Kanye's best song."
"Drake. Kanye is an idiot right now. I really don't like his ideas."
"Drake. I like old Kanye but new Kanye has me with mixed feelings."
"Drake, easy. Kanye's losing his mind."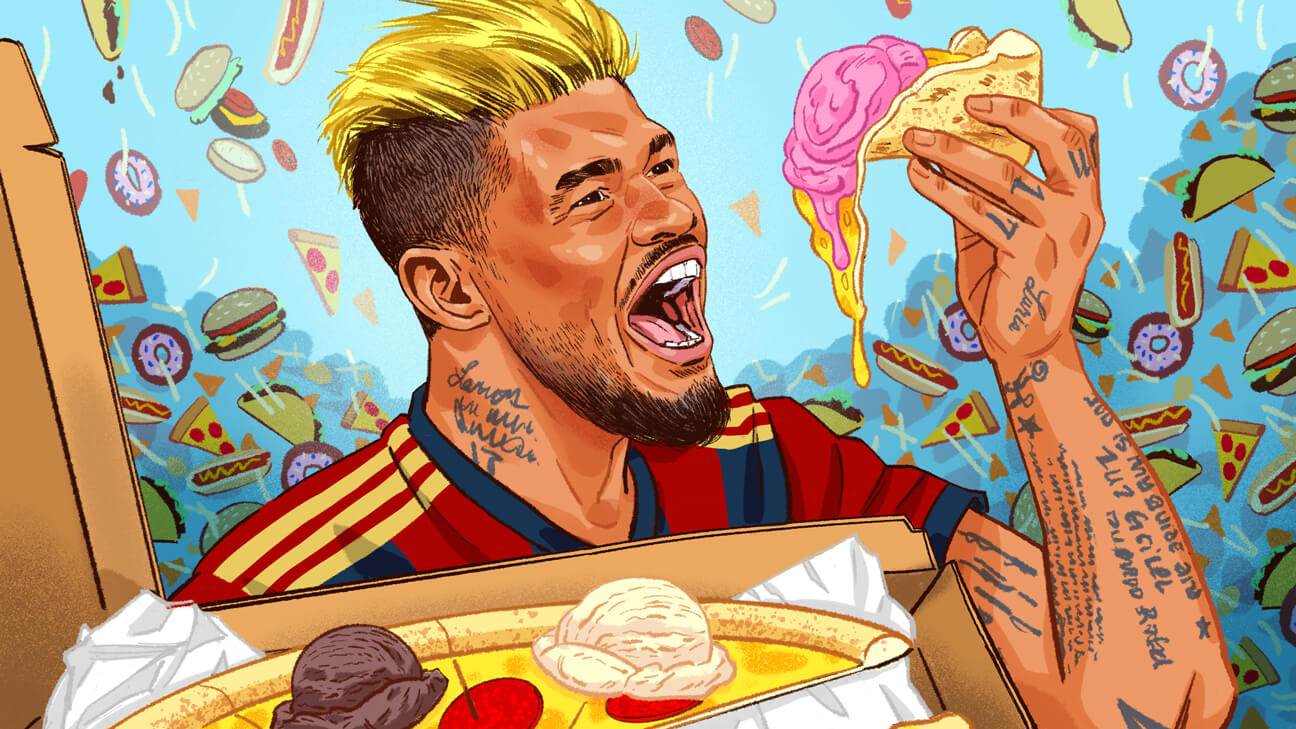 FOOD: How the pros eat
Food is fuel for athletes but it's also something to be enjoyed after practice, at the holidays or during the offseason.
---
1. You've got one meal today: Burgers or tacos?
Burgers: 58 percent
Tacos: 40 percent
Both: 2 percent
What the players said:
"What's not to like about a good burger?"
"Good tacos, I should stress. Street tacos."
"It's a tie between American burgers and straight Mexican street tacos."
"I grew up in SoCal so I'm all about tacos. Carne asada is good."
"Being from Cali, Mexican food is a staple for me."
"Burgers. Tacos are too soggy."
"If I had to eat only one the rest of my life, I would go tacos."
---
2. What's your favorite cheat meal?
What the players said:
"Pizza. I'm from New York and it's just my go-to if I'm going to eat like crap."
"Something with peanut butter. Peanut butter is amazing."
"Chocolate runs through my veins."
"I have a sweet tooth. S'mores. Make 'em in the house myself, love 'em."
---
3. What's your go-to food before the game?
Chicken/carbs/veggies: 54 percent
Pasta: 18 percent
Fish/carbs/veggies: 11 percent
Chicken parmesan sandwich: 5 percent
PB&J sandwich: 4 percent
Eggs: 4 percent
Soup: 3 percent
Anything/no preference: >1 percent