NAILSWORTH, England -- It began with a hippy, a way-out idea and a windmill at the top of a hill and has mushroomed into an outlandishly new way of footballing life. This is the odyssey of Forest Green Rovers, a little sports club with big dreams like no other, the repository of two fantastically improbable stories.
First, there's the football bit -- the fairy tale, as they like to call it, of a village team on the verge of bankruptcy who have risen to become the club from the smallest community ever to host a team in England's professional Football League.
Then, there's the uniquely green bit, the fact that vegan-embracing, eco-friendly Forest Green have a very different ethos from perhaps any other sports organisation as they aim "to be the most sustainable football club in the world," as owner Dale Vince, a multimillionaire entrepreneur and former eco-warrior, trumpets.
When they won promotion to the league with their May playoff victory at English football's most storied cathedral, Wembley Stadium, Bob Hunt, the BBC Radio Gloucestershire commentator, marked the moment with the memorable cry: "Cheltenham, Swindon, Newport, you're going to eat hummus at The New Lawn next season as Forest Green Rovers have been promoted to the Football League!"
The "little club up the hill" a mile from the Gloucestershire market town of Nailsworth -- population 5,794 -- will on Saturday meet Barnet in their League Two debut. The fans who descend on The New Lawn, Rovers' home in the heart of England's lovely Cotswold hills, for that historic match will have to brace themselves for, as the very British Monty Python comedy team would always put it, "something completely different."
They will find themselves in a football ground -- the road where the stadium is situated is called, rather fittingly, Another Way -- run on organic principles. Rovers are making pitch irrigation independent from the water mains, using a combination of rain, drain and spring water. No pesticides or man-made chemicals are used on the pitch. The visible solar panels power an electric "mow-bot" which, using GPS technology, cuts the grass in the middle of the night without human intervention.
Outside the ticket office you can find charging points for electric vehicles and poster boards explaining the club's sustainability policies. Inside, most strikingly, the age-old British footballing tradition of fans chomping on gristly hamburgers, meat pies and beefy hot drinks has been consigned to the 20th-century dustbin. Only organic food and a vegan menu is on offer. Steak and kidney pies are out; Q Pies, a creation made of leek and Quorn, a meat substitute, served with vegan gravy are in. If you want a cup of tea, it will come with oat milk or soya.
"These two stories make a great combo," Vince said with a smile. "The football and the green message support each other; it's a symbiosis. If we do great on the football pitch, then what we say about organic, vegan and electric cars has more resonance.
"What's more important, the football or the message? It's the same thing for me because we're doing it our way. If you cut us open like a stick of rock, you'll see the environment runs all the way through us. It's is in our DNA."
---
A MILE UP the single-track road that winds up the hill overlooking The New Lawn, Vince points to the windmill that powered the unlikeliest and most remarkable of sporting revolutions.
It was back in the early 1990s, he reflected, and he was a 30-year-old hippy at the crossroads of his life. For a decade, he had lived an alternative lifestyle in an eight-wheel ex-U.S. Air Force radar trailer that he'd gotten from a scrapyard and equipped with a wind turbine. "I'd dropped out, turned my back on all of the conventional ideas of how life should go with careers and mortgages and that kind of stuff, and I didn't like being told what to do," he recalled. "I was a bit of a rebel."
Vince had made ends meet by earning a few bob as a motor bike mechanic as he and his mates travelled around in a mobile community of eco-travellers. From Stonehenge, where he'd been part of the "Peace Convoy" that attempted to stage a free festival there in 1985, to Molesworth, the RAF base where he had protested against the occupation of U.S. cruise missiles, clashes with the police were not uncommon.
In 1991, though, camped at the top of this windy hill, with the blades of the turbine atop his trailer whirring round, Vince had his eureka moment.
"Living up there, I thought, 'I could live like this for another 10 years or I could try and build a big windmill and try and change the way things are done in this country,'" he mused.
The result was a five-year battle to gain planning permission and build the industrial turbine which now stands as a symbol of the world's first green electricity company, Ecotricity, which Vince has since transformed into Britain's largest, and most environmentally friendly, business of its type.
Vince, a dad of three, is a youthful-looking 55, and in his jeans, patterned T-shirt and earrings could still comfortably pass as the old, cool New Age warrior rather than the tycoon believed to be worth over £100 million who's changed the way electricity is made and used in Britain.
He's overseen the building of the "Nemesis," an electric "supercar." He's set up a national network of charging points for electric cars. He is adamant that his one dream is to "show the world a new way to live."
And right at the heart of his revolution, as he sits overlooking the completely organic football pitch underneath the solar panels on the stadium roof, is his ownership of a professional football team that has been hailed by FIFA as the "greenest club in the world." "How much do I love Forest Green Rovers? That's easy. I love it completely," he enthused.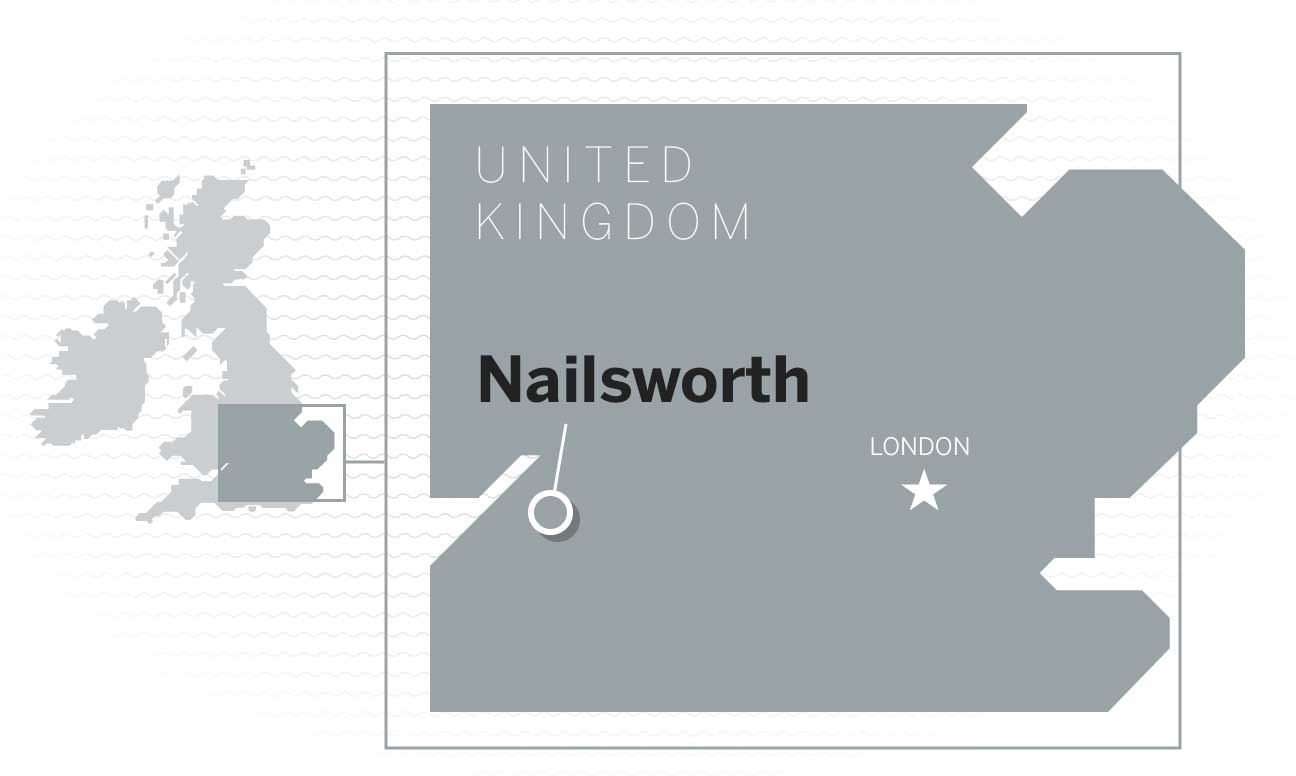 In 2010, Vince, by then having become the biggest local employer in the Stroud area of Gloucestershire, was approached by the club and asked if he might be prepared to help bail them out. Though they had just avoided relegation from the non-league fifth tier in England's footballing pyramid, they were almost bankrupt.
He'd loved football as a kid and played five-a-side games with his staff at Ecotricity (where everyone says he's a pretty decent centre-forward), but pumping money into sport was something completely new. Vince, though, gave them £40,000, an initial investment which was to turn into millions -- he won't say exactly how much -- as the team's fortunes rose.
"The club was about 120 years old at that crisis time," Vince said. "That's a lot of history -- and it was a big part of the community. I thought, 'This place matters; this is our backyard.' It was a stark choice. We could walk away and see it fail or actually take control and turn the club around, transform it from a volunteer-led, part-time club to a professional football club with the ambition and capability to go where we hoped to go. I never planned it. It just happened."
He became a highly visible club chairman.
"I want to change the world, and to do that, I've got to communicate to people, I've got to show them where the issues are and what they can do about them," he said. "And being the head of a football club gives me the chance to do that to a totally different audience, a new one, in the world of football and sport."
---
A BIT OF A MYTH has grown about Forest Green's adherence to veganism, which has been seen to go hand in hand with their rise as a team. Yes, only vegan food is now served at The New Lawn, but Vince does not, as popular folklore has it, demand that his staff and players all follow vegan lifestyles (or run electric cars around for that matter, even though the players all drove electric Nissan Leafs for nine months as part of a sponsorship deal).
"When we feed the players here at the club, we feed them a vegan diet, but we don't try to control what they do on their own time," Vince explained. "Same with our manager and fans. And our energy customers. We don't tell them what to do at home. That's just not the way we operate, and I don't think it's the right way to operate that way. Our approach to life is to show by doing."
Still, many of the players now savour vegan cooking, having been given lessons by the club's chef Em Franklin. Manager Mark Cooper, who guided Forest Green into the Football League in his first season, says Vince never talked to him about the environmental side of things, but it's definitely something he considers.
"The club shows the right way," he said. "I'm not a big meat eater, but you have to think about the way you live, and I think the players do too."
Defender Dale Bennett, one of the club's longest-serving players, was so inspired by the ethos, not to mention Franklin's plant-based creations -- that he has become the first of the playing staff to become a full-time vegan. He swears by the health benefits of his dramatically changed diet, saying he feels sharper and has recorded his best times on the treadmill in preseason training.
"I thought 'If anything, it might make me a better person and a better player,' so that's how it started," said the 27-year-old Bennett, who had just tucked into his evening meal of couscous, spinach leaves, chopped sweet potato and a vegan vegetable burger.
What do his teammates think? At other clubs, they would doubtless laugh, but not at Rovers. "No, it didn't faze any of them," he said. "It's nothing new around here. A lot of the boys have 80 percent vegan diets anyway."
First it was red meat, then white meat, fish and then dairy produce that got the boot at Forest Green.
"To be perfectly honest, when we [first] had the vegan menu, I thought it was going to be like eating cardboard," said Jonathan Duckworth, the mayor of Nailsworth.
Like many other Rovers fans -- he's been a supporter for 20 years -- he was to be pleasantly surprised by Franklin's culinary revolution.
"Now I come to a game and think I'll get there early and get something to eat. It's opened my eyes to how good vegan food is," he said.
Even though opposition fans now love to wind up Rovers supporters with cries of "We want meat!" on the terraces, long-standing supporter Matt Flagg can assure them they were lucky not to be here in the old days.
"I did have a beef burger up here once, and it was the worst thing I've ever eaten in my life," he said.
Of course, it's a bit of a culture shock for visiting fans. But as Helen Taylor, the club's new chief executive, points out, times have changed.
"It's less alien than it might have been in the past," she said. "We've managed to a certain degree to cater for a vast number of people with a huge range of vegan options and fans don't actually even notice that they are vegan -- they just taste great!"
---
COOPER, THE SON of former England international Terry Cooper, played for Forest Green in the early 2000s. "It was this friendly little part-time club, and we'd get applauded on and off the pitch every game because we were no threat to anyone," he said. "Fifteen years on, I've come back as manager -- and found that everybody hates us!"
The reason? Rovers fans see their rise as romantic, but opposition supporters in the National League only thought of Forest Green as a kind of non-league Chelsea or Manchester City, a club that's effectively bought its way into the Football League on the back of a multimillionaire sugar daddy.
"There's a lot of jealousy of us and myths surrounding us because everyone thinks we're earning £5,000 a week, and it's only when you get on the inside you realise that's not the case, that it's just a well-run club," Cooper said, "Yes, the chairman backs it financially, but it's nowhere near to the money that people say. We've got a competitive budget, yes, but it doesn't guarantee you anything."
Try telling that to opposition fans, though. Cooper reckons many of them must come to The New Lawn with wild preconceptions about the place being inhabited by weirdos.
"They think we're a bit mad, walking around in green suits and having big cauliflower heads," he said, laughing.
Certainly, in the finest tradition of English football mickey-taking, visiting supporters love to take the rise out of their hosts.
"They really do think all FGR fans are vegans," Flagg said. "We've seen fans from other teams come here dressed up as giant hot dogs to add their protest about there being no meat at the ground."
Cooper and his players just brush the opposition barbs aside.
"The whole area is green, it's different, so we just have to not care what others think of us," he said.
Some of the antipathy towards FGR stems from opponents' suspicion about the unconventional Vince, a chairman like none other in the annals of English football. In a strange way, in this era dominated by faceless owners, he's a throwback to when larger-than-life individuals dominated clubs. Many clubs still have a reputation for their stuffy male, suit-and-tie dominated boardrooms, so there was always bound to be the odd clash when Vince, with his refusal to wear a tie, was coming to town.
"That's a continual battle if I want to go to an away match," Vince said. "I have to check there's no rigid dress code. Some clubs are a bit stuffy like that, and if push comes to shove, then I'll go and watch in the stands. I don't have a tie, and I don't intend to buy one!"
---
NAILSWORTH, WHICH WAS once a thriving mill town and one of the richest settlements in pre-Industrial Revolution England, is proud of being the smallest locale ever to host a league club. Its quaint market-town surrounds are now inextricably linked with the football club, but Vince's plans for promotion and expansion are so grandiose that it could inevitably reshape Rovers' image.
Vince's vision is to move the club to the £100 million purpose-built Eco Park, situated about 10 miles away just off the M5 motorway and complete with conference and football training facilities and a business park for green businesses and technology companies.
"The move is a necessary step, but I don't think we'll lose our identity as a football club," Vince said. "We'll take it with us and it will put us on a global stage, because we want to create something that's never been seen in the world of sport before. It will be something special."
The Eco Park's centrepiece is planned to be an all-wooden stadium -- the first of its kind in the world -- created by Zahid Hadid, the firm that designed the 2012 Olympic aquatic stadium in London and one of the 2022 World Cup venues in Qatar.
"We've done our absolute best to make The New Lawn properly sustainable, but we've been limited with what we can do with it," Vince said of the club's current ground, which opened in 2006. "Now, we've started with a blank sheet of paper and we're going to create what we believe will not only be the greenest football stadium, but one that would be a wonder of modern football, a magnet for fans nationally."
Nothing is guaranteed yet, though; planning consent is still pending. But Vince sees the stadium being ready in in 3-4 years and his Rovers having earned a promotion to the third-tier League One by that time. And then ...
"I don't think it is outlandish to think we can get in the Championship (second tier) -- it's a realistic ambition. And at our new location, I think it is possible to be a Premier League club," he said. "It's not currently on our wish list, though. We want to keep our feet on the ground."
At Forest Green Rovers, though, this is not easy; they dream big and they dream green.
"We do things very differently, with a purpose and with a lot of integrity," Vince said. "We stand up for things that we believe are right or wrong. We're not focussed on the bottom line; that's not what we're there for, and that's very unusual in business. We're here to create a different kind of world."