The Toe Poke Daily is here every day to bring you all the weirdest stories, quirkiest viral content and top trolling that the internet has to offer, all in one place.
- How have Prem-winning captains fared as managers?
- We need to talk about these awful warm-up kits
- Firmino's stunning tattoo marks summer of success
It's that time of year again, with the Orlando City Stadium set to play host to the glitzy 2019 MLS All-Star game on Wednesday evening.
This year's guest opponents are Atletico Madrid, who will take on the best that MLS has to offer hoping to emulate the narrow victory that Juventus managed to pull off in last season's fixture.
To mark the occasion, we thought we'd piece together two fantasy XIs, one consisting of Premier League all-stars and one from the "Rest of Europe" and pit them against each other.
You may assume that the PL XI would be dominated by Man City and Liverpool players, but we've intentionally included names from an array of clubs to mix things up a bit.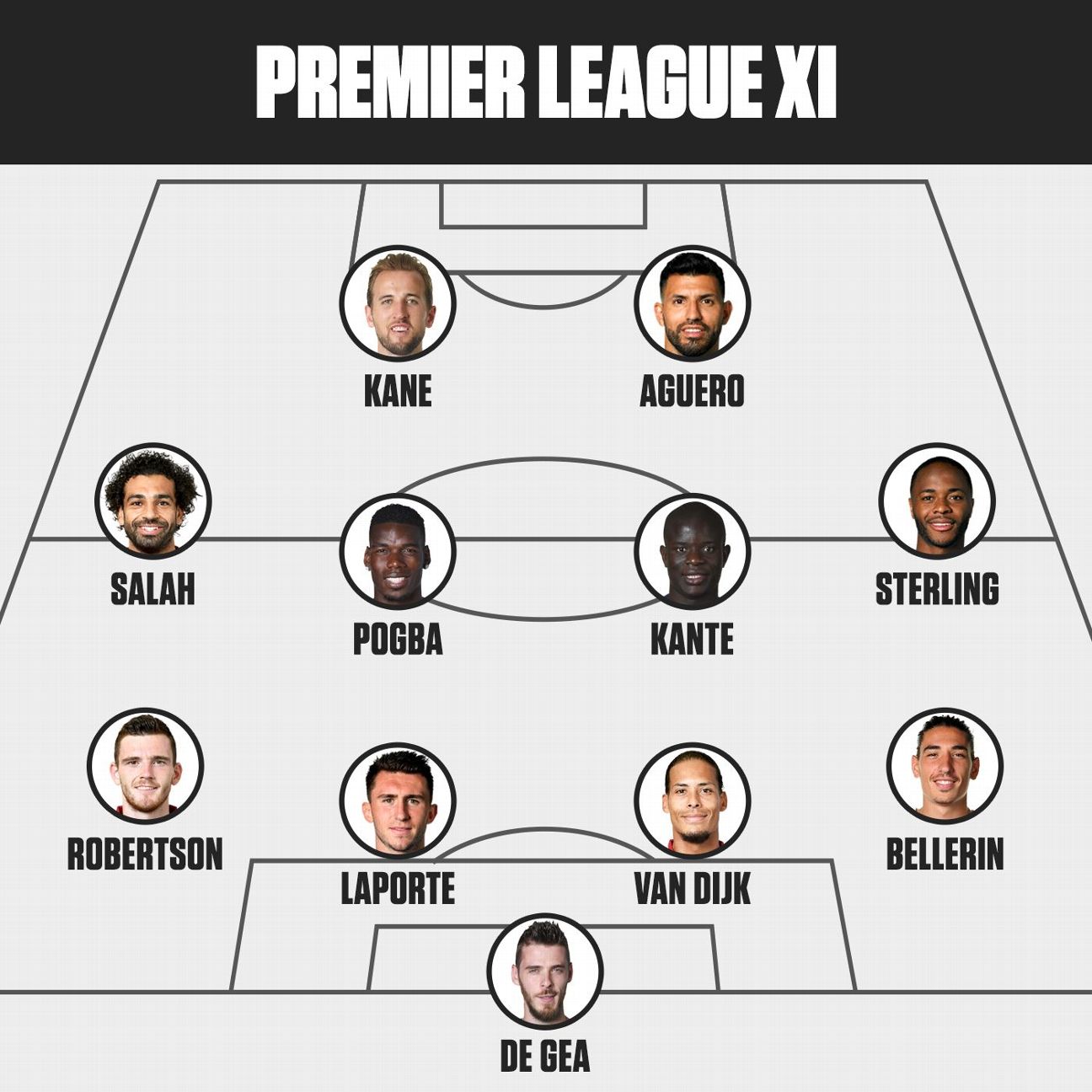 Premier League
David De Gea (Manchester United) - Lightning reactions and incredible agility, all honed by having to play behind Phil Jones for the last eight years.
Hector Bellerin (Arsenal) - Assuming he's back and fully fit, Bellerin is one of the most mobile full-backs in the world.
Virgil van Dijk (Liverpool) - A Champions League winner and a rock solid, calm and assured presence in any back four.
Aymeric Laporte (Manchester City) - One of the most improved defenders in the Premier League, a goal threat from set pieces and an instrumental part of Man City's title charge.
Andrew Robertson (Liverpool) - The Flying Scotsman is the scourge of opposing right-backs the world over. Also delivers a mean cross from just about anywhere on the left flank.
N'Golo Kante (Chelsea) - Played in his natural defensive midfield position, there are none better in the world.
Paul Pogba (Manchester United) - Certainly has his critics, but on his day Pogba is capable of turning the tide of a match on his own. You don't win World Cups by accident.
Raheem Sterling (Manchester City) - Contributed 25 goals to the Man City cause last season while firmly staking his claim as one of Pep Guardiola's go-to men.
Mohamed Salah (Liverpool) - The hardworking, free-scoring Egyptian has amassed 71 goals in 104 appearances since joining Liverpool in June 2017.
Harry Kane (Tottenham) - Tottenham and England's Mr. Reliable. Nothing too flashy, just a steady, unrelenting stream of goals.
Sergio Aguero (Manchester City) - Just the 231 goals and four Premier League titles in 338 appearances for Man City should be just enough to book Aguero a slot in the XI.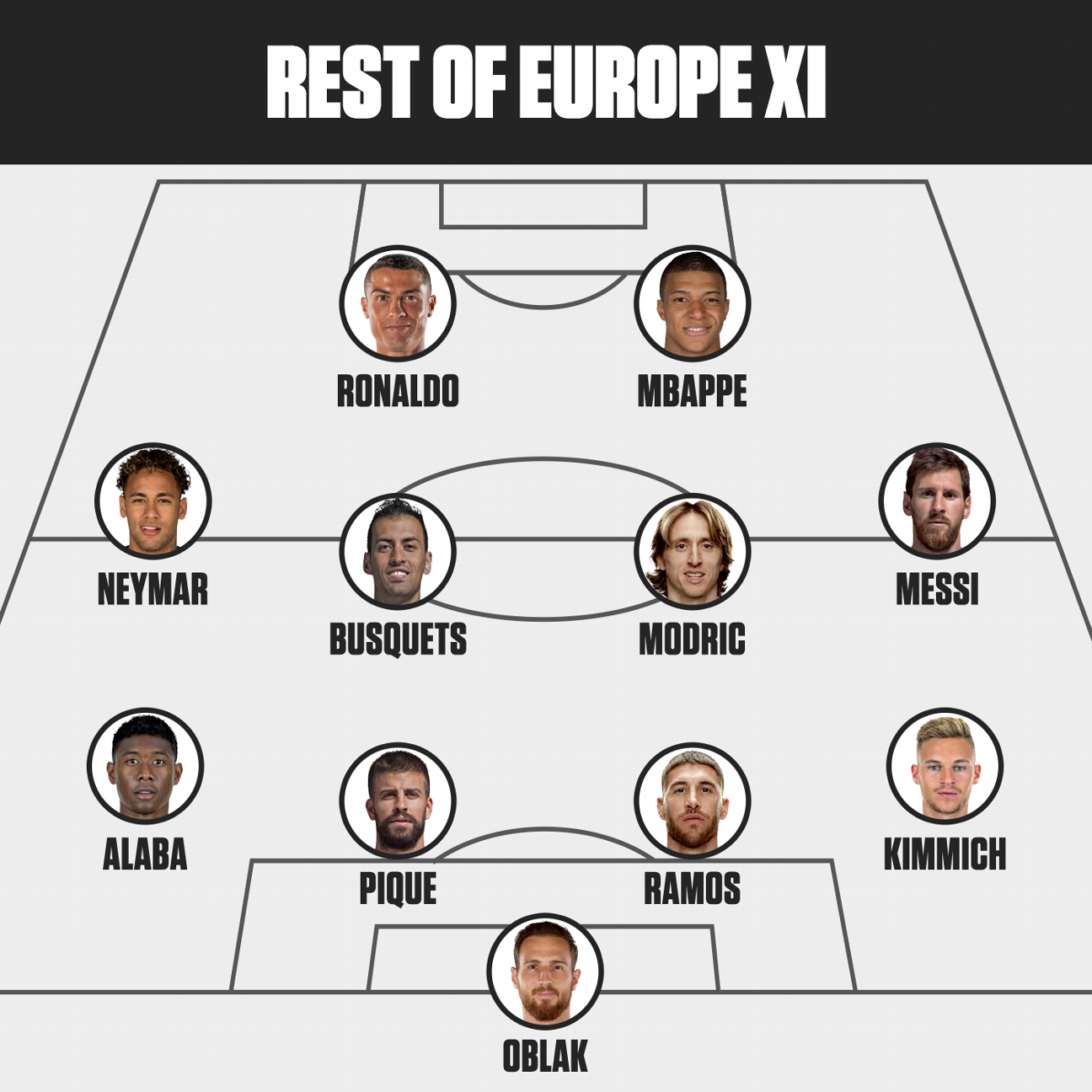 Rest of Europe
Jan Oblak (Atletico Madrid) - Who better to tend the net than the goalkeeper who has conceded the fewest amount of goals and kept the most amount of clean sheets in La Liga for the fourth season running?
Joshua Kimmich (Bayern Munich) - The versatile young defender has quickly been recognised as Bayern's spiritual successor to Philipp Lahm -- and compliments don't come much bigger than that.
Gerard Pique (Barcelona) - Stalwart of the Barcelona defence for many years, the Catalan centre-half knows what it takes to win at the highest level.
Sergio Ramos (Real Madrid) - Another member of the "been there, seen it, done it" club, Ramos has the trophy-laden CV to prove it.
David Alaba (Bayern Munich) - Still only 27 years old despite seemingly having been around for ages, Alaba remains one of the best, most sought-after left-backs in the world.
Sergio Busquets (Barcelona) - Seasoned master of the midfield dark arts. Nobody does what Busquets does better than he does.
Luka Modric (Real Madrid) - It's always nice to have a Ballon d'Or winner pulling strings in the engine room.
Neymar (PSG) - Injury problems may have knocked him off the boil of late, but the Brazilian is still a flamboyant force to be reckoned with.
Lionel Messi (Barcelona) - It'd be slightly remiss of us to leave the best player on the face of the planet out of the team, wouldn't it?
Cristiano Ronaldo (Juventus) - Ronaldo's entirely inevitable inclusion here brings the total number of Ballon d'Ors in the team up to an impressively hefty 11.
Kylian Mbappe (PSG) - A nailed-on superstar in the making, Mbappe already has the acceleration, skill and goal-scoring technique to terrify even the most experienced defenders.
But which team would win?
We have no idea, but we certainly want to be in stands watching on if the game ever takes place!