In case you're not familiar with expected goals (xG) yet, the statistic is built around the idea that the majority of teams and players convert the same chances at the same frequency. For the most part, the best teams and players aren't the best because of their ability to finish a high percentage of attempts; they're the best because of their ability to generate a high volume of high-quality shots.
In other words, it puts a number on the idea that you hear managers talk about every weekend: Who created the better chances?
- Power Rankings: Liverpool top as Barca, Juve climb up
- Ogden: What must the other 'Big Six' clubs do to catch Liverpool?
- Hunter: Is it time for Busquets to part ways with Camp Nou?
Now, that isn't to say that there aren't especially skilled finishers adept at catching a ball on the half-volley or nonchalantly lobbing an onrushing keeper. But the importance of that skill pales in comparison to the importance of getting the chances in the first place.
To wit: Robert Lewandowski and Pierre-Emerick Aubameyang are two of the best scorers of this generation. Since the 2014 World Cup, Lewandowski has more goals in domestic play than anyone not named Cristiano Ronaldo or Lionel Messi, and Aubameyang is just three spots and 15 goals behind him.
But guess what? They've each scored slightly fewer goals than expected in that stretch.
Which names pop up at the other end? Who's adding extra goals to their totals by consistently picking out the corners of the net?
---
Expected goals awards a value based on a number of factors, including the location of the shot, but all of those factors occur before the shot is taken. That's where Expected Goals on Target comes in. Here's how Opta describes it:
The Expected Goals on Target model is built on historical on-target shots and includes the original xG of the shot as well as the goalmouth location where the shot ended up. It gives more credit to shots that end up in the corners compared to shots that go straight down the middle of the goal. This model is for on-target shots, given that if you don't get your shot on target, there's a 0% chance that it will result in a goal.
To determine the best shooters, we can compare xG to xGOT to see which players have added the most value to their attempts. Using TruMedia data for all domestic seasons going back to the start of the 2014-15 season, we'll identify the best at a number of shots and end by identifying the best shooter of them all.
Best Header: Pablo de Blasis
First up: There aren't many good header-ers out there! Among the top 15 players in xG from headers since 2014, a whopping zero have added any value to their attempts. If you think about it, that makes total sense.
For starters, it's a lot harder to control a ball out of the air with your head than it is to direct a ball on the ground with your foot. Headers are also pure opportunity. You don't get in better positions to head the ball; you meet the ball where it is. On top of that, think of how many headed attempts come from a player just shoving his noggin into a crowd of defenders and hoping to make contact with a cross. There's nothing wrong with that from a strategic perspective, but it's not the recipe for an efficient conversion profile.
Given all that, perhaps it's not a surprise that the award for "Best Header-er" goes to 5-foot-4 Argentinian winger Pablo de Blasis, who currently plays for Eibar in La Liga. (Here's a taste of his skills.)
Because he's so tiny, De Blasis is typically getting his head on the ball only when he's in a lot of space, but he's a master of accelerating at the last second, cutting in front of a defender and using the full force of his movement to direct the ball into the corner. He has added 2.79 expected goals to his headed attempts since 2014, and another South American winger, Juan Cuadrado, is the only other player to break two.
De Blasis has scored four goals on headers since 2014, and among players his height or shorter, the entirety of the player pool in Europe's Big Five leagues has scored five. De Blasis has attempted 35 headed shots, and no one else in the 5-foot-4-or-shorter cohort has more than 16.
The 31-year-old has never been called up by Argentina. From Messi's foot to De Blasis's head: It's the path to the 2020 Copa America title. Who's with me?
Best long-range shooter: Philippe Coutinho
Since 2014, the average open-play shot has been converted 9.7% of the time. Move that attempt to outside the box -- beyond 18 yards -- and the number plummets to 3.2%. Managers and players have seemingly become aware of this, as the total number of shots from outside the 18 has slowly declined over the past few seasons.
One player who hasn't stopped destroying opponents from deep: Philippe Coutinho! The Brazilian playmaker has scored the second-most open-play goals from outside the penalty area and added the second-most value to his attempts since 2014. (No. 1 in both categories is the recipient of a later award.) His conversion percentage on shots from outside the box (6.1%) is nearly double the Europe-wide average. All of these shots have low xG percentages, but the xGOT rises because of all the corners Coutinho can pick out.
Just for fun: Who's the worst long-range shooter? It's Jermain Defoe, on loan from Bournemouth at Rangers. He's lost 1.65 goals worth of value with the 59 shots he has attempted. Unsurprisingly, just one of them ended up in the back of the net.
Best Volley: Jose Callejon
We're talking full volleys here, shots struck sweetly with the ball in flight -- none of that bouncing stuff. Interestingly, a volley is three times more likely to be converted (9.5%) than a shot from outside the box. What's also interesting: the list of the most aggressive volleyers since 2014. First is Sampdoria's ageless Fabio Quagliarella, with 101, and no one else broke 90. Second is Luis Suarez, then Ronaldo, Edinson Cavani, Raul Garcia, Lewandowski and then our winner: Napoli's Jose Callejon.
To anyone who has watched Napoli since Maurizio Sarri was manager from 2015 to '18, Callejon's presence won't be a surprise. He has scored the same back-post volley so many times that there is an entire Reddit thread devoted to it.
The 32-year-old Spaniard has added 2.13 goals' worth of value to his volleyed attempts. Only one other player in the top 20 of attempted volleys has added any value to his shots. Striking a ball cleanly out of the air and placing it in a corner of the net: It's a skill that really only Callejon has mastered over the past half-decade.
Best Free kicks: Christian Eriksen
He has scored only six of them since 2014, but Christian Eriksen is our Master of Dead Balls. The nice thing about xGOT is that it credits shooters for everything they can control; not every well-hit and well-placed shot ends up in the goal, and a lot of mis-hit, poorly placed attempts find their way through a keeper's legs. Yet Eriksen has added 5.88 goals worth of value with his shooting from free kicks, and his xGOT total is 10.99.
Across the 99 shots Eriksen has attempted, opposing keepers have made a bunch of unlikely saves. PSG's Angel Di Maria has the same number of free-kick goals as Eriksen, but they came on 3.94 xGOT, while Juventus' Miralem Pjanic has scored 11 on 7.81 xGOT.
Most managers across Europe deserve a gold star here, as the majority of the players who have provided negative value on free kicks have not been allowed to take a lot of them! There are very few poor free-kick takers who get to keep taking them because of seniority or unearned reputation. However, if you're considering a bathroom break and you see Paul Pogba or Antonio Candreva lining up a dead ball -- both have taken at least 30 free kicks, and both have provided minus-0.78 of value or worse -- well, now you know what to do.
The best overall
I'm going to go ahead and guess that some of you have figured out who this will be. If not, here's a hint.
Messi makes Eriksen look like Micah Richards. The Argentine legend has scored 21 free-kick goals since 2014, and no one else has more than 11. His xGOT is even slightly higher than that, at 21.71. He has added 10.35 goals worth of value to his free kicks, which is nearly double Eriksen's next-best number.
These are all of Messi's free kicks since 2014. Look how many ended up in the corners. Goals are green, and misses are red: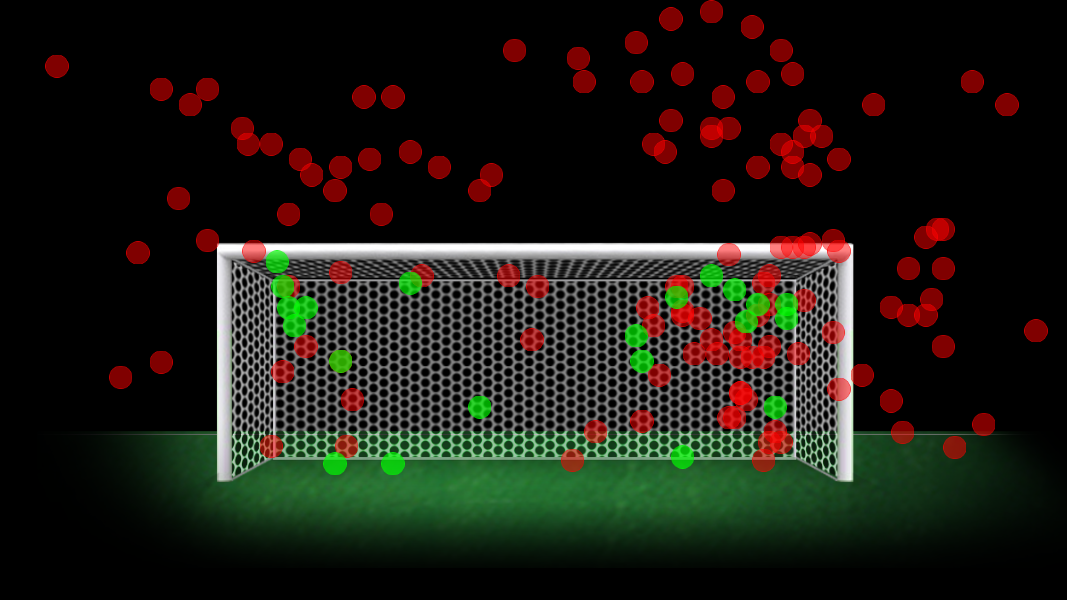 Of course, Messi has scored the most goals (16) and added the most value (6.04) on open-play shots from outside the box, too.
How about zooming that out to include all goals from open play? He's also the best there. Messi has added 19.34 goals worth of value since 2014, and only two other players -- Mohamed Salah (11.23) and Alexis Sanchez (10.02) -- are in double digits. Messi has scored 120 open-play goals, and only two other players -- Suarez (108) and Lewandowski (101) -- are in triple digits. He has produced 109.29 xGOT, and no one else has broken 100.
Messi's case for being named the GOAT. also stems from a number of other factors. Since 2014, he has completed more than 300 through-balls; next best is 173. He leads all players in assists, and he's second in dribbles. He's as good -- if not better -- than every other player alive at facilitating attacking possession, breaking down a defender and creating for teammates. But even if you removed all of that and reset those totals to zero, he'd still probably be the best player in the world.
Throw every kind of goal together -- open play, set pieces, penalties -- and he has scored 177 since 2014, 19 more than Ronaldo in second place. Messi has added 32.6 goals worth of value on his 900 attempts, and Valencia's Dani Parejo earns a distant silver medal at 12.53. (In case you're wondering, Ronaldo has attempted more shots (1,005) than anyone else since 2014, but he has actually subtracted 3.07 goals with wayward finishing.)
So just how good is Messi? Nearly three times better than everyone else.