The Toe Poke Daily is here every day to bring you all the weirdest stories, quirkiest viral content and top trolling that the internet has to offer, all in one place.
Jump to: Jadon Sancho opens stunning new pitch in his home neighbourhood | Player tricked into wearing matchday lederhosen by teammates
Petr Cech became surely the first goalkeeper to have saved a penalty in both the Champions League final and the National Ice Hockey League South 2 on Sunday.
The 37-year-old made his debut for Guildford Phoenix and pulled off two vital saves in the shootout to earn his team a narrow win over Swindon Wildcats II.
Petr Cech can do it all 🏒 ⚽️

He saved two crucial penalties for a shootout win! pic.twitter.com/YB7bv4veiS

— ESPN FC (@ESPNFC) October 13, 2019
Cech was named man of the match on his maiden appearance for Phoenix but will remain their third-choice goalie for now, training with the team when his schedule allows.
Of course, the former Chelsea and Arsenal No. 1 isn't the first professional footballer to turn to another sport post-retirement. In fact, there are a fair few precedents.
Gabriel Batistuta
After retiring from football in 2005 at the age of 36 due to chronic ankle pain, Batistuta began chasing his sporting kicks on horseback. Already a keen polo player, the Argentinian resumed playing at an elite level and went on to lift the prestigious Copa Stella Artois in 2009.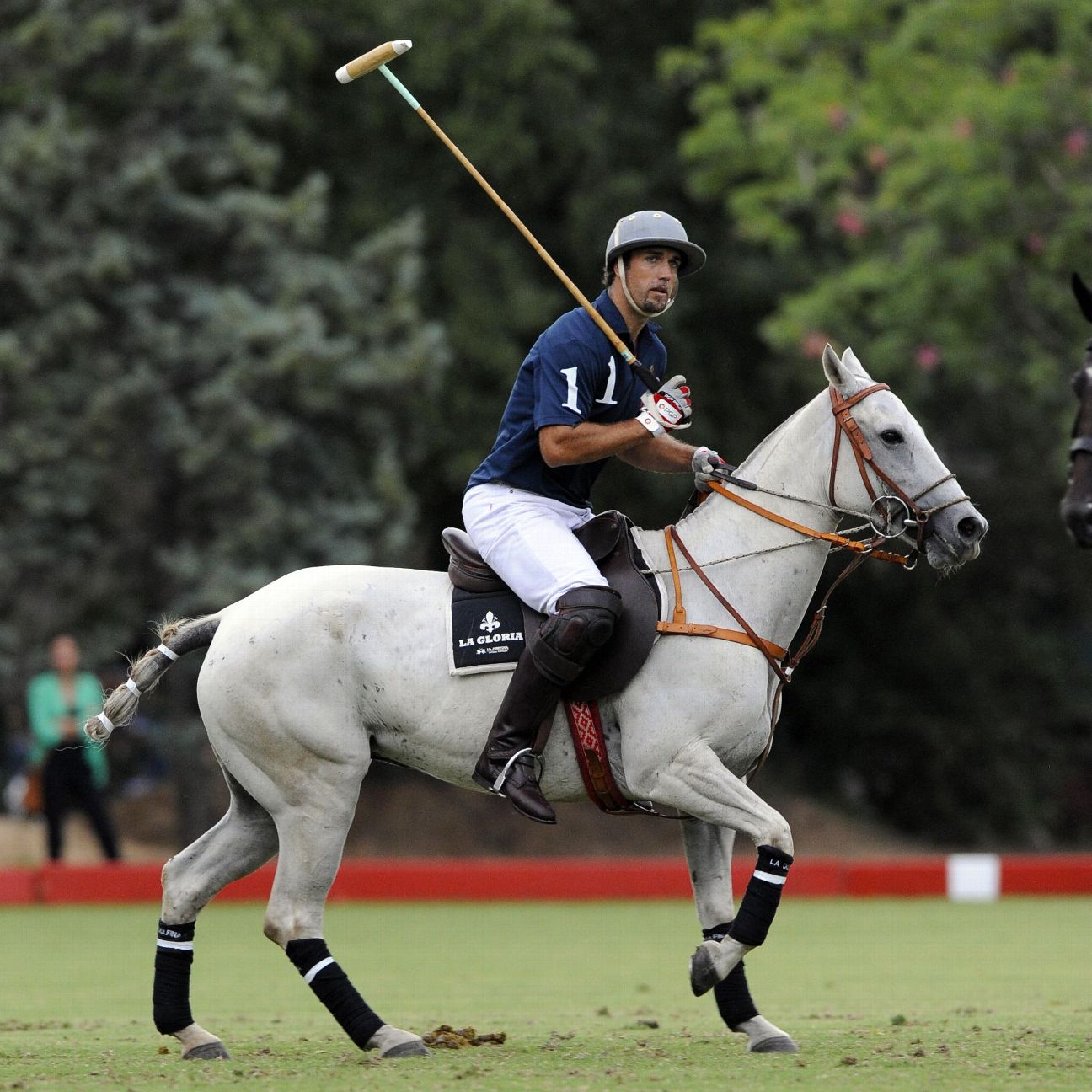 Ivan Perisic
While he hasn't technically retired from football yet, Perisic has already forged himself a side career as a pretty decent beach volleyball player, even representing his country at an international event in 2017.
Ivan Perišić played beach volleyball today 🙌

Professionally, internationally against Olympic-standard opposition 👉 https://t.co/8Q3tkHT7S9 pic.twitter.com/1YIQOLUFxb

— Beach Volleyball Major Series (@BeachMajors) June 29, 2017
Paolo Maldini
One of the most decorated footballers of all time, Maldini switched to tennis in 2017 but suffered defeat on his competitive doubles debut -- tumbling out of the Aspria Tennis Cup in straight sets.
Andriy Shevchenko
Shevchenko is a keen golfer and regularly takes part in pro-am events around the world. However, following his retirement from football, the Ballon d'Or winner attempted to launch a pro career, taking part in the 2013 Kharkov Superior Cup in his native Ukraine.
Sadly, his involvement came to a premature end after he missed the cut on the opening day, finishing up 40 shots adrift of the leader.
Luis Enrique
A tenacious defensive midfielder admired for his stamina, it's perhaps little surprise that Enrique spent several years taking part in various ironman triathlons and gruelling marathons after calling time on his football career.
|@LUISENRIQUE21, además de DT de uno de los mejore equipos de la historia, ¡es fanático de la competencia "Ironman"! vía @reichmartin pic.twitter.com/TQmuWpsCmn

— Días Como Estos (@DiasMetro) April 22, 2017
Michael Owen
Having ploughed his football earnings in horseracing for many years prior, it was only natural that Owen gave jockeying a go.
The ex-Liverpool striker took part in a charity race at Ascot in 2017 and didn't do too badly, finishing second in a seven-furlong Flat race.
Clive Allen
Long before Harry Kane revealed his NFL ambition to ESPN, fellow Tottenham striker Clive Allen made the leap to American football when he signed on as a kicker for the London Monarchs in 1997.
Allen quit after one season in NFL Europe after revealing he didn't realise he could actually get hit on the field.
Jerzy Dudek
After bowing out with Real Madrid in 2011, Dudek fulfilled his ambition of becoming a racing driver a few years later when he took part in the 2014 Volkswagen Castrol Cup -- a championship that toured the circuits of Eastern Europe.
Hoy se habla mucho de Jerzy Dudek, ex portero del Real Madrid y actual (hasta donde sé) piloto Volkswagen en Polonia pic.twitter.com/MOglHtJyXs

— David Sánchez de Castro (@SanchezdeCastro) June 2, 2015
Andre Villas-Boas
Sticking with the motorsports theme, Villas-Boas raised a few eyebrows in 2018 when he quit his post as Shanghai SIPG coach to take part in that year's Dakar endurance rally.
Unfortunately, the Portuguese only lasted four stages before a nasty crash saw him hospitalised with a back injury.
From football manager to racing driver.

Andre Villas-Boas has completed the first stage of the Dakar Rally: https://t.co/3FKYRPkVuP pic.twitter.com/d0qkp5Crvz

— ESPN UK (@ESPNUK) January 8, 2018
Grant Holt
Grant Holt hit the headlines last year when the former Norwich City striker made his wrestling debut at an event in the UK, winning a Royal Rumble.
Here's the moment @Grantholt31 won a 40 person Rumble on his wrestling debut for @WAW_UK.

Go on Holty! pic.twitter.com/Y9KW8W0vBY

— BBC Radio Norfolk (@BBCNorfolk) September 22, 2018
However, the trail was blazed several years earlier by Tim Wiese, who gave up his gig tending goal for Hoffenheim to land a proper contract with the WWE.
.@Tim_Wiese was ready to unleash #TheMachine when he teamed with @WWECesaro and @WWESheamus in his @WWE in-ring debut at #WWEMunich! pic.twitter.com/u25e3RMwTT

— WWE (@WWE) November 6, 2016
Jadon Sancho opens stunning new pitch in his home neighbourhood
.@Sanchooo10 and Nike have built a new pitch in south London to create a new generation of young ballers.

Inspiring the next wave ✨ https://t.co/GKLgr6Wp4o pic.twitter.com/IFqscbHNGZ

— VERSUS (@vsrsus) October 14, 2019
England international Jadon Sancho may be a fully-fledged star for club and country these days but it's nice to see that he hasn't forgotten his roots.
The Borussia Dortmund winger returned to south-east London to open a brand new community football pitch in Kennington, the borough he grew up in as a boy.
The pitch will be used all year round by the Lambeth Tigers, a youth football club founded by two football coaches, David Marriott and Jamahl Jarrett, who grew up on a nearby estate.
The hope is that Sancho's pitch will provide access to sporting programmes for over 300 local kids and help encourage an active lifestyle among them.
"Growing up in Kennington has made me the man I am today; I owe a lot to South London for nurturing the way I play," Sancho said.
"I hope the local kids feel empowered to tell their own stories through football and follow in my footsteps -- this pitch being just the ignition point."
Player tricked into wearing matchday lederhosen by teammates
The lederhosen is out as player @BAcquaye10 and board member John Gregory get into the Oktoberfest spirit pic.twitter.com/fBDVqNnfT3

— AFC Rushden&Diamonds (@AFCRD) October 12, 2019
Rushden & Diamonds forward Ben Acquaye was subjected to a brilliant seasonal prank over the weekend when his teammates decided to give him a proper ribbing.
Ahead of Saturday's fixture against Coalville, Acquaye was informed that the game against was to be Oktoberfest themed as part of Non-League Day 2019 and that all players were to wear full lederhosen for the occasion.
Alas, upon arriving at Hayden Road and realising that nobody else had dressed up, the winger soon realised that he'd been well and truly had.
Be warned, there is a bit of strong language in the video his teammates took of the moment the penny drops.
Acquaye proceeded to spend the whole morning wandering around in his little leather shorts and knee-length stockings while looking singularly unimpressed with everybody.
And with that, we all owe Rushden & Diamonds a collective debt of gratitude for proving that banter can still be a force for good if it's done well.