Some days, there are more than 30,000 of them packed into Andrés Perales' home but for the past two months, there have been only three, and it's going to be that way for many, many more. There's Andrés, his son Andy, and Chivato, a little Yorkie that occasionally barks in the background. Otherwise it's silent. Used to noise, the excitement, the hubbub -- the soundtrack of the 31 years he has lived here -- the place doesn't feel right so quiet.
"It's a little sad to see it like this," he says, voice crackling on the phone, but at least there's space to stroll each morning and evening; room to stretch his legs during lockdown, away from the crowds.
Andrés is 85 and lives inside the Rosaleda, home of Spanish second division team Málaga CF. (They were relegated from the Spanish Primera Division in 2017-18.) He has been at the club for 54 years, and the stadium has been his home too since 1989, when he took up residence in a converted cell behind a goal. (A holding cell was built into every stadium in Spain to house misbehaving football fans at the 1982 World Cup.)
Even the club going bust in 1992, forcing a reformation, didn't see him move on. Nor did his retirement. (It remains unclear at publishing whether he and his son were part of the club's layoffs that were announced this week.) In 2002, when the stadium was redeveloped, he moved into a small, square white-brick building surrounded by carnations at the other end of the ground instead. The house lies inside the stadium property, where the busses role through Gate 19. Down the slope, it opens out onto the pitch.
Gate 19 carries his name. Andrés has never been a player or a manager at the club, but he has been just about everything else. "Everything, everything," he says. Caretaker when he first moved in, he started as a driver behind the wheel of the Blue Arrow, the old team bus that still stands there just a few metres from his front door. It's a museum-worthy piece now, rust creeping around the body. He first took the wheel in 1966. "Kilometres," he keeps saying. He has done more than his fair share, that's for sure.
"I was worked for an agency, driving buses," he says. Málaga didn't have one of their own; they rented. "One day, they asked me if I wanted to be their driver. I said: Well, if you want to pay me more.' They did, so I came here. I was driving for years without stopping." When Perales did eventually stop, tired of being on the road, he was given the chance to keep working at the club. His didn't want to leave his family behind anymore -- he had two kids at the time -- but nor did he want to leave Málaga. He served as caretaker, groundsman, even the occasional role as physio.
He was part of the "family", Andy says. They all were. Andrés raised his children inside the stadium. There were seven of them eventually. They have all left now. Only Andy, 43, is still there. He left when he got married but is back, having separated.
"Players would come by for lunch, cooked by my mum," Andy recalls. "I grew up here, inside the stadium. You'd write the address or tell people and they would say: 'Stadium? You mean street?' 'No, no, stadium.'
"At first it's exciting, of course, but it becomes normal. It's like when Lionel Messi came here and everyone was like, 'Messi! Messi! Messi!' going mad and he went past and I was like, 'Ah, well, Messi'. Or Cristiano Ronaldo, or Iker Casillas.
"I remember Cristiano Ronaldo, [Malaga players] Duda and Eliseu talking here after a game. I went past. 'Hey fatty!' one shouted. 'Oi, Portuguese!' The look on Ronaldo's face. He's wondering why I'm saying that, but they were my friends. There are too many to mention, but we were close to the legendary Juanito, Fernando Sanz, The Hierro family. ... The current players, too: Luis Hernández, Míchel, Juankar ...
"I liked the era of Míchel, Valdano, Buitre: Madrid's Quinta ... Raúl later. I was a bit more of a Madrid fan [than Barcelona], but for me it's all about Málaga. It's Málaga who fed me, and I am proud of being here and grateful for all they have done for me and my family. They look after my daughter," he says. He pauses. "I miss her: I haven't seen her for two months. That's the hardest part of the lockdown."
For his father, the names go back further.
"There are so many [players] that I couldn't name one, or choose a favourite," he says. "It's been 50 years. Juanito, Viberti, so many club presidents, coaches. Players: they were young, funny, they would take the mickey, wind you up. They were good guys, although they like their things, you know. Nights out and so on."
Over the years, they all came of course. Diego Maradona, Johan Cruyff ... "And Pelé," Andrés says.
Pelé?
"Yes. He played a summer tournament here," Andrés remembers. "Santos came. It got messy that night, and they were going to miss the flight back. I got a call from the club, it was something like 2 in the morning, and they asked me to drive them to Madrid. I said there wasn't time, so we went to Lisbon instead, the whole Santos team. Tostao, too.
"Pelé sat over the engine. They had this little envelope, 4 million pesetas in it in cash. We stopped, got sandwiches: they threw away the bread and just ate the ham. They were drinking. That was some journey."
"I could write a book," Andrés says. "I could write three."
These days, Andrés watches games from inside his house -- or, more to the point, he did until early March. But he doesn't watch them from the stands anymore.
"When the games are on, he says, 'Son, put the telly on,' so I put it on for him so that he can watch it Malaga in his living room," Andy says. "He's 85, so it's hard. The stands, all those stairs, the noise, the hassle. So, he watches in the living room and when Málaga win, he's happy. If we don't, he's not.
"I miss that noise, even inside the house," Andy adds. "The shouts of 'Malaga!', people abusing the referee ..." He laughs. "The sound of the sunflower seeds: you can really hear that, the shells crack and piling up, that 'Huuuy!', when someone goes close, the cries of 'Vamos!', even the atmosphere of football. The stalls outside, the people in the shirts. And we were playing better too, there was some hope. We won in Cádiz, where no one wins. We were getting better. And then, suddenly, it stops."
For Andrés and Andy especially. They haven't set foot outside their home; the entire nation has stopped setting foot inside their home. The players -- family -- and the fans. Their actual family too, of course. Some days, Andrés' 56-year-old daughter, Andy's sister, leaves food for them, but that's it.
The dog barks again. At least they have the biggest garden in Andalucía: an entire football pitch. Two, in fact. There is the main pitch and the training pitch, an annex alongside.
"I'm in good shape, but I'm of an age, I'm getting on," Andrés says. "So, I don't go out at all. I have two pitches all for myself. Back then, I planted the pitches, sowed the seeds. The entire thing. There's space to stroll. I walk each morning: take my time, quietly. I have lunch and then I have a siesta. Then I'm up again in the evening. I don't even get in the car, I'm sick of cars now."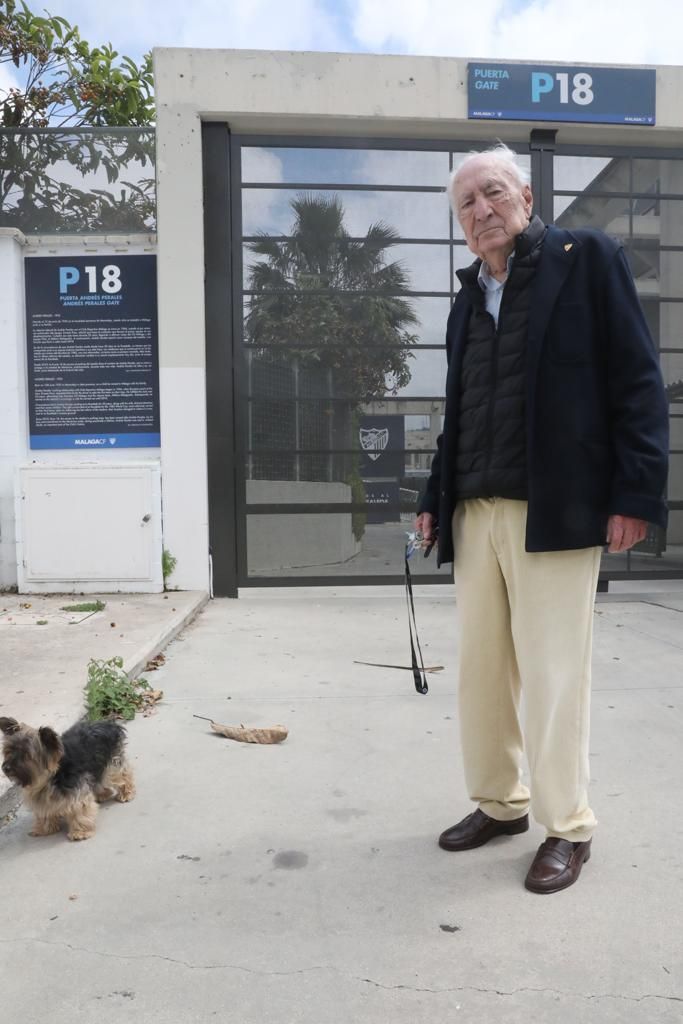 Andrés recalls games with the players but those days are gone. For Andy, they mostly have, too. But surely, it's tempting to take a ball out occasionally, play out a match, have a kick-about?
"Occasionally, I used to do that on the training pitch," Andy says. "But it's not so tempting anymore, after all these years. I suppose it's like if you eat eggs and chips every day, after a while you get to the point where you get sick of it. I'm here, I don't go out. I finish working at 3 and I'm in the stadium. I'm not like those people who have never done sport in their life and suddenly they're all on their way out [since exercise was allowed]. I'm not going to die of coronavirus, but I might die of a heart attack.
"We're handling it well, although it's harder from the [8 o'clock] applause, the evenings, late nights. I can't play futbol with Dad or on the PlayStation. But I can't complain. We have our space, it's very big, room to walk, and we have everything here: my stands, my pitch. I've been preparing the place for the summer, painting, working until 3 every day, so I'm not bored, put it that way. So, I don't really miss that stuff. I'm not desperate to get out."
There's a pause and then he adds, laughing: "When the terraces open, the chiringuitos, it'll be different."
There is good news, Andy says. A week ago last Friday, at last, someone came through those gates. The players turned up for the first time in two months. COVID-19 tests were carried out and with that, a little hope that football might return.
"Because of the virus, they've decided to do everything here. They'll train on both pitches: the stadium and the annex. I could only say hello from a distance, of course, but we saw them. They tested me too, because we're here living and working. They stick that thing down your nose and throat. I almost vomited, to tell the truth."
Andy passes the phone back to his dad: bus driver, physio, groundsman, caretaker and the spiritual guardian with a gate named after him, the man who has opened his home to thousands of people over the years and hopes to do again someday soon. In the background, Chivato barks and for one, brief moment the stadium is a little less silent.