The U.S. and Mexico square off on Wednesday in a curiously scheduled friendly featuring mostly young players from MLS and Liga MX.
Considering this game falls outside of FIFA's international window and both rosters lack their big stars, we'll see some promising youngsters and domestic league stalwarts. Given that this exhibition is more diluted than usual, we asked: What would a combined U.S.-Mexico all-star XI look like-- even if the stars of these two teams aren't at this particular match?
Christian Pulisic paired with Santiago Gimenez up top? Memo Ochoa ordering around the "MMA" midfield? Here's how ESPN correspondents Jeff Carlisle, Cesar Hernandez, and Kyle Bonagura composed their lineups.
- Stream on ESPN+: LaLiga, Bundesliga, more (U.S.)

Carlisle XI: Room for Reyna as 'Chucky' not first choice
Forwards: Pulisic, Gimenez, Reyna
Midfielders: McKennie, Alvarez, Musah
Defenders: Gallardo, Ream, Montes, Dest
Goalkeeper: Ochoa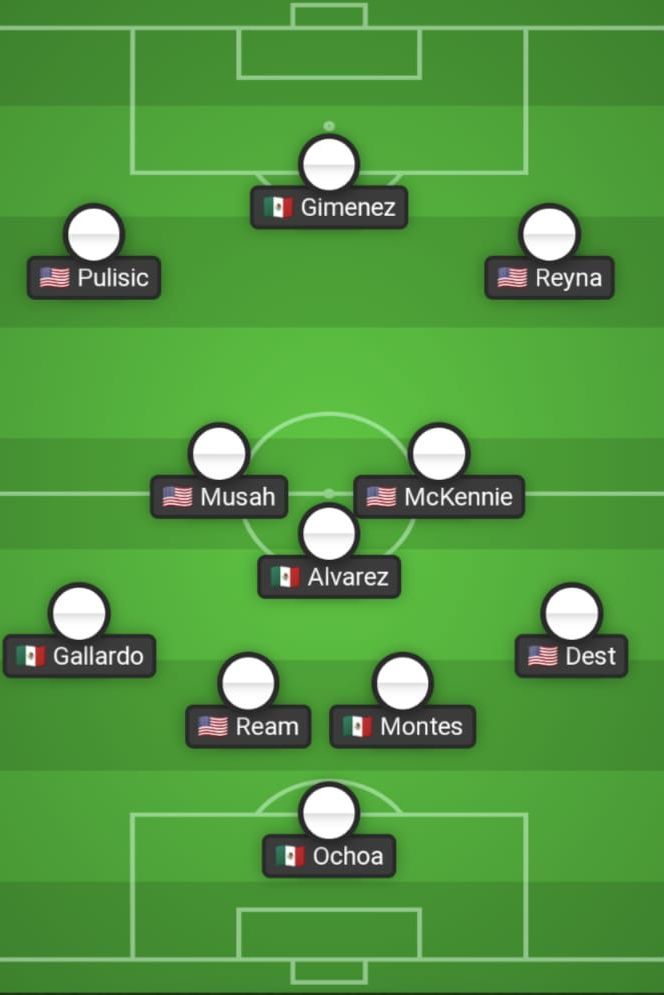 Credit: Chosen11
---
There are lots of photo finishes in terms of who gets onto this squad and who doesn't, which isn't a surprise given how evenly matched these two teams have been over the years. In goal, Guillermo Ochoa's red-hot form for Serie A side Salernitana just edges out Arsenal's Matt Turner. In defense, it's honors even with left-back Jesus Gallardo and center-back Cesar Montes representing El Tri while the evergreen Tim Ream and Sergiño Dest occupy the center-back and right-back spots, respectively.
In midfield, the No. 6 spot is probably the toughest to choose from between Leeds United's Tyler Adams and Ajax's Edson Alvarez. Both are stellar in terms of defensive prowess, but Alvarez gets the nod given his slightly higher quality on the ball, as well as his ability to pop up for the occasional goal. The remaining members of the U.S.'s "MMA" midfield -- Weston McKennie and Yunus Musah -- round out the engine room, with Luis Chavez the odd man out.
In attack, the U.S. duo of Gio Reyna and Christian Pulisic occupy the wing positions. Hirving "Chucky" Lozano has been a steady presence for Napoli this season, but Reyna has scored double the number of goals this season for Borussia Dortmund in about a third of the minutes. Health permitting, he's only going to get better.
Up top, Santiago Gimenez is the choice thanks to his 19 goals in all competitions for Feyenoord, just good enough to beat out Groningen's Ricardo Pepi.

Hernandez XI: Pulisic paired with Gimenez for a potent duo
Forwards: Pulisic, Gimenez, Lozano
Midfielders: McKennie, Adams, Chavez
Defenders: Robinson, Ream, Alvarez, Dest
Goalkeeper: Ochoa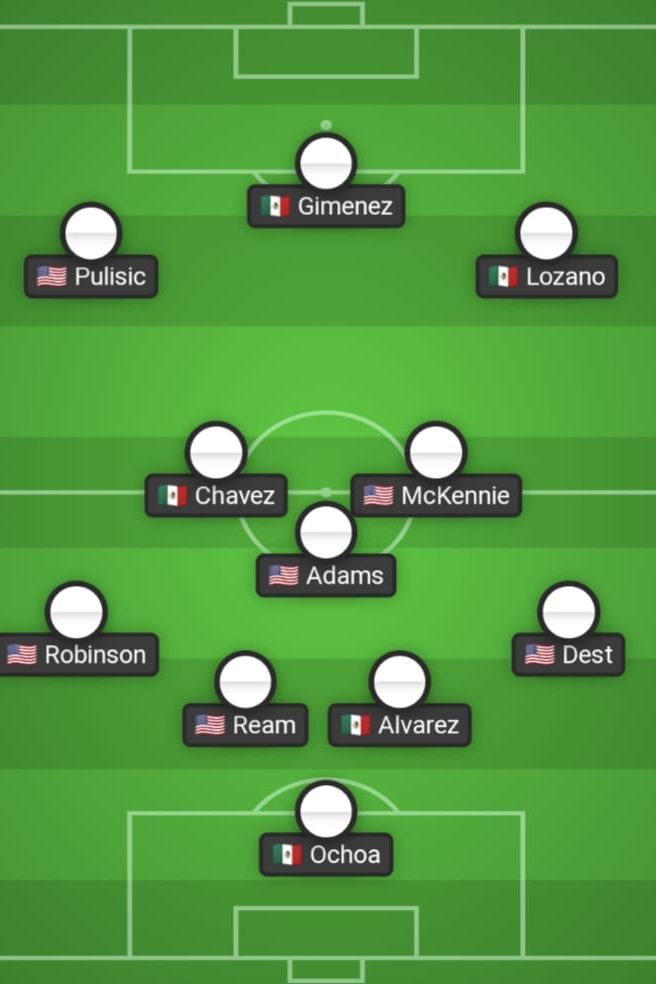 Credit: Chosen11
---
Quinto partido guaranteed with this squad. In net, Ochoa is the easy answer as the starting goalkeeper after his latest exploits with Salernitana. Looking at the full-backs, Mexico has a growing list of promising options, but I still believe Fulham's Antonee Robinson and AC Milan's Dest are a slight step above their peers from south of the border, for now. In between the two, there would be no lack of leadership or defensive solidity with a Ream-Alvarez partnership.
In the midfield, you can't ignore the energetic Leeds duo of McKennie and Adams, which then leaves one more spot in the heart of the XI. Musah and Erick Gutierrez could make great cases for themselves, but I'm sticking with Pachuca's Luis Chavez, who can provide an immense amount of support in both the defense and attack. We also can't forget his X factor with free-kicks and shots from distance.
On the wings, Pulisic and Lozano would be a headache for any opposition with their potent mixture of speed and clever dribbling. Reyna and Timothy Weah both narrowly missed the cut for a spot on either flank in my XI, but would be immediate options off the bench -- and so would Carlos Vela in this fictional scenario in which he reopened the door to Mexico.
Finally, as the lone striker, we'll go with one of the most exciting young names in European soccer: Gimenez. While Pepi should be given credit for what he's also accomplishing in the Eredivisie through Groningen, Gimenez has been on a much better run in 2023 with 11 goals and an assist in his past 14 appearances for Feyenoord.

Bonagura XI: Alvarez over Adams in new 'MMA' midfield
Forwards: Pulisic, Gimenez, Reyna
Midfielders: Musah, Alvarez, McKennie
Defenders: Dest, Ream, Montes, Robinson
Goalkeeper: Ochoa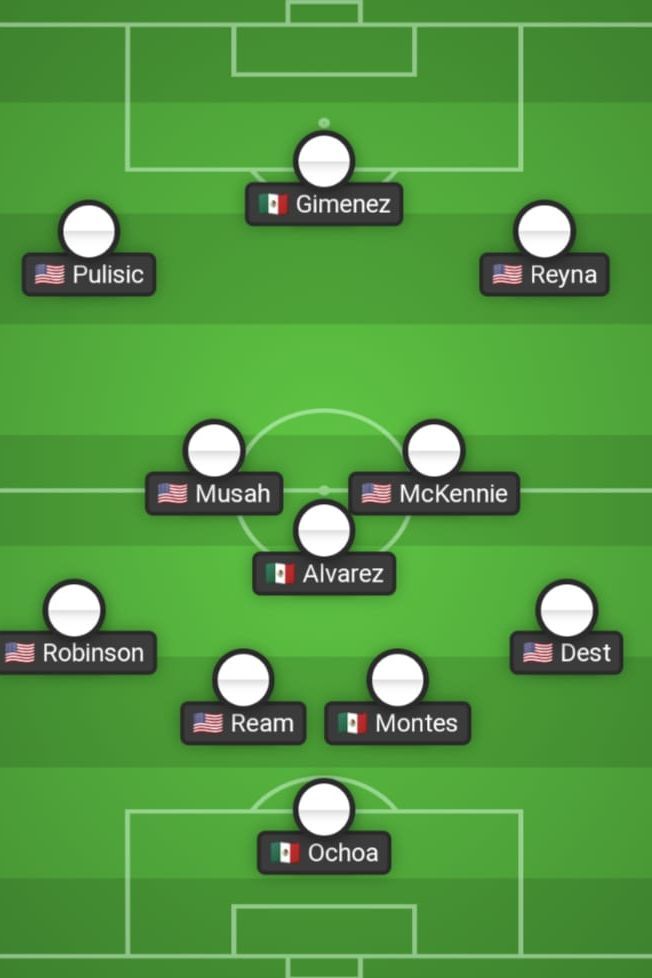 Credit: Chosen11
---
At the risk of coming off looking completely biased, I think we're at a point right now where it is obvious that the U.S. national team is in a much better place than Mexico. This weighs recent results, current talent, trajectory of the player pools, etc. Wednesday's money-grab friendly won't provide much valuable data to add to the discussion, but it's still fun to see any iteration of the rivalry.
There's a case for Lozano on the wing, but -- when all three players are healthy -- he's step behind Pulisic and Reyna. With that said, none of the three have played to their abilities in the past year, for various reasons. That leaves Gimenez or Pepi at striker. They've performed similarly in the Eredivisie this year (Gimenez 11 goals in 27 league games, Pepi 11 in 24). Gimenez gets the nod for now, but should Folarin Balogun make the switch to the U.S. from England, he's clear of the field by a considerable margin.
For me, Musah is the best midfielder in the region. His ability to maintain possession and progress the ball is special and his versatility makes him even more valuable. McKennie is similar in that he can impact the game in various ways -- on set pieces, for example -- and has to be on there. That leaves Adams or Alvarez (given Alvarez played in midfield, not center-back, at the World Cup) for the final spot. Even though in certain games, Adams has been the U.S.'s most important player, his on-ball limitations give Alvarez the nod.
It's hard to believe that here we are in 2023 and the best defender between Mexico and the United States is 35-year-old Ream, but here we are. The U.S.'s full-back pair of Robinson and Dest (although Dest's stock has cooled off) are somewhat straightforward picks from my vantage point, while the other center-back slot (Montes for this case) doesn't have an obvious selection.
I would have liked to have tried to make the case Turner is better than Ochoa at this point, but because he's not playing regularly at Arsenal, all of the advanced goalkeeper stats that show his value feel too dated for this exercise.