U.S. women's national team manager Vlatko Andonovski has been busy. In the buildup to USWNT's roster announcement for the Women's World Cup last week, he made "a total of 39 calls" to let players know that they made the 23-player World Cup squad -- or that they missed the cut.
Out of those 39 players, only one who consistently occupies the striker position for both club and country was named to the final squad: Alex Morgan.
Morgan is a true poaching goal-scorer. The 33-year-old makes slashing runs behind the opposing defense and regularly outmaneuvers center backs to find space to shoot inside the box. She can hold the ball and link play in midfield, but her runs and efficiency are what really set her apart as a "No. 9" up top.
With versatile forward Catarina Macario -- another potential No. 9 -- missing out on the World Cup squad as she recovers from an ACL injury, it was widely expected that Washington Spirit striker Ashley Hatch would make the World Cup team. Hatch has been Morgan's back-up for the past year and a half -- and yet, she was left off in favor of adding an extra player elsewhere on the field.
Without Hatch, who is going to give Morgan a breather during what could be a seven-game tournament over the course of 29 days for the USWNT? Andonovski was asked that immediately after Wednesday's roster reveal.
"Alex [Morgan] is a true No. 9, but also we see that in the league, most of our forwards actually do play as No. 9s," Andonovski told reporters in a news conference on Wednesday. He added: "We're not worried about having someone to step in and do well if needed."
Even with a lack of minutes up top at the international level, Andonovski clearly believes some of the USWNT's other flexible attackers can work in the striker spot. So, ahead of next month's World Cup, let's run through Morgan's three most likely backup options and examine what each brings to the No. 9 position -- and how likely it is they'll be tasked with striker duties.
---
Sophia Smith: starting USWNT winger, second-half striker?
While she normally plays as a winger for the USWNT, Sophia Smith is the most obvious choice to slot in the striker depth chart. The 22-year-old forward will start on one of the wings for the team's biggest games this summer, but could shift into the middle to provide a different attacking look.
She's been incredible as the first-choice No. 9 for the Portland Thorns in the NWSL this year and has the regular season lead in non-penalty goals (9).
Smith has been so effective on the wing and up top throughout her career because simply put, she's an otherworldly attacking talent. She is in the 95th percentile for both non-penalty goals and non-penalty expected goals per 90 minutes among NWSL strikers in 2023, per FBref. Furthermore, Smith's speed and close control make her almost impossible to stop. With elite pace, Smith uses hard, direct runs to push back defenses and create space for her teammates between the lines.
When she's on the ball, her dribbling ability is a nightmare for opposing center backs. If you don't step towards Smith, she gains valuable ground towards goal. If you do step towards her, she can find a simple forward pass to an open teammate. Or she might just keep the ball and blow by you and three of your friends, you know, just for the fun of it.
As you can see in the below clip, Smith's ball control and explosiveness allow her to create her own shots as a No. 9. To be fair, she benefits from excellent service with Portland, but she also doesn't fully rely on that service. Compared to Morgan, Smith is better suited to put the team on her back and create a chance out of nothing.
This is just unreal, @sophsssmith 🤯

Catch the end of #KCvPOR on @CBS! pic.twitter.com/QjqbuQYm5q

— National Women's Soccer League (@NWSL) April 1, 2023
Maybe the biggest flaw in Smith's game as a striker -- and "flaw" here means she's simply good at this rather than world class -- is her ability with her back to goal. In that sense, Smith's skillset makes her a different striker than Morgan, who has more experience and a little more savvy with her back to goal.
If Smith is under pressure and can't immediately control the ball, turn, and run, Smith's layoffs are erratic. Per FBref, she averages more miscontrols per 90 (4.17) than any striker in the NWSL. Though that number encompasses more than just mistakes in hold-up play, it illustrates how Smith plays a little fast and loose with the ball. Ask any Thorns or USWNT fan, however, and they'll tell you the benefits far outweigh the costs.
She isn't your classic hit-it-long and get-in-the-box No. 9 -- a role that Morgan has played for the USWNT for years -- but Smith's mixture of mobility, control, and explosiveness makes her a constant threat. Andonovski used her as a striker against England last fall, and we can expect to see her up top again at the World Cup.
Likelihood of Smith playing striker: 9/10
---
Lynn Williams: the pressing, backtracking striker option
Gearing up for her first World Cup, Lynn Williams is in the middle of a strong season for NJ/NY Gotham in the NWSL. She's tied for second in non-penalty goals in the regular season, with six, and often plays as a No. 9.
Williams moves well off the ball, both to exploit space behind the opposing defense and to find little gaps in the box. She's developed into an extremely savvy striker over the years. Just look at how she stays patient on this goal against the North Carolina Courage, lurking in the box while play develops on the left wing before accelerating to meet the ball and scoring with a lovely first-time finish.
LYNN WILLIAMS DOES NOT MISS pic.twitter.com/xP7oAhv9O3

— National Women's Soccer League (@NWSL) May 4, 2023
While the 30-year-old lacks Smith's dynamism -- not much of a criticism since virtually every other player in the world lacks Smith's dynamism -- Williams does bring a sense of controlled chaos to the striker position. So far in the NWSL this season, Williams is in the 86th percentile among strikers for touches per 90, with an average of 50.77. While that number is slightly inflated due to some of her minutes on the wing, she's certainly comfortable on the ball and offers a well-rounded combination of dribbling and progressive passing in possession.
Comparing Williams to some of the USWNT's other No. 9 options, she averages 10 touches per 90 more than Morgan and records 3.31 miscontrols per 90, which is noticeably less than Smith. Williams will get on the ball, she'll help take care of it, and she'll help move it forward.
She's not just about control, though. Williams has a chaotic streak, too, which she brings to her defensive duties: She currently leads all NWSL strikers in tackles, interceptions, and successful aerial duels per 90. Williams wouldn't beat Smith in a footrace, but she still adds an athletic threat to her team's frontline.
Playing as the tip of Gotham's aggressive, press-heavy 4-3-3 shape, Williams appears to embrace the responsibility of flying around the field to win the ball and start transition attacks for her team. After forcing a turnover, Williams then leans on her diverse attacking skill set to punish defenders.
Her ability to change games anywhere in the attack for club and, likely this summer, for country means we could see Williams play some minutes as a No. 9 at the World Cup.
Likelihood of Williams playing striker: 6/10
---
Trinity Rodman: an untested lone striker choice
Unlike Williams and Smith, Trinity Rodman usually plays as part of a front two for her club team. Andonovski called it a "double No. 9" setup last week, with Rodman and Hatch playing up top together in a 4-4-2 diamond shape for coach Mark Parsons and the Washington Spirit.
Like Williams and Smith, Rodman is a direct, dangerous forward. She flies by opposing defenders on a regular basis and changes games with her athleticism.
Trinity Rodman really said, "Fine... I'll do it myself."

What a run and finish to give @WashSpirit a 1-0 lead! pic.twitter.com/Pn3YSQonXb

— National Women's Soccer League (@NWSL) March 26, 2023
As valuable as that speed is, it doesn't make her unique in the USWNT's player pool. What sets Rodman apart from the USWNT's other striker options is her quick, creative passing. She's fantastic at opening slivers of space -- or entire patches of green grass -- with alert and purposeful touches. She's second among all strikers in the NWSL this season in expected assisted goals per 90, which means she creates a lot of quality shooting chances for her teammates.
Take this play from a recent game against the Kansas City Current as an example. Rodman makes a diagonal run into the box to get on the end of a pass from midfielder Ashley Sanchez, who will also be at the World Cup with the USWNT. Rodman then controls the ball and draws three defenders with her. Somehow seeing a pocket of space behind her, Rodman hits a no-look flick back to Sanchez for a shot.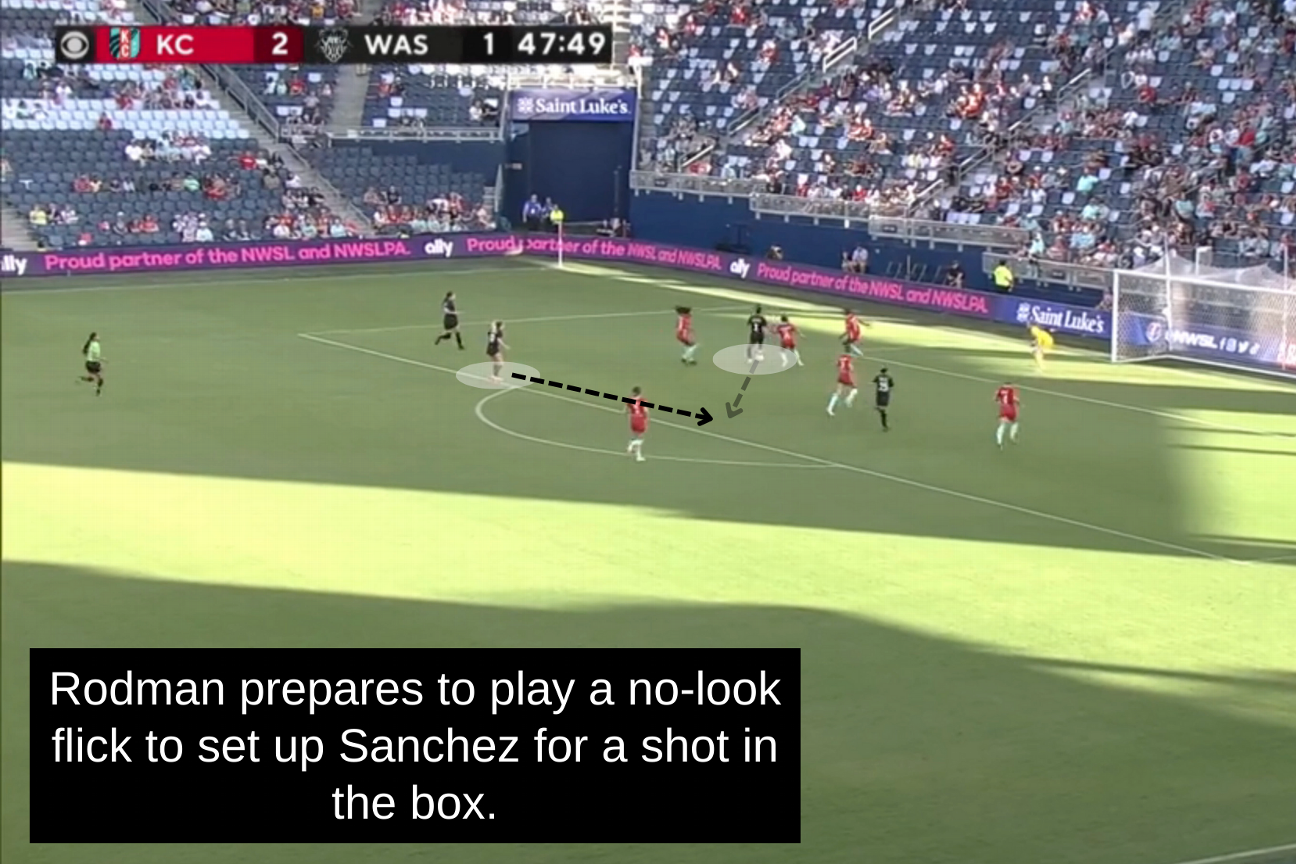 Rodman is a clever player and has had plenty of positive attacking moments this year in central areas. However, because she plays as part of a two-forward front with the Spirit, some of her very best moments come after she's drifted into the half-spaces to pull apart the opposing defense.
Rodman's heat map from the NWSL regular season shows how often her actions come out wide, rather than in the middle.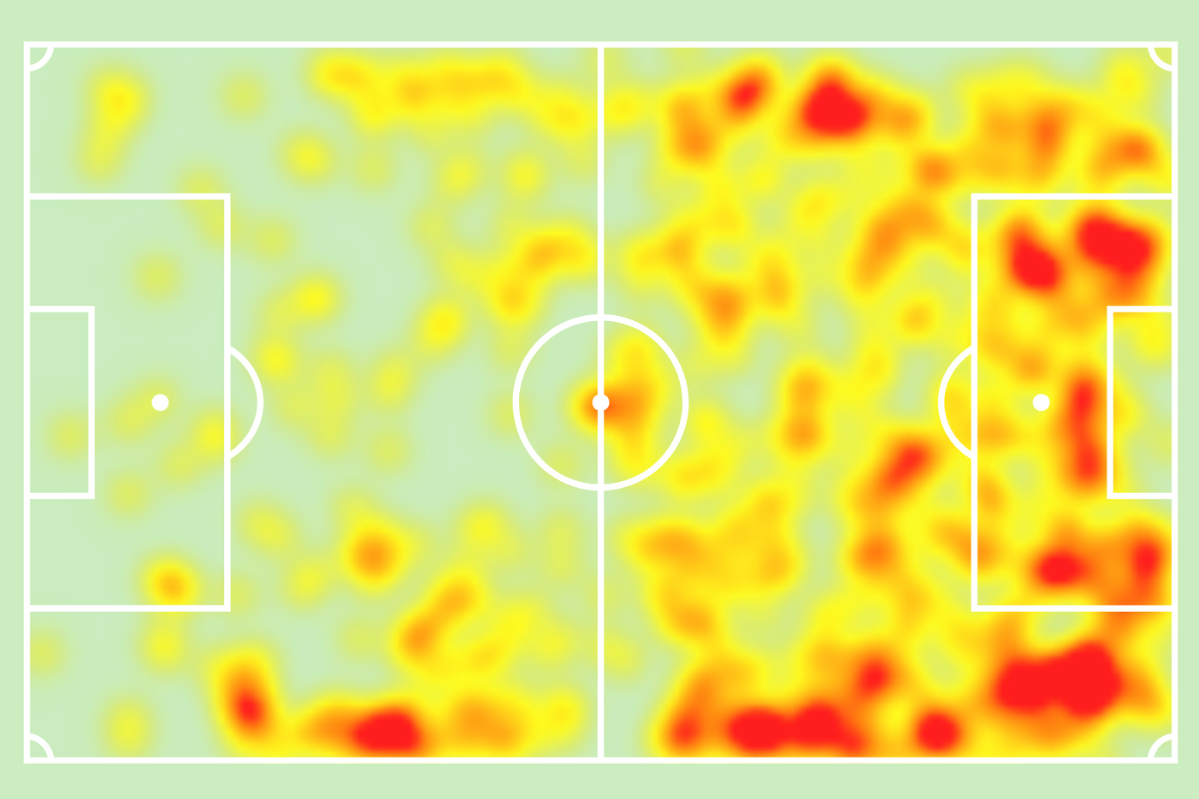 Trinity Rodman heat map courtesy of SofaScore.
Prior to this NWSL season, Rodman had almost always played on the wing for the Spirit and for the USWNT. As a result, it's unclear if her ingenuity will translate to the USWNT's lone-striker system at a World Cup level, at least on a consistent basis.
Rodman may not be an obvious fit as a single No. 9 at this point in her career. But in a late-game situation or after an on-the-fly interchange in possession, it's entirely possible that she will earn a few minutes there this summer.
Likelihood of Rodman playing striker: 4/10