The 2023 Women's World Cup is in full swing, and these daily files will give you the latest reporting from around the 2023 World Cup as well as betting lines, what-to-watch-for information and best reads. Check in with ESPN throughout the tournament as we bring you the latest from Australia and New Zealand.
---
The lead: Jamaica hold France but lose Shaw
Jamaica made history Sunday by picking up their first point in a Women's World Cup -- after three defeats in their 2019 debut -- as they put up a great fight against France to frustrate them 0-0 in Sydney.
However, the sending-off of captain and best player Khadija "Bunny" Shaw right at the end of the game for a harsh second yellow card will sour the celebrations a bit for the Reggae Girlz. The Manchester City striker, who led by example against Les Bleues by causing them all sort of problems in the first half, will miss the next game against Panama on Saturday, but will be back for the potentially decisive clash with Brazil on Aug. 2.
- Women's World Cup: Landing page | Schedule | Rosters | News
Shaw, like the rest of Lorne Donaldson's squad, put in a lot of intensity and physicality in the first half to disturb France's rhythm and forced them to make errors with sloppy passing. It was a spirited performance from Jamaica and they will draw a lot of confidence from the game as they bid to do better against Brazil than the 3-0 defeat they managed four years ago.
For new France head coach Hervé Renard, it was not the debut he wanted. For his second World Cup of the season (after managing Saudi Arabia at the men's one in Qatar), he got his tactics wrong with a wonky 4-4-2 to start the game and the choice of Amel Majri over Kenza Dali, who had been Les Bleues' best player in their friendly matches before the competition.
Dali made a huge difference when she came on after 66 minutes. France created enough chances to score, but Kadidiatou Diani hitting the bar and the post with the same header right at the end of the game perfectly summed up their frustrating evening. Now the game against Brazil on Saturday will be huge for Renard and his players. -- Julien Laurens
---
News of the day
The New Zealand national women's soccer team is safe and accounted for after they had to be temporarily evacuated from their hotel Saturday night due to a fire. A Fire and Emergency NZ spokesperson confirmed to ESPN that at around 8 p.m. on Saturday, emergency crews, including eight trucks, were called to the Pullman Hotel due to a fire alarm being triggered, forcing guests to be evacuated. The fire has been extinguished, and control of the hotel returned to the hotel staff. New Zealand Police said that a 34-year-old man had been arrested in connection with the fire.

The Matildas returned to training following Thursday's 1-0 victory over the Republic of Ireland in their opening Women's World Cup match and, as expected, injured skipper Sam Kerr did not participate in the warmup. But she looked to be walking unencumbered and without strapping around her leg as she greeted fans at an official FIFA training session.

Rachel Daly admitted she was frustrated to start England's World Cup campaign on the bench, a 1-0 win over Haiti on Saturday in Brisbane, but says will continue pushing her case and is ready to step up if given the chance. When asked if she was frustrated to begin among the replacements, Daly said: "I think anyone would be. No one is happy to sit on the bench. If you are, then you are not in the right place, not in the right career. It's a tough place for Sarina [Wiegman] to be, to pick the team. I respect her decisions and I will support Alessia [Russo] all the way and obviously I know Beth [England] will do the same."
---
Today in USWNT camp
SC Featured: Naomi
For U.S Women's National Team defender Naomi Girma, the daughter of Ethiopian immigrants, her path to a soccer career, let alone the national team, has been anything but standard.
With a staff of around 10 dedicated just to prepping meals and feeding the players around the clock here, a motto inside the camp of viewing "food as fuel" has taken root.

"The meals provide all the fuel needed to all the players to perform at each practice, recovery after each practice, and sleep through the night," USWNT sports dietician Lindsay Langford told ESPN.

With a highly structured and regimented schedule during this camp, players look forward to meal times as a highlight for their days. Since arriving in New Zealand, several players have mentioned it as being a key time to socialize with teammates and relax -- each night, the players and staff even do a "cheers" together with a juice shot.
-- Caitlin Murray, in Auckland, New Zealand, reports on how important food is to the USWNT's preparations for their World Cup games.
---
Sights and sounds
Sweden defeat South Africa in World Cup group stage
Sam Marsden reacts to Sweden's 2-1 win over South Africa in the 2023 World Cup.
WELLINGTON, New Zealand -- Sweden were made to toil in the Wellington wind and rain before breaking South African hearts in the final minute in the first World Cup match to feature goals for both teams.
South Africa sit 51 places behind Sweden, who are ranked third, in FIFA's world rankings but that difference was not on show here. While Sweden enjoyed most of the possession, the African champions were dangerous on the break.
The electric Thembi Kgatlana posed the biggest threat and it was her deflected shot which created a tap in for Hildah Magaia, who injured herself bundling the ball into the net in the 48th minute. It was only South Africa's second-ever goal at a World Cup, which was a good reason for the bench to charge into the corner of the pitch to celebrate.
However, they were not able to celebrate their first win at a finals -- or even a first point. Fridolina Rolfo pulled Sweden level in a slightly fortunate manner, turning home a cross with a touch she knew little about. And as the Sweden corner count racked up late on, reaching 13, the pressure eventually paid off when Amanda Ilestedt nodded home in the 90th minute. -- Sam Marsden
Lawson: A game of football that matched the weather
Lawson: A game of football that matched the weather 
Sophie Lawson reports from Netherlands' 1-0 win over Portugal in a wet and windy Dunedin evening.
Netherlands do enough
DUNEDIN, New Zealand -- At the 2019 World Cup, Netherlands threatened to move through the gears yet never quite found top speed. They did, however, do enough in first gear to reach the final, but their team has drastically changed since then. As has the global landscape of women's football. Now, if you want to go far in a tournament, it's not enough merely threaten a bit without delivering on that threat.
Against Portugal, a team making their World Cup debut, the Dutch did enough and little more than that. The veterans in the team who had not just been there and done it, but had picked up silverware as well, mostly provided the brighter moments. But they would still need to go back to the playbook to break the deadlock.
Reminiscent of a goal scored against Portugal at the Euros last year, Stefanie van der Gragt nodded home in the first half to decide the tie. Portugal improved as the match went on but struggled to harness their attacking threats, barely able to get into the Dutch box or test goalkeeper Daphne van Domselaar.
The match was a damp squib to match the dreary weather in Dunedin, with neither team looking overly prepared to deal with the world champions -- Sophie Lawson
- World Cup news, features, previews, and more
- Stream FC Daily and Futbol Americas on ESPN+
Will Germany prove to be contenders?
DUNEDIN, New Zealand -- Coming into this World Cup, Germany were once again rated among the favourites (next to the U.S., France, etc.) and although they have their flaws, they're still hopeful of lifting the trophy on Aug. 20 ... something they haven't managed since 2007.
It would be easy to dismiss the buzz around Germany by looking at their recent history, but there is something more to this team. A strong domestic league and firmly defined pathways for players to graduate through the youth ranks and move into the senior team provides the foundations for Germany's longevity.
Although nowhere near able to rival the U.S. for sheer depth of registered girls and women playing football, Germany nevertheless continues to bring through talented generation after talented generation, which is what keeps them in the conversation at youth tournaments (with the likes of Japan and Spain).
The story heading into this World Cup is a familiar one: after fizzling out in 2019 and falling just short at last summer's Euros, Germany looked unconvincing in warmup games. There has been a lack of cohesion in the side, and the attackers that coach Martina Voss-Tecklenburg has called upon often look rushed and struggle with the basics. However, there's an expectation that the pieces will magically fall into place once the ball gets rolling against Morocco in Melbourne. -- Sophie Lawson
Morocco look to inspire
MELBOURNE/NAARM, Australia -- In an appealing piece of synchronicity, Morocco's very first appearance at the Women's World Cup comes against Germany on Monday evening, mirroring the debut of its men's side on football's biggest stage at Mexico 1970. Then, a squad featuring just 19 players and led by Yugoslavian coach Blagoje Vidinic, played their first men's World Cup game against West Germany, going down 2-1.
Now 53 years on, the Atlas Lionesses' status as the first Arab nation to qualify for a WWC ensures their place in history regardless of what happens in the coming weeks, but their opening game against the two-time world champions has the potential to set the tone for the rest of the tournament.
Expecting Reynald Pedros' side to upset the Germans is an unrealistic proposition, but the likely absence of Marina Hegering and Lena Oberdorf as well as Germany's problems with defending transition in warmup fixtures against Vietnam and Zambia could augur opportunities for the likes of Rosella Ayane, Fatima Tagnaout and Sakina Ouzraoui on the counter.
Keeping it tight against the Europeans would place Morocco in good stead heading into more manageable contests with South Korea and Colombia, where they can look to continue their nation's recent magical footballing run. -- Joey Lynch
Match previews
Odds via Caesars Sportsbook.
Group G: Italy vs. Argentina (Eden Park, Auckland; 6 p.m. local / 2 a.m. ET / 7 a.m. BST)
Odds: Italy -180, Draw +275, Argentina +490
On paper, you would be forgiven for thinking Italy ought to be the favorite. Italy, ranked 16 in the world, sits 12 spots higher than Argentina in FIFA's world rankings. Argentina has never advanced out of the group stage in a Women's World Cup while Italy reached the quarterfinals in the previous edition in 2019. And Oddsmakers have also picked Italy to win with their betting lines.
If form matters though, Argentina clearly has the edge. They've seemingly found their footing under manager German Portanova and they will be entering this tournament with plenty of confidence, going without a loss in six games in 2023. If Argentina has a vulnerability, it's their leaky defense but fortunately for them, Italy is a team that lacks firepower.
Midfielder Manuela Giugliano is a special player but Le Azzurre lack a clinical finisher ahead of her. After crashing out in the group stage of last summer's Euros, the Italians are still stumbling. Their losses to England (ranked No. 4) and Belgium (No. 19) earlier this year showed an Italy that is not ready to take on top teams. But a draw to 72nd-ranked Morocco earlier this month suggests Italy might not be ready for any of the other teams in their group, Argentina included. -- Caitlin Murray.
Group H: Germany vs Morocco, Melbourne Rectangular Stadium, Melbourne, 6.30 p.m. local / 9.30 a.m. ET / 4.30 a.m. BST
Odds: Germany -5000, Draw +1300, Morocco +4000
Of the various storylines that have emerged across the first days of the World Cup, one that has caught the eye of German coach Martina Voss-Tecklenburg has been the challenge that football's old guard has faced in the first-ever 32-nation tournament.
Established powers such as Sweden, England, United States and host nation Australia have all been challenged by less-heralded opposition in their opening matches, while Norway fell to an upset against an emotionally-charged New Zealand.
Now, two-time champions Germany will face a Morocco that coach Reynald Pedros has declared is "ready to fight" in their debut tournament, and Voss-Tecklenburg is appropriately wary.
"All the games are tight, women's football teams have come ever closer," she said on Sunday. "All the countries coming here are not only proud to be at the World Cup, but they absolutely have the quality to play here and to pose problems." -- Joey Lynch.
Group F: Brazil vs Panama, Hindmarsh Stadium, Adelaide, 8.30 p.m. local/ 12 p.m. ET / 7 a.m. BST
Odds: Brazil -10000, Draw +1900, Panama +8000
In a World Cup of few guarantees, one of the most reliable predictions is that we'll see a different Brazil lineup in each of the three group stage matches. Coach Pia Sundhage has garnered a reputation as someone who likes to chop and change her starting XI, but it'll be fascinating to see who gets the nod up front for the Selecao when they face Panama on Monday.
Debinha should start, but who will Sundhage pair with her? Will she go with the in-form Geyse, or go for someone a little different with Bia Zaneratto? Marta, 37, is unlikely to feature against Panama as she continues her comeback from a hamstring injury, but her presence will still be indispensable to this group as they start to prepare for life after the legend as she embarks in her final World Cup. This is also a group without Nycole, with the Benfica midfielder ruled out on the eve of the tournament due to an ankle injury and replaced in the squad by Angelina.
Panama are massive underdogs. Ranked No. 52 in the world, they were the last team to secure their spot in the tournament but will look to midfielder Marta Cox and Washington Spirit forward Riley Tanner for inspiration. -- Tom Hamilton.
---
Features of the day
England's Earps steps up as goal-scoring struggles continue
You can't buy the jersey of England goalkeeper Mary Earps, but she stepped up when it mattered against Haiti as their goal-scoring issues continued.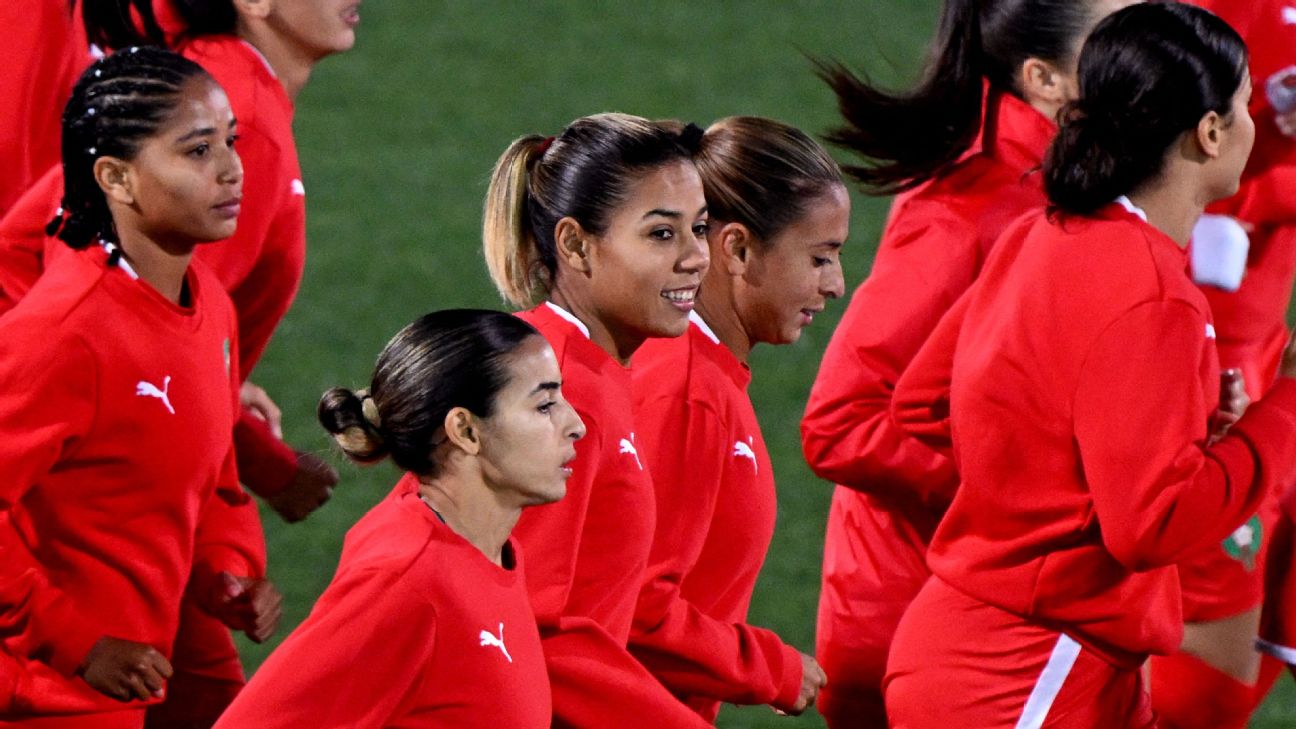 Morocco aiming to inspire a nation
After the men's remarkable run to the 2022 World Cup semifinals, Morocco's women are breaking their own boundaries and are ready to inspire a generation.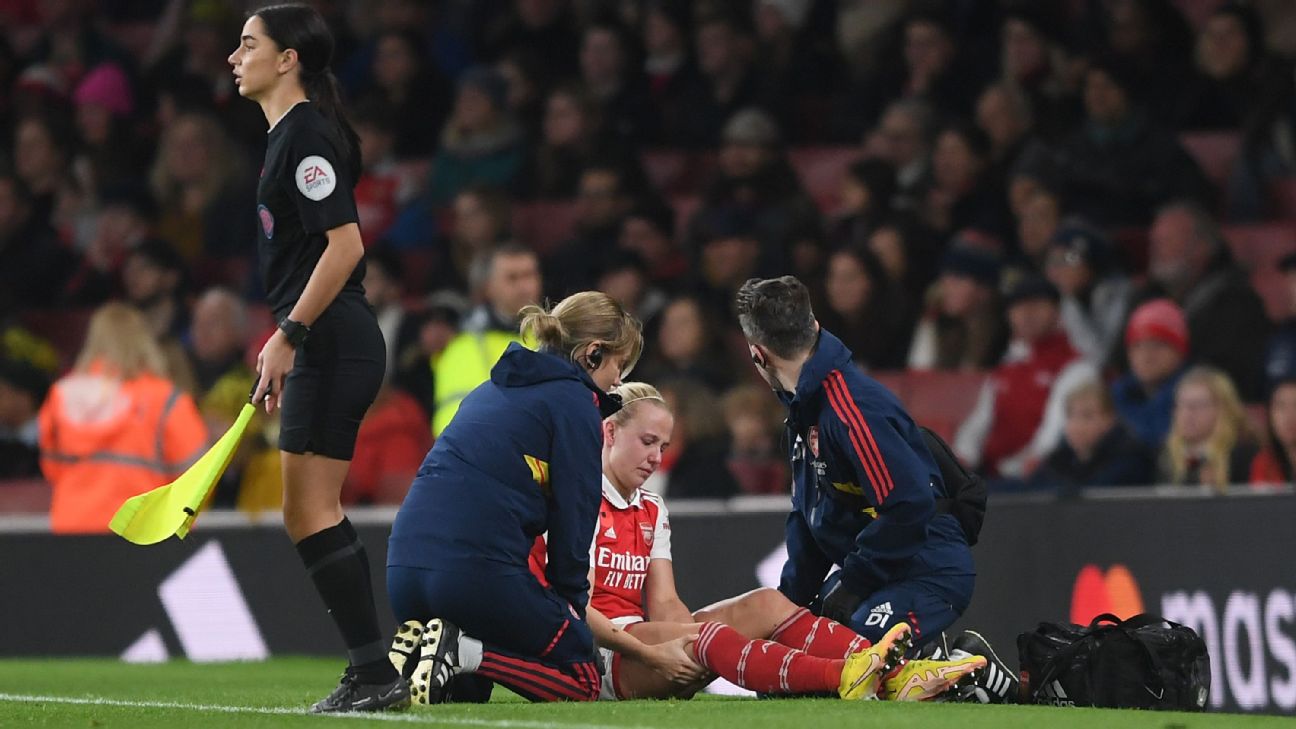 Why are so many Women's World Cup stars missing due to torn ACLs?
The list of absentees is depressingly long. Why is this long-term injury so much more prevalent in the women's game?
---
And finally ...
At the Sports Bra in Portland, the only thing playing is women's sports. It's a simple, yet seemingly unprecedented idea. Owner Jenny Nguyen believes the bar might have been the first of its kind when it opened in 2022. She envisioned a welcoming spot for people of all backgrounds, a haven for her group of queer and diverse friends who had always felt a bit like outsiders in traditional sports bars. Once the name -- The Sports Bra -- popped into her head, Nguyen said there was no turning back.
She still had no clue, however, whether the community would buy-in. Jamie Goldberg went to visit the bar to watch the USWNT's first match.