The 2023 Women's World Cup is in full swing, and these daily files will give you the latest reporting from around the tournament as well as betting lines, what-to-watch-for information and best reads. Check in with ESPN throughout the tournament as we bring you the latest from Australia and New Zealand.
---
WELLINGTON, New Zealand -- It's always impressive how a football crowd can create a wall of noise; how fans can find the right frequency to make it sound like you've stuck your head into a speaker. That's what it was like, sitting in Wellington Regional Stadium -- fondly referred to as the "Cake Tin" by locals -- when Philippines midfielder Sarina Bolden powered a header at Victoria Esson, only for the New Zealand goalkeeper to fumble it over the line. Beyond simple cheers, it was an eruption of adulation to match New Zealand's volcanic heritage.
The winning goal was a cold, hard comedown for the tournament hosts, who had played with a freedom afforded to underdogs against Norway, before struggling for fluency as favourites against a debuting nation on Tuesday. Statistically the better team and ranked 20 places above their opponents, New Zealand's game reeked of frustration as they sparred with a stubborn Philippines side, and challenges from both sides got a little less friendly.
The Ferns came close, first when Hannah Wilkinson's header ended up on the roof of the net, then when Jacqui Hand's low strike pinged off the upright and into Oliva McDaniels' hands. With each attack, those pesky noise levels mounted and, rather than being drowned out by their Filipino counterparts, it was the home support that reverberated around the Cake Tin.
Again, there was absolutely pandemonium as the ball hit the back of net thanks to Hand's header, but with the stadium still going wild, it was ruled out by VAR for a marginal offside. In the 93rd minute, substitute Grace Jale thought she had scored, only for McDaniels to tip her shot round the post and hand the Philippines a historic 1-0 win. -- Sophie Lawson.
- Women's World Cup: Landing page | Schedule | Rosters | News
WELLINGTON, New Zealand -- A first World Cup win in your first World Cup is as good a reason to celebrate as any -- and celebrate the Philippines did after stunning New Zealand on home soil. While their supporters were naturally outnumbered at Wellington Regional Stadium, they were still represented by a few thousand fans at the match owing to the 80,000-strong Filipino population across New Zealand. They brought most of the atmosphere before the game, dressed in bright colours, banging drums and singing, and they certainly were not going anywhere after Bolden's goal.
Twenty minutes after the game had ended, they were still lining the front row of the ground, the players making their way slowly around the pitch before finally, perhaps even reluctantly, heading down the tunnel. The squad, made up of players plying their trade in Brazil, Sweden, the United States and Australia, among other countries, joined hands and bowed down in front of their adoring public in every corner of the stadium.
They won't be able to party too hard, though. Next up is Norway, and they have a genuine a chance of making the round of 16 now. -- Sam Marsden.
---
News of the day
There were strange scenes as Norway's Ada Hegerberg was withdrawn from the squad minutes before kickoff after she suffered a groin injury in the warmup ahead of the game against Switzerland. The national team doctor confirmed on social media that the 28-year-old star had to be replaced, with Hegerberg in the prematch huddle but then heading straight down the tunnel.

USWNT forward Alex Morgan said she and her international teammates need "a little more patience" in attack to reach their full potential at the 2023 Women's World Cup. The U.S. claimed a 3-0 victory over an organized and disciplined Vietnam side in the tournament opener for both teams. But there is a sense that the Americans should have won by a bigger margin given that they had a 28-0 advantage in shots, though just seven of those were on target.

Zambia's news conference to preview Wednesday's World Cup match against Spain was ended early due to persistent questions about an investigation into allegations of sexual misconduct against the team's coach, Bruce Mwape. After the FIFA media officer vetoed one question, Mwape did respond to one journalist who asked if it would be for the good of the team if he stepped aside to allow them to focus solely on the football.

"What environment affecting the team in particular?" he said. "What are you talking about? I would like to know because there is no way I can retire without reason. Maybe your reason is because what you are reading from the media or from the press, but the truth of the matter should actually come out, not just on rumours."

Further questions were shut down by both the FIFA and Zambia media officers, with the former then ending the news conference early, leaving several journalists without a question.
---
Today in USWNT camp
England train ahead of Denmark clash at the World Cup
Tom Hamilton reports from England's open training session at the Central Coast Stadium.
It's been said that an idle mind is the devil's workshop, and that seems to be the approach of the USWNT. On the surface, there seems to be no shortage of team activities. There is training, of course, but there are also meetings on teamwide, small group and personal levels. There's video to watch as well, be it about the U.S. or upcoming opponents. If that feels like there's not much free time, it's a dynamic that the players expect.

"I think people realize we're not here on vacation," said defender Crystal Dunn. "We're here to get a job done. We're here to work and be at our absolute best for this tournament."

There is some wiggle room within the team's schedule, though, even as the definition of downtime can become blurry and often be in the eye of the beholder. Some players' ideas of relaxing don't exactly sound like, well, relaxing.

"There's downtime within the structure," forward Lynn Williams explained. "We are so lucky to have so many recovery modalities, and there's allotted time if you want to take advantage of that. There's also treatment time if you want to take advantage of that. But if you don't, and you feel like you need to go walk around or you feel like you need to see your family, there's time for that. So it is structured in some ways, but there's a good chunk of time that you can fill with whatever you feel like you need to do to be your best self."
Jeff Carlisle reports on how the USWNT are managing their downtime in between games.
---
Sights and sounds
SYDNEY -- South Korea forward Casey Phair made history by becoming the youngest player to make their World Cup debut, at 16 years and 26 days old, as well as the first mixed-heritage player to represent Korea.
Coming on in the 78th minute in the 2-0 defeat to Colombia, the U.S.-born Phair made her presence felt with a number of big challenges as she worked tirelessly to try to get Korea back into the game. But it was another teenager, Colombia's 18-year-old Linda Caicedo, who stole the show as she scored on her World Cup debut.
"I think today didn't really go as we planned, the results didn't come out as well as we hoped, but I really enjoyed playing for my first time and I'm really happy to be the youngest player at a World Cup," Phair said after the match. "I'm really proud and really honoured to be the first mixed player for the Korean Federation also and I really think that I appreciate the opportunity I was given and I'm very honoured."
In the end, however, it was heartbreak for Phair & Co. and euphoria for Colombia as they secured just their second win at a World Cup. Expected to be a cagey affair, with both sides keen for at least a point to help get out of a tight Group H, it was instead a fiery encounter with both sides happy to bring physicality to the game and Colombia reaping the rewards of constant attacking pressure.
Catalina Usme's 30th-minute penalty had the Colombia-heavy crowd cheering, before fellow midfielder Caicedo became the 10th-youngest World Cup goal scorer when she dribbled 42 meters to add the side's second minutes later.
While Korea had their chances to get on the scoreboard, they were unable to convert their five attempts at goal and instead were forced to withstand wave after wave of Colombian attacks. -- Brittany Mitchell
All to play for in Group A
Norway's World Cup campaign is poised on edge after they played out a 0-0 draw against Switzerland. The team haven't scored in either of the first two matches, but it could have been a different story if not for some chaos right before the match started.
Star striker Hegerberg warmed up with her teammates, was present in the team photo, and stood in the prematch huddle before mysteriously exiting the pitch and walking back down the tunnel only moments before kickoff. A groin complaint was the reason given by the team at half-time. But Hegerberg was not the only absentee with Ingrid Engen and Caroline Graham Hansen -- who both started against New Zealand -- relegated to the bench. Though Graham Hansen was eventually substituted on for her 100th national team appearance.
The Swiss were riding high on confidence after their 2-0 victory over the Philippines and created chances, but they could not find the back of the net. Norway were similarly toothless in front of goal and the result means Group A has everything to play for heading into the final matchday of the group stage. -- Marissa Lordanic
Alyssa Thompson shares thoughts on huge Netherlands clash
Alyssa Thompson and Naomi Girma share the USWNT's expectations ahead of their massive game vs. the Netherlands.
England put on a show in training
GOSFORD, Australia -- Under blue skies, against the picturesque backdrop of the harbour, England trained in front of around 2,000 local children who had flocked to the Central Coast Mariners' stadium to catch a glimpse of the team.
England put on an open training session, lasting nearly two hours, as the children cheered every goal, and watched on as Sarina Wiegman's team continued their preparations for the game against Denmark on Friday.
They saw England fine tuning their combinations, with Lauren James, Alessia Russo and Chloe Kelly linking up for one brilliantly-worked goal. They saw Georgia Stanway and Keira Walsh going through their own bespoke drill working on quick passing. And they also saw Millie Bright working with two coaches as she pinged various long passes out to the right wing.
The occasion was marked by the traditional welcoming ceremony, led by the Darkinjung group.
They're particularly proud of their pitch here -- an immaculate surface at the Central Coast Stadium which has won awards in the past. It's the same patch of grass where Jamaica's Olympic sprint legend Usain Bolt had his brief trial with the Mariners back in 2018. -- Tom Hamilton
- World Cup news, features, previews, and more
- Stream FC Daily and Futbol Americas on ESPN+
Popp 'phones home' in celebration
Alexandra Popp may end up winning the Golden Boot at this World Cup, but she's already left her mark on the tournament with a brace of goals in Germany's 6-0 win over Morocco.
The Germany striker marked her first with an eye-catching goal celebration. She pointed to the sky with one arm, and made a telephone sign with her other hand. The inspiration? The 1982 film "E.T. the Extra-Terrestrial."
"The gesture I used to celebrate my goal comes from E.T. when he wants to phone home," said Popp. "I phone home because we're a long way from home. It's not just for those who sit in front of the TV, but also for the people who can't be with us any more and are very important to me. It shows that I think of them."
Popp's two-goal performance pleased her coach, Martina Voss-Tecklenburg.
"That our goal scorer is also our captain is great. She knows she can score from the crosses and we know how our team plays," she said. "Wherever she plays, she is a great leader, a great captain and one of the very best. She is also a team player. We don't just have Alex but a lot of other players who take on responsibility. It's a really important aspect of our team. But I'm so happy that Alex is with us because she is great." -- Tom Hamilton
Match previews
Odds via Caesars Sportsbook.
Group C: Japan vs. Costa Rica (Forsyth Barr Stadium, Dunedin; 3 p.m. local / 1 a.m. ET / 6 a.m. BST)
Odds: Japan -5000, Draw +1400, Costa Rica +3000
After playing some of their best football in a 5-0 win against Zambia, the job for Japan in their second match will be maintaining consistency against a Costa Rica team that felt flat against Spain. Having opted for Mina Tanaka to lead the line last week, coach Futoshi Ikeda may be looking to freshen the team and rotate by bringing in Riko Ueki, or saving Hinata Miyazawa's legs after her starring role in Hamilton.
Having struggled against Spain, the job for Las Ticas will be to solidify their defence lest they make things too easy for the Nadeshiko. -- Sophie Lawson
Group C: Spain vs. Zambia (Eden Park, Auckland; 5.30 p.m. local / 3.30 a.m. ET / 8.30 a.m. BST)
Odds: Spain -15000, Draw +2100, Zambia +9000
Spain boss Jorge Vilda warned his players against being "fooled" by Zambia heavy defeat to Japan in their opener. He pointed out it is less than three weeks since the same group of players, spearheaded by Barbra Banda and Racheal Kundananji in attack, beat Germany 3-2.
Vilda could make changes to the Spain side which beat Costa Rica 3-0 in their first game as he makes use of the depth he has available. Alexia Putellas, who has come through four training sessions since the win over Costa Rica, could start her first game at the tournament as La Roja to look to book their place in the round of 16 and send their African counterparts home. -- Sam Marsden
Group B: Canada vs. Republic of Ireland (Perth Rectangular Stadium, Perth; 8 p.m. local/ 8 a.m. ET / 1 p.m. BST)
Odds: Canada -165, Draw +250, Republic of Ireland +490
It's only matchday two for Canada but it already feels like a must-win clash for the Olympic champions, particularly with a final group game against the Matildas still to come. Canada were held to a frustrating draw against Nigeria in their opener and continue to struggle to put the ball into the back of the net.
Meanwhile, Ireland can consider themselves a little unlucky to not walk away from Sydney with a point in their first game against co-hosts Australia. Vera Pauw's side are more than capable of causing an upset in Perth, which would go a long way toward progression to the knockout stages. -- Jake Michaels
---
Features of the day
The recipe for Philippines' historic World Cup win? Adventure, a touch of luck and sheer desire
With a sense of adventure, a touch of luck and sheer desire, Philippines now have a maiden FIFA Women's World Cup win to their names.
How teams can qualify from each Women's World Cup group
Group play in the Women's World Cup is moving into its crucial stage. Here, we take a look at all eight groups and what's needed to secure a passage to the knockout rounds.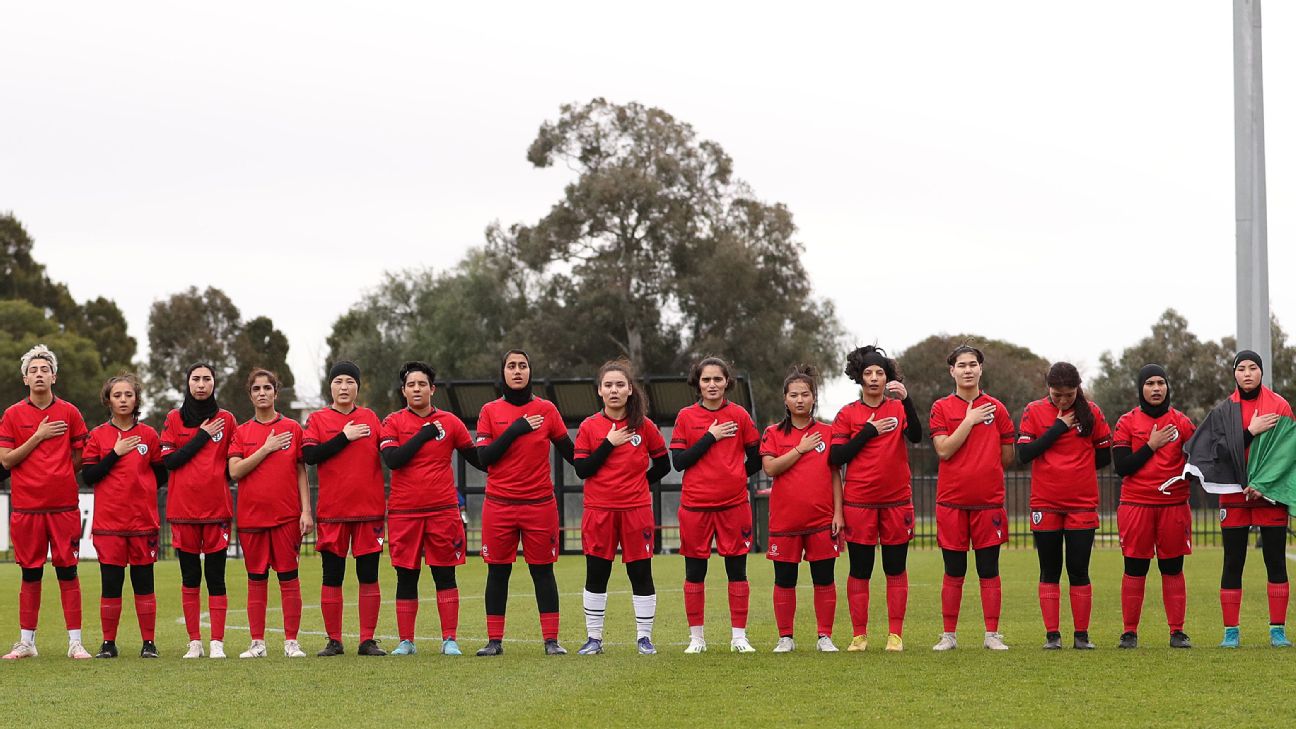 Afghanistan women's team in exile wants FIFA recognition
There is one other nation in Australia this Women's World Cup -- Afghanistan. The team in exile wants action, not just words, from the likes of FIFA.
---
And finally ...
If there was ever a quintessential example of a Brazil goal, it was the Selecao's third goal in its 4-0 win against debutantes Panama. Brazil forward Beatriz Zaneratto scored off a beautiful combination of creativity, backheels and flair. A pure work of art which will surely be a goal of the tournament contender.
BRAZILIAN SOCCER AT ITS FINEST 🇧🇷

Bia Zaneratto makes it three for Brazil 🇧🇷 pic.twitter.com/DT0c5838Rk

— FOX Soccer (@FOXSoccer) July 24, 2023