The 2023 Women's World Cup is in full swing, and these daily files will give you the latest reporting from around the tournament as well as betting lines, what-to-watch-for information and best reads. Check in with ESPN throughout the tournament as we bring you the latest from Australia and New Zealand.
---
The lead: Walsh injury sours England win over Denmark
SYDNEY -- England have one foot in the knockout stages of the Women's World Cup after a 1-0 win over Denmark, but the victory was tainted after midfielder Keira Walsh was stretchered off with what looked like a knee injury in the first half.
Walsh is regarded as one of the finest players in world football and is irreplaceable. If the injury is serious, it will come as a huge blow for England's hopes of winning the World Cup. Up until that injury in the 35th minute, the narrative looked like it was going to centre on Lauren James, who scored a wonderful goal just six minutes into the match. It was England's first goal in open play for 343 minutes and was an immediate return on the changes Sarina Wiegman made from the team that defeated Haiti 1-0.
- Women's World Cup: Landing page | Schedule | Rosters | News
- How teams can qualify for the round of 16
Wiegman (who kept the same starting XI throughout the successful 2022 European Championship campaign) made two alterations, with James starting on the left wing, Rachel Daly at left-back, and Alex Greenwood alongside Millie Bright in the centre. It gave England more attacking intent, but Walsh's injury changed the momentum.
Denmark had chances as they picked holes in England's defence and had enough opportunities to get something out of the game, no more so than Amalie Vangsgaard's late chance that she headed on to the post from close range.
For England -- again -- it's a case of job done, but it was a far-from-convincing win and Walsh's injury is a major setback. -- Tom Hamilton
---
News of the day
SYDNEY -- England midfielder Keira Walsh was stretchered off in the 35th minute of their Women's World Cup group-stage match against Denmark on Friday with a leg injury. The news will come as a huge blow if the injury is serious as Walsh is regarded as one of the world's best central midfielders and is integral to England.

Walsh, 26, appeared to injure her right leg as she stretched for a wayward pass. She immediately collapsed to the ground, signalled to the referee for help, bringing the game to a halt. Television cameras showed Walsh telling physios she had hurt her knee, and after receiving on-field treatment, the England star was stretchered off and replaced by Laura Coombs. -- Tom Hamilton

1:25

Why Keira Walsh's injury could be a 'massive blow' for England

Sophie Lawson speaks after Keira Walsh was stretchered off vs. Denmark at the Women's World Cup.

South Africa coach Desiree Ellis was not happy her side let a two-goal lead slip against Argentina in a 2-2 draw.

"It is about taking our chances," she said. "That's the problem, we don't take them, it comes back at us every time. If we had taken our chances we would have had a different conversation. It is fantastic we got our first point but three would have been better, it's like you hand me a chocolate and then take it away, and I love chocolate."

Meanwhile, it was Yamila Rodriguez who provided the crucial cross for Romina Núñez's goal that kept the South American side's knockout stage hopes alive. Rodriguez has endured social media abuse from Argentina fans in recent days because of a Cristiano Ronaldo tattoo on her leg, which was perceived to be anti-Lionel Messi.

WELLINGTON, New Zealand -- Spain have decided to leave their training base in Palmerston North slightly early after boredom set in among the players and their families, sources told ESPN. La Roja will head to Wellington on Saturday, two days before they face Japan in a match that will decide who wins Group C.

Staying in Palmerston, a city two hours north of Wellington and a short flight from Auckland, the two locations where Spain are guaranteed to play until the semifinal stage, was seen as a good option in many ways. Team officials stressed that they enjoyed their stay there and were made to feel at home, with sources praising the people, their hotel and the facilities at Massey University, where they've been training. However, the lack of things to do in the area has taken its toll. Families, including some players' children, are staying with the squad as part of a pre-tournament agreement with the Spanish Football Federation but, along with the players, have found there is little to do, especially in the evenings.

It was not Spain's first choice base, but they missed out on their preferred options, one of which being the facilities used by Sweden in Upper Hutt. Jorge Vilda's side have made a good start to the tournament still, beating Costa Rica and Zambia to book their place in the last 16 -- Sam Marsden
---
Today in USWNT camp
Nigeria fans in full party mode after famous win vs. Australia
Fans of Nigeria feel their team can go all the way to the final at the World Cup after their 3-2 win vs. hosts Australia.
The USWNT's 1-1 draw with Netherlands was the first time since 2007 that it used one or fewer substitutes in a World Cup game, per Stats Perform. The USWNT has never not used a substitute during the World Cup, but the team used just one substitute six previous times, with three of those instances coming in the first Women's World Cup in 1991.

Making it even more head-scratching that Andonovski declined to use subs: in previous cycles, three substitutes was the maximum number a coach could use. In this World Cup, Andonovski could make up to five.
Caitlin Murray reports on USWNT coach Vlatko Andonovski's decision not to bring on fresh players in the 1-1 draw with Netherlands.
---
Sights and sounds
Goal of the tournament? Braun helps Argentina draw vs. South Africa
With their World Cup campaign under existential threat, two goals in five minutes saw Argentina storm back to erase a two-goal deficit and force a 2-2 draw with South Africa on Friday.
Placed in a hole thanks to efforts from Linda Motlhalo and Thembi Kgatlana, as well as their own haphazard defensive efforts, a goal-of-the-tournament contender from Sophia Braun served to give La Albiceleste a pulse in the 74th minute in Dunedin, before Romina Nuñez sent in a glancing header in the 79th to restore parity.
🤯 ¡¡¡GOLAAAAAZOOOO ESPECTACULAR!!!

⚽️ Sophia Braun sorprendió con un GOLAZO estilo @MR11ok y se acercan las argentinas en el marcador.#ARG 1-2 #RSA

📺 @NBCUniverso y @peacock ➡️ https://t.co/kWnYCuRFwZ#MundialTelemundo #LaCopaEsNuestra #FIFAWWC pic.twitter.com/xQ8ZK5HEpn

— Telemundo Deportes (@TelemundoSports) July 28, 2023
For Argentina coach German Portanova, it was a sudden burst of life that would have left him wondering where all this urgency and drive had been while they were falling into a two-goal deficit. For South Africa coach Desiree Ellis, though, it represented a lamentable inability to shut the gate on an opponent that, for vast swathes of what she had called a must-win game, had been disjointed and lackadaisical in defence -- a blunder that had cost her side a first-ever World Cup win after initially appearing like they were cruising.
Positive and purposeful on the counter, Banyana Banyana had taken the lead in the first half when the Argentine defence slowed to a crawl expecting the offside flag, only for review to determine that Kgatlana had, in fact, been played onside by Miriam Mayorga before she squared the ball for Motlhalo to finish. When Jermaine Seoposenwe swiped the ball from Aldana Cometti and played a low ball for Kgatlana to drive home in the 66th, it appeared that the African champions were home -- only for Argentina to finish strong against some suspect South African game management. -- Joey Lynch
How can France improve for huge clash with Brazil?
Julien Laurens discusses France's expectations for their game vs. Brazil after their poor performance vs. Jamaica.
Canada restrict media ahead of crucial Australia test
MELBOURNE/NAARM -- Realistically, Australia and Canada's match at Melbourne Rectangular Stadium on Monday evening looms as a crucial, win-and-you're-in encounter. Barring a Nigerian collapse against Ireland, either the reigning Olympic champions will be going home when the final whistle blows, or a host nation will have cataclysmically exited in the group stage.
The pressure is crushing. Perhaps in response, Canada will restrict media access to both their pregame news conference and the end of their training session -- giving players an extra rest day after making the long flight back from Perth.
One of three teams based in Melbourne for the World Cup, Canada have been training at the ground of local National Premier League side Heidelberg United, with sessions almost exclusively covered by travelling members of the Canadian press. The interactions between media and players in less formal settings following sessions have been mostly lightweight, with more difficult questions mostly coming at mandated FIFA conferences.
With the Matildas based in Brisbane and the vast majority of Australia's (tiny) football press pack with them until they fly down on Sunday, meanwhile, the chances of training suddenly being swarmed by a horde of disruptive local journos with the required accreditation to attend and knowing enough to ask difficult questions is infinitesimal.
Previously, the Canadian press have previously raised issues with player access at the men's World Cup in Qatar. Men's coach John Herdman told OneSoccer in June that criticism of his players and staff following a Concacaf Nations League final defeat to the United States had been "disappointing and personal." -- Joey Lynch
VAR dictates outcome as China beat Haiti
ADELAIDE, Australia -- Not for the first time at this World Cup, we witnessed a game that felt the presence of VAR. From the yellow card upgraded to red for Zhang Rui's studs-up challenge into Sherly Jeudy's knee to a penalty awarded after VAR overturned a narrow offside, to the reversal of a penalty decision in stoppage time. It was a game with plenty of bite and palpable momentum shifts; it was the perfect advert for the usage of video reviews, none of the key decision controversial but brought clarity to what had been missed in regular time.
After China had been reduced to 10 players, Haiti gained momentum and created chances after the half-time introduction of star attacker Melchie Dumornay, but like a pendulum swinging, the penalty buried by Wang Shuang -- who had her own impact after coming on at the break -- gave China a renewed sense of belief after the panic of Rui's dismissal. Indeed, China could have had a second penalty not long after their first, one that was arguably more obvious for a shove in the box, but the video assistants were unmoved. The narrow scoreline adding to the chaotic atmosphere and neatly poised game.
- At long last, Wang Shuang has her World Cup moment
Even in the nine minutes of stoppage time, there was still time for VAR to have a say to overturn referee Marta Huerta's initial decision to award a penalty to Haiti, with her review yielding a decision of no foul. It finished 1-0 after two more penalty shouts -- both for Haiti --and the last meaningful action was Haiti coach Nicolas Delépine being shown a yellow card for airing his frustrations.
Remarkable, Haiti have still yet to score a goal at this World Cup despite their consistent chance creation and entertainment. -- Sophie Lawson
Nigeria celebrations go long
Nigeria produced a major shock at the Women's World Cup as they stunned Australia 3-2 on Thursday to leave the co-hosts' tournament hopes on thin ice. And their fans certainly enjoyed it.
Wendie Renard to decide if she plays for France
France's captain and most experienced player Wendie Renard is still not 100 percent certain to face Brazil on Saturday in the huge clash in Brisbane. After hurting her calf against Jamaica in the opening game, the defender remains doubtful.
"We have our fingers crossed that she will be able to play tomorrow, Les Bleues' coach Hervé Renard said Friday in his news conference. "She will have to decide before the game if she plays or not. It's not my decision. She will have to tell me how she feels and if she can start. We all wish that she starts without taking big risks. She knows her body."
The French are already without some key players (Marie-Antoinette Katoto, Amandine Henry, Griedge M'Bock, among them) for this World Cup and losing their captain would be catastrophic. Renard trained normally on Thursday and Friday, but is not 100 percent.
"Training is too different to playing big matches," the French coach added. "She is also very important for the way she leads and helps the team in the moments where we have to suffer in a game. She gets everyone together. We need players like her." -- Julien Laurens.
- World Cup news, features, previews, and more
- Stream FC Daily and Futbol Americas on ESPN+
---
Match previews for July 29
Odds via Caesars Sportsbook.
Group G: Sweden vs. Italy (Wellington Regional Stadium, Wellington; 7:30 p.m. local / 3:30 a.m. ET / 8:30 a.m. BST)
Odds: Sweden -130, Draw +230, Italy +390
SYDNEY -- A coin-flip team at the best of times, you never quite know which Sweden team is going to turn up at a major tournament. Always rated highly for their ability to go deep in competitions whether playing attacking or defensive football, the third-ranked nation in the world flattered to deceive against South Africa in the driving rain in Wellington, falling behind to a Hildah Magaia strike early in the second half.
Nabbing a fortunate equaliser through Fridolina Rolfo, Sweden dug deep and found a late winner against a tiring underdog, raising the question of what happens next. Sometimes a poor performance is a one-off, a day when the choir can't quite seem to sing in the right key, but the next time they convene, they once again hit the right notes.
In league play, we talk about teams that win ugly as being resolute, showing the stuff of champions to get over the line on an off day, but tournament football is far less forgiving and you're only allowed so many near-misses. The performance and points almost dropped should act as a shot in the arm for Peter Gerhardsson and his players, who need to tap back into the scintillating football they displayed during the group stage of the 2021 Olympics.
However, there is a growing worry that they missed their window for success and are due to be relegated back to the role of bridesmaids (at best), as teams who can harness their potential push them aside. Friday's clash in Wellington should tell us exactly where they stand. -- Sophie Lawson
Group F: France vs. Brazil (Lang Park, Brisbane; 8 p.m. local / 6 a.m. ET / 11 a.m. BST)
Odds: France +175, Draw +210, Brazil +155
BRISBANE, Australia -- The men's game has offered us some World Cup classics between France and Brazil through the years -- the 1986 quarterfinal's penalty shootout drama, the 1998 final for Les Bleus' first title, and Zinedine Zidane's masterclass in 2006.
Now it is the turn of the women's teams to add another chapter to the rivalry. In 2019, the round-of-16 clash had a few twists with France's win in extra time, but Saturday's group stage could easily top that.
Brazil can qualify with a victory and pretty much secure top spot as well, while France could be on the verge of elimination with a defeat. The tension will be high in Brisbane. Hervé Renard is under pressure after his poor team selection and tactical choices and Les Bleues' lacklustre performance in a scoreless draw with Jamaica. The good news is star defender/captain Wendie Renard should be fit, but the bad news is she won't be 100% recovered from her calf injury.
On the other hand, Brazil were great against Panama in a 4-0 win that saw Ary Borges score a hat trick. They might not (and probably shouldn't) be so attack-minded against the French but they can certainly make a statement with another top display and an important win. -- Julien Laurens
Group F: Panama vs. Jamaica (Perth Rectangular Stadium, Perth; 8:30 p.m. local/ 8:30 a.m. ET / 1:30 p.m. BST)
Odds: Panama +475, Draw +245, Jamaica -160
Given a trial by fire on their World Cup debut against an imperious Brazil team, Panama will be looking for a better showing against Jamaica, hoping to show a little more bite, we may see starts for Lineth Cedeño and Riley Tanner in what should be a more open game for Las Canaleras.
Jamaica will similarly looking to show more of their attacking poise after picking up a historic point against France, but without suspended star striker and captain, Bunny Shaw, the onus will be on her teammates to deliver the killer blow(s) and get the better of highly rated Panama goalkeeper Yenith Bailey. -- Sophie Lawson
---
Features of the day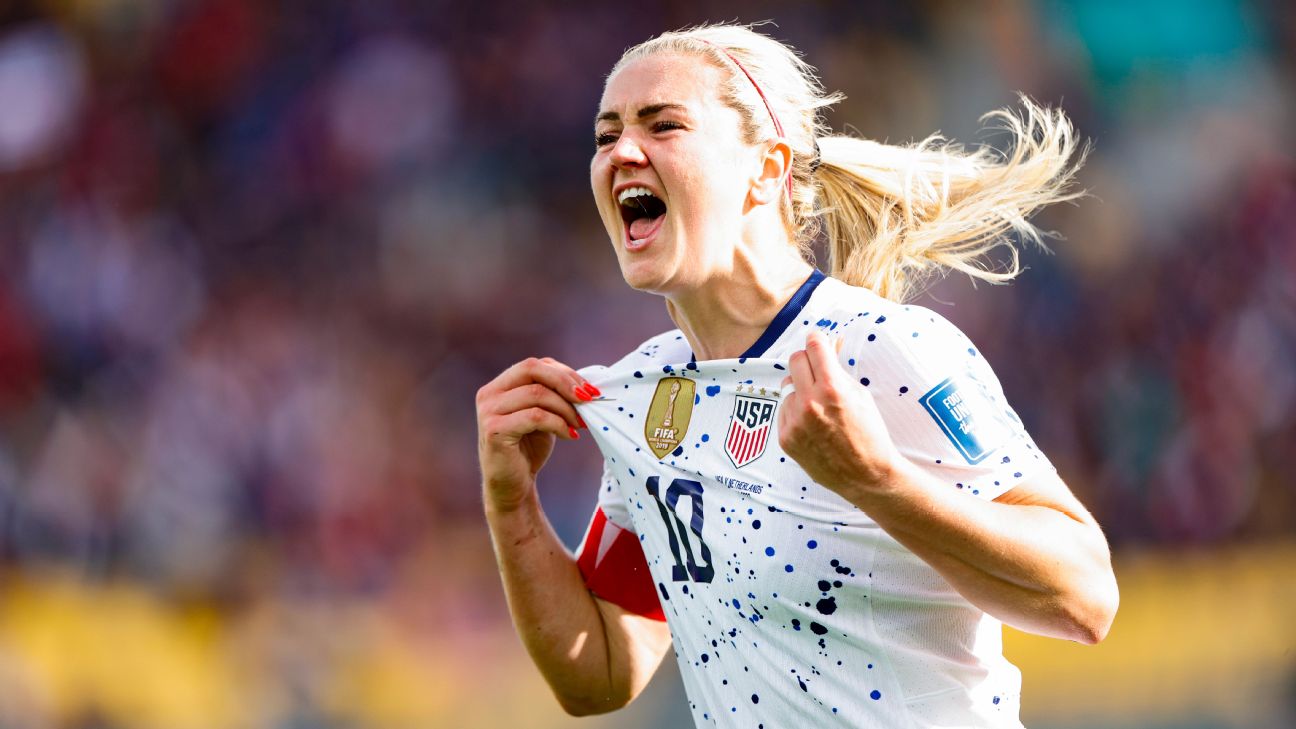 Why you shouldn't panic about the USWNT at the 2023 World Cup
Some fans are questioning the USWNT's World Cup chances after a less-than-dominant first two games, but there's plenty of reason for optimism, writes Ryan O'Hanlon (E+).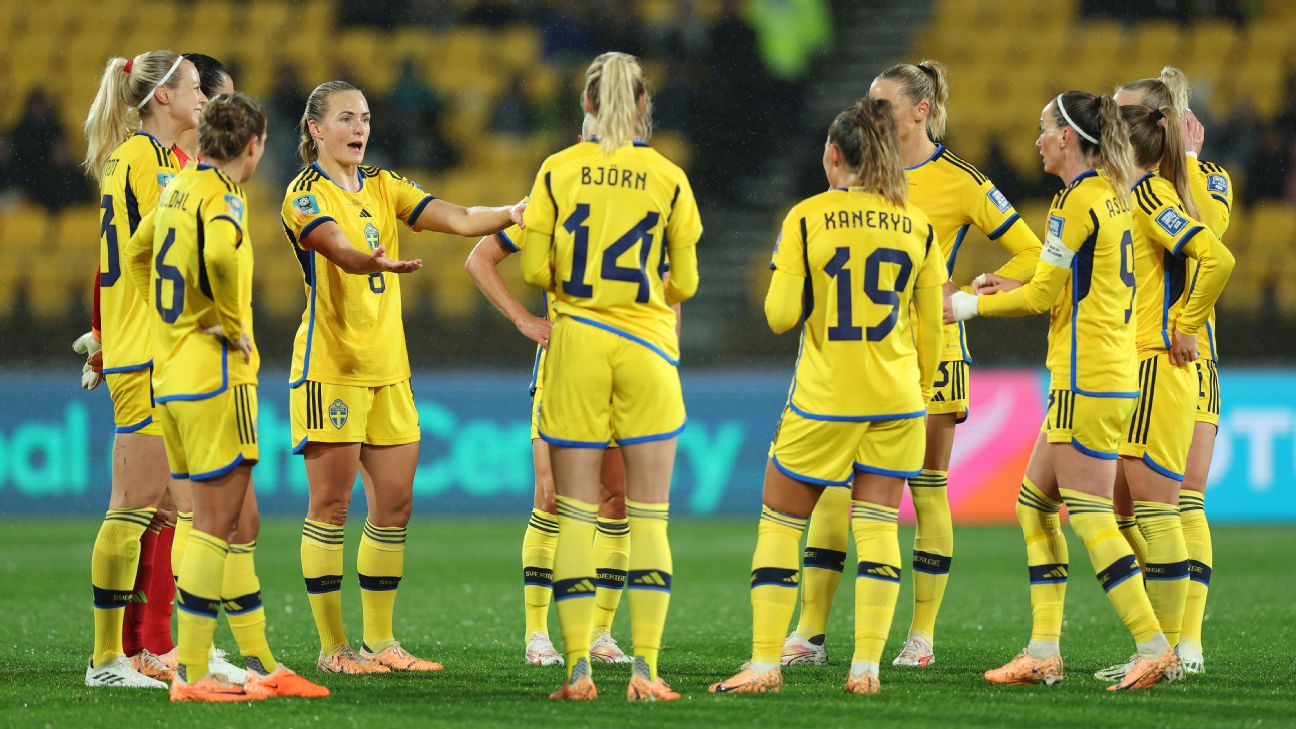 How Cornhole has created a frenzy at Swedens World Cup camp
Cornhole is a bit of fun, but it's been an important component of Sweden's camp and is helping keep the mood light, but competitive, at the World Cup.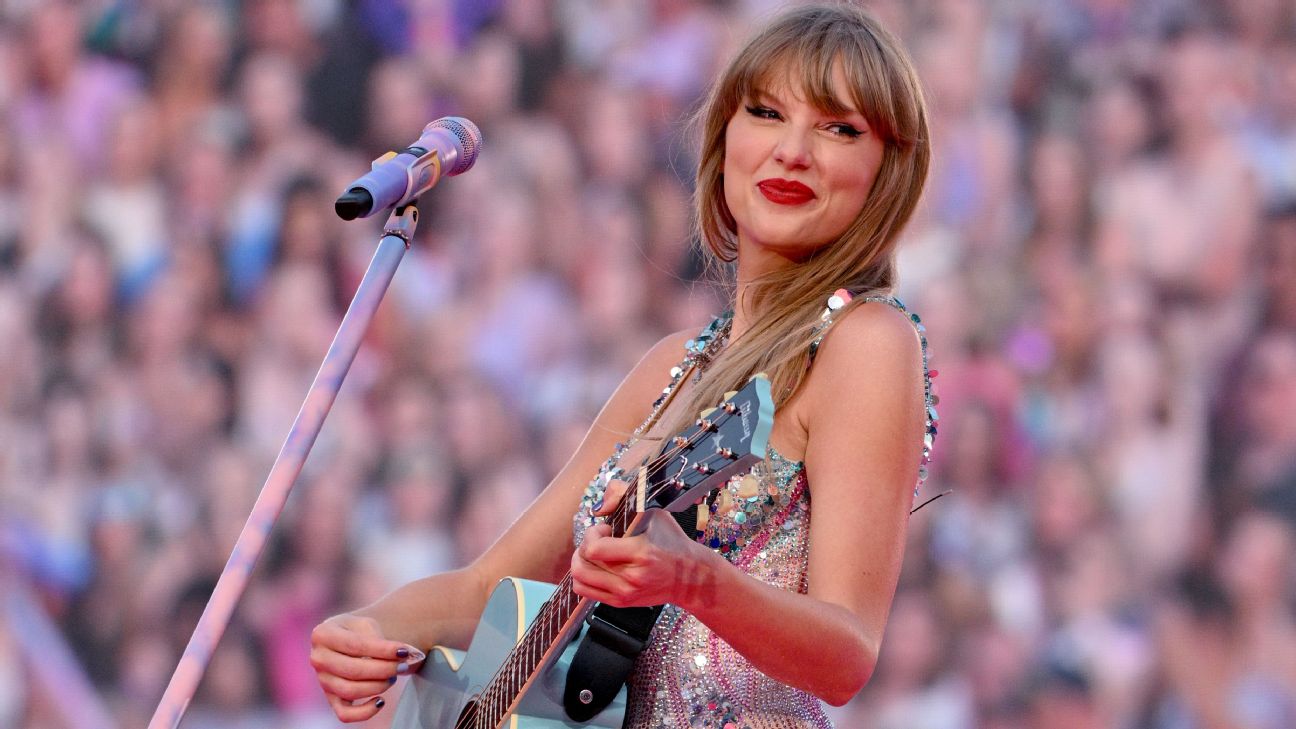 Women's World Cup goal music: Taylor Swift for USWNT but Gala is No. 1
Taylor Swift will soundtrack every goal scored by the United States at the Women's World Cup, but she isn't the most chosen artist at the tournament.
---
And, finally ...
Argentina's World Cup hopes are hanging in the balance, despite coming from behind to draw 2-2 with South Africa on Friday, but their fans have once again stepped up to the plate. Just as they left their mark in Qatar as the men's team won their third World Cup in 2022, they have provided the soundtrack to their opening games in Auckland and Dunedin.
The song "Muchachos," which echoed around Doha, has been given a rebrand and turned into "Muchachas" by the Albiceleste fans in New Zealand, with the lyrics altered to fit the women's team as they seek their first ever World Cup win.
Complete with a drummer, the chant could be heard throughout the game at Forsyth Barr Stadium as Argentina came from 2-0 down against South Africa to secure their first point of the tournament.
"I love it," Oregon-born Sophia Braun, who scored Argentina's first goal in the comeback, told reporters. "I am so happy to be playing here. Listen to the crowd, they're awesome. They are motivating us. Thank you so much for all your love and support. We are so grateful and will play hard for you in the next one, too."
With a win needed in their final game against Sweden to reach the round of 16, Argentina will be relying on the magic of "Muchachas" to get them over the line. -- Sam Marsden