The 2023 Women's World Cup is in full swing, and these daily files give you the latest reporting from around the tournament as well as betting lines, what-to-watch-for information and best reads. Check in with ESPN throughout the tournament as we bring you the latest from Australia and New Zealand.
---
The lead: Jamaica hold Brazil to send them crashing out
MELBOURNE/NAARM -- The end of a football match often sees a juxtaposition of emotions: from soaring ecstasy to deepest despair. When referee Esther Staubli blew her whistle to signal the conclusion of Jamaica's 0-0 draw with Brazil on Wednesday, a dagger was sent through the spirit of all with Joga Bonito in their hearts.
A country where anything less than a World Cup win is seen as an underachievement (even if that set expectations unfairly high for a women's team consistently denied investment and opportunity), was eliminated in the group stage of the Women's World Cup for the first time since 1995. What was supposed to be a tournament that highlighted the start of a new chapter of women's football in Brazil turned sour.
- Women's World Cup: Landing page | Schedule | Rosters | News
- How teams can qualify for the round of 16
And yet on the other side, there was joy. Not just joy, but sheer, unbridled jubilation from the Reggae Girlz. In only their second World Cup, coach Lorne Donaldson's team reached the round of 16 for the first time. They had defeated Panama to record their first win at a World Cup and held both France and Brazil to draws on their way through.
Jamaica's playbook for Wednesday was simple: defend. Against France, they retained just 24% of possession and spent 30% of the time in either a mid- or low-block. Against Brazil, they had slightly more of the ball but spent almost 40% of their time in a low-block.
But it worked. By half-time, Brazil had produced only one shot that came even close to being on target: a 39th-minute bid from Tamires that was saved at the near post by Rebecca Spencer. Their best chance of the second half was a chaotic scramble from a corner in which players desperately threw themselves in every direction until Debinha sent in a header at Spencer. Joga Bonito kept running into a brick wall.
In the 82nd minute, Khadija Shaw broke free and blasted an effort over the bar for the Jamaicans' first shot, but they didn't need to win to advance. They needed to stick to the plan, manage the game and, if needed, call upon the dark arts of time-wasting. Winning, or in this case drawing, games like this is a skill, and after demonstrating it with aplomb (twice), the Reggae Girlz deserve their moment.
Brazil veteran Marta, playing in her last World Cup, had spoken earlier this week of the rise of countries like Jamaica at this tournament, declaring that "the more we work, the harder we work, and the more we dedicate ourselves, the more opportunities we create." This, she said, "brings brilliance to women's football." On this night, Jamaica's brilliance shone through. -- Joey Lynch
---
News of the day
USWNT coach Vlatko Andonovski dismissed criticism by former player Carli Lloyd after the team's 0-0 draw against Portugal on Tuesday, calling it "insane" to doubt the players' drive to win. Lloyd, a two-time World Cup winner who works as an analyst for Fox Sports, said after the match: "I'm just seeing a very lackluster, uninspiring, taking-it-for-granted [effort]." When asked for his response to Lloyd's comments, Andonovski said: "Everyone is entitled to their opinion, they can say whatever they want, but I just know how this team feels." The U.S. finished second in Group E behind the Netherlands.

Despite the VAR disallowing a would-be hat trick, England midfielder Lauren James said her two-goal performance against China was "what dreams are made of." The Chelsea playmaker (and sister of England/Chelsea men's star Reece James) shifted into the No. 10 role for Sarina Weigman's side in Tuesday's 6-1 win, which solidified the top spot in Group D. "[James] feels good, you can tell," Wiegman said after the game. "She did special things today. Unfortunately, that one goal was canceled. She flows over the pitch." The Lionesses next take on Nigeria in the round of 16.
---
Today in USWNT camp
USWNT 'survives' group stage, but it won't be enough vs. Sweden
Alexis Nunes reports from Auckland as the USWNT advances through the World Cup group stage in underwhelming fashion.
Given their lack of dominance, the vibes around the team have swiftly soured and fans have gone from dreaming of a historic third straight World Cup title to worrying about whether they'll be eliminated in the round of 16 against Sweden on Sunday (5 a.m. ET, Fox), which would be their worst performance at this competition.

As we're on the ground in New Zealand and have been following the USWNT throughout the tournament, we're sharing their thoughts about the turbulence of the group stage and whether this team can still be considered favorites to win it all on Aug. 20.
ESPN's Jeff Carlisle and Caitlin Murray on whether the U.S. can still win the World Cup.
---
Sights and sounds
France come back strong after early shock
For 20 minutes, France were out of the World Cup. Marta Cox's wonder goal for Panama after 67 seconds, the quickest goal a France team has ever conceded in a major tournament, had the Les Bleues staring at third place in the group behind Jamaica and Brazil, who were drawing 0-0 at the time.
But the scare didn't last long. Goals from Maelle Lakrar, Lea Le Garrec and two from Kadidiatou Diani put France ahead 4-1 at the break. The difference in quality between the two teams, even with a much-changed France side (they rested Wendie Renard and Eugénie Le Sommer, while Grace Geyoro and Selma Bacha came off at half-time and Diani after an hour) was way too big. Panama can cherish their captain's exceptional free kick forever, but they can't compete with opposition of this calibre right now.
In the end, France scored twice in the second half (including a third for Diani) and held off a short Panama comeback to win 6-3. They secured the top spot in Group F and will face either Colombia, Germany or Morocco in the round of 16. Coach Herve Renard will be delighted with the performance, and especially the hat trick for Diani that gives her confidence and momentum.
Les Bleues have completed the first part of their mission. Now, a different tournament starts. -- Julien Laurens
How South Africa made history vs. Italy at the World Cup
Sam Marsden recaps South Africa's first-ever win at a Women's World Cup after their 3-2 victory against Italy sent them into the last 16.
WELLINGTON, New Zealand -- South Africa triumphed in one of the games of the tournament so far as they topped Italy 3-2 to record their first World Cup win and book their place in the knockout rounds for the first time, knocking the Azzure out in the process.
The match, played in whirling wind and with a hailstorm disrupting the first half, had a little bit of everything, from penalties and own goals to comebacks and a bloody nose. In the end, though, the Banyana Banyana prevailed, much to the delight of their noisy travelling support.
A draw would have taken Italy through with group winners Sweden, and they looked on track to progress when Arianna Caruso gave them an 11th-minute lead from the penalty spot. South Africa probed but didn't have a quality scoring opportunity until Benedetta Orsi's 25-yard backpass ended up in the back of her own net after a communication mix-up with her goalkeeper. That set up a wild second half, and South Africa edged in front through a well-taken Hilda Magaia effort, only to see Italy level five minutes later when Caruso converted her second of the night from a corner.
South Africa pressed for the winner, but some heroic defending from Elena Linari, which earned her a bloody nose, plus a little bit of luck, appeared to keep this one tied. But there was to be one final twist in stoppage time, when captain Thembi Kgatlana turned home Magaia's cross in the 93rd minute, setting off wild celebrations. A meeting with the Netherlands in Sydney in the round of 16 awaits. -- Sam Marsden
Lawson: Huge questions for Italy after early World Cup exit
Sophie Lawson reacts to Italy's World Cup exit after they were stunned by a late South Africa winner in Wellington.
Own goal sums up Italy's lack of cohesion
After one win, one drubbing, and one stoppage-time loss, Italy are out of the World Cup; a clear step down from four years ago, when they reached the quarterfinals. While that team was fun, exciting, fresh and relaxed, this side has looked muddled and lost. Gone is the sense of freedom the team had in France, replaced by panic and confusion.
Italy have lost their identity. The defence is as fragmented as the attack and the team's good play is usually borne out of individual moments of magic rather than a cogent team effort. Even with most of the players coming from the top two teams in Serie A, there is a clear lack of cohesion.
Emblematic of this was Orsi's bizarre 25-yard own goal that drew South Africa level as she failed to look behind her before passing back to goalkeeper Francesca Durante, who was out of position.
Kgatlana's stoppage-time winner may not have been the most predictable outcome, but the writing has been on the wall for some time. With a steady stream of young and exciting players coming through the ranks, they are in a crucial moment and need new ideas if they are to move forward and contend. -- Sophie Lawson
Carlisle: USWNT will have to up game considerably to beat Sweden
Jeff Carlisle reacts to Sweden's 2-0 win vs. Argentina which sets up a last-16 clash with USWNT.
Sweden set up USWNT clash with win
Sweden maintained its perfect record at this World Cup, defeating Argentina 2-0 and claiming the top spot in Group G. Sweden joined Japan and England among the teams to win all three of their matches in the group stage. With his side in firm control of the group, manager Peter Gerhardsson opted to heavily rotate his squad, with only defender Amanda Ilestedt and Magdalena Eriksson keeping their places.
Sweden still had the majority of possession, but was made to work for their victory, with Rebecka Blomqvist's 66th-minute header from Sofia Jakobson's cross finally breaking the deadlock. Blomqvist was involved in Sweden's second goal as well, winning a penalty that was converted in the 90th minute by Elin Rubensson. Now Sweden faces the No. 1-ranked U.S. in the round of 16, a matchup neither side prefers at this stage of the tournament, but one that is happening after the Americans' lackluster performances saw it finish second in Group E.
It's an encounter that won't hold any fear for Sweden, who defeated the USWNT in each of the past two Olympics, including a 3-0 walloping in the group stage in Tokyo. With a rested side and the team in top form, Sweden have to be considered favorites to prevail in that match. -- Jeff Carlisle
China get fine send-off from fans
ADELAIDE, Australia -- At just before 1 a.m. local time on Wednesday, a cheer went up, followed by some excited screams across Hindmarsh Square in the heart of Adelaide. China's team had just returned to their hotel, fresh off their 6-1 defeat to England that saw them exit the group stage, but were greeted by a large group of fans, all decked out in red.
After the match, China manager Shui Qingxia hugged each member of the squad. Talking to the media an hour or so later, she recognised the gap between China and the other teams chasing a World Cup. "Hugging them meant I recognised that they tried their best. I still need to recognise their efforts despite the defeat," Shui said. "As for the things that this generation can do, from the current situation, we can see there's a huge gap between us and the European teams. We're not going to do nothing -- we'll work on transition, balance and physicality, evaluate our shortcomings and work on them, so this generation's efforts will help the generations that follow."
Even as England clocked up the goals, China's support never quieted. There was the constant beat of a drum underneath the stands we were in, the chants almost continuous throughout and a deafening noise to welcome their penalty that, at the time, reduced the deficit to 3-1. Even though they didn't make it through, as the team returned back to their base, there were smiling fans, flags painted on their faces, waiting to catch a glimpse of their heroes for one last time. -- Tom Hamilton
AUCKLAND, New Zealand -- Sometimes there's nothing you can do about the elements. The Norway players were forced off their training field in Auckland after being hit by a sudden hailstorm and didn't look like they were singing in the rain.
Norway halt training after huge hailstorm hits
Norway players were forced off their training field in Auckland after being hit by a hailstorm.
---
Match previews for Thursday
Odds via Caesars Sportsbook.
Group H: Morocco vs. Colombia (Perth Rectangular Stadium, Perth; 6 p.m. local, 3 a.m. ET, 8 a.m. BST)
Odds: South Morocco +600, Draw +270, Colombia -200
There is one, and only one, option for Morocco against Colombia: win. Facing the team at the top of the group, Morocco will have to be at their defensive best to keep Colombia's sublime forward line of Linda Caicedo, Mayra Ramírez and Catalina Usme quiet -- as Germany failed to do. But more than that, the Atlas Lionesses will have to score, with a narrow win not enough should Germany best South Korea in Brisbane.
Should Las Cafeteras bring the same support to Perth that made the foundations of the SFS stadium shake last week, the match may already be a foregone conclusion. A win would see Colombia finish atop the group with a 3-0-0 record, but a draw is enough for guaranteed progression to the knockouts. -- Sophie Lawson
Group H: South Korea vs. Germany (Brisbane Stadium, Brisbane; 8 p.m. local, 3 a.m. ET, 8 a.m. BST)
Odds: South Korea +1,200, Draw +490, Germany -490
Germany have their sights set on the knockout round as they face South Korea in their final group game in Brisbane. Germany beat Morocco and fell 2-1 to Colombia but are still favourites to progress alongside Colombia as they face a South Korea side who have lost both of their games and have yet to score.
Germany manager Martina Voss-Tecklenburg has defender Marina Hegering fit again, while she has not ruled out making changes from the side that lost in the last match in Sydney. Voss-Tecklenburg says the team's morale has not slumped this week despite their setback. "I didn't have to maintain happiness," she said. "We want to win it, progress to the round of 16, and I have told them we will win together and lose together. I didn't need to be the clown for them to cheer them up."
South Korea need to win by a five-goal margin to progress and hope for the best from Colombia's match against Morocco. It's been a disappointing campaign and the word "miracle" was used a fair bit in the prematch news conference, but manager Collin Bell would not be drawn on comparisons between this match and the men's team's game against Germany in the 2018 World Cup, where South Korea won 2-0 in a game now dubbed the "Miracle of Kazan." "Miracle is a big word, I prefer not to use it. We need a good performance. I never give up. I believe we can do something sensational," he said. -- Tom Hamilton
---
Features of the day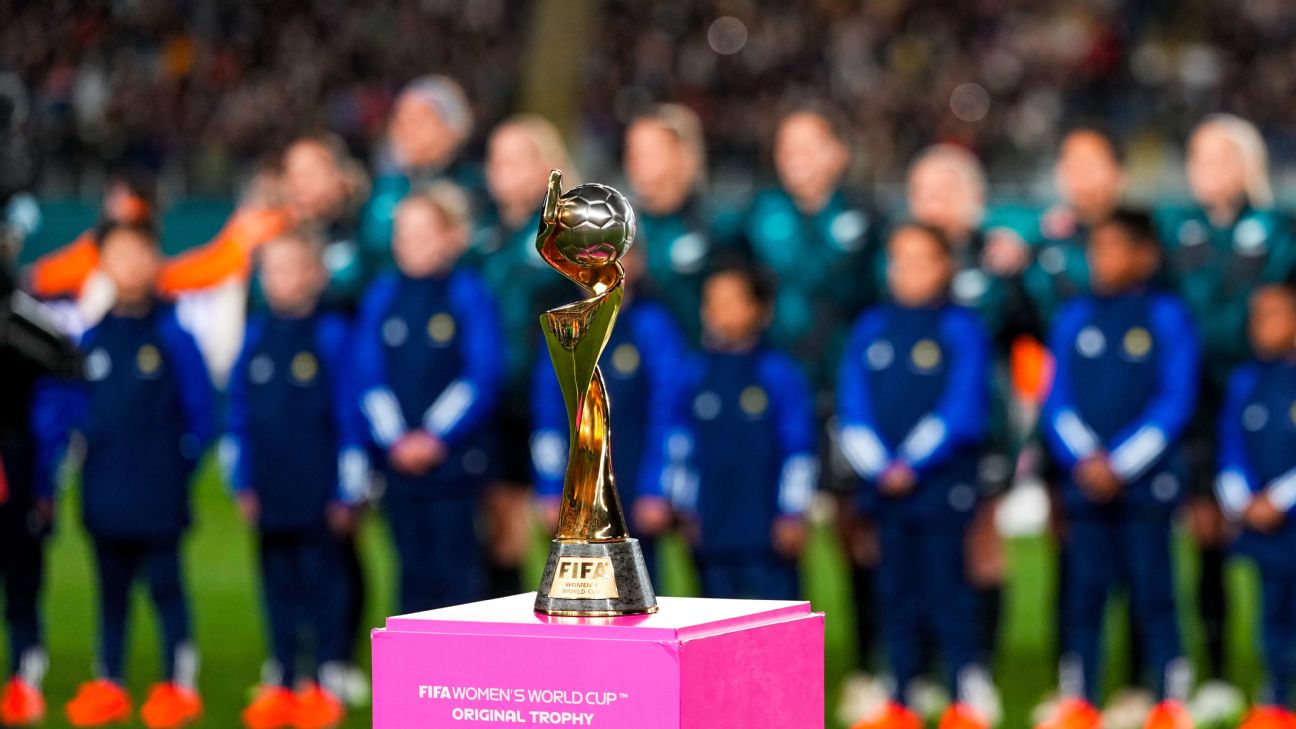 World Cup last 16: Why every team left will, won't win it all
As the Women's World Cup field is cut from 32 to 16, we review each remaining team's biggest strengths and weaknesses, and which one has the best shot.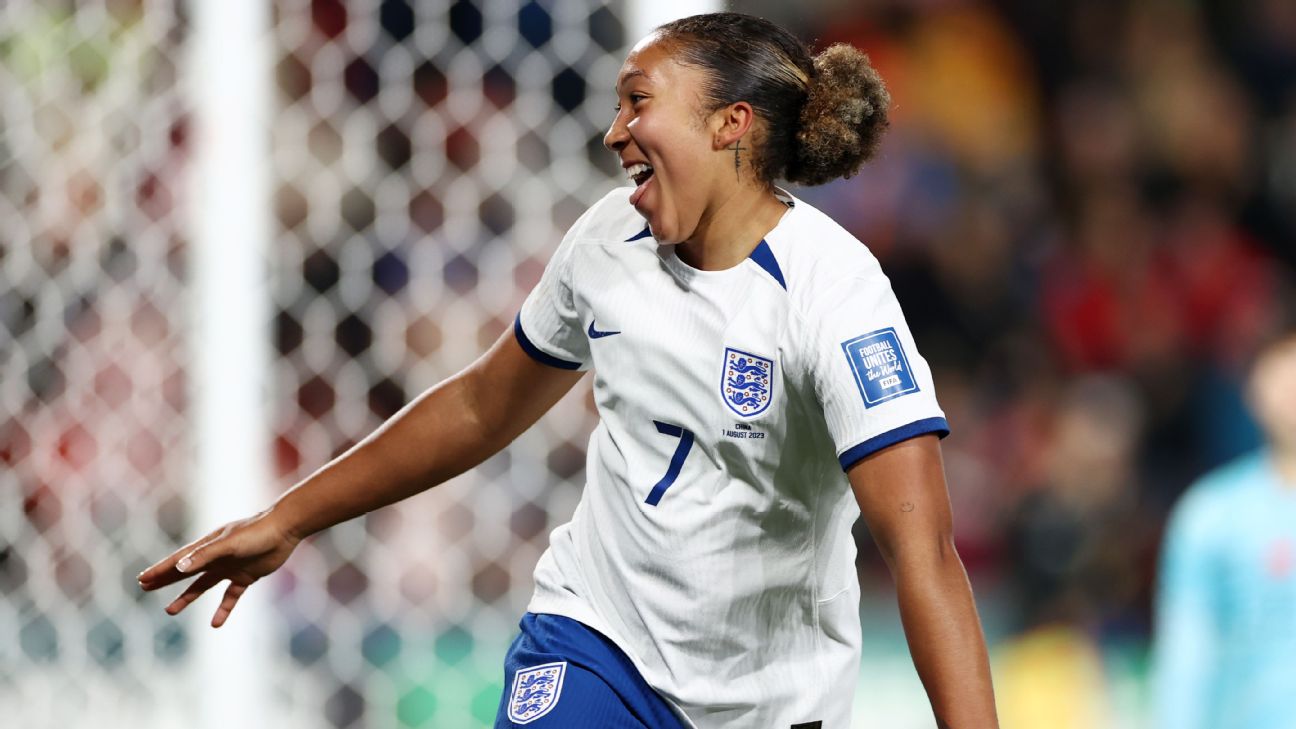 James a World Cup star as England power into knockout phase
Lauren James' involvement in five of England's six goals against China confirmed her status as one of the breakout stars of the Women's World Cup.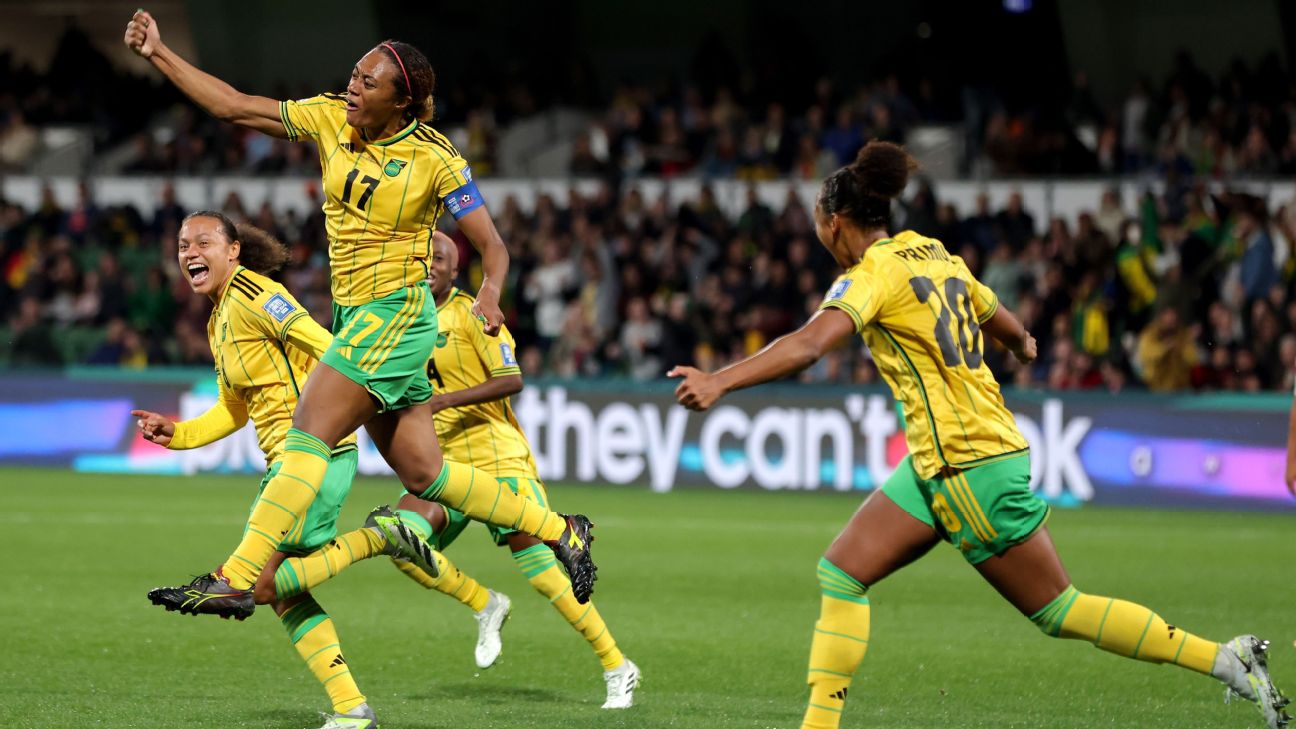 Jamaica's struggle for equality and respect at World Cup
The Jamaican women's team has been disbanded, ignored, unpaid and disrespected for years. Now the World Cup has given them a platform for change.
---
And, finally ...
Visiting the giant Sam Kerr mural in Western Australia
Sophie Lawson takes a trip to a huge mural of Sam Kerr in her hometown of East Fremantle in Western Australia.
FREMANTLE, Australia -- This was supposed to be Sam Kerr's tournament, the chance for one of Australia's stars to shine on the world stage and bring glory to her homeland.
An injury has robbed the 29-year-old Matildas captain of a chance to make much of an impact so far, but in the suburb that Kerr calls home, you can find one piece of her growing legacy.
On the furthest reaches of Western Australia, looking out across the expanse of the Indian Ocean, sits Fremantle (or "Fremo" to locals). Hop in a car from Perth and drive south down Kwinana Freeway before turning off onto Canning Highway, heading toward where the land meets the sea, and you'll drive through East Fremantle. It's a journey that takes about half an hour in little traffic. Navigate your way to Norfolk Street -- past Fremantle Oval, home of the Bulldogs -- and you'll see it. But if you don't know it's there, you could easily miss it.
Head for the narrow alley on the right of SCOOP HQ (an Australian estate agent) and you'll be greeted with a larger-than-life mural of Kerr, decked out in the shining gold of Australia's home kit, eyes cast down at the ball she's controlling with her right boot. The tag at the bottom names the artist as Fieldey, who when interviewed in 2021 said: "So much of street art is pretty girls, or pretty girls crying. I wanted to create something that was a bit of an antidote to that."
From the crumple of her shirt as the striker glides forward to the bulging right calf peeking out above her green socks, Kerr's strength comes across as she towers above those who stop by, entranced by her tangible guile.
As I jump into my Uber back to the centre of Perth, a young girl stops in front of the mural, prompting the family she's with to turn and see why she's been lagging behind. As we drive off, she's still there standing in the rain, gazing up at the player who could yet be so decisive this month; the two-dimensional facsimile free from the weight of expectation that rests upon Kerr's shoulders. -- Sophie Lawson