The 2023 Women's World Cup is in full swing, and these daily files give you the latest reporting from around the tournament as well as betting lines, what-to-watch-for information and best reads. Check in with ESPN throughout the tournament as we bring you the latest from Australia and New Zealand.
---
The lead: A knockout blow
The 2023 Women's World Cup is now down to eight teams with the quarterfinals approaching, and some heavyweights are already on the plane home, including the United States, Canada, Brazil and Germany.
While the U.S. was the only major casualty from the round of 16, the tournament also said goodbye to some knockout-round debutantes in South Africa, Jamaica and Morocco, whose stories have hopefully inspired a new generation of women's soccer fans from those countries.
Japan, Colombia, Sweden, France, Spain, Netherlands, European champions England and co-hosts Australia are the ones who made it through. But before we completely turn the page, our correspondents on the ground give us their impressions from the round of 16.
- Women's World Cup: Landing page | Bracket | Schedule | News
---
News of the day
USWNT forward Sophia Smith said she was "heartbroken" but that the team "will be back and hungrier than ever" following an early elimination from the Women's World Cup. Posting on Instagram, the reigning NWSL MVP added that the World Cup run "was more valuable than any experience I've ever had." Smith, 22, scored twice against Vietnam but couldn't find the back of the net for the rest of tournament through to the USWNT's round-of-16 exit against Sweden.

France coach Herve Renard said the pressure will be on Australia as tournament co-hosts ahead of their quarterfinal clash in Brisbane. Renard, who took over for Les Bleues this summer, said, "The host country, we know that can be a good or bad thing. This is what the French team went through in 2019 [when they lost to the USWNT on home soil in the quarterfinals]."

Global players' union FIFPro has confirmed it is assisting Nigeria's women's national team with its pursuit of bonus payments, camp allowances and expenses dating back to 2021. In a statement released after the Super Falcons were eliminated by England, FIFPro said the team were "frustrated" with needing to pursue the Nigerian Football Federation over the matter before and during the tournament.
---
Round-of-16 review: Biggest moment, best player, new prediction
The quarterfinals are set! We have eight teams left in four big-time matchups coming up after two days' rest.
Friday, Aug. 11
Spain vs. Netherlands: (Sky Stadium, Wellington; 1 p.m. local, 9 p.m. ET [Thursday], 2 a.m. BST)
Saturday, Aug. 12
What was your biggest takeaway from the round of 16?
Chantelle Swaby 'proud' of Jamaica's World Cup campaign
Chantelle Swaby reflects on Jamaica's World Cup journey after their 1-0 defeat to Colombia in the round-of-16.
Progress for smaller teams: The story of the group stage was the nations that unexpectedly progressed through to the knockouts. The evolution of that story was their showings in the round of 16. For teams like Morocco, Jamaica and South Africa, getting out of the group was the first box ticked. Continued and improved investment is next to ensure their round-of-16 debuts weren't a flash in the pan. A greater variety of nations making it deep in the tournament is ultimately better for football. -- Marissa Lordanic
Surprise sides add spice: The U.S. was a millimeter away from another round of sudden-death penalty kicks, but given Sweden's form, that game wasn't going to be wide-open. We know things get cagey in the knockouts, and there are several storylines at play, such as Spain looking for redemption after their loss to Japan, Australia moving through the gears at the tournament and England still struggling for goals from open play.
The occasion got to Morocco -- as it has countless other teams over the years -- and Jamaica to a lesser extent. Overall, my takeaway is the progress South Africa and Nigeria have made in the last few years to just be so close to the quarterfinals, save for a little more luck/better finishing. These are teams that have stepped up and shown they can do it on the world stage, not just within continental tournaments, and we can only hope they keep moving forward. -- Sophie Lawson
USWNT's early exit: Well, given that I came here to cover the USWNT and I booked myself through to the final, it's got to be the USWNT's early exit. To be fair, I didn't think the USWNT would reach the final -- in fact, I'd been quietly predicting a quarterfinal exit -- but its form and final placement were even worse than I could've imagined. Quite the fall from grace for the reigning champs. -- Caitlin Murray
I'm biased on this, but for me, the biggest talking point was the USWNT's exit. Sure, the team hadn't looked good during the tournament, but to see it play so much better and then have the game in its hands during the shootout, only to squander the opportunity, was shocking. -- Jeff Carlisle
Australia's passion: I just love the incredible passion and enthusiasm that Australia is showing for the Matildas. Since their win against Canada and even more so after the victory over Denmark, it feels like the whole country has gone Matildas wild! The TV ratings are proving it, while they are getting all the media attention and love from fans all around the country. -- Julien Laurens
Just how loud the Colombian fans are: The 1-0 quarterfinal win over Jamaica was the first time this tournament Colombia had come to Melbourne, and it was remarkable how all-encompassing the noise they created was. It wasn't the loudest I've ever heard the stadium -- Melbourne Victory's 2015 A-League Grand Final win over Sydney FC still holds that honour -- but it ran it very, very close. And, given that an extra 50,000 people fit into Stadium Australia compared to Melbourne Rectangular Stadium, Colombia absolutely could have a 12th player on their side against England. They were revving up the fans toward the end of the Jamaica game and feed off the noise. -- Joey Lynch
The rise of Colombia: Maybe Colombia's win over Jamaica was not a massive shock in itself, but seeing them reach the quarterfinal is certainly a surprise. Their support has been one of the highlights of the tournament and their talented attackers have all stepped up at various points. All eyes are obviously on teenager Linda Caicedo, but it was the experienced Catalina Usme who guided them into the last eight. None of it has been possible without the work rate of Mayra Ramírez. -- Sam Marsden
James in the spotlight: Having been so close to the England camp, it has to be Lauren James' red card. She's been in the spotlight more than any other England player at this World Cup with her incredible performances against Denmark and China. Then came the moment when she let her frustration get the better of her and she received a red card in the 87th minute against Nigeria for standing on the back of an opponent. It was a huge blow both for her and her team, as she is suspended for the quarterfinals, with additional punishment to be reviewed by a FIFA disciplinary panel that could see her banned for the rest of the competition. But England rallied and managed to get through on penalties. -- Tom Hamilton
Kelly's nerves of steel: Chloe Kelly's readiness to put herself under immense pressure and shrug it off as though it is routine came through again as the England player struck the winning spot kick in the penalty shootout victory against Nigeria. Kelly, who scored the winning goal against Germany in the Euro 2022 final, also took the decisive penalty to win the Finalissima against Brazil earlier this year, and she stepped up again to seal the deal against Nigeria in Brisbane. She displayed nerves of steel allied with perfect technique to score. -- Mark Ogden
Who is your pick so far for the Golden Ball, awarded to the player of the World Cup?
Matildas have warned world they're more than just Sam Kerr
The Far Post podcast discuss the realisation for the Matildas and other World Cup contenders that they pose a massive threat with or without Sam Kerr.
Miyazawa leads Japan: I'll go for Japan's Hinata Miyazawa. No one has ever doubted Japan's technical prowess and ability to keep possession, but finding a reliable goal scorer has been a challenge for them at times during their history. To find someone scoring with such regularity has really given them a boost. -- Carlisle
Keep eye on Karchaoui: First off, it's too early to identify one player because the true standout stars come to the fore from the quarterfinals onward. This is when it gets serious and it all comes down to fine margins decided by the best players. But in terms of players who have excelled and look key to their team's hopes of success, the one who has stood out for me has been France full-back Sakina Karchaoui. -- Ogden
Foord focus: Coming into the World Cup, we were expecting the likes of Spain's Aitana Bonmati, Japan's Yui Hasegawa and Colombia's Caicedo to be in the mix, and depending on how long they can stay in the tournament, there's certainly a chance. However, based on the games so far, Australia's Caitlin Foord has played herself into contention, as has Japan's Jun Endo. -- Lawson
Foord has to have a shout here, as do Caicedo and Zecira Musovic. (Why can't the goalkeeper get the Golden Glove and Golden Ball?) From an England perspective, their best player has been Alex Greenwood, but overall, it has to be Japan's Miyazawa or Endo. -- Hamilton
Japan's Mina Tanaka, France's Kadidiatou Diani and Bonmati have all been exceptional for their nations and been vital in their progression to the quarterfinals. The outside chance for the Golden Ball could be Australia's Foord, but only if she is able to maintain her dazzling form and propel the Matildas deeper into the tournament. -- Lordanic
Diani shines: I think Diani is showing huge potential. France coach Hervé Renard had warned us that she was going to impress, and she has. Four goals and three assists in her last three games is pretty special. Her partnership up front with Eugénie Le Sommer is working well and if she continues to be decisive like this, she won't be far from the Golden Ball. -- Laurens
Cool Caicedo: She's not going to win it, but I have loved watching Colombia's Caicedo. What a special and captivating young talent. She's my player to watch so far. -- Murray
Buoyant Bonmati: I wrote earlier in the tournament about how the Spain midfielder creates like a No. 10, presses like a centre-forward, carries the ball like a full-back, takes players on like a winger, gets as many touches as a deep-lying midfielder and shoots like a No. 9. She did all of that as La Roja brushed aside Switzerland and will be key to their hopes. -- Marsden
Wait and see: Golden Ball awards are just as much about the narrative as they are about the actual football, and that makes predicting this year's award difficult, as I feel we're still waiting for the defining story to emerge. Yes, there've been tales of underdogs rising and the big nations falling, but now that they're all out of the way (for the most part), there's a chance to establish things. If Colombia continue their run, for example, Caicedo comes into the frame. If it's England, whoever is seen to fill the hole left by James. If Australia somehow pull it off, Foord will likely be impossible to deny. But I'd like to think Katrina Gorry's thankless role stands a chance of being recognised. -- Lynch
Based on who is left, you may revise your predictions. Who's winning this thing, and why?
'Believe the hype!' - How Japan cruised into the World Cup quarterfinals
Gabriel Tan recaps Japan's comfortable 3-1 win over Norway at the Women's World Cup.
Australia, or Japan: I'm trying to remember whom I predicted in the first place? (Eds. note: Japan -- run with it, Sophie.) There was talk of Germany, but it feels like I've been calling a Japan-Australia final for some time, which might just be enough of a jinx to ruin two summers, but let's stick with an AFC showdown in the final and a win for the region.
As for the why, again, just what I've been feeling for a while about Australia picking up momentum and how if they can get to the semis, they'd only be 90 minutes from a home final in Sydney. As for Japan, the football has been the best we've seen at this World Cup, they've not lost an ounce of consistency but have shown new depths and are picking up neutral fans left and right. -- Lawson
Australia: It's all about momentum in a tournament, and the Matildas have now slipped into top gear. They also have incredible home support, and that will be huge for them in the quarterfinal against France in Brisbane. They have also gotten this far with Sam Kerr barely playing due to injury, so her return to action is another reason to go with the Aussies. -- Ogden
Spain: I am sticking with Spain, as I think Bonmati & Co. are a special team with talent and depth. They have bounced back well from their blip against Japan in the group stage and will be stronger for it. -- Laurens
Japan: I picked Japan after the group stage, and I'm sticking by it. They are so in sync -- that's something you can't force or fake. The Japan team well and truly clicks -- it's both a joy to watch and devastating for other teams to try to play against. -- Murray
Japan II: I think I threw a blanket over most contenders in the group stage wrap-up, and I quite like the view from this fence I'm sitting on. But at a push, it's Japan's World Cup with Australia pushing them closest. That home support is key, and all with Kerr back in the mix. -- Hamilton
Japan III: Given what we saw in the round of 16, I'm trimming my previous prediction of either Japan or England and just going with the former. Yes, at some point it might all go off the rails (probably from an in-swinging corner onto the head of Amanda Ilestedt or something), but they've played the best football of anyone so far in this tournament, and that deserves to be recognised. France were my pre-tournament prediction and I still feel like they can challenge, as can their quarterfinal opponents, Australia. My concern with the latter is that, while they can transition any opponent to death, I'm not sure how they beat the best teams if they're denied that. -- Lynch
Japan IV: I am walking back my Sweden prediction and turning my attention to their quarterfinal opponents, Japan. Nadeshiko are the most convincing, well-rounded team we have seen so far at this World Cup. -- Lordanic
Japan V: I picked Sweden in the previous round, but now I wonder if they've used up all of their karma by needing the width of a credit card to see if they would win or prolong the shootout tension vs. the USWNT. I'll switch and say Japan, who have looked fantastic so far. -- Carlisle
Japan VI: I'm wobbling on England but not on Japan. I'll stick with them, but it's such an open field that I wouldn't rule out Spain, Australia or France, either. That feels harsh on the rest, but I have to get off the fence somewhere. -- Marsden
---
Today in USWNT camp
Will U.S. Soccer have an easy decision to make when it comes to Vlatko Andonovski? Yes.
Whether it's phrased that he will part ways or step down, his tenure with the USWNT, which began in October 2019, will be over soon.

The problem: It's happening about two years too late.
Opportunities were squandered at the Tokyo Olympics and now at this year's Women's World Cup. Breaking down Andonovski's tepid two-year tenure, and gleaning what's next.
---
Sights and sounds
France beat TV ratings record
France vs. Morocco was watched by an average of 5.22 million people on Tuesday, the highest TV rating of the tournament so far in France. The game was shown on M6 with a kickoff time of 1 p.m. local time and had a peak of 5.9m viewers at the end of the first half. Almost 50% of those watching television at that time were following the match. And it beat the ratings from France vs. Brazil in the group stage, when 4.3m people gathered in front of their TVs. -- Julien Laurens
Stick it on the wall
MELBOURNE -- There is a buzz around Australia. When you talk to people in the host cities, they know there's a Women's World Cup on. With the Matildas progressing, you'd expect the vibes to be growing with Seven -- the free-to-air broadcaster for Australia's games -- announcing they'll broadcast the France quarterfinal on their main channel, pushing the nightly news broadcast until the match is over.
Yet, if you step back beyond the football fans who have descended on the nine host cities, the picture remains a little bleaker. At Melbourne's weekly winter night market in the middle of the city, a poster seller admitted he's had problems shifting the Sam Kerr prints he has, having expected interest in the tournament to help him move his stock. He explained he'll easily sell 1,000 prints of Neymar, Lionel Messi or Cristiano Ronaldo for every one of Kerr, although he has recently been asked about getting some of Hayley Raso following her performance against Canada.
He's hoping that, with another win or two, he can sell some more Kerrs. But, in this corner of Victoria, at least, it speaks further to the battle that women's football still has to reach the mainstream. -- Sophie Lawson
---
Features of the day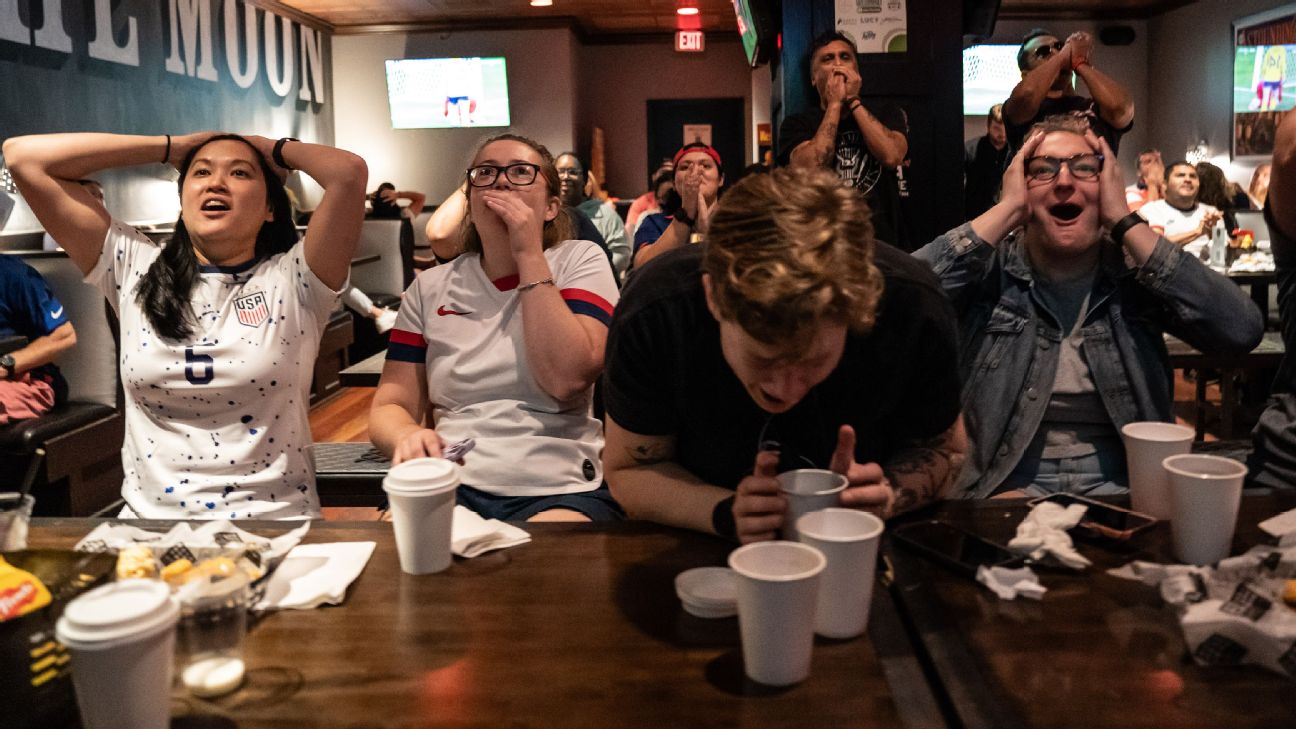 Here's to overnight Women's World Cup watch parties in D.C.
The USWNT have crashed out, but the fans and late nights in the U.S. capital are colliding during the Women's World Cup.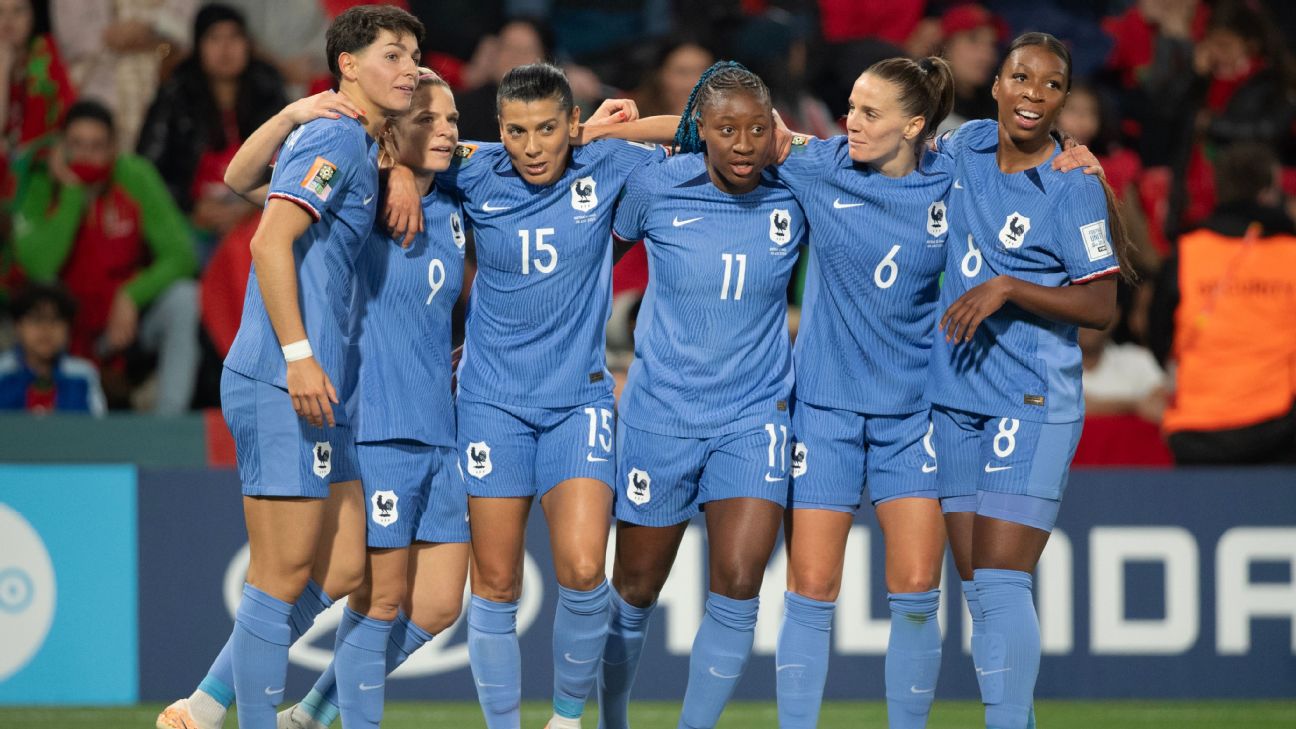 Mentality to decide France vs. Australia quarterfinal clash
After dismantling Morocco, France now have a date with destiny as they face World Cup co-hosts Australia for a spot in the semifinal.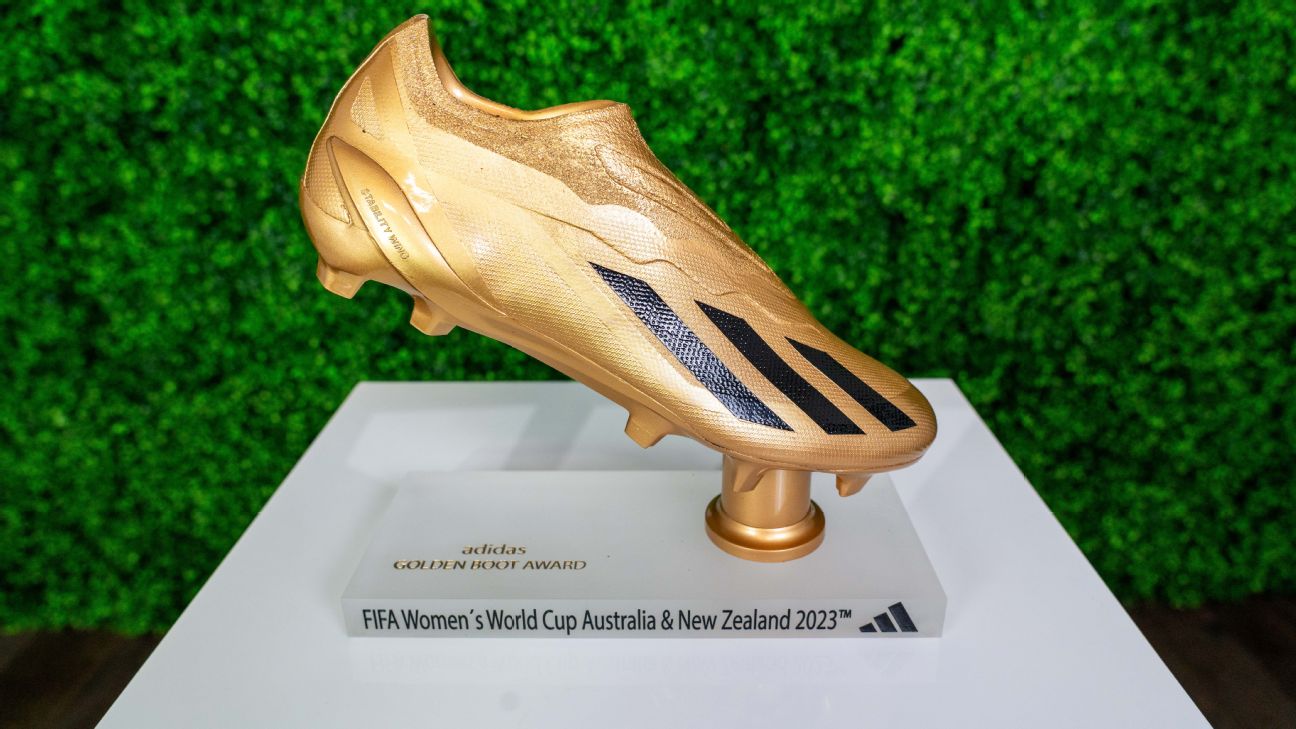 Race for the Golden Boot: Who'll be the Women's World Cup top goal scorer?
Two players led the race for the Golden Boot heading into the knockout phase, but there are plenty more still in contention.
---
And, finally ...
Players who reached the knockout round at the Women's World Cup got larger individual bonuses that can be life-changing for many of them.
FIFA designated $30,000 for the 732 players among 32 teams in the tournament field. The payout rises to $60,000 for players on the 16 teams that advanced out of group play. The money grows to $90,000 for players in the quarterfinals, and it's a significant payday, particularly for those who have had financial disputes with their federations over pay and support. Though there is still the prospect for disputes, as national associations will have to distribute the FIFA payments.
Hildah Magaia helped the Banyana Banyana advance out of group play and into the knockout stage, doubling her bonus. She plans to use the money to care for her mother.
"I'll be able to do everything for my mother because I'm the one who's taking care of her," she said. "I'm the breadwinner, so I'll be doing everything for my mom."
Deneisha Blackwood, part of the Jamaica squad eliminated by Colombia in the knockouts, described the minimum payouts as a good start for her team. Jamaica have had financial difficulties and relied on crowdfunding to raise money for its travel to the tournament.
"Obviously we as players have a life outside of football, and I think prize money like that rewards us in ways we can't imagine. A lot of us have bills to pay and family to take care of," Blackwood said. "And I think for the younger generation, especially, football doesn't make you a lot of money. So for [girls] to see us doing what we love and realize that you can make a living off it. ... It's motivational." -- The Associated Press