When it comes to evaluating coaches and managers, we lean heavily on clichés and stereotypes. It's impossible to avoid: We don't have access to the training room, and we aren't exposed to a lot of team- and personnel-specific dynamics. Therefore, we lean on things like "he's a poor man-manager" and "he's lost the locker room." We coin phrases like "third-year syndrome" to describe how a team stops listening to its manager over time.
These clichés get overused, but there's also a reason they become clichés: They're often true. Some certainly were as Tottenham Hotspur slowly unraveled from a once-dominant form under now-former manager Mauricio Pochettino.
- Preview: What you need to know about Champions League last-16
- O'Hanlon: PSG are going to win the Champions League. Seriously
- Schoenfeld: Why RB Leipzig are Germany's most hated club
Granted, Pochettino suffered more from sixth-year syndrome -- he actually found his greatest rhythm during his third year in North London -- but over time, his team drastically lost touch with its original identity, and it appeared that effort and intensity had something to do with it. He lost the locker room, if you will. Spurs rose to among Europe's best with a manic, speedy, aggressive pressing style, but that had vanished almost completely by the time he was fired in November.
Let's compare some key stats from Spurs' final 23 league matches of the 2016-17 season to his final 23 league matches with the club. The former sample represents Pochettino's Tottenham peak -- Spurs earned 59 points in the final 23 games of that season (2.57 points per match, a nearly 100-point pace over a full season) -- while the latter sample represents his lowest point. They had just 25 points when he was fired (average: 1.09 per match).
It's like these teams were coached by two completely different managers, and in a way, Spurs ended up caught between identities. They deployed a reasonably high defensive line but rarely pressed effectively. They were playing a possession-based game that, without turnovers in the opponent's end, didn't really go anywhere. They became sloppy in the back as well, giving up more turnovers and scoring chances than they created. They had become very mediocre.
Pochettino had to fight injury issues, and Spurs' roster was perhaps a bit too stagnant at times. Still, considering how assertively they had played in the Champions League this fall -- it's a small sample, of course, but they managed 1.67 points per match, 11.2 chances and 9.8 chances allowed per 90, 3.2 possessions won in the attacking third -- you could deduce that effort and intensity were at least part of the problem in league play.
You could also deduce that those problems have been minimized since the appointment of Jose Mourinho as Pochettino's replacement.
Mourinho was a hired gun of sorts, a well-traveled coach -- Tottenham are his ninth club in 20 seasons -- and the man with whom "third-year syndrome" is most commonly tied. But he generally knows how to spruce up a room, and through three months in London, he has seemingly tied together an identity that knits the best parts of Spurs' roster and former identity (an active front line) with the pragmatism that has been his calling card. At this point in his career, Mourinho has forgone any sort of possession identity, instead crafting an attack based around caution in the back and explosive counter-attacks up the middle of the pitch.
There has been some experimentation to get to this point. You could say that we're watching the third phase of Mourinho's first Tottenham season, and that the fourth is right around the corner.
Phase 1, Nov. 20 to Jan. 1: All about structure
- 8 Premier League matches, 2.0 points per match (5 wins, 1 draw, 2 losses)
- 2 Champions League matches, 1.5 points per match (1 win, 1 loss)
After an over-reliance on Toby Alderweireld and Moussa Sissoko for ball control, Mourinho's first goal as manager appeared to be creating more even ball distribution and structure.
Compare these two touch maps from Opta. These maps show you the 11 players with the most minutes, along with their most common positioning. The larger the name, the more touches they had.
Here are Spurs' touches during Pochettino's time in 2019: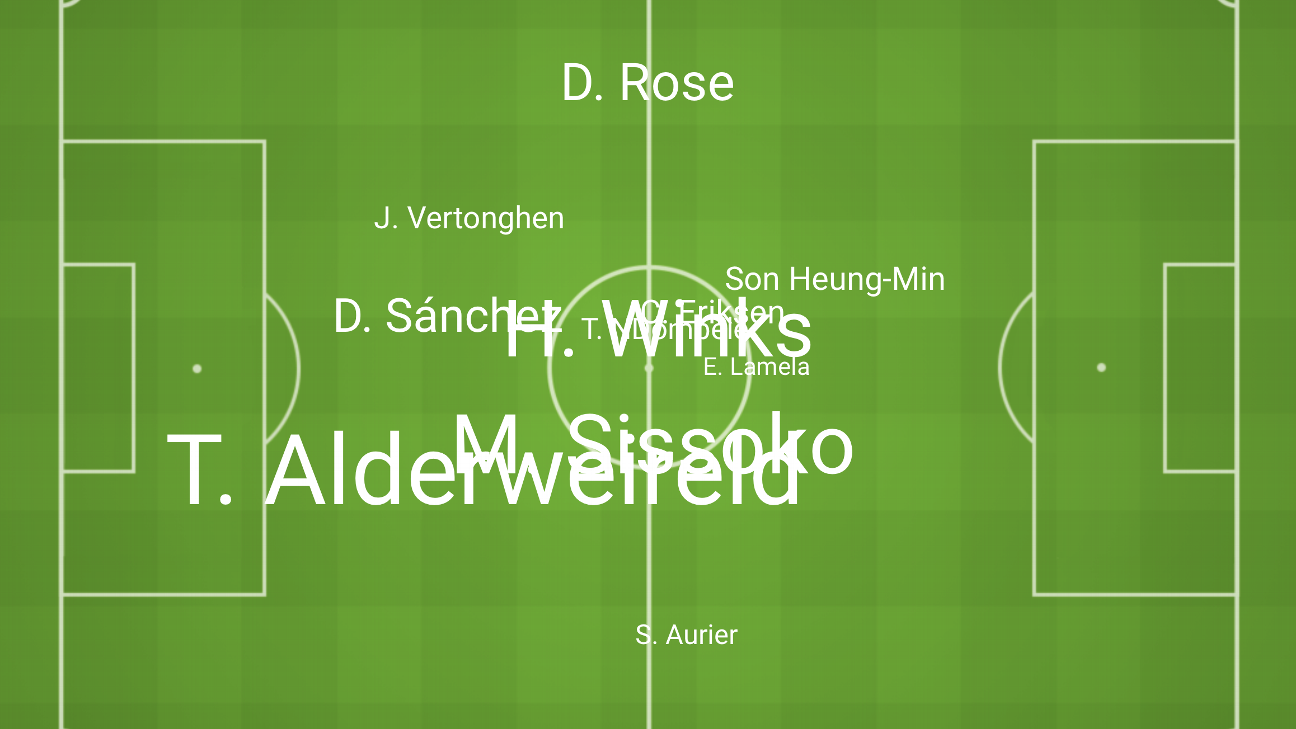 Here are the touches for Mourinho's first 10 matches: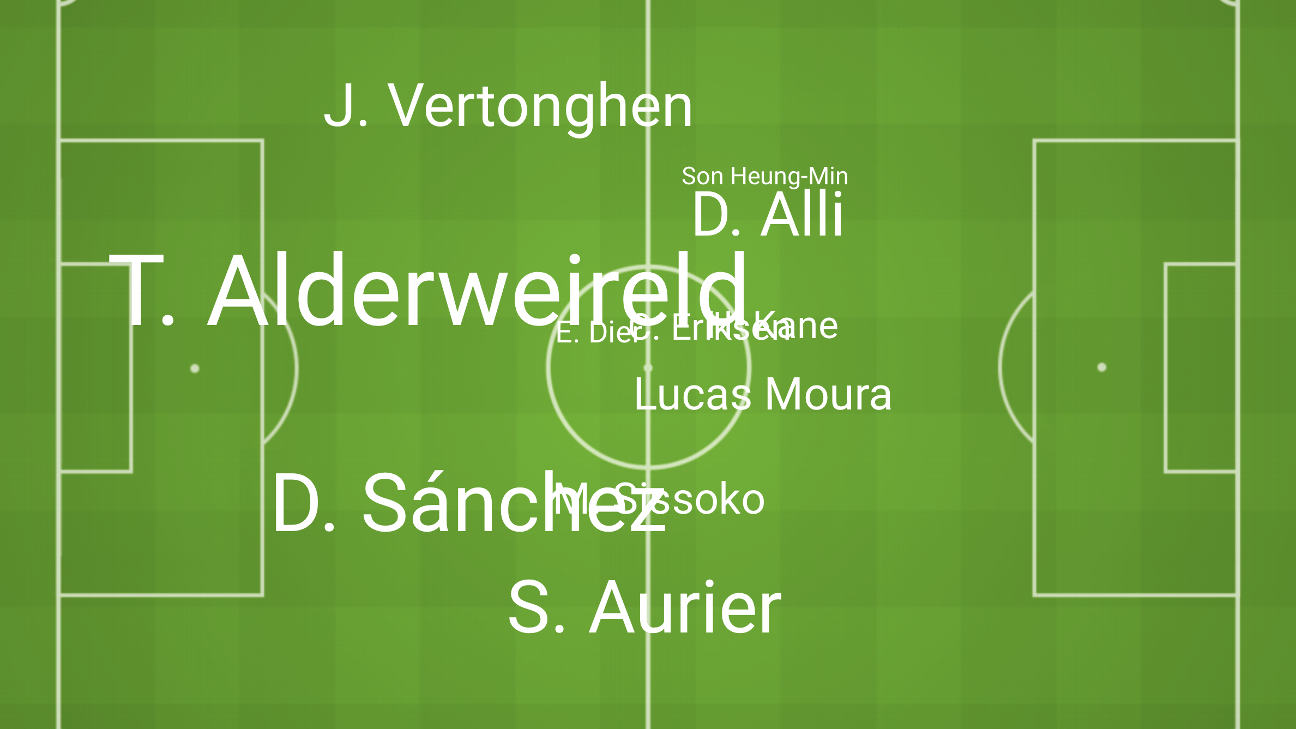 A better structure, combined with the temporary upgrade in effort typically associated with a managerial change -- especially up front from striker Harry Kane and attacking midfielder Christian Eriksen -- allowed Spurs to pretty quickly become a solid attacking squad again, primarily against lesser teams. They beat West Ham United, Bournemouth, Burnley, Brighton, Wolves and, in Champions League play, Olympiakos. But they also lost to Manchester United, Chelsea and Bayern Munich, and in these first 10 matches as Mourinho got to know his charges, they allowed an un-Mourinho-like two-plus goals six times.
Then Kane and Sissoko got hurt. Plus, near the end of the January transfer window, they finally sold Eriksen to Inter Milan after months of transfer-related drama.
Phase 2, Jan. 1 to Jan. 22: Injuries slow Spurs down
- 3 Premier League matches, 0.3 points per match (1 draw, 2 losses)
Kane's increased effort up front -- he went from averaging 0.4 possessions won in the attacking third per 90 minutes to 1.3 under Mourinho -- was helping to carry the team through the transition period, but he then suffered a significant hamstring injury. Sissoko injured his knee, too, and Spurs lost to Southampton and Liverpool by identical 1-0 scores before limping through a 0-0 draw with Watford.
Perhaps it was lucky that these injuries came about after the late-December crush of matches: Spurs played only three matches in the first 21 days of January, both preventing them from dropping points during this poor run of form and giving Mourinho more time to figure out some answers. It appears he's found some.
Phase 3, Jan. 22 to Feb. 18: The counter-attack is back
- 3 Premier League matches, 3.0 points per match (3 wins)
- 2 FA Cup matches (1 win, 1 draw)
The offense has returned. In the five matches beginning with Spurs' 2-1 win over Norwich on Jan. 22, they have scored 11 goals. They beat Southampton 3-2 in an FA Cup fourth-round replay, they upset Manchester City 2-0, and on Sunday, they survived an aggressive Aston Villa 3-2 with a late goal from newfound catalyst Son Heung-Min.
Son played only about 63% of minutes during the Phase 1 period above, but in these past five matches he has played in every second, scoring six of the team's 11 goals and providing a center of gravity that Spurs lacked in Kane's immediate absence.
Here are Spurs' touches from these five matches: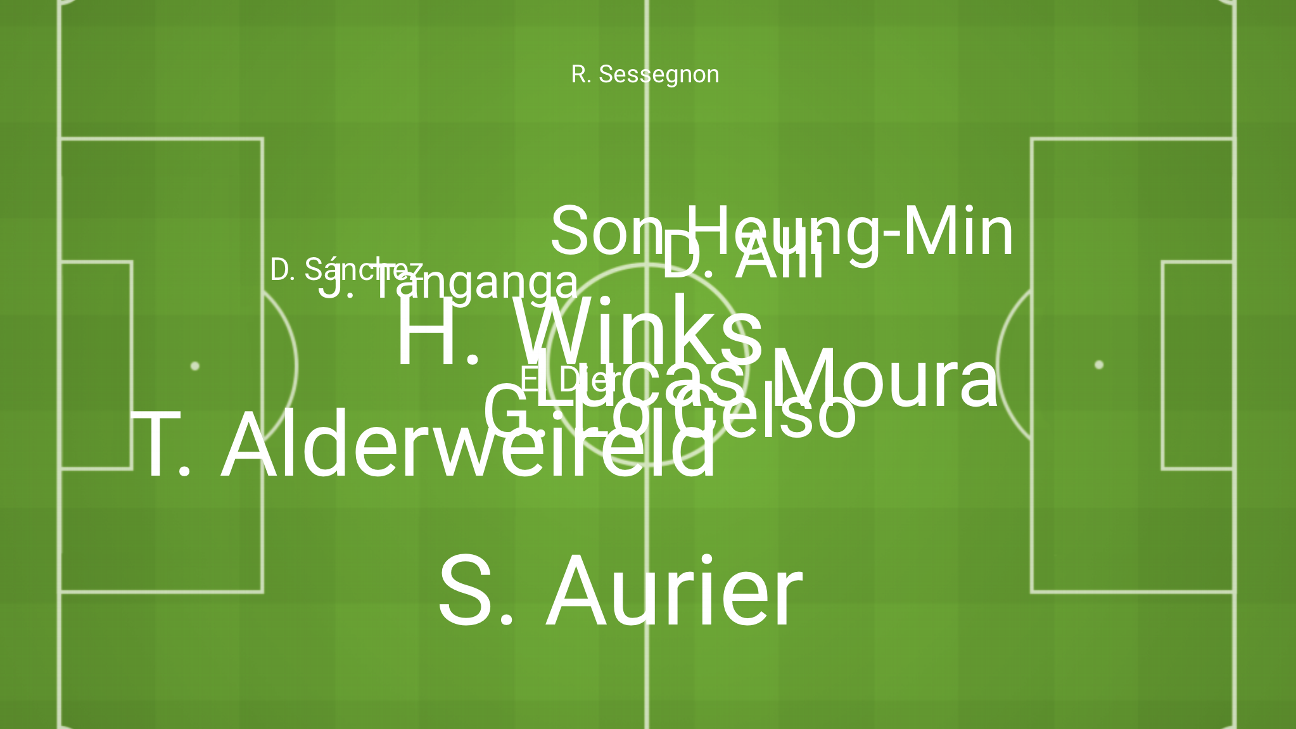 Son's pure pace has allowed Mourinho to play to his base instincts, keeping his players deep and creating space for counter-attacks. And with increased roles for active midfielders Harry Winks and Giovani Lo Celso, Spurs are attempting to dominate the middle of the field while ceding the wings.
Well, they were. On Tuesday, the club announced that Son had suffered a fractured arm against Villa, an injury that could see him miss the rest of the season, according to his manager.
Phase 4 begins on Wednesday
So now what? Does Mourinho attempt the same identity, only with veteran Erik Lamela or 22-year-old Steven Bergwijn on the wing instead of Son? Does he push attacking midfielder Dele Alli or Lo Celso -- about whom he said "I think now he can play everywhere" last week -- out wide? Does he try something completely different? He doesn't have much time to come up with a creative answer, as Champions League knockout play begins for Spurs on Wednesday.
It was pretty easy to see that the two main goals for Mourinho in 2019-20 would be (1) getting Spurs back in league position to qualify for next year's Champions League, and (2) continuing to advance in this year's Champions League.
As far as the former goes, they're up to fifth place in league play, just one point behind fourth-place Chelsea, and they've played all four games against the top two teams (Liverpool and Manchester City). Thanks to City's recent UEFA competition ban, Tottenham now have a 49% chance of qualifying for the Champions League, per FiveThirtyEight's club soccer ratings, up from 18% in mid-November. The 49% doesn't take Son's injury into account, but on the bright side, the 18% didn't account for Kane/Sissoko, either.
Those same ratings give them only a 34% chance of advancing past RB Leipzig in this year's round of 16, however. They're currently the 18th-ranked club overall, while Leipzig have climbed past Chelsea into seventh.
Wednesday's match in London will set the tone, and it's easy to see a cat-versus-mouse matchup unfolding. Even with Son, Spurs allowed relegation battlers Villa to control 55 percent of the possession in Sunday's match (60 percent in the first 60 minutes), and Leipzig have been one of the most possession-heavy teams in Champions League play this year.
Bayern enjoyed 70% of the possession in their mid-December matchup with Spurs, while Liverpool and Man City both had 67% possession against Mourinho & Co. in January. RBL aren't quite on that from a possession standpoint, but they're close. "Hunker down, then counter" seems like a pretty predictable Mourinho approach here.
That said, I'm curious about Leipzig's own approach. A particularly easy Champions League group helped to sculpt those high possession numbers, and in Bundesliga play their possession has been more in the 50-55% range. Meanwhile, in a 0-0 draw at Bayern last week -- a huge result that kept them neck-and-neck in the league race -- they elected to sit deep, play physically and counter-attack. Bayern had 70% of the possession in the first half and completed 341 passes to RBL's 103, while Leipzig committed seven fouls while attempting to soften Bayern up.
It was an approach that would have made Mourinho or Atletico Madrid's Diego Simeone proud, and it nearly worked. Leipzig were lucky to be tied at halftime but took total control of the match for the first 20-25 minutes of the second half and were unlucky not to take the lead in the process, with leading goal scorer Timo Werner missing a couple of prime opportunities to put Leipzig ahead. (Werner has fallen into a mini-slump of sorts: He is scoreless in 13 shots in his past four matches.)
With speedy attacking midfielder Christopher Nkunku and the likes of Marcel Halstenberg and Marcel Sabitzer pushing forward, Leipzig are strong counter-attackers in their own right. Needing only a draw on the road to feel pretty good about their chances of advancing in the return match at home, they could attempt to draw Tottenham upfield to set up vertical opportunities for themselves instead of hoarding possession.
This could be one of the more tactically interesting matchups of the round of 16, but more than that, it will go a long way in determining how we end up judging Mourinho's first (two-thirds of a) season in North London.