"Jeopardy!" sensation James Holzhauer lost to Chicago librarian Emma Boettcher on the episode that aired Monday, coming up short of Ken Jennings' all-time earnings mark.
In an email Q&A with ESPN, Holzhauer looked back at how everything played out, his loss and what's next for the 34-year-old sports bettor who captivated the nation.
---
ESPN: You have a smile on your face as Monday's episode ends, snapping your reign and keeping you just short of catching Ken Jennings as the all-time winnings leader. Take us through your emotions as that final game played out.
Holzhauer: I was a little shook during Double Jeopardy because I was playing from behind and constantly getting beaten on the buzzer by Emma. By the time Final Jeopardy rolled around, I knew I could only win if Emma answered incorrectly. It felt like needing a team to miss a last-second field goal. She didn't miss, but I was still proud of my performance the whole way. I gave her a high-five and smiled at how far I'd come.
ESPN: What did host Alex Trebek say to you after the game?
Holzhauer: I honestly don't remember. He always shakes the champ's hand first, and it was weird when he didn't head straight for me. Back in the green room, one of the producers called out "Champ!" to get Emma's attention, and I reflexively turned my head to respond. That was when it really hit me that I'm not "champ" anymore.
ESPN: What was the first thing you did after leaving the set that day?
Holzhauer: I took an Uber to meet my wife and kid, and we had some lovely tacos, then went to the Getty Center.
ESPN: You had a funny tweet about throwing a party after you lose for your daughter. What are the party plans?
Holzhauer: You'd think I would have planned the party by now, but it's hard when you can't invite anyone without spoiling the results! I'm sure it will include a nice dessert.
ESPN: You were in an interesting position of knowing how your streak ended (and how much you won) while also seeing your fame grow in real time. How did it compare to what you expected?
Holzhauer: "Jeopardy!" is a bigger deal than I realized. Fame came at me a lot quicker and stronger than I imagined. I think I mostly kept it to a level I'm comfortable and happy with.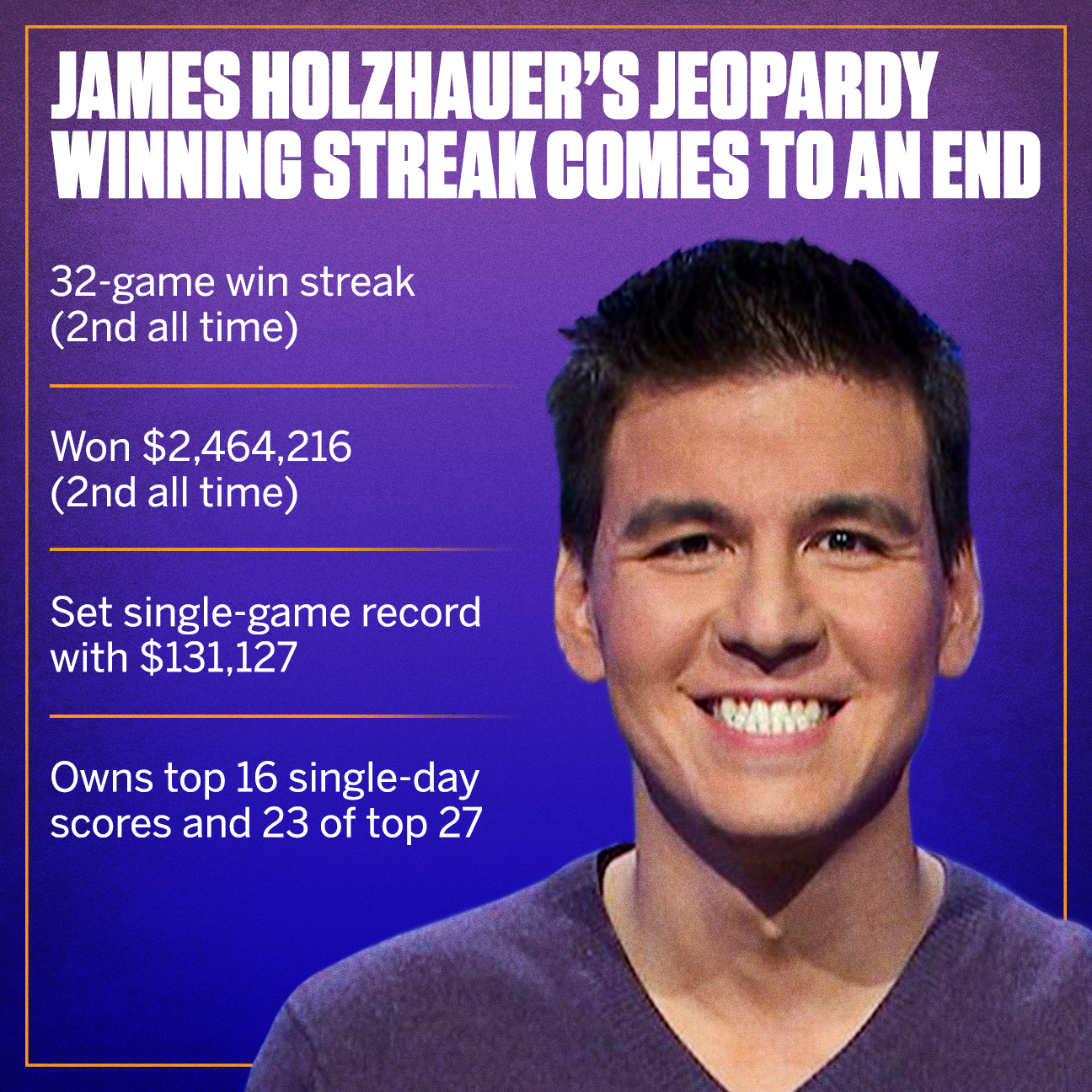 ESPN: Have you had any conversations with Ken Jennings? If so, when were they, and what were the conversations like?
Holzhauer: I exchanged emails with Ken about how to handle overnight "Jeopardy!" fame. He gave a lot of useful advice, and it truly seemed like he was excited to finally have someone make a serious run at his records.
ESPN: What are your plans for your winnings?
Holzhauer: I've already begun giving to children's nonprofits in the Las Vegas area. I'd also like to take a nice family vacation to Spain and Portugal to beat the Vegas summer heat.
ESPN: What's next? Are there any other game shows you'd like to compete on?
Holzhauer: "Jeopardy!" owns my game show rights for a while, although they're OK with me running on American Ninja Warrior or appearing on WWE Raw, so maybe you'll see me on TV again soon.
ESPN: What did you learn about yourself through all of this?
Holzhauer: I'm a person who really hates losing, but I learned that I'm proud of my place in the show's history, even if it's not at the absolute top of the pyramid.